Ontdef3. What is the definition of jazz?
🎷 SECTION UNDER Less CONSTRUCTION than before: Can Always Be Improved by Editing 🎷
Discussion

[

edit

]

Enter your comments, questions, or arguments on the Ontdef3Discussion page regarding what might be done respecting editing of this topic area prior to actualizing it by editing the Ontdef3 page itself.
---
Controversy over Defining Jazz

[

edit

]
Numerous scholars, theorists, critics, music reviewers, and many famous jazz musicians have all disdained or pooh-pooed, or even outright rejected, the possibility of producing a successful, satisfying, and correct definition of jazz.
The authors of Jazz:The First 100 years, Henry Martin and Keith Waters believe it is futile and a dead end to try to define jazz.
"What is jazz? It seems proper to begin our historical discussion of jazz by defining it, but this is a famous dead end: entire articles have been written on the futility of pinning down the precise meaning of jazz. Proposed definitions have failed either because they are too restrictive–overlooking a lot of music we think of as jazz–or too inclusive–calling virtually any kind of music "jazz.""[1]

(bold and italic not in original)
In 1957, Leonard Feather opens his book on jazz with a belief that a definition of jazz is a "near-impossibility."
"With the belated emergence of jazz from its long-suffered role as the Cinderella of esthetics, and with its gradual acceptance in many previously closed areas, the definition of its nature, always disputed among critics and to some extent among musicians and the public, has become a near-impossibility.[2]

(bold not in original)
---
Assessment of the views of Scott Deveaux and Bill Kirchner

[

edit

]
Some people believe that jazz is like art in that it is an open concept that is constantly changing and cannot be pinned down. As soon as anyone can define what is jazz, a performer will accomplish something in the spirit of jazz that is outside the current definition and then it is unclear what to say about this new music, or so it is often claimed.
This point of view is represented by Scott Deveaux as holding that one should avoid defining jazz "in musical terms." Deveaux explains:
"Defining jazz is a notoriously difficult proposition, but the task is easier if one bypasses the usual inventory of musical qualities or techniques, like improvisation or swing (since the more specific or comprehensive such a list attempts to be, the more likely it is that exceptions will overwhelm the rule)."[3]

(bold not in original)
But herein lies madness. How else could one come up with a definition of jazz as a music if one ignores its "musical qualities," as recommended by Deveaux? Of course, for anyone who thinks that there really is nothing in common between different jazz genres and that they have just been lumped together under the jazz umbrella as a result of historical accidents, this would be a way to ignore jazz's musical qualities. For more discussion on these points see Ontdef3. Why jazz is not just an institutionally practice-mandated musical genre.
Undaunted, Deveaux continues by explaining various reasons for rejecting jazz/rock fusion or free jazz/the new thing/avante garde as qualifying as jazz. You should be especially sensitive when reading the below quotation for what would appear to be a blatant contradiction in his own theory. First he denies that jazz can be defined, yet below argues that there is nevertheless an "essential nature to jazz" and then adds insult to injury by claiming the essential nature of jazz "is the process of change itself" while incredibly denying that jazz fusion and free jazz qualify as jazz even though these are the very changes to which he refers.
"Much as the concept of purity is made more concrete by the threat of contamination, what is not is far more vivid rhetorically than what it is. Thus fusion is "not Jazz" because, in its pursuit of commercial success, it has embraced certain musical traits—the use of electric instruments, modern production techniques, and a rock- or funk-oriented rhythmic feeling—that violate the essential nature of jazz. The avant-garde, whatever its genetic connection to the modernism of 1940's bebop, is not jazz—or no longer Jazz—because, in its pursuit of novelty, it has recklessly abandoned the basics of form and structure, even African-American principles like "swing." And the neoclassicist stance is irrelevant, and potentially harmful, to the growth of Jazz because it makes a fetish of the past, failing to recognize that the essence of Jazz is the process of change itself."[4]

(bold not in original)
How can there be "contamination" on Deveaux's views of jazz if the nature of jazz is to change? The only way to change is to incorporate 'contaminations' into jazz, so again he contradicts himself.
Deveaux is far far from being alone in rejecting the possibility of defining jazz. For example, this belief that it is fruitless to try to define the nature of jazz music appears to be the view of Bill Kirchner, in his "Introduction" to The Oxford Companion to Jazz, (Oxford University Press, 2000, p. 5):
"Throughout the—roughly speaking—century-old history of jazz, there have been numerous attempts to 'define' what the music is or isn't. None of these has ever proven successful or widely accepted, and invariably they tell us much more about the tastes, prejudices, and limitations of the formulators than they do about the music. You'll find no such attempts here."

(bold and bold italic not in original)
---
Assessment of the views of Jonathan McKeown-Green and Justine Kingsbury on jazz

[

edit

]
First let us consider McKeown-Green on jazz by himself and later Justine Kingsbury's complimentary positions.
(1) "We are hard-pressed for criteria distinguishing even central cases of jazz from most nonjazz. (2) Much canonical jazz does not emphasize improvisation; much country and folk music does. (3) People who enjoy central cases of jazz from one subgenre are not especially likely to enjoy jazz from other subgenres. Such disunity is easily explained historically. (4) For example: influential swing soloists invented bebop; their experiments influenced swing performance style; since swing was jazz, it was natural to authorize bebop. Rock 'n' roll, despite sharing many features with swing, had roots in rhythm and blues and country. (5) By covering some styles more than others, DownBeat and other jazz journals steered readers toward those styles.[5]

(numbered sentences not in original)
Wow, a lot to talk about after that, right? Break it on down sentence by sentence and give the ideas a good read and see how they hold up, right?
(1) "We are hard-pressed for criteria distinguishing even central cases of jazz from most nonjazz.
This is just blatantly not true. Of course it depends upon what you mean by "criteria" for "most non-jazz." Nevertheless, on any standard reading for "most" meaning "in the majority of instances"[6] it is easy to tell what is and isn't jazz. For proof, go into any record store and count all albums not under the jazz label, then count all albums in the jazz section and one discovers that only 2-3% of all albums are labeled as jazz. This is also true in the music market in general—jazz no longer sells well. So, rather than not being able to tell, it is easy to tell. Almost 98% of all music sales is not considered to be, nor is it, jazz.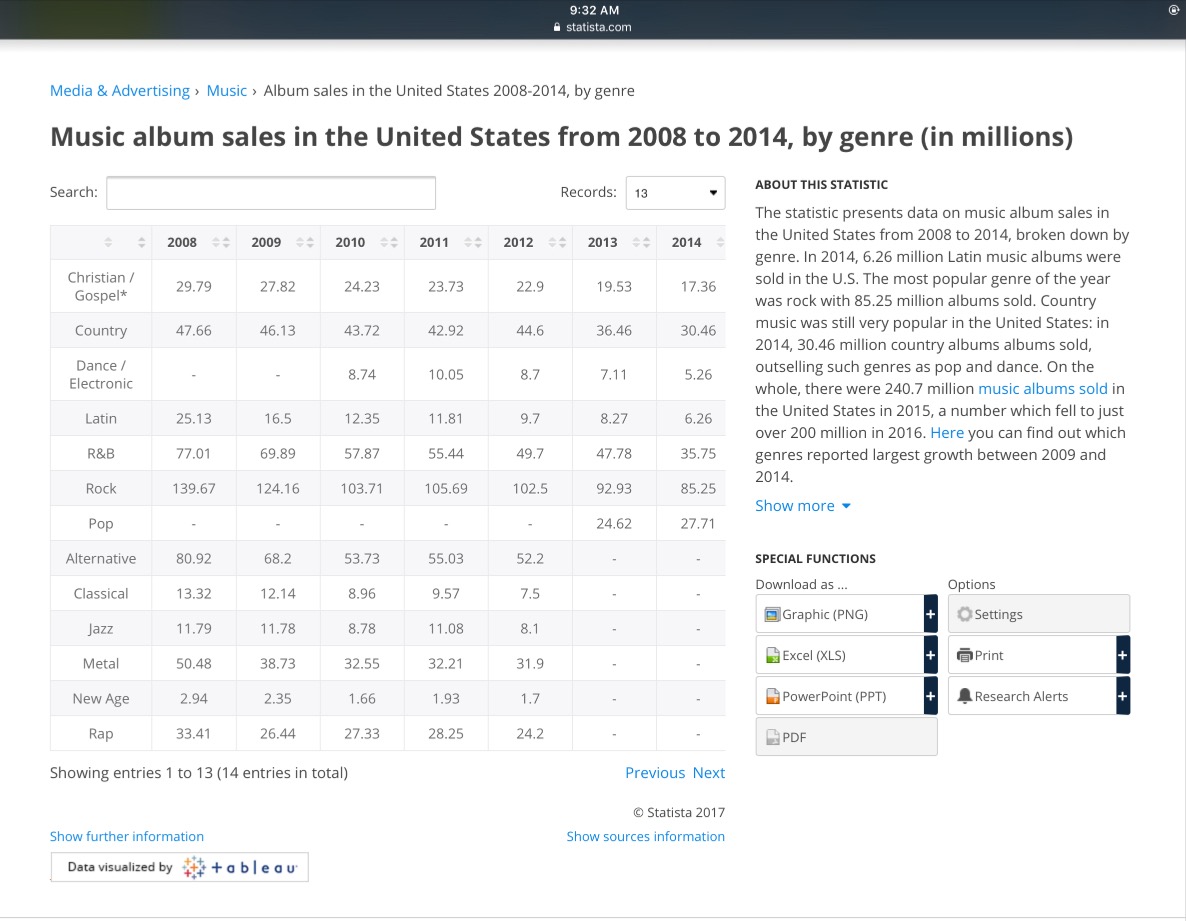 "However, just a year later, in 2012, [jazz sales] fell to 2.2%. It rose slightly to 2.3% in 2013 before falling once again to just 2% in 2014. That 2% represents just 5.2 million albums sold by all jazz artists in 2014. In comparison, the best-selling artist of 2014, Taylor Swift, sold 3.7 million copies of her latest album '1989' in the last 2 months of 2014 alone."[7]

(bold not in original)
So, no it is just not true that jazz cannot be easily told apart from most non-jazz. By what criteria this is happening is a separate question. Still, these criteria are well known. Country music, while it can be improvised and by some performers (see below) it is an important part of their performances, in its recorded song version it is not typically improvised because it doesn't need to be. Nor does it use standard jazz harmonic musical language, nor does it have complex syncopation (using odd rhythmic patterns), and so forth. Wikipedia on country music describes it as "often consists of ballads and dance tunes with generally simple forms and harmonies accompanied by mostly string instruments such as banjos, electric and acoustic guitars, steel guitars (such as pedal steels and dobros), and fiddles as well as harmonicas."[8]
Jazz, on the other hand, usually does not use only "simple forms and harmonies," but rather complex forms with complex harmonies. Regardless of the criteria used, everybody, especially record store owners, are seldom if ever confused, as to where to place Patsy Cline, Bob Wills, or even Gary Clark, Jr. in the categories used in their store.
McKeown-Green can respond that the above misses his point. He didn't claim people couldn't tell jazz from non-jazz but that there is no criteria for accomplishing this. Maybe. Still, if he is in agreement that at least 90% of all record sales are not considered jazz mustn't there be some criteria by which this successful separation distinguishment is occurring?
So, what might McKeown-Green's explanation for how a criteria unknown category, which he claims true for jazz, can be so successfully distinguished from all other forms of music. One way he might attempt to account for jazz being distinguished from 97% of all other music would be to base his answer around past historical judgments made about previous artists and their music and how it has been categorized. If Miles Davis's albums in the past were categorized as jazz then the next one should so as well based on past precedent.
Isn't there a big problem with this approach of using inductive reasoning and historical evidence for making decisions about what musical genre an album should fall under? Of course, this cannot be a correct model for determining genre classifications because an artist that had an album under a previous musical genre could now be playing music that is of a different genre, as Miles Davis did during his career.
The major failing of any such historical inductive model for determining musical classifications is that it is not bothering to listen to the music and then and only then deciding what category that particular music falls under or within.
CONCLUSION: It cannot be only past historical classifications that determine what musical genre a new album of music should fall under.
➢ What other non-criteria motivated classification schemas might McKeown-Green appeal to besides the historical inductive one?
(2) Much canonical jazz does not emphasize improvisation; much country and folk music does.
Why does McKeown-Green even bother to say this? Presumably the reason is to block any move that stresses the importance of improvisation for picking out jazz as a musical genre and stopping this move because improvisation is used in other genres besides jazz. Still, while it needs to be conceded that some canonical jazz did not always have improvisation, such as some Duke Ellington orchestra numbers, it cannot be said that this is true for much or most canonical jazz, however canonical jazz ends up getting cashed out. Improvisational jazz skills have always been, and continue to be, highly touted and praised. Jazz does emphasize great improvisations and great improvisers such as Charlie Parker, Lester Young, John Coltrane, Miles Davis and Sonny Rollins. The list is a mile long in jazz. There are great country music improvisers such as Brad Paisley, Keith Urban, or the somewhat less well know Marty Stuart. From the more traditional country family we have Jimmie Rodgers, the Carter Family, Hank Williams or the Stanley Brothers. Charlie Haden reports that these traditional country stars were not always "following a score; they're improvising."[9] Country musicians are going to improvise for the same types of reasons that jazz improvisers do because it is fun, challenging, and helps eliminate boredom. Bluegrass musicians are well known for having a lot of improvisation in their music.
Certainly it is true that Duke Ellington's orchestra often, especially when playing live, had a significant amount of improvisation performed during their music. For a 'canonical example' take Paul Gonsalves's 27 improvised choruses during the live performance at the Newport Jazz Festival in 1956 of Ellington's "Diminuendo and Crescendo in Blue." As reported at Wikipedia this was not an uncommon occurrence for Gonsalves and the Ellington orchestra.
(3) People who enjoy central cases of jazz from one subgenre are not especially likely to enjoy jazz from other subgenres. Such disunity is easily explained historically.
Now how does McKeown-Green know this to be true? Has he taken a survey or just speculated? It is true that if you like jazz you might not especially like jazz-fusion. On the other hand, Miles Davis's album "Bitches Brew" brought a lot of rock and roll aficionados into more appreciation for jazz. Let us speculate ourselves. Suppose you like traditional jazz from the 1940's through the 1950's, which includes big band swing and Bebop. It is a safe bet, you probably also enjoy soul jazz, hard bop, cool jazz, modal jazz, bossa nova, and latin jazz. This, if true for a significant portion of the jazz listening community, would refute McKeown-Green's assertion here.
Of course, he may have in mind that you may not care for free jazz or jazz-rock fusion, or even smooth jazz. Whether history can explain this remains to be seen.
(4) For example: influential swing soloists invented bebop; their experiments influenced swing performance style; since swing was jazz, it was natural to authorize bebop. Rock 'n' roll, despite sharing many features with swing, had roots in rhythm and blues and country.
Here is where McKeown-Green purports to provide such a history, or at least it is his next sentence. But, he appears to contravene his own assertion that if you like one sub-genre you might dislike the next. Swing soloists, like Charlie Parker and Dizzy Gillespie, helped invent Bebop and many jazz afficionados, not all, found Bebop an acceptable jazz form that they enjoyed. Rock n roll did not come from jazz, but from R & B and country, so little wonder Rock n Roll is not considered, nor is it, jazz.
(5) By covering some styles more than others, DownBeat and other jazz journals steered readers toward those styles.
Granted that if all that is meant by this sentence is that publicity, public exposure, and publicly revealed accolades from admired critics could influence public opinion to some extent, then fine. This is not the radical picture had by McKeown-Green. He maintains that editors and writers at Downbeat could possibly even determine and affect what counts as jazz no matter what the other touted music may be better thought of as falling under.
Is it believable that if some crazy editor, (or even many) at Downbeat were to have started touting Elvis Presley, or better yet, Elvis Costello, as the next jazz superstar, he could have swayed the jazz community to accept this. Instead, he or she would have been fired because of the huge backlash that readers of the magazine would have done as pushback on the baloney involved.
The reason why Downbeat covered new styles of jazz was because they judged (correctly) that these new styles merited attention as falling within the jazz umbrella. Of course it is also true that in the 1970's the magazine started to cover rock. (And, the best thing of all was the year Jimi Hendrix died in 1970 the Downbeat readers voted him into the jazz hall of fame purely out of respect and not because of his jazz prowess).[10]
➢ How believable is it that Bebop not be jazz?
"No rigorous constraints govern the evolution of the criteria for identifying instances of jazz. No Academie de Jazz arbitrates. Nor does jazz, like atoms and mammals, play a well-defined causal role in some theory about the world's workings. Thus, the story of jazz could easily have gone differently. The beboppers might have left jazz critics behind, attracting new listeners. Bebop might then not have been regarded as jazz. Fledgling rock 'n' roll might have occupied more space in DownBeat. Nothing in the previous practice signaled that certain styles, and not others, would count as jazz later. Nor is it likely that actual jazz history reflects a more principled, strategic, elegant, or otherwise defensible program than all counter-factual ones.

[5]

(bold not in original)
Start with his first sentence concerning no rigorous constraints governing jazz genre identifications. McKeown-Green cannot just assume this is true without begging the question. An opposing view to his position is that there are at the very least constraints on jazz genre identification and those constraints are the musical features found in jazz itself. If someone only plays standard and typical polka music they are never playing jazz because the polka music does not satisfy the constraints that jazz music places on the genre itself.
IMPORTANT PRESUMPTION FOR EVALUATING WHAT COUNTS AS JAZZ: Certainly, jazz history and jazz critic's perceptions and audience's judgments are influenced and can be changed by economic, cultural, religious, and/or societal circumstances and factors. That is not the crucial question/issue. The more important question concerns how particular counter-factual situations are to be judged, and who should be doing the judging. It should not be judged by possible counter-factual judges from these alternative scenario situations who undoubtedly could be found to judge that Bebop does not in their judgment qualify as jazz. No. The only acceptable, non-question begging judges must be from, and only from, the current and actual past jazz history, and not some possible past history, which could well totally affect all judgmental and evaluative assessments. The question concerns the actual history of jazz up to current jazz history and only from there making judgments about what can and cannot qualify as jazz. This past jazz history must be taken into account for determining future jazz sub-genres inclusion under the genus of jazz even though the absence of the new sub-genre from past jazz history cannot be the sole reason for excluding it from being a sub-genre of jazz.
Thus, let us answer the questions regarding some of McKeown-Green's claims:
➢ Could Beboppers have left all jazz critics behind in any possible universe?
Certainly, it is easily conceivable that there is a possible world where Bebop is shunned and more traditional jazz was considered the only true jazz. That's because that scenario is what actually happened in the actual universe, ours, up to a point anyway.
It is well established and well known that there was significant pushback from the jazz community against the Beboppers because it was more difficult music to play and to listen to and it represented jazz as a more artful music, technically demanding, perceived as less pleasant to listen to by some. So, this possible world is actual and exists as a genuine possibility.
Furthermore, suppose that Nazi Germany won World War Two. All jazz critics are loyal followers of the Nazi party and agree that Bebop for numerous reasons is not jazz because jazz gives glory to whatever, but Bebop gets shunned and disqualified to count as genuine jazz because it is produced by . . . (fill in any reason).
CONCLUSION: Bebop could have been shunned by all jazz critics.
WAIT! Yes, the Nazi critic scenario as a possible universe can be granted. This, however, is not the important question. The important question is whether the Nazi critics are correct that Bebop should not qualify as jazz from the current points of view about jazz.
---
What arguments prove the Nazi critics are mistaken that Bebop is not jazz

[

edit

]
➢ Why do the Nazi critics believe Bebop is not jazz?
The Nazi critics reasons for discounting Bebop as not qualifying as jazz are inappropriate for this kind of assessment. They are rejecting the music based primarily, if not exclusively, on racial grounds and who produced and caused this music to exist.[11] This speaks nothing towards what kind of music that it should be classed as being and which genre. Musical sources, such as finding out some music was created in Cheraw, South Carolina by mill workers tells us nothing about what kind of music that it is.[12] Therefore the Nazi critics can be wrong, if Bebop counts as a type of jazz.
➢ Why believe that Bebop is a type of jazz?
It is false that anyone could just arbitrarily choose to combine two or more musical genres and give them their own genre name and that this would produce a new genre under that name. Suppose some producer says "I'm going to make a new genre of music called Country Opera by just taking country albums and Opera albums and putting them together on the same CD." [13]
➢ Has this producer now invented, created, or even discovered the music genre of country opera?
Absolutely not. There is no genre of music country opera. Even if the CD's sold well it could just be that country albums sell well and the buyers ignore the opera. Even if the same people like both country and opera music equally it does not in any way follow that there there is such a genre of music as country opera.
➢ What is required for the musical genre of country opera to exist?
Country opera could exist if a composer became successful at making opera that featured country music components in significant ways. The operas are about the same themes as are many country songs. There are country musical instruments played from the orchestra like slide guitar, banjo, guitar, yodeling maybe, and so forth.
What does this establish with an argument? Not all musical genres are identical to all others arbitrarily. If you are playing the blues you are not playing opera, or jazz, or polka music. Just because some critic says Bebop is not jazz it does not follow from arbitrary reasons as necessarily true that it is not jazz.
➢ What makes it possible that Bebop could be jazz?
Suppose that there are legitimate musical reasons to justify that Bebop qualifies as being in the jazz universe. What would they be?
On the Galactic model defining jazz the super black hole towards which all jazz genres gravitate both to and from we have HSI (hybridization of the diatonic and pentatonic musical scales, syncopation, and improvisation.) While none of these by themselves is sufficient or necessary for music to be jazz, most jazz, importantly including Bebop, has all three. Additionally, the stronger a musician is with respect to skills regarding all three properties of HSI causes a higher regard for this musician within the jazz community. The greatest players have had strengths in these areas, although it is sometimes said that Coleman Hawkins, an influential jazzman in anyone's book, had more of a limited capacity to play the blues than someone like Lester Young.
➢ Is McKeown-Green correct that jazz as a musical genre is not a natural kind? Is it true that " . . . jazz, like atoms and mammals, [does not] play a well-defined causal role in some theory about the world's workings"?[5]
Really, this is an interesting question. If McKeown-Green does not provide any argument(s) for this claim then he would just be begging the question here. What are his reasons for denying natural kindhood that can play a causal role in a theory of the workings of the universe?
He supplies at least two considerations, or perhaps they are better thought of as proposals, for believing that if the proposals are true then jazz cannot be a natural kind.
---
McKeown-Green Proposal #1

[

edit

]
McKeown-Green Proposal #1: If jazz we're not a natural kind then "the story of jazz could easily have gone differently. The beboppers might have left jazz critics behind, attracting new listeners. Bebop might then not have been regarded as jazz. Fledgling rock 'n' roll might have occupied more space in DownBeat."[5]
Let us assess this first proposal. Could jazz be a natural kind (of music) and still have had a different history than it actually had. Possible worlds are non-contradictory and therefore consistent scenarios describing possible jazz universes. Few philosophers and theorists, besides Spinoza, would reject the existence of a possible world a lot like the actual world up to a specific point in time, but then something gets changed. For example, it is imaginable that any famous figure in jazz might not have existed. If Louis Armstrong had never existed then jazz history would have been significantly different. Still, it is believable that even if Ornette Coleman had not existed that free jazz would have still been discovered if the possible world scenario is more or less the same up to Ornette's entry onto the music scene. It is well know that Lennie Tristano[14] and Warne Marsh[15] prior to Coleman had dallied with free form jazz-like structures, and Ornette while hugely influential was not the only jazz influencer who promoted and worked on free jazz. Therefore, it is not unreasonable to believe that in a possible universe up to Ornette Coleman, but without him, that free type jazz could still have been promoted and come to the forefront in some jazz musician's repertoire even without the existence of Coleman and his musical compositions.
This counter-argument is meant to parallel a claim that is sometimes made about Albert Einstein and his theory of (special) relativity of 1905. He was ahead of his time, but inevitably, and likely within the next 20 to 50 years, relativity theory would have been discovered.[16]
➢ Why is it so inevitable that relativity theory would have been discovered eventually you ask even without Einstein?
The Lorentz equations and Poincare's mathematical discoveries are often mentioned as leading to relativity theory. [17]
The problem of the perihelion orbit of the planet Mercury was not going to go away and physicists needed to come up with how to account for this precession other than using Newtonian mechanics which could not explain the orbit's properties with high accuracy.

[19]
Maxwell's equations were already well known and relativity theory is a helpful step even with all of relativity theory's weird counter-intuitive implications it is needed to account for much well known odd physical phenomena. Nothing else would do the job and the ideas once found are consistent with much other theorizing in physics.

[17]

➢ Without the existence of Ornette Coleman was the discovery of free jazz inevitable?
On similar grounds to that argued for Einstein's theory of relativity, one can claim the same sort of inevitability for free jazz under some circumstances.[20] Just like other physicists had produced material from which relativity might be discovered, other musicians had worked on expanding the jazz vocabulary and providing new genre production. Some musicians such as Albert Ayler, or John Coltrane, and many European musicians struck out on their own paths like Peter Brötzmann could have continued to work on jazz in a freer fashion even if Ornette Coleman had not been born.
➢ Do any of these considerations about the possible inevitable discovery of other forms of jazz, such as perhaps modal, soul, cool, third stream, and/or free jazz support the claim of jazz as a natural kind?
Sure. Why not? In the same way relativistic laws of nature govern the interaction of space-time and speeds of physical objects because these laws exist in the universe, one can argue, as Platonistically inspired timbral sonicists maintain, that all musical compositions antecedently exist as abstract objects in musical space and are only discovered by their composers, but not created since they already have eternal existence. Surely this would make them have some sort of natural kind status because of their existence as abstract objects.
➢ Why believe in natural kinds anyway?
Natural kinds, according to Wikipedia, are non-artificial in the sense that they are types that exist independently of person's classifications and categorization. They already are a type under which only objects having these same features qualify as being tokens of that type.
"In analytic philosophy, the term natural kind is used to refer to a "natural" grouping, not an artificial one. Or, it is something that a set of things (objects, events, beings) has in common which distinguishes it from other things as a real set rather than as a group of things arbitrarily lumped together by a person or group of people. If any natural kinds exist at all, good candidates might include each of the chemical elements, like gold or potassium. Physical particles, like quarks, might also be natural kinds. That is, they would still be groups of things, distinct from other things as a group, even if there were no people around to say that they were members of the same group. The set of objects that weigh more than 50 pounds, on the other hand, almost certainly does not constitute a natural kind. A more formal definition has it that a natural kind is a family of "entities possessing properties bound by natural law; we know of natural kinds in the form of categories of minerals, plants, or animals, and we know that different human cultures classify natural realities that surround them in a completely analogous fashion" (Molino 2000, p.168). The term was brought into contemporary analytic philosophy by W. V. Quine in his essay "Natural Kinds", . . . According to Quine, . . . kind-hood was logically primitive: it could not be reduced non-trivially to any other relation among individuals. Cultural artifacts are not generally considered natural kinds."[21]

(bold and bold italic not in original)
The Stanford Encyclopedia of Philosophy supports the understanding of natural kinds as existing outside of the purview of human arbitrary categorizations.
"Scientific disciplines frequently divide the particulars they study into kinds and theorize about those kinds. To say that a kind is natural is to say that it corresponds to a grouping that reflects the structure of the natural world rather than the interests and actions of human beings.[22]

(bold and bold italic not in original)
There are a couple of things that require clarification. When Molino above in the Wikipedia quotation describes natural kinds as "entities possessing properties bound by natural law" this is ambiguous. On the one hand, what isn't bound by natural law? Nothing in the natural universe is not bound by natural law so on this conception everything is a natural kind. This is probably not what someone like Molino had in mind. More likely what Molino had in mind is that natural kinds are the property types found in laws of nature, as when we say force is identical to mass times acceleration, or in e=mc2 where c is a natural kind referencing the speed of light. This speed is non-arbitrary and has never been arbitrarily determined by any person or group of people. Neither has any group of people arbitrarily stipulated what are the properties of light. No humans could ever have even imagined that light has wave-particle duality; it's just too weird and alien to all past human thinking. This was a discovery of an antecedently existing phenomena and did not get created through human conventions or arbitrary stipulations.
Still, the final sentence quoted above from Wikipedia that "cultural artifact are not generally considered to be natural kinds" would seem to impact upon music and musical genres since these are cultural artifacts.
Stanford Encyclopedia of Philosophy on Natural Kinds from a realist perspective requires scientific natural kinds needing to satisfy six criteria.
"1. Members of a natural kind should have some (natural) properties in common. This is a necessary condition of kindhood, but not a sufficient condition, for objects of very different kinds may share some natural property. As Mill (1884) remarks, white objects do not form a natural kind. Natural properties here are often taken to be intrinsic properties. . . . . Some, it should be noted, hold that not all natural properties are intrinsic.


2. Natural kinds should permit inductive inferences. This is a point emphasized by Whewell (1860) and Mill (1884), and is central to Quine's (1969) discussion of natural kinds (see Section 1.2.1). On its own, this criterion also does not help distinguish natural kinds from sets of objects sharing some natural property, and in that sense does not go beyond criterion 1. Criterion 2 is also necessary but not sufficient condition on natural kind classifications.
3. Natural kinds should participate in laws of nature. This may be considered as a stronger, metaphysical version of criterion 2. It is correspondingly more contentious: if something is a duck, then it has webbed feet; but one need not hold that such inductively obtained conditionals regarding biological kinds must constitute laws of nature. Even if this is a necessary condition, like criteria 1 and 2, it fails to be a sufficient criterion. For laws of nature may concern natural qualities and quantities that do not define kinds (e.g. Newton's law of gravitation).
4. Members of a natural kind should form a kind. Criteria 1–3 supply related conditions that fail to be sufficient for kindhood. We may expand on Mill's example of white things, which do not form a natural kind; neither do negatively charged things, nor do things with a mass of 1 kg. It is not immediately clear what this criterion requires, but we may say that an adequacy condition on a satisfactory account of what kinds are must address this 'kindhood' question (Hawley and Bird 2011).
5. Natural kinds should form a hierarchy. If any two kinds overlap at all, then one is a subkind of the other, or they are identical (Kuhn 2000; Ellis 2001, 2002). This is exhibited, for example, by Linnaean taxonomy in biology. If any organisms from different species are members of the same genus, then all members of both species are members of that genus.
6. Natural kinds should be categorically distinct. There cannot be a smooth transition from one kind to another (Ellis 2001). For then the borderline between them could not be one drawn by nature, but one that is somehow or other drawn by us. In which case the kinds would not be genuinely natural. This is exhibited by the chemical elements.[23] (bold not in original)
➢ Does jazz as a musical genre satisfy all six criteria?
Criteria 1 can be met by jazz sub-genres because they do have some natural properties in common. Regarding criteria #2, there are inductive inferences one could make about jazz situations. Criteria #3 would seem to be the hardest for jazz to satisfy since there seem to be no laws of nature with the kind jazz entering in to the equation. While McKeown-Green would deny that jazz forms any coherent (or consistent or unified) type, other theorists believe that jazz may form a kind thereby satisfying criteria #4. Does jazz as a kind rank in a hierarchy with other kinds? Who knows exactly what this means or implies for jazz. Criteria #6 is definitely not satisfied by jazz as a musical form since someone like Paul Rinzler holds that jazz comes in varying degrees of jazz and he uses fuzzy logic as his background assumptions for how to assess and evaluate different forms of music.
➢ Can natural kinds have fuzzy boundaries and not be categorically distinct?
Sometimes it is said that electrons are candidates for being natural kinds yet electrons have wave-particle duality and the application of Heisenberg's uncertainty principle requires that some categories will be indeterminate because there is "fundamental limit to the precision with which certain pairs of physical properties of a particle, known as complementary variables, such as position x and momentum p, can be known."[24] It isn't just that it is not known, but that it is not simultaneously knowable because of inherent indeterminacy. Hence, even natural kinds can have some of their properties with some categorical indistinctness or indeterminacy. If natural kinds can have some indeterminacy then criteria #6 may be mistaken, thereby permitting jazz that can come in degrees be a kind too.
---
At the end of Proposal #1 it is suggested that rock and roll could have ended up as counting as jazz. Well, this is sort of true of the music labeled as jazz/rock fusion. This is not really what McKeown-Green has in mind, however. He imagines a much more radical proposal where, for example, every song on the Beatles "White album" could have been judged to be jazz in some possible world.
➢ Is it believable that the Beatles played jazz on every song of their "White Album"?
Intuitions may differ. On one hand, it is not inconceivable that this gets reported as true in an influential publication such as Downbeat. But, can the claim be justified as true is the more important question? Again, if we switch the minds of the evaluators to where each evaluator judges all songs from the "White album" to qualify as jazz is this a possible world where the concept of jazz in the actual world and how jazz is judged as jazz in this possible world are using the same conception of jazz as here in the actual universe? McKeown-Green has a problem here. He cannot argue that there is no stable conception of jazz in the actual world because there is a possible world where their use of the word "jazz" uses a different concept for jazz than the one in the actual world proving there is no such stable concept.
To see this problem for him more clearly, I presume that McKeown-Green accepts that in the actual world there are at least some stable conceptions and some of these refer and maintain their stableness because they are referring to pre-existing natural kinds that don't change over time. Let us assume gold is such a stable concept. If you don't like gold just substitute any other concept that you believe is stable over time and then have the argument proceed in the same way this one is about to. Next, assume that Earth Two is a possible universe where their term "gold" picks out the same things that ours does in the actual world on Earth One except they also include cats in their conception of gold things. In our actual world terminology (and conceptions) we would describe Earth Two as using the word "gold" to mean 'gold or a cat.' When Earth Twoians see a cat they say there goes by some gold. Do these two different conceptions and the changes in the use of the word "gold" prove that gold as it is used on Earth One (the actual Earth) does not refer to a natural kind? No, it does not, therefore it doesn't disprove it when on Earth Two the word "jazz" from the point of Earth One conceptions understands the Earth Two conception of jazz to mean 'jazz or rock and roll.' Just like gold could still be a natural kind reference in the actual universe so too could jazz be such a kind in the actual universe. At least it is not disproven by jazz meaning 'jazz or rock' on possible Earth Two.
---
McKeown-Green Proposal #2

[

edit

]
McKeown-Green supplies a second proposal for believing jazz is not any sort of stable musical kind. He cites the apparent hodge-podge generation of future jazz genres that have maintained the jazz name. He also discounts any historical account as reflecting any principled way by which to justify what has been included and rejected from lying underneath the jazz umbrella term. Here's how he puts these points:
"Nothing in the previous practice signaled that certain styles, and not others, would count as jazz later. Nor is it likely that actual jazz history reflects a more principled, strategic, elegant, or otherwise defensible program than all counter-factual ones."[5]

(bold not in original)
➢ Are there any previous practices or principled reasons accounting for jazz sub-genres inclusions as jazz?
The question is large and contentious. Part of the contentiousness comes from musical sub-genres that some theorists wish to exclude from falling under the jazz genus and they are perhaps not sub-genres of jazz. Possible candidates in this disputed area can include jazz/rock fusion, free jazz, acid jazz, or smooth jazz. Let us for the moment just leave out any easily contested sub-genre for now and focus on those sub-genres that the vast majority of music theorists would incorporate as species falling under the genus of jazz. These sub-genres include swing, big band, modal jazz, cool jazz, West Coast jazz, soul jazz, hard bop, Bebop, and so forth.
➢ Regarding just these uncontested sub-genres, is there any "principled reasons" or "previous practices" that permit predictions of the inclusion of these sub-genres under the jazz umbrella?
Whatever sub-type of jazz you believe to be jazz can be shown to have musical affinities with all of the other uncontested sub-genres of jazz. Big bands did not always swing but the very same jazz big band song can be swung or not swung. Why is either one jazz? The point is that the swung version and the unswung version would still have a lot in common. The swung version differs from the non-swung version in having different rhythmic emphases. Every other feature could be virtually identical. If the unswung version counts already as jazz, it is hard to see why the swung version with only some different rhythmic emphasis couldn't also count as jazz.
Bebop uses many musical features and techniques from earlier jazz styles, including hybridization of the diatonic and pentatonic musical scales, syncopation, and much improvisation. What Bebop added were extending chord forms up into 11ths and 13ths and using more advanced harmonic techniques. Speed of execution, 16th notes, 32nd notes, and technically demanding performances on their respective instruments also were featured during Bebop performances. If you are already playing jazz and then you just speed up your playing this doesn't seem as if it would end up not being jazz merely from faster executions of notes and chords.
Many future jazz sub-genres remained true to being music good for dancing, including big bands, swing music, soul jazz, and especially Latin jazz. That dancing was an important motivation for jazz is held by Gunther Schuller in his "The Influence of Jazz on the History and Development of Concert Music," where he writes that "In its earlier history and development from a true black folk music through a nationally popular entertainment music to a world art music, jazz was indeed primarily a dance music, and proud of it. It derived much of its strength and sustenance from being a dance music. But jazz has long ago moved beyond the realm of dance and entertainment functions, those being limitations not inherent to the deeper nature of jazz."[25] (bold not in original)
Predictions are based on time periods and contexts from within which hopefully reasonable estimates of likelihoods can be estimated. From the fact that early jazz music was danceable one could predict some future currently unknown sub-genres of jazz will be danceable.
The reason this is even relevant in light of the fact that many other genres of music besides jazz are also danceable is because of the claim made by McKeown-Green that there were no principled ways for predicting what future unknown sub-genres of jazz might be like given that it is known what current jazz genres are like. Does the danceability of some jazz genres that came into existence over time as their own type of jazz help refute the claim that there are absolutely no principled ways to accomplish successful future predictions about what these future jazz genres might be like? That some jazz music is found agreeable by dancers is such a principle thereby refuting McKeown-Green's assertion.
To McKeown-Green's second point regarding the indefensibility of actual jazz history having any more precedence as a model for jazz than any other possible counter-factual musical history, Paul Rinzler in his The Contradictions of Jazz appears to take offense at this notion. Rinzler argues in his book that to determine how best to characterize jazz music one must turn to its actual historical developments to understand the jazz tradition and his claim is that the jazz tradition in the actual world is the only correct standard for evaluating and best charactering it as a genre of music.
"If there is something in the music that makes us call it jazz, then that aspect of the music is part of the tradition and definition of jazz. Tradition defines identity, much like definition does. Tradition is logically necessary if we are to talk about something we call 'jazz.' The question is not whether there is a tradition in jazz, but what that tradition is."[26]

(bold not in the original)
If we take Rinzler at his word here, then he must reject McKeown-Green's proposal that any counter-factual history of jazz is as good as the actual history.
---
➢ Why believe Rinzler here over McKeown-Green?
McKeown-Green does seem to have a pre-disposition to believe that numerous categories are so fluid that they could easily have had alternative developments in other possible worlds where in these possible scenarios the reference classes are different. A dramatic claim in this regard is McKeown-Green stating that whales could well not have been classified as mammals. Here's the quotation first and then let's consider the feasibility of his suggestion.
"Whales are classed as mammals, though they might not have been. This precisifies the criteria for being a mammal along one trajectory rather than another, but those criteria are still consistent and handy." [27]

(bold italic not in the original)
Whales in the actual world are categorized as being members of the mammal category. Mammals are a type of animal that satisfies several conditions such as:

all mammals are warm-blooded animals (endothermic: which means they need to provide their own body heat through their metabolism); they keep a high body temperature that strives to remain constant in different temperature environments.



breathe oxygen from air using lungs.


have hair.




give birth to live young.




and females feed their offspring milk from mammary glands.

[28]

In the actual universe whales satisfy all of these conditions.[29] Furthermore, whales evolved from land based mammals. Hence, it is not shocking that they remained as mammals while evolutionarily adapting to the water. They are related genetically and biologically to the hippopotamus, which is also a mammal.[30]
For McKeown-Green's suggestion that whales might not have been classified as mammals the whales would have had to have had a different evolutionary history. It stands to reason, doesn't it, that if an animal had enough of a change in evolutionary history that that animal should not be classified as a mammal, then this animal would not be a whale, therefore McKeown-Green's suggestion is incoherent.
---
Principled Predictions of New Jazz Genres

[

edit

]
Is there anything in previous jazz practices that permit predictions of inclusion for future jazz genres. Start at the beginning of the history of early jazz between 1899 and 1917. We have Ragtime music and we have Dixieland, piano professors from Storyville, the start of combo's, such as Buddy Bolden's, King Oliver's or the Original Dixieland Jazz band.
Most music histories claim one of two things. They either say Ragtime was a pre-cursor to jazz or that it counts as an early form of jazz. Wikipedia entry on the Original Dixieland Jazz band as "a Dixieland jazz band that made the first jazz recordings in early 1917. Their "Livery Stable Blues" became the first jazz record ever issued. The group composed and made the first recordings of many jazz standards, the most famous being "Tiger Rag". . . . ODJB billed itself as the "Creators of Jazz". It was the first band to record jazz commercially and to have hit recordings in the new genre. Band leader and cornetist Nick LaRocca argued that ODJB deserved recognition as the first band to record jazz commercially and the first band to establish jazz as a musical idiom or genre. (bold and bold italic not in original)
Encyclopedia Brittanica has a fairly balanced description of Ragtime.
"Ragtime, propulsively syncopated musical style, one forerunner of jazz and the predominant style of American popular music from about 1899 to 1917. Ragtime evolved in the playing of honky-tonk pianists along the Mississippi and Missouri rivers in the last decades of the 19th century. It was influenced by minstrel-show songs, blacks' banjo styles, and syncopated (off-beat) dance rhythms of the cakewalk, and also elements of European music. Ragtime found its characteristic expression in formally structured piano compositions. The regularly accented left-hand beat, in 4/4 or 2/4 time, was opposed in the right hand by a fast, bouncingly syncopated melody that gave the music its powerful forward impetus.[31]

(bold not in original)
➢ What 'principled' predictions can be made from here regarding new future unknown jazz genres?
It could be predicted that when this music expands from being primarily a piano style to the use and interaction between more musicians with different types of musical instruments that the music would, or could with probability, retain its interest in being danceable and rhythmically interesting and challenging to play as a result of the use of syncopation. To produce such syncopation one must have a regular beat against which musicians place rhythmic accents on either the weak beats or the off beats. (For more information about syncopation see Ontmusic30. What is syncopation?).
An easy prediction is that future jazz genres would sometimes be in 4/4 or other time signatures, and these future jazz genres often do use 4/4 time.
While it is underplayed in the above characterization of Ragtime, the use of European elements based on a diatonic musical scale and synthesized with (an African) pentatonic (blues) scale is highly significant. Another prediction that can be made on this basis then is the existence in future jazz of such a hybridized musical schema. Again, almost all future jazz genres (free jazz being an exception) also depend heavily on such hybridization of a diatonic with a pentatonic musical scale.
Early jazz in the 1910's and 1920's had plenty of improvisation sometimes occurring simultaneously by multiple players. It could be predicted that improvisation of the jazz materials would occur in future jazz styles. A primary reason for the emphasis on improvisation is because of its inherent creativity interest and technical challenges. Musicians after spending so much time (minimum of 10,000 hours for expert skill levels in general) to develop their improvisational skills will undoubtedly want to use them. Plus, musicians like to improvise who can because they get to use their musical imaginations and have the fun of interacting in surprising and imaginative ways with other musicians.
If these predictions had been made they would have all turned out to be correct. The new jazz styles as they came into existence, such as Bebop, cool jazz, West Coast jazz, soul jazz, modal jazz, and so forth all are musics that contain hybridized music that synthesizes diatonic and pentatonic musical scales, significant amounts of syncopation, and highly touted improvisations and musicians with wonderful chops on their respective instruments.
➢ Why was Bebop developed?
Naysayers against the prediction of Bebop include the well known critic, Leonard Feather (1914-1994).
"The evolutionary course of any art form tends to defy crystal-gazing. Just as it would have been impossible for an art student of the nineteenth century to foresee accurately the arrival of cubism, just as no musician even in 1941 could predict the upheaval that was to be wrought by bop only three years later, the prognosis for jazz must be heavily qualified by an admission that the only predictable factor is its unpredictability.[32]

(bold not in original)
The irony of these opening remarks gets revealed when in the very next sentence he claims that "most musicians have formulated a view . . . of what the future may hold [for jazz]."[32] You cannot have it both ways: either future jazz cannot be predicted because of its unpredictability and then having "most (jazz) musicians" having predictions for what the future of jazz might hold. Surely this is talking out of both sides of your mouth.
The reason this is important is because the possibility of future jazz predictions is being called into question by Leonard Feather (and others). Feather made the claim that even in 1941 Bebop could not have been predicted by any musicians. Perhaps we might grant that most musicians may not have been able to predict a Bebop in 1941, but the claim that no musician could have predicted Bebop permits us to choose any musicians we might want as possible counter-examples. How about we try to get predictions from each of the future founders of Bebop and see what they could predict in 1941 about the possibilities concerning Bebop that more fully emerges in the next three to four years? It may well be that either Dizzy Gillespie, or Charlie Parker, or Thelonius Monk, or Charlie Christian, or Oscar Pettiford may have been able to make some relevant predictions about future jazz leading to Bebop, don't you think? So, it isn't, in fact, totally unpredictable. Also, there is the argument that it is not logically or metaphysically impossible for Bebop to have been predicted in 1941 because there is a non-contradictory possible world where this occurs, thereby proving its possible to predict Bebop in 1941.
Similarly, while cubism is an intriguing and complex art movement, the idea of multiple perspectives and abstraction are not unreasonably possible predictions from knowledgeable art theorists prior to the development of cubism. Feather's claim that "it would have been impossible for any art students say in 1905 to predict something like cubism"[32] as an art movement is hyperbolic on the grounds that it is not logically or metaphysically impossible. There does exist a possible universe wherein Fred the art student in 1905 predicts cubism. This is not a self-contradictory world therefore such a prediction is both logically and metaphysically possible, not impossible, as Feather would have it. Unlikely, perhaps, but definitely not impossible.
ASIDE: It seems reasonable to hold that the social and political consequences were unforeseen at the very start of the internet. Suppose this is just granted without argument. So, no one did predict Facebook, the Arab Spring, texting, etc. The other question, though, is were these predictable, not just didn't get predicted. Certainly after the fact when we know all about these phenomena from exposure to these phenomena it does not seem impossible for them to have been predicted by someone who sat down and thought long and hard about what having global communication with a huge information database available to the masses might cause to happen.
Woody Herman predicted in 1957 (in the next quotation below) the distinct possibility of World Music jazz whereby jazz played in other countries integrates some of their musical traditions and styles into their own jazz performances, as Nguyên Lê does with his incorporation of Vietnamese style music into his jazz,[33] or Don Cherry who studied African, Indian, Turkish, and Brazilian musics incorporated into his jazz while utilizing numerous international flutes,[34] free jazz's return to the field holler and the blues,[35] John Coltrane's incorporation of traditional music from Africa, India, and the Near East,[36] or Bossa Nova, or Afro-Cuban, or even Latin jazz.
"As to the international aspect, the future for jazz generally speaking looks much brighter abroad than at home. A lot of people overseas have been making great strides in terms of originality, and I am inclined to think that certainly within the next 25 years there will be groups that set up their own kind of jazz, their own styles, in many other countries."[37]

(bold not in original)
John Lewis, pianist for the Modern Jazz Quartet concurs with Woody Herman regarding the international music scene for jazz, which he also predicts from 1957.
"Just as jazz moved geographically through various phases in this country–New Orleans, Kansas City, Chicago, and so forth–I believe it will go through a series of changes on an international rather than intra-national level," Lewis observes. "The influence and impact of jazz playing and writing in other countries will be felt increasingly."[38]

(bold not in original)
Following Herman and Lewis, Dizzy Gillespie independently predicts incorporation of World Music into future jazz in 1957.
"[Jazz] will probably be '''mixed up with these other nationalities'''—Indian scales and so forth—it's getting around the world so fast now . . . their touch is going to seep into it. I believe we've gone as far with the European music as we are going to go. . . . I've actually been working along those lines myself—sometimes I've played some things I heard in Pakistan. And a lot of musicians are going to be going over to Asia and everywhere and they're going to add to what they already know."[39]

(bold not in original)
In a letter addressing the future of jazz 25 years after 1957, composer and clarinetist/saxophonist Jimmy Guiffre, maintains that older school jazz forms will still be played in the future, and he was correct. He goes on to presciently predict free jazz when Ornette Coleman hasn't yet recorded his "Free Jazz" album until 1959.
"Dixieland, swing, and bop will still have their players and audiences. Cool music will settle into a category (which it is establishing now). There will be a strong atonal school (both writing and improvising)."[40]

(bold not in original)
After citing all of the above jazz predictions, Feather again comes back to being a pessimist about any jazz predictions, even when citing his own prediction about jazz that came true!
"The writer [Leonard Feather himself], who has been listening to jazz avocationally since 1929, professionally since 1933, can recall only a single prediction he made during the first years of listening that was ultimately to achieve realization: that jazz would prove to be playable in ternary time. Nothing else of consequence that has happened to jazz in all these years ever became evident until it was immediately upon us. A reader glancing at these pages in 1984 will observe, it is reasonable to assume, that the quarter century between now and then turned out to be no more predictable than the events in the previous generation."[41]

(bold and bold italic not in original)
Shortly after these comments, Feather makes another accurate prediction about future jazz.
"But today [Lee] Morgan, objectively, must be judged in terms of the listener's awareness of earlier contributions by [Dizzy] Gillespie and the other pioneers of the 1940's. Jazz in the next 25 years will certainly continue along these lines: the innovation of today will be the cliché of tomorrow.[42]

(bold not in original)
And Feather continues to predict that jazz innovations in one sub-genre of jazz will spill over into other jazz sub-genres.
"A cross-breeding process will continue to take place in the seemingly independent areas of jazz styles. Just as Dixieland effects are employed by such modern jazzmen as Gerry Mulligan and Bob Brookmeyer, bop has invaded the supposedly "pure" Dixieland territory of Eddie Condon band and the New Orleans ramparts of the Louis Armstrong combo.[43]

(bold not in original)
---
There are multiple reasons needed to account for the origins and development of Bebop. One of the important factors was the genuine interest jazz musicians of the period had in exploring new music. Two of the instigators of modern jazz, Bird (Charlie Parker) and Diz (Dizzy Gillespie) were musically knowledgeable. Parker was interested in expanding the music's harmonics. Both were interested in developing a challenging and technically difficult music to play and to improvise upon.
➢ How does this help to predict the development of free jazz?
Because jazz musicians were interested in and constantly pursued the expansion and breaking into new musical boundaries it is not unpredictable that freer forms of music would develop in the future, ultimately leading to free jazz. Ornette Coleman's music often had Charlie Haden supplying a walking bassline, and the drummer keeping time using jazz rhythmic techniques. Ornette himself plays with a lot of blues feeling coming from earlier jazz forms.
This constant searching for new musical horizons to incorporate into current jazz practices can be used to explain why World music could interest jazz performers. The use of popular tunes being jazzed up can be used to predict integration and employment by future jazz musicians of incorporating previously established songs, or even established genres into the jazz sphere. Hence, Miles Davis on his album "DooWop" using Easy Mo Bee to rap, or interest by jazz musicians in country music, as represented by Sonny Rollins on his album "Way Out West," or the more recent forays into countrified jazz by Charlie Haden, Bill Frisell, or John Scofield, for examples.
---
Objections and Replies to Predicting Future Jazz Genres

[

edit

]

RETRODICTION Objection: What has been argued above regarding principled predictions for future jazz genres incorporations into the jazz universe is not so much prediction of what future jazz genres are going to be like as mere retrodiction. By knowing what future jazz genres have existed since 1917 up through the early 21st century of course one can appear to make predictions about what features these sub-genres are going to have because one already knows what musical features they have. This is little more than just retrodictions of looking from the present back into the past and then claiming knowledge of the future and this accounts for the success of such 'predictions.' Soul jazz, modal jazz, and Latin jazz do have a lot of syncopation, hybridization, and improvisation so little wonder that these so-called 'predictions' turn out to be true.
REPLY TO the RETRODICTION Objection: It is false that the predictions are merely retrodictions. Early jazz did synthesize a European diatonic musical scale with an African pentatonic scale when creating the hybridized music of jazz. Syncopation truly is an important feature of early jazz and is part of what enables musicians to 'jazz up' a tune. Improvisation was a skill used and highly admired by fellow musicians and audience members alike. Hence, it is unsurprising that a prediction that future unknown jazz genres from the point of view of 1917 would predict future unknown jazz genres would have these particular musical features, therefore making these genuine predictions and not merely retrodictions.
---
NOT ALL SUB-GENRES of JAZZ WERE PREDICTED Objection: Free jazz as a sub-genre of jazz could not reasonably have been predicted by early jazz theorists even up to 1950. But, the inclusion of free jazz, if it is now considered to be a jazz sub-genre, proves McKeown-Green's point that there is no coherent or principled reasons for including any particular sub-genre under the jazz label, or whether free jazz should or should not be conceived of as jazz. Whether or not free jazz, for example, should or should not be classified as jazz is not dependent upon intrinsic musical features common to jazz as a musical kind because there is no such natural musical kind, and free jazz follows no particular musical practices. Thus, the inclusion or exclusion of free jazz as a genre of jazz can only result from institutionally mandated forces that include many other causal factors besides musical ones, such as economic, social, political, religious, etc.
REPLY to NOT ALL JAZZ SUB-GENRES WERE PREDICTED Objection: It is true that free jazz could not easily have been predicted. It is especially not likely that free jazz could have been predicted by any early jazz theorists around 1917. Anyone making such a prediction would have been laughed at because of the apparent absurdity of the claim that in the future there will be a music with limited number of musical rules that can still count as jazz, etc.
This, however, is irrelevant. Why you ask? Because it is not whether free jazz could have been predicted, but whether or not from today's point of view it makes sense from a musical point of view to include free jazz as a sub-genre of jazz.
Gunther Schuller perhaps hints at the inclusion of free jazz within the jazz genre because of what he terms "the deeper nature of jazz."
"But jazz has long ago moved beyond the realm of dance and entertainment functions, those being limitations not inherent to the deeper nature of jazz."[44]

(bold and bold italic not in original)
Gunther Schuller's point could be that the deeper nature of jazz, first (A) has a nature, contrary to McKeown-Green's claims that it does not, and (B) could include free jazz as a sub-genre of jazz because of this (hidden) deeper nature of jazz. This is not to say that Schuller would have to agree with either of these points.
David W. Megill and Paul Tanner argue that future jazz genres following Bebop have often followed the melodic practices used in the earlier jazz forms. Significantly, they point out that even free jazz, if it is to maintain its connection to the jazz tradition, needs to utilize musical components from that tradition.
"Later jazz styles have been reflective of the melodic practice of bop, even when the rhythmic feel in the rest of the ensemble has changed drastically as in fusion. This style places a "steady state" rhythmic foundation under a melody line that is individualized with accents and varying degrees of rhythmic independence. This feature may be one of the most consistent attributes that separates jazz from other musical activities since the beginning of this century. The one exception to this statement is avant-garde jazz, which can theoretically redefine any of the traditional underpinnings of jazz. They must, however, retain some relationship to the tradition or risk losing the support of that tradition. Generally, even in very free groups like The Art Ensemble, jazz idioms appear frequently as reference points to the tradition from which they were launched. [45]

(bold not in original)
---
Presentation, analysis, and critique of Alan Lawrence's views on defining jazz

[

edit

]
At All About Jazz author Alan Lawrence gives his views on problems with defining jazz in his article What is jazz?. To make it easier to assess the merits of Lawrence's assertions (in green font) critique of his remarks are interspersed in blue font.
What is jazz? Those three words form one of the toughest questions in music. Ask a hundred people and you are likely to get as many different answers.

That there might be diversity in people's answers to the question of how to define jazz is not relevant to whether or not there can be an effective definition of it. If you asked 100 people to define gall bladder you would get a lot of blank stares and diverse answers, but this would in no way show that gall bladder cannot be defined. In fact, the definition of gall bladder is that it is the small sac-shaped organ beneath the liver where bile is stored after secretion by the liver and before its release into the intestine.

In fact, we don't want to ask arbitrary people for their opinions about jazz. Instead we want to address experts on music and especially on jazz. Here it seems clearer that many many responses from the experts would be in accord with each other. There would be less diversity. Additionally, the fact that some genres of jazz are found suspicious by some experts would not show that of the music that virtually all experts agree is incontestably jazz that there might not be something in common with all of the incontestably jazz that could be used to define it.

Few things have given me more pleasure in life than listening to the music we call jazz. Even after hearing several thousand recordings in over 15 years and seeing countless live shows, I cannot offer a definitive definition of the word "jazz."

The fact that Alan Lawrence cannot give a definition of jazz says nothing about whether or not jazz can be defined. Perhaps Lawrence cannot define gall bladder either. Suppose he worked at a butcher shop and had seen thousands of cow gall bladders. It still wouldn't follow from Lawrence's ignorance about the function of a gall bladder that this organ cannot be defined.

The challenge may lie in the term "jazz" itself. Can a living music, one that may well be the most colorful and varied art form in the world, be defined by a single word?

Is this a really believable claim? Absolutely not! Art itself in the wide open artworld is much more "colorful and varied" than jazz by itself. Art in the artworld includes innumerable styles and types of art from conceptual art to Impressionism and from pop art to earthwork installations to Christo's wrapped island to Chris Burden having himself shot with a .22 gun in the arm. Now there's some real variety in action with a living art world constantly challenging itself.

Sure there are a lot of types of jazz and for a list go here at Ontology: Types of Jazz & Related Musics, but it still doesn't follow that because there are a lot of types of something that the unifying element could not be defined. There are a really large number of automobile types, but "automobile" can still easily be defined. For proof of this and it's relevance to defining jazz see Vehicle Counter-example to the Multiple Styles argument that shows that (S1) Anything with many styles cannot be successfully defined is false.

After pondering that question for this feature, I'd have to say no. The music that falls into the jazz idiom takes on infinite faces and influences including swing, bebop, cool, fusion, smooth and avant-garde. As jazz spread across the globe, the music took on more and more sounds.

Surely Lawrence is being hyperbolic here when he mentions "infinity." It is certainly false that jazz has had an infinite number of anything related to it. There have not been an infinite number of causal factors that created jazz because there have only been a finite number of events or causes since the beginning of time after the Big Bang in our universe. He then mentions not an infinite number of styles of jazz but a total of six measly jazz types. Jazz as a music did spread across the globe and has taken on new sounds and influences from other musics but not an infinite number of them, which is not even theoretically possible.

Let's go back to our fictional survey of 100 people. What kind of responses would we get? Some may call anything with saxophone or trumpet jazz. Others may base their definition on the feel of the music. Does it swing? Still others base their views of what defines jazz on the reputation of the musicians. Some say there must be improvisation for it to be jazz.

As already argued the mere fact of disagreement amongst people surveyed for their definition of jazz shows and proves nothing other than that there is lack of agreement. It doesn't make it impossible to define something. Consider these fictional people's responses.

Is any music played with a saxophone or trumpet jazz?

Absurd answer because these instruments are used in many kinds of music that are not jazz, such as classical music and rock and roll.

Can one base a definition for jazz on the "feel" of the music?

What kind of feel are we talking about? Presumably Lawrence may have in mind something like "If it feels like jazz, then it is jazz (to me)." This feeling argument has been refuted here at Ontdef4. Unhelpful definitions of jazz - Jazz is a Feeling. Furthermore, this is somewhat of a ridiculous claim since many people might think a saxophone solo in a rock song is jazz when it is not jazz. No one should want arbitrary subjective responses to inform correct answers to any questions period.

Can swing be the definition for jazz?

Absolutely not. Some jazz exists that doesn't swing such as plenty of modern jazz performances and some music swings that isn't jazz such as rockabilly.

Jazz can be defined on the basis of the reputation of musicians.

This doesn't even make any sense that it could be defined based on reputations of musicians. Maybe what Lawrence had in mind is that jazz is the music played by these musicians who have a jazz reputation. This won't work as a definition for jazz because these very same musicians sometimes play music that is not jazz, as when sitting in with a rock band, for example.


There is little argument that two key elements of jazz are improvisation and swing. Let's briefly look at each:

Unquestionably, most jazz involves a degree of improvisation. In most jazz settings, someone is usually improvising. But, not all improvised music can be called jazz. The Grateful Dead rarely played what was written, but they certainly are not considered a jazz band. Conversely, not all music found in the jazz bins is improvised. Consider some of Duke Ellington's tightly arranged suites. While improvisation is without a doubt an integral part of jazz music, it is not an absolute.

Lawrence certainly is correct here about improvisation being neither sufficient nor necessary for music to qualify as jazz and for the reasons he supplies. Non-improvised jazz exists (Duke Ellington compositions performed without improvisation) and improvised classical music or blues music is not automatically jazz. For further discussion on necessary and sufficient conditions for jazz see Are There Any Necessary Conditions For Playing Jazz? and Are There Any Sufficient Conditions For Playing Jazz?

Swing is even harder to define. What is swing? It is a feeling more than a concrete concept. Swing is that element that makes you move your body or want to dance. It is a buoyancy that lives in much of what we call jazz . . . the propulsive beat and forward momentum.

Swing is not just a feeling and it has a well defined concept, contrary to Lawrence's assertions. His remarks are better suited to what should be said about "being in the groove." The reason swing is not just a feeling is because it is a way to play music by having a particular rhythmic pulse and rhythmic pulses are not feelings but ways to play music. The concept of swing refers to "a particular rhythmic technique (most commonly associated with jazz but also used in other genres) that involves alternately lengthening and shortening pulse-divisions." [46] What Lawrence seems to have in mind is the more colloquial use of the word "swing" that is better associated with the word "groove," as explained at Wikipedia:

"The term swing has two main uses. Colloquially, it is used to describe the sense of propulsive rhythmic "feel" or "groove" created by the musical interaction between the performers, especially when the music creates a "visceral response" such as feet-tapping or head-nodding (see pulse)."

But, does jazz always swing? Absolutely not. Anyone familiar with the works of Cecil Taylor or Anthony Braxton knows that their music is the antithesis of swing, yet most would define their music as jazz.

All true.

So, that brings us back to the main topic, "What is jazz?" In his book "Jazz Styles," Mark Gridley offers that music need only to be associated with the jazz tradition to be called jazz. Instead of a strict definition, we use the word "jazz" to describe a character of the music. The lines have been blurred. Is Bitches Brew jazz or rock? I'd file it under jazz. My father would call it rock.

Can there be such a thing as a jazz tradition if we don't know which music counts as jazz? It doesn't seem possible. Should we count any music associated with the jazz tradition as jazz? Absolutely not since blues music is associated with the jazz tradition, but it is not jazz. Is Miles Davis's album "Bitches Brew" jazz? Well, it is jazz rock fusion so both Lawrence and his father are correct to that extent at least.

What you call jazz, I might not consider jazz at all. I can't tell you how many times I mention my love of jazz, only to hear "Oh, I love Kenny G." To me, Kenny G and the rest of his so-called smooth jazz cronies, do not play jazz. It certainly neither swings nor contains much, if any, improvisation. To them, Cecil Taylor or Sun Ra is the furthest thing from jazz. They might think it is noise.

Kenny G. probably improvises more than Lawrence believes. Is smooth jazz jazz?

Bottom line: If it feels like jazz to you ---- It is jazz. That's the beauty of this music! (bold and bold italic not in original)

Could there be any worse conclusion? The assertion is baldfacedly false. People cannot just call any kind of music jazz just because they "feel like it" and always be correct. There is plenty of music that is not jazz, period. Lawrence was trying to put a positive spin about jazz as his concluding sentence, and for this he can be forgiven, but not his reasons which are bogus.
---
Wikipedia on Defining Jazz

[

edit

]
"Jazz has proved to be very difficult to define, since it encompasses such a wide range of music spanning a period of over 100 years, from ragtime to the 2010-era rock-infused fusion. Attempts have been made to define jazz from the perspective of other musical traditions, such as European music history or African music. But critic Joachim-Ernst Berendt argues that its terms of reference and its definition should be broader,

[47]

defining jazz as a "form of art music which originated in the United States through the confrontation of the Negro with European music"

[48]

and arguing that it differs from European music in that jazz has a "special relationship to time defined as 'swing'," involves "a spontaneity and vitality of musical production in which improvisation plays a role" and contains a "sonority and manner of phrasing which mirror the individuality of the performing jazz musician."

[49] In the opinion of Robert Christgau, "most of us would say that inventing meaning while letting loose is the essence and promise of jazz." [50]
A broader definition that encompasses all of the radically different eras of jazz has been proposed by Travis Jackson: "it is music that includes qualities such as swing, improvising, group interaction, developing an 'individual voice', and being open to different musical possibilities."

[51]
Krin Gibbard has provided an overview of the discussion on definitions, arguing that "jazz is a construct" that, while artificial, still is useful to designate "a number of musics with enough in common to be understood as part of a coherent tradition".

[52]
In contrast to the efforts of commentators and enthusiasts of certain types of jazz, who have argued for narrower definitions that exclude other types, the musicians themselves are often reluctant to define the music they play. As Duke Ellington, one of jazz's most famous figures, said: "It's all music".
---
At It's All Music Johannes Luebbers explains why he can find it problematic for himself to have the label of jazz placed upon the music he composes and performs. Luebbers explains that:
In my experience as a composer, the defining of genres can also be limiting to the creation of work. In the same way that I find the label 'jazz composer' inadequate as a description of myself to others, I find it can actually limit me when I sit down to write. The parameters imposed by the genre, perceived or otherwise, can become a prison from which it is hard to escape. Within the jazz genre there are, as in any genre, certain stylistic conventions and traditions, and as soon as you think of yourself as a 'jazz composer' the ability to escape these conventions becomes increasingly difficult."
---
The Etymology of "Jazz"

[

edit

]
Before arguing for what musical characteristic seems most prominent in jazz music we shall first consider the origin of the meaning of the word "jazz" and recount its interesting etymological history.
One way to approach a definition of jazz is to look at the etymology of the word. Unfortunately, the word "jazz" has an especially obscure and controversial origin.
"The origin of the word "jazz" is one of the most sought-after word origins in modern American English. The word's intrinsic interest—the American Dialect Society named it the Word of the Twentieth Century—has resulted in considerable research, and its history is well-documented."[53]

(bold not in original)
The 1976 Supplement to the Oxford English Dictionary list entries for "jazz" as a substantive:

As a noun:

➢ a type of music originating among American Negroes, characterized by its use of improvisation, syncopated phrasing, a regular or forceful rhythm, often in common time, and a 'swinging' quality.




➢ Energy, excitement, 'pep'; restlessness, excitability.
Bob Rigter explains how the confluence of these elements came together to produce the new musical form of jazz:

"The mutual influence of Creole musicians and proletarian black musicians led to the birth of jazz. The Creole's executional sophistication and theoretical knowledge of European music, the black musician's practical creativity and emotional intensity, and, last but not least, the shared rhythmical roots of blacks and Creoles, gave rise to the music of one suppressed class of colored musicians."[54]

(bold not in original)
As a verb:

➢ To speed or liven up; to render more colorful, 'modern', or sensational; to excite.
➢ To play (music, or an instrument) in the style of jazz.
➢ To have sexual intercourse (with); slang.

SUMMARY: of the etymology of the word "jazz":

Bob Rigter argues that the etymology (word origin) of the word "jazz" is likely to come from the French word "chasse" (to chase). Rigter finds significant that jazz music originated in New Orleans—a French language culture.

Creole peoples were of French and/or Spanish origins mixed with African races and Creole musicians were often highly accomplished and well trained in the European musical traditions.

In 1896, the Supreme Court case of Plessy v. Ferguson relegated Creoles to the status of blacks and caused them to suffer the economic and social stigmas of segregation. This forced accomplished Creole musicians to perform with musically less schooled black musicians.

The results were that black performers from an aural tradition who played their instruments by ear, used African rhythms and scales, and often improvised on a song's form were combined with European trained Creole musicians. The two groups playing together helped to create a new hybrid form by synthesizing these components together to produce jazz.

Alyn Shipton argues that jazz spread quickly to the rest of the world because of its

"combination of syncopation, unusual pitching, vocal tones, and raw energy . . . Its message was universal, and it stood for something new, something revolutionary, something risqué that overturned the old orders of art music and folk music alike."

[55]
---
The Importance of Defining Jazz

[

edit

]
As pointed out by Matthew W. Butterfield in Oxford Bibliographies in 2011:
Defining jazz has been central to delineating the disciplinary purview of jazz scholarship, but this has never been easy. As a body of more or less "popular" music disseminated in recorded form, the music has undergone rapid development over the course of its history, and each transformation in style has prompted debate among jazz musicians, critics, and fans as to whether or not the new style was in fact jazz. Such debates have often revolved around the role of improvisation and its relative emphasis in any given style, the degree to which each new form of the music could be understood to "swing"—i.e., to exhibit a valued rhythmic quality thought to be essential to good jazz—and the extent to which each new style manifested certain core African or African American musical concepts and principles. The latter consideration has prompted many scholars to eschew parochial considerations of style altogether and situate jazz not as a distinctive form of music in its own right but as one expression among many within the very broad category of "black music."
To follow this latter path and not try to determine how "jazz is a distinctive form of music" is to give up trying to define it musically. It is amazing how many theorists adopt this attitude just because jazz is hard to define. Think about how defeatist this is. Would a cancer researcher ever say, "Well, you know, cancer is so hard to figure out exactly what it is, so instead of trying to define it biologically we are just going to treat it as merely "one expression among many within the very broad category of" how someone can die?! This would never happen. Similarly, then, just because cancer and jazz are hard to define does not actually supply a reason why such an investigation should not continue.
---
Why jazz is not just an institutionally practice-mandated musical genre

[

edit

]
Some theorists find no good account for why jazz sub-genres have been grouped together and all fall within the jazz genus as sub-species of jazz other than historical accidents and institutionally-mandated explanations.
Jonathan McKeown-Green and Justine Kingsbury are such theorists.
"There will be plenty of contested material (like smooth jazz) about who's status the community disagrees and plenty of borderline material (like much of Chick Corea's chamber music) which everybody should agree is only sort of jazz. A perfect definition of jazz, or of any relevantly similiar institutional-mandated kind, would reflect these sorts of phenomena."[56]

(bold not in original)
"These findings may facilitate informed judgments about the adequacy of particular definitions. Here is a conjunctive definition: Jazz: syncopated music of early twentieth century, African-American origin. Even a non-aficionado can immediately surmise that it is likely to be extensionally inadequate. Jazz is a practice-mandated kind. The evolution of the determining identificatory practice is probably messy and unlikely to be capturable so elegantly. This definition might serve as a gateway definition - as a first step in familiarising a newcomer with the boundaries of jazz - but its form alone suggests that it includes, or excludes, too much from the extension to count as adequate. Something disjunctive is almost bound to be better.[57]

(bold and bold italic not in original)
But McKeown-Green and Kingsbury do not stop there. They argue that jazz has no coherent musical nature coordinating the various sub-genres into a stable genus, rather only outside non-musical factors determining what does and what does not constitute jazz.
"Sometimes, though, the analyst might reasonably conjecture that no principle at all subsumes the things picked out by a particular folk conception. Given the way practices evolve, this is not surprising. In the next section, I illustrate this situation by documenting the haphazard evolution of our conception of jazz. Then, in Section IV, I argue that some of the lessons we learn about jazz apply to music. Specifically, I argue that if there is any unity and practical utility to be found in our conception of music, we will only find it by examining features—perhaps functional, institutional, or recursively describable ones—other than the sonic, experiential, and intentional features that Kania invokes in his definition.[58]

(bold and bold italic not in original)
On McKeown-Green's picture (mirrored by Kingsbury), the music called jazz has "no principle at all" that explains why the various musics are included under the jazz conception other than folk conceptions and what has been included under it has been "haphazard" and was definitely not based on any "sonic" or "intentional features." If we are understanding these claims correctly, McKeown-Green and Kingsbury deny that there is any coherent and musically principled way(s) to justify the various and sundry musics all given the jazz label. Furthermore, according to them, the only relevant causal factors that could account for any "unity" or "practical utility" must come from either "functional," "institutional," or "recursively describable" non-musical features.
Put more simply, McKeown-Green and Kingsbury hold that jazz as a musical genre and all of its associated sub-genres contains no musical principles that could possibly account for all of the music that has been (correctly) understood to be sub-genres of jazz.
Additionally, McKeown-Green and Kingsbury hold that jazz as a musical term and what that term picks out exists as a "practice-mandated kind" and that the only satisfactory definition of jazz must be one that describes whatever gets picked out by the relevant community's practices for identifying jazz.
"Our answer draws on the idea that there are two contrasting sorts of reason one might have for offering definitions. On the one hand, there are lots of kinds of stuff that we refer to or make use of in our lives. It is part of our practice to notice certain things and to group them in certain ways. Sometimes our ways of classifying things depend on their appearance; sometimes they depend on their function; sometimes they depend on our community's evolving ideas about how reality itself is organised. But ultimately, many of the ways we categorize things are due to our own or our community's entrenched and evolving classificatory practices. We have, for instance, a practice of grouping certain things together and calling them jazz. Unsurprisingly, we sometimes take an interest in what it takes to be a thing of one of these practice-mandated kinds. What, we might ask, is jazz? Hence, we offer definitions which are adequate to the extent that they satisfactorily describe the stuff picked out by the relevant community's relevant identificatory practices. To a first approximation, a definition of jazz ought to count something as jazz if and only if the community regards it as jazz.[59]

(bold not in original)
Let us evaluate whether it is true that the only satisfactory definition of jazz must be one that describes whatever gets picked out by the relevant community's practices for identifying jazz.
Who would be the relevant community for determining what ought to be jazz? Could it just be all humans? This would include dead humans and they are notorious for not being able to pick out anything period, so all humans cannot be the relevant community. What about all living humans from birth to death? Human babies are also well known not to be good or appropriate judges for what is or isn't jazz. Limit the human class to all living adult humans. Many of these individuals are mentally defective so again should not be included in any relevant community for making good judgments about jazz. Many more of these humans are insufficiently knowledgeable to be competent judges. What about the relevant community just being all living humans knowledgeable about jazz? While this sounds more promising who is going to be assessing which humans are and which humans are not knowledgeable about jazz? Given that on McKeown-Green's and Kingsbury's presumptions there is no coherent musical picture there isn't too much to go on as to what should or should not count as jazz and therefore there are no living humans who can be knowledgeable about jazz other than just knowledgeable about the history of what has been labeled jazz in the past. But how does this in any way help anyone to determine whether a new style of music should or should not be included as a type of jazz. It doesn't, according to McKeown-Green and Kingsbury, but then there cannot be any relevant community of evaluators on their principles.
What then determines whether a new musical genre should or should not fall under the jazz label? On McKeown-Green's and Kingsbury's position it cannot be determined in any musically principled way what new genres should or should not be included. He gives as an example of the potential arbitrariness of what might or might not have been considered to be jazz that Bebop might not have been classified or considered to be jazz, while Rock and Roll could have been called, labelled, and been considered by all relevant communities to be jazz.[60]
"No rigorous constraints govern the evolution of the criteria for identifying instances of jazz. No Academie de Jazz arbitrates. Nor does jazz, like atoms and mammals, play a well-defined causal role in some theory about the world's workings. Thus, the story of jazz could easily have gone differently. The beboppers might have left jazz critics behind, attracting new listeners. Bebop might then not have been regarded as jazz. Fledgling rock 'n' roll might have occupied more space in DownBeat. Nothing in the previous practice signaled that certain styles, and not others, would count as jazz later. Nor is it likely that actual jazz history reflects a more principled, strategic, elegant, or otherwise defensible program than all counter-factual ones. [5]

(bold not in original)
"Jazz evolves desultorily, and some of the relevant decisions are in the future, where the definition cannot reach." [59]

(bold not in original)
"Desultorily" is an adjective which means either 1. lacking in consistency, constancy, or visible order, disconnected; fitful, as in "a desultory conversation." or 2. digressing from or unconnected with the main subject; random, as in "a desultory remark."[61]
➢ Is it true that jazz as a musical genre "has no order" and that musical genre's that are connected with jazz are connected "at random"?
McKeown-Green certainly thinks these are true of jazz and its various sub-genres. This would mean that the inclusion of Bebop as a jazz sub-genre has no rhyme or reason for its inclusion as jazz and that its connection to past genres termed jazz are random, unconnected, and lack any constancy or connection to prior jazz sub-genres.
Really, his view is that there are no connections whatsoever between say Big band swing music and Bebop. This claim can be refuted if connections can be found that are non-random and constant in both or connected together in some coherent non-random fashion.
➢ What are the non-random connections between Big band swing and Bebop?
Both are music.




Both use a hybridization of the European diatonic scale with an African inspired pentatonic scale.




Both use syncopation.




Both use improvisation in their musical practices.




Both use melody, harmony, and rhythm to produce music.




Both use standard jazz instruments such as drums, bass, piano, saxophones, trumpets, etc.




Both sometimes use vocalists.




Now someone might object that the above list is not unique to just the two genres of music of Big band swing and Bebop, but can also be true of Rock and Roll, or the blues. This, however, is irrelevant as an objection regarding the original McKeown-Green claim that there are no principled or coherent connections between the two genres, but that this connection is random and arbitrary.
CONCLUSION: Since these connections are neither random nor arbitrary and have coherent and principled connections, McKeown-Green's original claim of desultoriness for all jazz sub-genres is false.
---
Is any current conception of jazz necessarily limited?

[

edit

]
Jonathan McKeown-Green maintains that any folk conception of jazz is necessarily limited by ignorance of future (possible) sub-genres of jazz.
It should be noted immediately that were jazz not to be merely determined by 'folk conceptions' that all of his arguments assuming this would be moot.
"Nevertheless, suppose that I successfully characterize our current folk conception of jazz in terms of experiential and sonic properties and intentions to manifest them: I accurately distinguish jazz, nonjazz, and penumbra. My definition would exploit classificatory facts not available to a definer circa 1920. I, in turn, lack access to data about future stylistic innovations and the unforeseeable tendencies of our heirs to dub or disqualify them. Like one from 1920, my definition would not be future proof. Mine would only specify the extent to which an item counts as jazz now. It might be sociologically interesting, but arguably no other benefits accrue.[5]

(bold not in original)
McKeown-Green claims without argument, only bold assertion, that no earlier jazz definition based on "sonic properties" could know classificatory facts available to future jazz definers. Why does he think this? The most likely reason is that Dixielanders in 1920 would be ignorant of, for example, soul jazz or free jazz, by definition because these genres of jazz were entirely unknown to these Dixielanders; they would not have understood, nor comprehended either, and they would probably not believe the jazz they were playing was a sub-genre of the same jazz genus as soul-jazz or free jazz, or this is how McKeown-Green sees it.
There are several responses possible here starting with free jazz is contentious so not entirely fair to use it since it has weaker sonic connections to Dixieland style jazz than, say, has soul jazz. Second, we don't want the Dixielanders to be judging what is and isn't jazz from their own point of view. Instead we educate them about jazz so they are as knowledgeable about the history of jazz as anyone and then we ask them if they think soul jazz should be included as jazz. Many of them would end up agreeing that soul jazz is jazz just like Dixieland because of HSI found in both. They are both dance musics, music for entertaining, popular etc.
By "classificatory facts," McKeown-Green is assuming genre classifications, but why not use music classificatory facts? McKeown-Green presumes musical classificatory facts are either irrelevant or useless since which sub-genres are included as jazz has no sonic properties that can account for which sub-genres get included or excluded. Is this question begging against the sonic approach to sub-genre classifications? Yes it is.
"My definition would exploit classificatory facts not available to a definer circa 1920. I, in turn, lack access to data about future stylistic innovations and the unforeseeable tendencies of our heirs to dub or disqualify them."[5]

(bold not in original)
This very last remark about "unforeseeable tendencies of our heirs to dub or disqualify them" commits itself to some unlikely, or possibly incoherent suggestions, regarding future sub-genres of jazz's disqualifications. According to McKeown-Green, it is possible for most currently accepted jazz sub-genres to be disqualified as being jazz. How does this idea strike you? Could Big band swing music, or cool jazz, or hard bop ever be drummed out of the jazz universe in some possible world? Sure, it could be described in such a way as to be true in that universe that cool jazz is shunned for complex reasons and external (likely political, cultural, or religious) factors where cool jazz is considered not to be jazz.
This, however, is not the real question. The real question is whether cool jazz here in the actual universe could ever be drummed out of the actual jazz universe. Here the answer is less obvious and more perplexing, possibly ultimately being an incoherent suggestion.
General consensus amongst all current jazz experts (not counting philosophers), with zero exceptions, is that the music labelled and performed by cool jazz musicians qualifies as jazz.
Could the game played by the professional team called the Boston Red Sox ever be found in the future not to have been a team that ever presented a baseball game, but had only been mistakenly thought to have exhibited baseball?
Suppose that there has been a gigantic hoax and all past players for the Boston Red Sox have been Martian robots so no humans were involved. Would it not still be true that what the Martian robots had been doing during their professional careers was playing the game of baseball? Could this ever be undermined as a fact by future changes in conceptions about baseball? It doesn't seem possible does it? Therefore, the same claim can be true for jazz. Once all current experts agree that this indeed has been a baseball game and that cool jazz is definitely a sub-genre of jazz, it cannot be taken away or undermined as a fact by any future unforeseen baseball or jazz history.
It is true that there could be some possible universe that has that same history up tp 2017 as the actual world and then later in time cool jazz is now rejected as being jazz. Would this prove that cool jazz could ever not be correctly classified as jazz using the 2017 conceptions about jazz? No. If that possible world were to happen all it would mean is that all of the theorists in that possible are wrong because cool jazz is jazz.
CONCLUSION: Therefore, McKeown-Green's suggestion that cool jazz could be found in the future not to qualify as jazz is an incoherent suggestion.
---
It is not non-musical classificatory facts that are relevant IF genre classification can proceed by using musical components of jazz and any other relevant features, such as jazz practices that help isolate jazz as a genre of music.
The biggest problem that McKeown-Green perceives for any possible definition of jazz is that it is impossible to predict what future music will or will not count as jazz and no current definition could anticipate what these acceptable or unacceptable sub-genres of jazz will be, except by accident, or as McKeown-Green puts it "by fluke."
"Only fortuitously could this visionary produce a definition of music in terms of its real or intended sonic or experiential properties, whose extension includes Ono's Toilet Piece/Unknown. There were insufficient clues in the musical landscape of mid-nineteenth-century Europe to motivate the inclusion of any material that lacks all basic musical features. A columnist who was musically, philosophically, and anthropologically capable enough to diligently reflect on music as it was and could be might have pictured a future in which such items were regarded as music. But even if this prevented him or her from discarding the possibility that those items should count as music, categorically including them would mean riskily predicting, beyond the mandate of prevailing intuitions and practices and perhaps contrary to the definer's own intuitions, that the criteria for delineating music would follow a particular path. So even if Kania's definition accurately captures the folk's conception of music at the beginning of the twenty-first century, his anticipator's success in describing that same conception is lucky, not prescient.[62] </ref>

(bold not in original)
DISCUSS FLUKE QUOTE
"So even if Kania is right about what gets counted as music now, he cannot, except flukily, predict what else will get counted as music in the future.[63] </span></ref>

(bold not in original)
THEN
---
Is jazz as a genre of music exhausted by our conception of it?

[

edit

]
Fascinating issue here with the answer clearly being a resounding "No" even according to McKeown-Green. Our conception of anything is time dependent because it is possible sometimes to alter or change conceptions over extended periods of time. McKeown-Green himself has already argued that because of the possible incorporation into the jazz genre of future unknown jazz sub-genres that any current conception of jazz must not be what exhausts a conception of jazz. Jazz conceivers, because they cannot anticipate (fully) all future possible sub-genres of jazz must leave open what future conceptions of jazz might possibly include. Jazz conceptions can always be different and change, according to McKeown-Green's own position.
Hence, when McKeown-Green asserts that "jazz is plausibly exhausted by our conception of it" he contradicts himself since our conception of it includes possible sub-genre's that we cannot currently (easily) conceive.
"Is it like jazz in that its nature is plausibly exhausted by our conception of it? Is it like a rainbow, on Jackson's story, in that its nature is at least partly determined by factors beyond our conception of it but constrained by that conception?"

[64]

(bold not in original)
If jazz's nature is not "plausibly exhausted" by our current conception of it then it may well be that jazz is more like a rainbow precisely because "it's nature is partly determined by factors beyond our (current) conception" but still constrained by the musical nature of the phenomena itself, just like it is for our conception of gold.
"Nothing in the previous practice [of past jazz genres] signaled that certain styles, and not others, would count as jazz later. Nor is it likely that actual jazz history reflects a more principled, strategic, elegant, or otherwise defensible program than all counter-factual ones."

[5]

(bold not in original)
We have seen how the claim that "nothing in the previous practice [of past jazz genres] signaled that certain styles and not others would count as jazz" is likely false. The reasons are that (A) not any arbitrary musical style can be classified as jazz contrary to McKeown-Green's assertions to the contrary. He is just wrong if he is claiming that Beethoven's Fifth Symphony could be jazz. He is not wrong that in some possible universe people use the word "jazz" to apply to the Fifth, but then that word would no longer have the same meaning or reference classes as we have in the actual world for the term jazz. As we might put it, what is called jazz in this other possible universe is not jazz, using our understanding of what jazz consists of based on the jazz tradition from the actual world.
And (B) a second reason for rejecting any claim that requires we ignore previous jazz practices for determining a definition for jazz and instead appealing to something like McKeown-Green's institutionally practice mandated conception/definition of jazz is that it is criterial inadequate.
"Likewise, if Putnam is right, we should not define a tiger as a large striped feline beast of prey, or even as a beast of prey which is actually large, striped and feline: these definitions miss the fact that a tiger gets to be a tiger in virtue of its genetic profile and its ancestry. If Putnam is right, this definition is criterially inadequate just like the earlier definition of an equilateral triangle—and maybe this would be a good way of describing what is wrong with it.[65]

(bold not in original)
Jazz musicians and some theorists use musical features and musical considerations to distinguish jazz from other musics and genres. Since any jazz theorist who believes the best way to understand the nature of jazz as a music is by centering primarily (or in a significant way) upon musical features, then any opposing theory that ignores such musical features and claims definition determinations are mandated by non-sonic and non-musical institutional practices are always going to be judged to be criterially inadequate definitions.
Just like tigers are tigers based on "the fact that a tiger gets to be a tiger in virtue of its genetic profile and its ancestry" so to does jazz get to be jazz based on the facts concerning its musical profile and its musical ancestry.
Consider four purposes for which a definition of a kind of thing might be consulted. Not every definition whatsoever need meet all four expectations, and there are other rewards that definitions can deliver, but, I suggest, quadruple failure strongly indicates a dearth of practical applications.
First, one might want a definition to illuminate the shared nature of the kind-mates. We expect this from a definition of a natural kind. Maybe jazz lacks a shared nature. Anyway, a successful characterization of our current conception like the one we envisage supplies none. It yields a procedure for generating the current extension of our conception, but the folk treat jazz as a persisting kind, and we cannot trust our definition to foretell its fortunes.
Second, one might want a definition to state criteria used in practice to identify whether (or the extent to which) something is of the kind. A good definition of a mother-in-law obliges: you identify mothers-in-law by identifying spouses' mothers. Our envisaged specification of our conception of jazz will not yield identificatory criteria. These are likely to include a network of defeasible heuristics associated with subgenres, central cases, and individual careers: "This is jazz because it's hard bop; that's jazz because of the breathy sax solos; those are jazz because Monk wrote them." Heuristics vary from person to person, even for central cases where there is no disagreement about whether there is jazz.
Third, one might want a definition to isolate the criteria implicit in decisions about which marginal or novel things are of the kind. We expect this from a legal definition of malice aforethought. We do not find it here. Jazz evolves desultorily, and some of the relevant decisions are in the future, where the definition cannot reach.[5] (bold not in original)
---
What determines when music is a type of jazz?

[

edit

]
Why should everybody agree that Chick Corea's chamber music is only sort of jazz? Isn't a good answer here supposed to explain from a musical property's point of view WHY this chamber music doesn't count as full blown jazz. Is it merely institutionally generated arbitrary and subjective reasons as to why Corea's music is not full blown jazz or are there deeper not arbitrary and not subjective causes, reasons, and explanations accounting for and justifying the status of Corea's chamber music in relationship to jazz?
Could some form of music, say Indonesian gamelan, or Australian digeridoo, be included under the jazz genre through fiat. Are the institutionally mandated inclusions of new sub-genres arbitrarily determined as to what sub-genres get included under the jazz umbrella or not?
What makes jazz rock fusion have any jazz in it at all and how much jazz does it have. Same question for smooth jazz, or acid jazz?
Generally speaking, we know the answers to these types of questions and can defend them with musical features answers and not just an appeal to an answer like "because some committee says so, or that's just what all the critics agree on, or that's just how the history of jazz occurred."
➢ What are these musical features and why do they rule these genres of music in or out from the jazz umbrella. Start with the easiest case first. Is acid jazz jazz?
---
Why so-called acid jazz is not a sub-genre of jazz

[

edit

]
What makes the problem hard to begin with is so-called acid jazz itself is unclear what sort of musical genre it is in itself. The term acid jazz was coined by some DJ's so as to be able to label a particular style of, in effect, lounge and dance music of a relatively distinctive style type. Acid jazz tends to be highly repetitive, has a distinctive rhythmic pulse and strong groove, can have significant synthesizer usage, and can use obscure jazz tracks as a component of the sound produced.
It doesn't take too long before one gets convinced that as a type of musical genre acid jazz is not a coherent jazz sub-genre. Wikipedia goes so far as to say it is no longer even an actual musical genre because it has been dropped for better descriptive genre names that better reflect the kind of music that is being presented, such as Fusion Rap.
"Acid jazz, also known as club jazz, is a musical genre that combines elements of jazz, soul, funk, and disco. Acid jazz originated in the London club scene of the mid-1980s in the rare groove movement and spread to the US, Japan, Eastern Europe, and Brazil. Major acts included Brand New Heavies, Incognito, Us3, and Jamiroquai from the UK and Buckshot LeFonque and Digable Planets from the US. The rise of electronic club music in the mid to late 1990s led to a decline in interest, and in the twenty-first century, the movement became indistinct as a genre. Many acts that might have been defined as acid jazz are now seen as jazz-funk, neo soul, or jazz rap.[66]

(bold not in original)
Immediately from the initial description of acid jazz it is a conglomeration of many different styles of music with much non-jazz included, namely soul, funk, and disco. None of these three as typically performed qualify as falling within the jazz genre. If jazz-funk is itself a jazz sub-genre and a particular song has been categorized as both acid jazz and jazz-funk, then this song may well be jazz (to some degree), but this does imply that there is a coherent category of music labelled acid jazz.
The name itself of "acid jazz" is a consequence of people referring to acid house music sometimes combined with obscure jazz track musical lines.[67]
Musicmap.info provides a description of acid jazz as a poorly characterized name for this style of music and explains its relationships to other genres.
"Acid Jazz is a crossover genre gone too far: there is barely any Jazz left in it. There's actually almost zero 'acid' about it as well, except a slight psychedelic sound, placing it high on the chart for poorly chosen genre names. In fact it's more of the deepest funky Fusion combined with Rap, so Fusion Rap would be more appropriate. But the name is no error: Acid Jazz was a deliberate and firm reaction from the British Soul scene against the fiddling "nonsense" of Acid House. The leading record label–also named Acid Jazz–was determined to compensate Acid House with what they regarded as "quality music," heavily influenced by Rare Groove records. A steady Hip-Hop breakbeat, lots of percussion, jazz harmonies and funky basslines (often with the aid of a synthesizer) are the key flavors of Acid Jazz. These elements blend perfectly until the roots of the genre are no longer traceable. It was a short but popular craze, right before EDM conquered the music scene. Due to its highly danceable nature, a new type of dance, Jazzdance, was invented along with it (which became more or less a synonym of the music itself). It can be hard to separate Acid Jazz from Jazz Funk with heavy breaks, if it wasn't for the (abundant) use of vocals."[68]

(bold not in original)
Notice that some of the original acid jazz style of music used obscure jazz tracks with dj's mixing in lots of other stuff in a danceable (disco-ish) format. Soon, however, the wheels fell off the tracks and the amount of jazz involved dwindled down to very little.
CONCLUSION: Acid jazz is not a jazz sub-genre and many conclude it is mislabeled as a form of jazz.
➢ What is acid house music?
Acid house is a sub-genre of house music developed around the mid-1980s by DJs from Chicago. The style was defined primarily by the deep basslines and "squelching" sounds of the Roland TB-303 electronic synthesizer-sequencer. . . . Acid house's minimalist production aesthetic combined house music's ubiquitous programmed 4/4 beat with the electronic 'squelch' sound produced by the Roland TB-303 electronic synthesizer-sequencer by constantly modulating its frequency and resonance controls to create 'movement' in otherwise simple bass patterns. Other elements, such as synthetic strings and stabs, were usually minimal.[69]
---
What is Meant by Definition

[

edit

]
Ontdef1. What is a definition?
---
How Jazz Can Be Defined

[

edit

]
Jazz Could be Defined If It Had Essential Properties

[

edit

]
Anything with essential properties can be defined. Essential properties are those that determine the essence of something, meaning what it is.
The Stanford Encyclopedia of Philosophy explains the nature of, as well as differences and relationships between, essential and non-essential, or accidental, properties:
"The distinction between essential versus accidental properties . . . is currently most commonly understood in modal terms: an essential property of an object is a property that it must have while an accidental property of an object is one that it happens to have but that it could lack. . . . the use of the word "must" reflects the fact that necessity is invoked, while the use of the word "could" reflects possibility. The notions of necessity and possibility are interdefinable: to say that something is necessary is to say that its negation is not possible; to say that something is possible is to say that its negation is not necessary; to say that an object must have a certain property is to say that it could not lack it; and to say that an object could have a certain property is to say that it is not the case that it must lack it."
---
Does Jazz Have Essential Properties?

[

edit

]
The Importance of Improvisation

[

edit

]
At the Scolastic Magazine website titled "Culture and Change: Black History in America" as they review the history of jazz in America often admiring Wynton Marsalis's insights into jazz and using his audio clips to explain improvisation under the section titled Improvisation: The Expression of Freedom it says:
"Improvisation is the most defining feature of jazz. Improvisation is creating, or making up, music as you go along. Jazz musicians play from printed music and they improvise solos. From the collective improvisation of early jazz to the solo improvisation of Louis Armstrong to the free jazz of Albert Ayler, Ornette Coleman, and John Coltrane, improvisation is central to jazz."
For more information, discussion and argumentative issues about improvisation see Ontimpr1. What is improvisation?. From these observations at least two main points can be discerned, and the second one is surprising from Wynton Marsalis's neo-classicist conservative point of view. The two points are:

(A) Improvisation is "the most defining feature of" and "central" to jazz.
(B) Armstrong, Ayler, Coleman, and Coltrane each played jazz improvisations.
Examining these two claims (A) and (B), it can be seen that both are problematic until further clarifications and justifications are given for believing them to be true.

---
Reasons to Believe

A) Improvisation is "the most defining feature of" and "central" to jazz

and

(B) Armstrong, Ayler, Coleman, and Coltrane each played jazz improvisations

are False

[

edit

]
Why (A) is false: If the "most defining feature" of improvisation were to mean either or both a necessary and/or sufficient condition for being jazz is that it contain improvisation, then each of these claims is false. Improvisation is neither a sufficient nor a necessary condition for music to qualify as jazz.
Improvisation cannot be a necessary condition for being jazz because jazz exists with no improvisation at all. Everyone believes Duke Ellington wrote and performed jazz with his orchestra without improvisation, although some of it could sound like it was being improvised. Non-improvisational jazz would be impossible if improvisation were a necessary condition for music to qualify as jazz.
Improvisation cannot be a sufficient condition for being jazz because much improvised music exists that everyone believes NOT to be jazz. Rock musicians, Indian musicians on tablas and sitars, even Mozart, each has improvised music without having played any jazz.

Why (B) is false: Wynton Marsalis has been critical of free(er) jazz and free improvisations and might well deny that the free improvisations of John Coltrane, Albert Ayler, and Ornette Coleman were actually jazz improvisations, even while being artistically valuable. The primary reason Marsalis could give for denying these impressive improvisations as qualifying as jazz is that by its very nature free jazz being free conforms to no rules of jazz. Marsalis and others could argue that it is of the essence of completely free improvisation that it could not be jazz because if it was jazz then it wouldn't be free. This is the reason why entirely 'free' jazz could never qualify as jazz. This free music follows no rules or principles so disqualifies itself from being jazz, or so goes the argument.
---
Reasons to Believe

A) Improvisation is "the most defining feature of" and "central" to jazz

and

(B) Armstrong, Ayler, Coleman, and Coltrane each played jazz improvisations

are True

[

edit

]
Why (A) is true: (A) is true because improvisation IS central to mainstream and standard form jazz; it just cannot be used to delineate the borders within which all jazz falls.
Why (B) is true: (B) would be true if Louis Armstrong, as well as Ornette Coleman, John Coltrane and Albert Ayler in their freer moments were still playing jazz.
Why could this be true?
Consider each musician in turn. They are not all the same, to say the least, so need to be judged and evaluated individually.
---
Louis Armstrong (August 4, 1901 - July 6, 1971)

[

edit

]
Everyone agrees Louis Armstrong played many jazz improvisations. Why? If we knew what the musical factors were in these performances then this could help determine the answer to whether Coleman, Coltrane, and Ayler (hereafter the big three/free) were playing jazz improvisations. As often in philosophy the answer is it depends. Here's why. The answer could be yes the relevant musical factors in Armstrong's improvised solos could determine whether the big three were playing jazz if all four used the same, similar, or comparable musical factors as Armstrong.
---
Louis Armstrong Discography

[

edit

]
---
Ornette Coleman (March 9, 1930 - June 11, 2015)

[

edit

]
It can be argued that Ornette's music in his album "Free Jazz" even in freer moments still contains musical features recognizable within the jazz music traditions.
---
Ornette Coleman Discography

[

edit

]
---
John Coltrane (September 23, 1926 - July 17, 1967)

[

edit

]
As we proceed and progress the complexity of Coltrane's music makes analysis and evaluation more and more challenging. Everyone agrees that when John Coltrane started he was both a sax horn honker in the "walk on the bar" tradition, and also a journeyman sax player. He didn't start getting more into his own until he started playing with both Miles Davis and Thelonious Monk. After that we get "Giant Steps," "Blue Train," "A Love Supreme," "Ascension," "Om," "Africa Brass," "Interstellar Space," etc. and a lot of this music is not free jazz.
---
Which of John Coltrane's recordings are the most free jazz?
Wikipedia on John Coltrane reports that Coltrane's second quartet developed from 1965 through 1967 was moving more into free jazz. For some inexplicable reason, the Wikipedia article quoted below leaves out two musicians that played on Coltrane's Ascension namely the obscure Dewey Johnson on trumpet and the fabulous Art Davis on bass.
"In his late period, Coltrane showed an increasing interest in avant-garde jazz, purveyed by Ornette Coleman, Albert Ayler, Sun Ra and others. In developing his late style, Coltrane was especially influenced by the dissonance of Ayler's trio with bassist Gary Peacock and drummer Sunny Murray, a rhythm section honed with Cecil Taylor as leader. Coltrane championed many younger free jazz musicians such as Archie Shepp, and under his influence Impulse! became a leading free jazz record label.

After A Love Supreme was recorded, Ayler's style became more prominent in Coltrane's music. A series of recordings with the Classic Quartet in the first half of 1965 show Coltrane's playing becoming increasingly abstract, with greater incorporation of devices like multi-phonics, utilization of overtones, and playing in the altissimo register, as well as a mutated return of Coltrane's sheets of sound. In the studio, he all but abandoned his soprano to concentrate on the tenor saxophone. In addition, the quartet responded to the leader by playing with increasing freedom. The group's evolution can be traced through the recordings The John Coltrane Quartet Plays, Living Space, Transition (both June 1965), New Thing at Newport (July 1965), Sun Ship (August 1965), and First Meditations (September 1965).

In June 1965, he went into Van Gelder's studio with ten other musicians (including Shepp, Pharaoh Sanders, Freddie Hubbard, Marion Brown, and John Tchicai) to record Ascension, a 40-minute piece that included solos by the young avant-garde musicians (as well as Coltrane), and was controversial primarily for the collective improvisation sections that separated the solos. After recording with the quartet over the next few months, Coltrane invited Sanders to join the band in September 1965. While Coltrane frequently used over-blowing as an emotional exclamation-point, Sanders would overblow entire solos, resulting in a constant screaming and screeching in the altissimo range of the instrument." (bold and bold italics not in original)
---
John Coltrane Discography

[

edit

]
---
Albert Ayler (July 13, 1936 - November 25, 1970)

[

edit

]
Albert Ayler was an American avant-garde jazz saxophonist, singer and composer who was first taught to play the alto saxophone by his father Edward. They often played together in church. [70]
Wikipedia describes Ayler's early musical development as follows:
"As a teenager, Ayler attended John Adams High School on Cleveland's East Side, and graduated in 1954 at the age of 18. He later studied at the Academy of Music in Cleveland with jazz saxophonist Benny Miller. Ayler also played the oboe in high school. As a teenager, Ayler's understanding of bebop style and mastery of standard repertoire earned him the nickname of "Little Bird", after Charlie "Bird" Parker, in the small Cleveland jazz scene."

"In 1952, at the age of 16, Ayler began playing bar-walking, honking, R&B-style tenor with blues singer and harmonica player Little Walter, spending two summer vacations with Walter's band. In 1958, after graduating from high school, Ayler joined the United States Army, where he switched from alto to tenor sax and jammed with other enlisted musicians, including tenor saxophonist Stanley Turrentine. Ayler also played in the regiment band. In 1959 he was stationed in France, where he was further exposed to the martial music that would be a core influence on his later work. After his discharge from the army, Ayler tried to find work in Los Angeles and Cleveland, but his increasingly iconoclastic playing, which had moved away from traditional harmony, was not welcomed by traditionalists."[70] (bold not in original)
When he joined the army and began playing with Stanley Turrentine, among others, he switched to tenor saxophone, although occasionally playing alto and soprano as well.
Musicians that Ayler played with include Don Cherry (pocket trumpet), Sunny Murray (drums), Gary Peacock (bass), Alan Silva (double bass), Roswell Rudd (trombone) and Cecil Taylor (piano). These musicians helped to found the free(er) and free jazz movement(s).
Musicologists find in Ayler's music sounds that remind them of both church and military music. The church-like influences can be heard and read into Ayler's album, "Spiritual Unity," which was recorded in Ayler's most prolific recording year of 1964.
"In 1963, Ayler returned to the US and settled in New York City, where he continued to develop his personal style and occasionally played alongside free jazz pianist Cecil Taylor. 1964 was the most well-documented year of Ayler's career, during which he recorded many albums, the first of which was "Witches and Devils" in March of that year. Ayler also began his rich relationship with ESP-Disk Records in 1964, recording his breakthrough album (and ESP's very first jazz album) "Spiritual Unity" for the then-fledgling record label. ESP-Disk came to play an integral role in recording and disseminating free jazz."[70]
There is certainly music on record with Ayler playing that qualifies as jazz. Where the controversy arises is in Ayler's more unstructured moments. We know from his biography above that he was certainly trained originally in standard jazz practices. You don't get the nickname "Little Bird" if you cannot play Bebop in a conventional manner and Bebop is agreed on by all counts to qualify as jazz so it is certain that early on Ayler played jazz. The question remains about his (later) recordings.
---
---
Albert Ayler Discography

[

edit

]
---
Reasons: high form skill, difficult, admired and admirable, challenging, why musicians like and value jazz, requires skill, allows for spontaneous group interaction and the emergent properties that spontaneous composition can achieve, KIND OF BLUE level solos with virtually no rehearsal.
---
What Is Meant By Essential?

[

edit

]
---
Are There Any Necessary Conditions For Playing Jazz?

[

edit

]
On the surface it is likely going to be difficult to find any necessary conditions that are uniquely distinctive of jazz. The reason for this being that if there were such necessary conditions that were unique to jazz they would already have been discovered and be known. These features, were they to exist, would be obvious. Below numerous candidates for possible necessary conditions possibly unique to jazz (but they aren't) will be considered, examined, and rejected as necessary candidates. Before this is done, let us consider a preliminary matter first.
What necessary conditions are required for something even to qualify as music? See Ontmusic0. What is music?
What features necessarily apply to jazz by virtue of jazz being music?
Are There Any Necessary Conditions For Playing Music?

[

edit

]
What are necessary properties of music?
This is a large and difficult topic. Rather than try to give a definitive answer first consider candidates for necessary conditions. It will help to delimit the problem if we start with necessary conditions for the performance of music.
Necessary Conditions For A Musical Performance

[

edit

]
What happens necessarily during a musical performance?
True Necessary Conditions For A Musical Performance

[

edit

]
Musicians are required to cause the music to exist.
The musicians are persons.
The persons are intentional agents.
The musician is intentionally producing the music.
False Necessary Conditions For A Musical Performance

[

edit

]
False Necessary Condition:

The music consists of sounds that can be heard. If neither sounds exist or if the sounds cannot be heard then no music has been performed.

As intuitive as it might seem that music requires hearable sounds, this is a false claim, according to some philosophers. Several philosophers, including Andrew Kania in his article, "Silent Music," have argued for the existence of music that even when performed both makes no sounds and is not hearable.
Hearability Examined

[

edit

]
What does it mean to be hearable? Just as important, hearable by whom?
Hearability is a tricky concept because there are ambiguities as well as degrees.
Hearability Ambiguities

[

edit

]
One of the ambiguities concerns whether one means potentially or actually hearable/heard.
Something is potentially hearable if someone could possibly hear it.
Potentially Hearable Items, but not heard:
-

The proverbial falling tree with no one nearby to hear it.

-

A far enough away hummingbird's wings flapping sound.

-

A meteor hitting the Moon's surface.

-

Very quiet sounds that no one hears but could be amplified to be heard with equipment.

-

Very low sounds below 20 cycles per second that is below the threshold of typical human hearing ranges.
Something could be hearable, meaning potentially hearable, but in fact wasn't heard, or it could mean has been actually heard and by virtue of that the heard item qualifies as having been hearable.
Hearability Degrees

[

edit

]
Because people can easily suffer frequency damages to their hearing what one person can hear another with frequency damage to their hearing might not be able to hear the same sounds. It is clear that the person who can hear the music would agree it is music, so the person who cannot hear it cannot correctly claim that no music has been performed. It was performed, but not heard by you is not a contradiction.
---
Martian High Frequency Music Objection to Hearability Requirement

[

edit

]
Wikipedia states that non-humans have a hearing range that can surpass humans in both hearing extra low frequencies or extra high frequencies, with typical humans having a hearing range of 20-20,000 Hz (cycles per second).
"Several animal species are able to hear frequencies well beyond the human hearing range. Some dolphins and bats, for example, can hear frequencies up to 100 kHz. Elephants can hear sounds [as low as] 14–16 Hz, while some whales can [even] hear subsonic sounds as low as 7 Hz (in water)."[71]
Below is a table of animal hearing ranges and as can easily be observed there are many species with superior hearing ranges than humans, at both ends of the spectrum, but especially the higher frequencies.
---
If this is correct, then imagine Martians who have the hearing range of dogs from 60 Hz to 44Hz. Dogs and hypothetical Martians who are adult persons of an advanced civilization can hear sounds above double the best human hearing to over 40,000 cycles per second. Such high frequencies can be heard by dogs and Martians, but not by humans. Suppose Martian music is in this high frequency range not hearable by standard humans. The fact no humans can actually hear the Martian high frequency music does not entail no music exists. It just is the case that some music cannot be heard by humans. There is no reason to limit what ontologically is music to what can be heard sonically by humans. This would be a form of a priori auditory speciesism.
---
Objection to Requiring Conscious Intention for Music Production

[

edit

]
Can a sleeping musician while sleepwalking play the piano and be playing music? If the answer is "Yes" then this intention to play music can be unconscious and need not be consciously intended. Of course, the proof is in the pudding.
Here is an apparent example of a sleepwalking young girl playing the piano. It is reported that in the morning she had no memory of having played the piano. This supplies evidence that no conscious intention of playing is required for someone to play the piano. After all, playing a piano is to move one's fingers on the keyboard and thus can be done robotically. Interestingly, her performance does sound quite musical from the few snippets she actually plays. Listen to it yourself and you be the judge. Was she making music?
Someone could object, however, that precisely because she was not currently and actively aware of playing and had no direct conscious intention to play that therefore she was not making music, but only making sounds on the piano.
➢ How can we decide which of these two types of events occurred here? Was it music making or only sound making?
While it may not be known what is the correct answer to these questions, one can make a case for how it is possible that a sleepwalker could be making music and not just causing sounds on the piano. The case is this. Suppose that during her sleepwalking and encountering of the piano she unconsciously intended to be playing the piano and had an unconscious intention to be playing music.
➢ What evidence could there be for someone having a complex intention as to unconsciously intending to be playing music? What is required for someone to have intentions anyway? What is an intention?
---
Definition of intention

[

edit

]
Wikipedia on intention defines intention as "a mental state that represents a commitment to carrying out an action or actions in the future. Intention involves mental activities such as planning and forethought. . . . Thus, an intentional action is a function to accomplish a desired goal and is based on the belief that the course of action will satisfy a desire. . . . The proposed [intentional] connective chain is that desire causes intention, which causes action, which causes outcome. The Intentional Chain maps the linking of a desire to the satisfaction of a goal via the intermediary intention."
So, intentions are mental states that function to accomplish future actions to achieve a desired perceived goal.
---
Arguments for the existence of unconscious intentions

[

edit

]
Some sleepwalkers sleep on a second floor bedroom and during sleepwalking go down the stairs to the bottom floor.[72] Walking down any stairs is an extremely complex bodily activity requiring many kinesthetic and complex motor and balancing shifts, not to mention extremely dangerous.[73] Walking down stairs is such a complex activity that robots with legs are difficult to program, yet the human sleepwalker often does so easily and without injury. How is this possible?
One possible answer to how the sleepwalker can traverse down (and back up afterwards sometimes) stairways is because the walker unconsciously recognizes his or her location and unconsciously intends to go down the stairs in some sense and to some limited degree. This accords well with the definition of intention. The complexity of the activity is a reason to believe that an agent must have the relevant intentions to perform the actions observed in order to account for how this activity was accomplished by that agent.
This same sleepwalking girl is reported to have once while sleepwalking sung 'Bicycle Race' by Queen, then went back to bed and the next day she said she had a dream about singing with Freddy Mercury in front of a huge crowd. Here we have more evidence that she did intend to be singing this song while sleeping if one can intend something in a dream. It just so happens that her physical actions corresponded to her dreamed actions. This makes it more believable that she did produce music 🎶 while asleep.
A second reason for not requiring a direct conscious intent to produce all music is because musicians when playing and improvising can get into an egoless flow state. In such a flow state, musicians have muscle memory and the production of the music can be by effortless mastery. No direct conscious intentions are required during these flow states. The music plays you, and your intentions do not dictate the flow of musical performance. As soon as deliberate and reflective conscious intention occurs then this self-awareness drops one out of a flow state.
---
➢ Everyone agrees that jazz is music? Why?
What reasons and arguments can be given to prove that jazz is music?
No one denies that jazz counts as music.
The word "jazz" means "jazz music" by definition.
If it is known what is music, then one can recognize that jazz falls under this category. For an analysis of the nature and properties of music see Ontmusic0. What is music?. There it is explained that music when performed typically consists of sound events using musical instruments (or the human body, also potentially a musical instrument) that has melody, rhythm, and harmony.
---
---
---
What Are Not Sufficient Conditions For Playing Jazz?

[

edit

]
There is a long laundry list of bad possible answers to this question. The table below on the left states the alleged sufficient condition followed on the right by why it cannot be a sufficient condition because it doesn't guarantee jazz exists whenever that condition is satisfied.
There are at least two main reasons why sufficient conditions can fail to guarantee that jazz exists under those conditions. Either the condition is not specific enough to actually pick out jazz, such as were it to be claimed that riding a bicycle is sufficient for playing jazz. This fails to be sufficient since riding a bicycle is not a musical activity while playing jazz is such an activity. The other main reason why a sufficient condition can fail even were it to somehow pick out some jazz when it also picks out non-jazz music. Here's the type of example. It is claimed being a color is sufficient to be a red color. However, merely being colored by itself is insufficient for being a red color since blue is a color (thereby satisfying the alleged sufficient condition for being red, but being blue is not being red).
| Proposed Sufficient Condition for Playing Jazz | Reason(s) for Insufficiency |
| --- | --- |
| Playing a saxophone. | Other forms of music besides jazz can be played with a saxophone. |
| Using a swing rhythm. | Some non-jazz music uses a swing rhythm such as rockabilly by the Straycats. |
| Music played by African-American musicians. | African-American musicians sometimes play music other than jazz, for example soul and pop singer Al Green. |
| Music played with improvisation. | Some jazz has no improvisation, while some improvised music such as can occur in the blues, or rock and roll is not jazz. |
| Music developed around the turn of the 20th century in the United States. | Several genres of music developed around the turn of the century such as the blues, Ragtime, and Appalachian folk music including jug bands, honky tonk and bluegrass, and the early roots of country music. None of these are jazz genres. |
| A type of music of black American origin characterized by improvisation, syncopation, and usually a regular or forceful rhythm, emerging at the beginning of the 20th century. | Blues music that is not jazz can have forceful rhythms, syncopation, and improvisation and It too was primarily developed by African Americans. |
| Music that uses brass and woodwind instruments and piano, and sometimes guitar and occasionally violin. | Other forms of music besides jazz can be played with any or all of these instruments. |
| Music born out of and evolved through the African American experience in the U.S. from slave songs and spirituals (religious African American folk songs). | These same remarks can be said about the blues. |
| Jazz has an ability to absorb aspects of other music styles and transform them into something entirely new and different. Emerging in the first decades as an unpolished folk music, jazz reflected diverse influences. | Is the genre of jazz the only music that can transform other music into something different? No, country music can countrify a song, while blues music can bluesify it. Is there any other music besides jazz that is an unpolished folk music. Yes there is—some blues music can be considered unpolished folk music. Many types of music in addition to jazz reflect diverse influences, such as rock and roll, or soul music (influenced by gospel and church music). |
| Music directly resulting from West African influences on European derived music styles and popular American music. | While partially correct for jazz it is not sufficient for jazz since the same points are true of blues music which is not jazz. |
| Music resulting as a consequence of combining elements from Blues, marching bands, polkas, field hollers and work songs, religious music, ragtime and West African music. | Isn't this at least somewhat true of rock and roll music? |
| An instrumental music that prides itself on strenuous virtuosity. | It is true that jazz strives to have highly accomplished musicians, but so do all other forms of music, especially classical orchestras, plus jazz is not always instrumental, but can include vocalists using lyrics. |
---
Are There Any Sufficient Conditions For Playing Jazz?

[

edit

]
A sufficient condition is one where if it is met then whatever this is a sufficient condition for must exist, or the condition would fail to be such a condition.
If one could find a set of musical properties such that everyone agrees that were all of these properties to exist concurrently within and during a musical performance that that performance would be jazz, then this might count as a sufficient set of conditions. An immediate problem with this proposal is its dependence on unanimity of all individuals doing the judging. It is well known that unamity about musical performances being or not being jazz can be hard to come by.
To avoid the need for unanimous judgment, consider a different tact. Suppose a set of musical conditions could be found that on the face of it most people would agree this conglomeration of conditions, when found in a musical performance, sounds like jazz to them, then challenge any nay-sayers to find a musical performance that most people agree fails to be jazz, but that meets all of the musical factors specified in the sufficient set of conditions under consideration? The idea simplified is this. Can anyone find a counter-example to a claim that a particular set of musical factors are always sufficient to guarantee jazz is being played? If the answer is that no counter-examples can be found, or at least, have yet to be found, this lends support and justification that this set of conditions is sufficient for jazz performance.
---
A sufficient condition for playing jazz

[

edit

]
The three elements central to the jazz tradition are improvisation, syncopation, and the synthesizing and hybridizing of the diatonic and pentatonic musical scales. For support of these three conditions as being central for understanding jazz see The Galactic Model for Defining Jazz and the Jazz Videos on "The Complexity of Defining Jazz" on the Galactic model by Dr. David C. Ring and Dr. Charles Otwell.
At the "Jazz in America" website it reports that jazz has been thought to result from the synthesis and sudden hybridization of the Euopean diatonic scale with an African pentatonic one.
"Jazz is a union of African and European music. From African music, jazz got its (1) rhythm and "feel" (2) "blues" quality, and (3) tradition of playing an instrument in [one's] own expressive way, making it an "extension" of [a] human voice. 'From European music, jazz got its (1) harmony, that is, the chords that accompany the tunes (e.g., the chords played on a piano). Jazz harmony is similar to classical music's harmony, and (3) most musical instruments . . . originated in Europe (e.g., the saxophone, trumpet, piano, etc.[74]

(bold not in original)
If one considers a form of music that has all three of these (hybridization, syncopation, and improvisation) plus the performers are using what are called standard (jazz) harmonies, then this is a sufficient condition for being jazz music. The claim is that there is no music that features these four conditions that fails to be jazz. Seeing as how there are no counter-examples, this justifies this as a sufficient condition for jazz.
Because a blues player when playing blues, but not playing jazz, could be improvising, syncopating, and hybridizing the diatonic and pentatonic musical scales, this proves these three conditions jointly are not always sufficient for playing jazz. If the fourth condition is added of using standard (jazz) harmonies, then it is claimed there are no non-jazz counter-examples to the claim of sufficiency, and such a musical performance would no longer be classified as playing the blues.
---
Circularity Objection to these as sufficient conditions for playing jazz

[

edit

]
Isn't it cheating because of the circularity involved in the sufficiency conditions of jazz being contained in the definition of "standard jazz harmonies"? One cannot have a satisfactory set of sufficient conditions for playing jazz if it were claimed that it is sufficient for playing jazz whenever one is playing jazz. Isn't this basically all that is happening when the fourth condition is added of using standard jazz harmonies when defining jazz?
---
Reply to Circularity Objection

[

edit

]
The answer to the question of circularity can be answered if a non-question begging way of characterizing standard (jazz) harmonies can be found.
---
➢ So, what are standard (jazz) harmonies?
---
Is jazz a process?

[

edit

]
It is uncertain what it means to claim jazz is a process and especially what the implications of this might be. Let's start with determining what processes are, apply this to jazz, and then try to fathom its implications.
What are processes?

[

edit

]
Processes are activities using patterns and methods of routine and semi-routine actions. They can be technical, methodical, and semi-formal means of accomplishing goals. Thus, processes are series of actions, steps, or operations taken in order to achieve a particular end or goal state.[75]
Dictionary.com defines process used as a noun to be:
1. A systematic series of actions directed to some end, as in "to devise a process for homogenizing milk."



2. A continuous action, operation, or series of changes taking place in a definite manner, as in "the process of decay."



---
The processes of jazz

[

edit

]
The great jazz improviser Theodore "Sonny" Rollins maintains that jazz is a process.
""The process can be applied to anything—country songs, arias, anything," he [Sonny Rollins] argues vigorously. "This is what makes jazz the greatest music in the world. It's a force of nature; it has no boundaries. You can jazz anything up; you can improvise on anything. If a song happens to strike me in a certain way, I'll use it, even if other people don't think of it as a jazz tune."[9]

(bold not in original)
Taking the meaning of process to be a series of actions taken to produce particular goals would make Rollins belief be correct since jazz improvisations are themselves a series of directed actions striving to achieve particular goals.
➢ What are the goals of jazz improvisations?
The question remains, however, is jazz other than or more than just a process?
To address this topic, suppose some one made parallel claims for say, classical music or rock and roll. Could either of these be just a process? We know that there are processes involved for either classical or rock. Some of the processes involved in classical music are to set up an orchestra, have a conductor, rehearse each section of the orchestra, then rehearse all sections together and eventually produce a classical music performance. Would anyone ever then claim classical music is only a process? No, they would not and for the reasons that there is also a product that results from these processes, namely, classical music itself, either in the form of a score, or a recording, or the sounds heard during the applications of these processes. Additionally, you could have all of the classical music processes just described be used by an orchestra with a conductor that produces non-classical music. So, it cannot be that any music is only a process since these processes lead to different types of products and the products themselves, i.e., the type of music caused to exist is not itself a process, but the product resulting from the application of the relevant processes involved.
CONCLUSION: Jazz is more than just a process.
---
Implications for jazz being a process

[

edit

]
Joachim E. Berendt has attempted a definition, or at least a firm characterization of the components found in jazz. The final element that he mentions in his characterization concerns the individuality of sonic expression.
"[Jazz] contains a sonority and manner of phrasing which mirror the individuality of the performing jazz musician."[76]

(bold not in original)
Let us take this dimension and explore it in some detail. Can individual sonority play a significant role in determining which music should and which music should not count as jazz?
Individual sonorities cannot be used to delineate jazz as a musical genre

[

edit

]
Every musician sounds unavoidably like themselves by definition and most have their own quirky and idiosyncratic ways of playing their instrument and the resulting music. One of the truly remarkable things about Ornette Coleman is that he sounds like himself and how he plays music whether he is using his alto saxophone, trumpet, or violin! If this is true, then every form of music has individual sonorities occurring during their performance relating to the individuals involved who are producing the music and so this aspect of music making is hopeless for distinguishing between different genres of music.
For example, if Charles plays the piano in his own distinctively Charles generated way, then these individual sonorities will occur whether Charles is playing jazz or rock and roll, so individual sonorities cannot distinguish between different musical genres.
Individual sonorities can be used to delineate jazz as a musical genre

[

edit

]
First, while the above reasoning regarding individual sonorities being idiosyncratic are generally speaking true, they are not always true because some people can play in other people's styles. There are performers who instead of playing like themselves can play in the musical style of someone else. For example, there is a piano player who can play so he first sounds like Earl Hines, then Art Tatum, and then Thelonious Monk. If so, then one does not always sound and play like oneself necessarily as argued above.
Second, the arguments given in the cannot section above misses the point being made about using individual phrasing to distinguish jazz as a genre of music. Let us develop the claim some more and see if Berendt's suggestion can be used to distinguish jazz as a musical genre from all other one's.
It is true that virtually everyone's singing voice sounds different from everyone else's singing voice. Unless we are having a vocal imitator, no two people are going to sound alike when singing the same song. Frank Sinatra, Tony Bennett, and Jimmy Rushing do not all sound alike. If Frank is singing a non-jazz song he still sounds like Frank Sinatra. It follows that individual vocal styles cannot be used to distinguish jazz from non-jazz.
To get around and avoid this point, let us take vocals out of the picture and only consider instrumental music. Now can individual phrasing and distinctive sonorities be used to distinguish jazz from non-jazz?
Here we start to see that there may be something to this claim. Consider classical music and typical classic trumpet playing of a Hayden symphony. The trumpeter during his or her performance is typically expected to play the piece cleanly with a relatively pure tone when producing the notes involved. Any classical trumpet player who added a lot of vibrato, growls, slurs, and bending of notes would be frowned upon by the conductor of the orchestra, nor would the typical classical listening audience appreciate these types of embellishments.
To the contrary, jazz musicians often use all of these embellishment techniques and they often need to do so because they are working with a hybridized musical scale system which has diatonic and pentatonic scales. To get in between these scales and to get from one to another sometimes requires slurring of notes. This is something that classical players (typically) do not do. Furthermore, much jazz has been related to vocalizations where the human voice is not staying within any particular musical scale system. Additionally, jazz musicians often wish to relate their music to sounds heard in the external environment such as trains, birds, wolf whistles, and voices that growl, sing, whisper, slur, shout, and uses of glissando.
Having one's own distinctive and easily recognizable personal 'sound' is a goal towards which many jazz musicians strive. It is relatively easy to recognize in just a few bars if the player is Miles Davis, or Bill Evans, or John Coltrane, etc.
So, it may not be so far fetched to include as an aid for determining which genre of music one is listening to if we include that the music has players using distinctively recognizable sonic and idiosyncratic musical techniques and sounds.
Evidence for this lies in Blindfold tests given to jazz musicians by Downbeat. During the musician's analysis and reactions to music they are hearing without any prior knowledge of what was going to be played to them, they often remark things like "I knew from the use of these particular musical techniques that the drummer was . . . " or "that is either Sonny Rollins or someone who has studied a lot of Sonny's licks, etc."
Here are some actual examples from Downbeat as to what musicians have said about personal styles while trying to identify the players involved in the music they just heard.
---
DOWNBEAT BLINDFOLD TESTS identifying musicians by an individualized sound:

[

edit

]
In these blindfold tests, the (blindfolded) musician judge responding has not been informed prior what would be played. The interviewer then elicits information and evaluations about what was played. Notice how frequently the judge resorts to responding with an individual person's style of playing supporting the importance of this point for and how that person has represented a style of playing. Even when discussing what someone else may be copying or imitating or just mirroring unknowingly, the blindfolded refer to "what this or that musician plays like." It may be used in reference to more than just one aspect of a person's performance including sounding like something the blinfolded judger identifies with a particular person's distinctive sound, or style, or technique, or sonic properties.
These are not all the same things, that is, techniques differ from sonic properties because someone could use two different "techniques" on the same instrument to produce the same "sonic effect."
"3) Dizzy Gillespie. Medley: I Can't Get Started / Round Midnight from 'Something Old - Something New.' (With James Moody on alto.)



Monk: "Dizzy, he had a crazy sound, but he got into that upper register, and the upper register took the tone away from him. That was the Freddy Webster sound too, you know, that sound of Dizzy's. (Later) That's my song! Well, if that's not Diz, it's someone who plays just like him. Miles did at one time too."


Leonard Feather: "You like the way they put the two tunes together?"
Monk: "I didn't notice that. Play it again. (Later) Yes, that's the Freddy Webster sound. Maybe you don't remember Freddy Webster; you weren't on the scene at the time.

5) Phineas Newborn. Well, You Needn't from the 'Great Jazz Piano of Phineas Newborn' on Contemporary.


Monk: "He hit the inside wrong - didn't have the right changes. It's supposed to be major ninths, and he's playing ninths (walks to the piano, demonstrates). It starts with a D-flat Major 9 . . . See what I mean? What throws me off, too, is the cat sounds like Bud Powell. Makes it hard for me to say anything about it. It's not Bud; it's somebody sounding like him. . . . (Later) It's crazy to sound like Bud Powell, but seems like the piano player should be able to think of something else too. Why get stuck with that Bud Powell sound?"

8) Denny Zeitlin. Carole's Garden from 'Carnival' on Columbia. (With Jerry Granelli, drums).


Monk: "No, but you need that kind too . . . It reminded me of Bobby Timmons, and that's got to be good. Rhythm section has the right groove too. Drummer made me think of Art Blakey. Hey, play that again. (Later) Yeah! He sounds like a piano player! (Hums theme) You can keep changing keys all the time doing that. Sounds like something that was studied and figured out. And he can play it; you know what's happening with this one. Yeah, he was on a Bobby Timmons kick. He knows what's happening. (bold not in original)
---
"2. Clifford Brown. "Stockholm Sweetnin'" (from Clifford Brown Memorial ; Prestige). Arne Domnerus, alto; Art Farmer, Clifford Brown, trumpet; Lars Gullin, baritone; Bengt Hallberg, piano; Gunnar Johnson, bass; Jack Noren, drums; Quincy Jones, composer. Recorded in Stockholm, Sweden, in 1953.



Mingus: "I heard a trumpet player up in the front that sounded like Art Farmer. The second solo? I don't think I liked it as much as the first. Not that it matters . . . My opinion doesn't matter much. What's Lee Konitz doing on a record with these guys? . . . The rhythm section has no guts at all.


The baritone player sure has a lot of warmth; could it have been Gerry Mulligan?


Well, I just like Art Farmer so very much—that little airy sound he gets in the front of the notes—I like him even if he is old fashioned and doesn't know it. (bold not in original)
---
Why Rock musicians have less emphasis on having a personal idiosyncratic musical style

[

edit

]
Again, it is granted that vocally most people's singing has very distinctive and a recognizable style. Rock musicians such as Rod Stewart can be recognized by his voice in just a few notes. Still, the voices of some other singers can sound like Rod.
Sometimes in rock the performers are intended to stay within a certain style of singing. This is shown most definitely in the movie Rock Star (2001) starring Mark Wahlberg as Izzy.
"After the end of the tour, Izzy [played by Mark Wahlberg] reports to the next series of Steel Dragon recording sessions with song concepts and artwork for the band's next album. The rest of the band rejects Izzy's ideas, with Kirk explaining that the band has to stay true to the "Steel Dragon thing" to fulfill fan expectations. Izzy is angered upon realizing that he was only recruited for his vocal abilities."[77]

(bold not in original)
In the movie it is made really clear that his new band only want Wahlberg to sing in the style and manner of the band's previous lead vocalist and they do not want him to sound like himself.
This same sort of thing happened to Lester Young when he joined Fletcher Henderson's band and he was replacing the more muscular tenor saxophone sound of Coleman Hawkins. Of course, Lester, being Lester, just ignored the advice and stuck to his own style of playing, much to the relief of jazz history. However, he still got fired
"Henderson's musicians were used to the big tenor sound of Coleman Hawkins, but Lester's sound was lighter and thinner. And even though they recognized his enormous talent, they were not happy with his sound. They thought that the saxophone section lacked a proper bottom because his tenor sounded almost like an alto. So in the end, Henderson had to let him go, and take in Ben Webster instead.

[78]
It is true that instrumentally many musicians in non-jazz genres often have their own highly distinctive sound such as Carlos Santana, Stevie Ray Vaughn, or Leo Kottke on guitar. Consequently, it remains unclear how to incorporate the criteria of distinctiveness into any definition using this chacteristic into a definition for jazz. Nevertheless, it remains true that jazz players are renowned for having personal styles of playing and a personal sound so this feature may be relevant when attempting to characterize jazz.
---
Why jazz musicians have more emphasis on having a personal idiosyncratic musical style

[

edit

]
"Sounds Associated with Jazz" from Jazz under "Listening to Jazz"
In their Jazz 12th edition, which is a significant achievement, authors Paul O. W. Tanner and David W. Megill, and present the case for the importance of individual musical expression within jazz. This is not to say that other musical genres, such as rock or classical music, do not have musicians known for their sound, such as Bob Dylan, Joni Mitchell, or Yo-Yo Ma, but that this is a genuine phenomena in jazz and may assist in helping to distinguish it from other genres even if it is not unique to jazz.
"In classical music, each instrument has an "ideal" sound or tone, or at least there is a consensus as to what the ideal sound is. The jazz musician, though, finds such conformity of little importance. As long as the sound communicates well with peers and listeners, the jazz musician appreciates the individuality of personal sounds. This situation, in which personal expression is more important than aesthetic conformity, often causes listeners not accustomed to jazz to questions the sounds that they hear.




Certain sounds peculiar to jazz have their origins in oral tradition and are the result of instrumentalists attempting to imitate vocal techniques. Jazz singers and instrumentalists use all the tone qualities employed in other music and even increase the emotional range through the use of growls, bends, slurs, andvarying shades of vibrato, employing any device they can to assist their personal interpretation of the music. Jazz musicians have always had a great affinity with good singers, especially those whose interpretation closely resembles their own. Such singers include the early great blues singers (to be discussed later) and other talented performers such as Bing Crosby, Ella Fitzgerald, Billie Holiday, Frank Sinatra, Sarah Vaughan, Billy Eckstine, and Betty Carter.


Distinctive jazz instrumentation produces unique sounds. For example, a featured saxophone section or a rhythm section is seldom found in other types of music. Although it is a mistake to claim that trumpet or trombone mutes are indigenous to jazz (mutes were used in the 1600s), it is true that a larger variety of mutes are used in jazz.

To many listeners, the sounds of jazz are personified and identified through the musical interpretation of specific artists. Listeners who have not heard much jazz are often surprised that the well-initiated can recognize a soloist after hearing only a few notes—at least within the listener's preferred style. Talented jazz musicians seem to have their own personal vibrato, attack, type of melodic line, choice of notes in the chord—indeed, their own sound.[79] (bold and bold italic not in original)
---
Andre Hodeir's Definition of Jazz

[

edit

]
French theorist and music critic, Andre Hodeir, was an early jazz theorist and one of few theorists who willingly tried to define jazz. Lee B. Brown reports that he even used arguments!
"Although out of date on major points, [Andre Hodeir] was the journalist/theorist of the late twentieth century who was willing to make bold and penetrating generalizations about jazz and to defend them with actual arguments."

(italics are authors; bold and bold italics not in original)

[80]
---
Young and Matheson's Definition of Jazz

[

edit

]
"Nevertheless, problems beset the theory, which even its authors seemed to recognize. First, much jazz music fails to conform to the canonic model. Consider "free" jazz of the sort first attempted by Lennie Tristano in 1949. We might treat such a performance as being of a work that can only have one performance, but this is an awkward implication surely. Part of the point of a free jazz performance after all is that it is not of a preexistent work. Second, there exist performances—Coleman's recorded version of "Lonely Woman," for instance—not based on any harmonic chord changes but rather on motifs. Perhaps the motific model and the harmonically based canonic model can be given a common characterization, but it is not obvious how to do so." (Lee B. Brown from "Jazz," The Encyclopedia of Music, edited by Michael Kelly, 2012)
---
How to marry the harmonic and motivic models using a Young and Matheson style definition

[

edit

]
In the same way that a loose tacit set of instructions can be followed and constitute the exemplifications of a particular jazz tune, a similar set of loose standards can be applied to whether one has played a free jazz tune.
➢ What would these loose set of standards be?
We know what they are not! Free jazz players are not permitted to play only the standard changes to the song "Honeysuckle Rose." If someone did this he or she would not be playing free jazz.
To effectively be playing free jazz one needs to express themselves in a musically meaningful way. One should not be too boring or too uncreative, or too inexpressive, and so on. What really counts is that one needs not to be following some pre-determined set of musical chords and notes but rather plays without reference to these.
➢ What are the conventions and loose set of tacit instructions that free players follow when playing together?

a work that can only have one performance, but this is an awkward implication surely.

"Much jazz music fails to conform to the canonic model. Consider "free" jazz of the sort first attempted by Lennie Tristano in 1949. We might treat such a performance as being of a work that can only have one performance, but this is an awkward implication surely. Part of the point of a free jazz performance after all is that it is not of a preexistent work. Second, there exist performances—Coleman's recorded version of "Lonely Woman," for instance—not based on any harmonic chord changes but rather on motifs." [81]
Perhaps the motific model and the harmonically based canonic model can be given a common characterization, but it is not obvious how to do so.
➢ What common characterization can be given to both harmonic and motivic canonical models?
Why not use as the 'commom characteristic' that whether a jazz improviser is performing harmonically or motivically they are still using/following a loose set of tacit instructions. In an harmonic improvisation, a musician strives to follow the set of chord changes as a structure within which one makes changes rhythmically and melody-wise. In a motivic improvisation, a musician develops new musical patterns that themselves generate patterned themes that produce motifs.
---
What is a musical motif?

[

edit

]
A musical motif (pronounced 'moh-teef') (or motive) is a short succession of notes producing a single impression. It is a short musical idea existing as a salient recurring figure, subject, or theme. It is a musical fragment or succession of notes that takes on special importance within a musical composition. A motif can be considered the smallest structural unit possessing thematic identity. What makes a musical motif significant and recognizable results from its being a distinctive and recurring form, shape, and figure, within an existing musical design. Motifs are dominant ideas or features relating to a particular recurring musical pattern. It is typically a brief melodic or rhythmic formula out of which longer passages are developed. An example of a motif is a pattern against which one then plays a counter-melody. Synonyms for "motif" include theme, idea, concept, subject, topic, leitmotif, or even element.[82]
---
Thomas E. Larson's characterization of jazz

[

edit

]
Thomas E. Larson points out that "jazz is difficult to define, especially today, because it is performed in so many styles and its influence can be heard in so many other types of music [making] it nearly impossible to come up with a set of hard and fast rules."[83]
Nevertheless, Larson continues by suggesting that to define jazz "it is helpful to think of a set of loose guidelines that are followed to one degree or another. Five basic guidelines for defining jazz are (1) Improvisation, (2) Rhythm, (3) Dissonance, (4) Jazz Interpretation, and (5) Interaction."[84]
But Larson's inclusion of interaction is basically unhelpful for distinguishing jazz from other musical genres. Any music performed by more than one person requires at least some interactivity. Without further elaboration of the differences in respective degrees between two musical types, this category is perhaps relevant, but unhelpful.
And "jazz interpretation" bears the distinction of having the word "jazz" (as a definiendum) being included in its own definiens. This is circular and therefore an unacceptable usage for any definition.
Moreover, Larson's inclusion of dissonance, while correct, fails to account for the differing degrees of dissonance that distinguish blues, for instance, from jazz. The property of dissonance simpliciter does not distinguish jazz from blues or rock, since the dissonance natural to the hybridization of scales occurs in all three.
But another step in the process of hybridization, the incorporation of European harmonic innovations in the late 19th and early 20th Centuries, created a particular jazz dissonance that does distinguish it from rock and blues. This further step of hybridization is responsible for what we today call "standard jazz harmonies."
STANDARD JAZZ HARMONY: According to Kjell Backman, jazz harmony since the beginning of jazz had "Blues and ragtime harmony mainly using simple major/minor triads at the distance of fifths. Swing music enriched the chords with sixths and ninths, but the chord progressions were mainly the same. Bebop further enriched the chords with further colorizations such as b9, #9, #11, 13, etc."[85]
Due to the types of inadequacies we noted in Larson's definition, and similar attempts, we need a new approach for how to define jazz and Paul Rinzler in his The Contradictions of Jazz (2008) has come up with one. (See below).
---
Chris Washburne on defining jazz

[

edit

]
"However, I would argue that this attests to the ossified definitions of jazz that are oftentimes presumed, and to how the industry is acknowledging that we must re-evaluate the prescribed limits imposed on the music and align them with what musicians actually do, as well as with what consumers/listeners/fans do. Producer Quincy Jones provides us with a particularly apt example of the type of assumed limitations of jazz. He states, "What is a jazz record? Any record that sells under 20,000 copies, once it sells over that, it is no longer a jazz record." This begs the question, "why can't jazz be popular and obtain mass appeal?" And when it is, why is it considered either "bad


It comes down to how jazz is fundamentally defined, and this is a political question. Jerome Harris has identified two definitorial stances: the "canon position," where jazz is seen as a music defined by a specific African American originated genealogy and socially constituted guild, and the "process position" where jazz is viewed as the result of certain African American originated processes and aesthetics manifested in the music. As I have discussed elsewhere, the canon position defines jazz as a sort of endangered species whereby limitations are placed on the constituent boundaries of the music, a high art status is affixed, and the music undergoes an open-ended process of sacrilization. When the jazz tradition is viewed more as an open-ended process, individual musicians are empowered to innovate through a much broader spectrum of media forces than is the case within the strictly canon-based self-conception of jazz as a fossilized establishment. In reality, most musicians use both of these positions, and at specific times, locate themselves on whichever side of this binary that serves them best.

Indeed, musicians such as Quincy Jones, Herbie Hancock, and Miles Davis accentuate this fluidity and create real philosophical dilemmas for those who uphold the canon position. For an example of definatorial politics at work, one need to look no further than at the Jazz at Lincoln Center program which provides us with an archetypal manifestation of the canon position in today's jazz scene. Wynton Marsalis and his associates have discovered that this position opens access to large portions of public funds previously reserved for Western Art music traditions. Narrowing their definition of jazz allows them to claim ownership, thus establishing themselves as the gatekeepers of the canon, and, it distances the music not only

[86]

---

Paul Rinzler's Definition of Jazz

[

edit

]

Rinzler's Fuzzy Logic Approach in The Contradictions of Jazz

[

edit

]

Paul Rinzler, in his seminal book, The Contradictions of Jazz, (p. 90) makes an extremely helpful suggestion when he approaches defining jazz by considering three related categories.[87]


(1) The CORE of the jazz tradition.

(2) Undisputedly jazz containing several sub-styles.

(3) A disputed area.


Let us call this Rinzler's Onion model of jazz about which he makes these characterizations:

"[The] core is the center of the nature and definition of jazz, and defines its tradition. The undisputed area is not part of the very core of jazz, but is universally or widely considered to be jazz, such as modal and quartal harmonies, Latin jazz, some big-band performances with little improvisation, and more. The disputed area contains sub-styles of jazz that some might not consider jazz, such as free jazz, or smooth jazz."[88]

(bold not in original)

➢ What methodology does Rinzler adopt to address the question of what constitutes the CORE of the jazz tradition?

Paul Rinzler's defense of what constitutes the CORE of jazz relies on important explicit assumptions regarding how to address these types of questions.

Rinzler uses what he calls "fuzzy logic" when providing his definition of jazz so that there are levels of jazz to various degrees. Rinzler argues that fuzzy logic "operates on a continuum and not through mutual exclusion [where something is either A or not-A]."[89]

By using fuzzy logic when presenting his definition of jazz Rinzler can appeal to degrees of truth which does not require something to be either completely true or completely not true thereby allowing for proportional weighting so a particular style of music may be more or less closer to the paradigm examples (the CORE) of jazz.

Rinzler concedes that not everyone needs to concur with what he places in the CORE of jazz:

"One might contest the judgments that make up this definition. For instance, the place that big-band music holds in jazz, as a relatively uncontroversial part of the jazz tradition, might lead one not to include the combo as part of the CORE of jazz."

[90]

The fact that someone might not agree with him about the CORE of jazz does not concern Rinzler since he claims not to be trying to "establish what is jazz and what is not."[90] Instead his goal is to delineate the jazz tradition using fuzzy logic which "is especially necessary for a definition of jazz because creativity is so important in jazz."[90]

The goal Rinzler has set himself is to characterize the musical traditions found in jazz over the past 100 years of its history into a fuzzy logic definition of jazz. Tradition is understood by Rinzler to be "anything which is transmitted or handed down from the past to the present. It is those aspects of a society, culture, art form, or discipline that remain stable or unchanging over time."[91]

A crucial assumption of Rinzler's approach to defining the jazz tradition concerns characterizing its key musical elements:

"If there is something in the music that makes us call it jazz, then that aspect of the music is part of the tradition and definition of jazz. Tradition defines identity, much like definition does. Tradition is logically necessary if we are to talk about something we call 'jazz.' The question is not whether there is a tradition in jazz, but what that tradition is."

[92]

---

Rinzler on the musical CORE of jazz

[

edit

]

The musical elements that Rinzler finds exists in the CORE of jazz that is both from and constitutes the jazz tradition includes:


➢ swing/groove




➢ improvisation




➢ chorus form




➢ standard jazz harmony




➢ the blues




➢ the combo




SWING/GROOVE: Since at least the mid-1930's, swing was thought to be a significant feature of jazz music and jazz playing. Duke Ellington's tune from 1932 "It Don't Mean A Thing (If It Ain't Got That Swing)" embodies this philosophy. The main point concerns using syncopation and varying the emphasis typically on the unstressed beats (or off beats) and stressing them to create tension and surprise and often producing a sense of forward momentum, hence swinging.

IMPROVISATION: Everyone agrees that this is an essential and central feature of jazz playing. It places the onus of performance clearly on the individual soloist (or group if done simultaneously) establishing the performer's level of expertise. Paul Rinzler claims that "improvisation is at the core of jazz, and the essence of improvisation is freedom and individual sovereignty. The improviser has the authority to play whatever he or she wants. This authority cannot be delegated without destroying the idea of improvisation."[93] (bold not in original)

Quality improvisation is extremely difficult and takes many years of playing to do well seeing as it consists in simultaneous composition during performance in real time.

CHORUS FORM: According to Paul Rinzler in The Contradictions of Jazz "the great majority of mainstream jazz pieces have a chorus form, which is a chord progression, often thirty-two measures in length, that is repeated throughout the entire performance and which forms the basis for the improvisation."[94]

STANDARD JAZZ HARMONY: According to Kjell Backman, in "Evolutionary Jazz Harmony," jazz harmony has been "functionally based, which means that each chord has been related to a base note and classified as minor or major, and optionally also enriched with colorization."[95]

According to Backman, jazz harmony since the beginning of jazz has

"been systematically organized around a tonal center by fifth progressions. Blues and ragtime harmony mainly used simple major/minor triads at the distance of fifths. Swing music enriched the chords with sixths and ninths, but the chord progressions were mainly the same. Bebop further enriched the chords with further colorizations such as b9, #9, #11, 13, etc."

[96]

THE BLUES:

➢ What is the blues and how does it relate to jazz?

Many jazz musicians find blues to be central to jazz playing.

Lou Donaldson (b. 1926), famous soul jazz saxophonist claims that

"Blues is the backbone, and if you don't have it in jazz, it's like taking sugar out of a cake."

[97]

Renowned jazz singer Carmen McRae (1920-1994) in her speech "Blues is a Woman" at the 1980 Newport Jazz Festival famously remarked that

"Blues is to jazz what yeast is to bread—without it, it's flat."

[98]

We gain insight into the nature and origin of the word "blues" by considering some of its definitions below.

Even blues players find a central relationship to exist between jazz and blues.

World famous bluesman B.B. King (1925-2015) claims that

"Jazz is the big brother of the blues. If a guy's playing blues like we play, he's in high school. When he starts playing jazz it's like going on to college, to a school of higher learning."

[99]Dictionary.com

defines the blues as:

"a song style, originating with American blacks, that is marked by the frequent occurrence of blue notes, and that takes the basic form, customarily improvised upon in performance, of a 12-bar chorus consisting of a 3-line stanza with the second line repeating the first."[100]

(bold not in original)

The form of the blues can often be AAB.

The American Heritage Dictionary defines the blues as:

"a style of music that evolved from southern African-American secular songs and is usually distinguished by a strong 4/4 rhythm, flatted thirds and sevenths, a 12-bar structure, and lyrics in a three-line stanza in which the second line repeats the first: "The blues is an expression of anger against shame and humiliation." (B.B. King).[101] (bold not in original)

The Online Etymology Dictionary defines the blues as:

"a musical form featuring flatted thirds and sevenths, possibly c.1895 (though officially 1912, in W. C. Handy's "Memphis Blues"); meaning "depression, low spirits" goes back to 1741, from adj. blue "low-spirited," late 14c.

[102]

The Dictionary of Cultural Literacy defines the blues as:

"BLUES: A kind of music that evolved from that of African-Americans, especially work songs and spirituals in the early twentieth century. Blues pieces often express worry or depression.

[103]

---

THE COMBO: While it is true that jazz musicians frequently play non-solo events with other musicians this is actually not essential to the CORE of the jazz tradition since solo performers were also common occurrences at all stages in the history of jazz. Solo performances have been common from the earliest jazz at the turn of the 20th century with the so-called Professors (Jelly Roll Morton or Tony Jackson) playing solo piano in whore houses in the Red Light district of New Orleans (known as Storyville) to the piano maestros, such as Art Tatum, playing in the 1940's on 52nd Street in New York City, to Keith Jarrett's famous piano improvisations, such as his The Köln Concert, or Sonny Rollins on tenor saxophone, are all well known for playing individual concerts generating all music by themselves. Hence, the combo is not CORE, but only typical.

---

Critique of Rinzler's CORE musical elements of jazz

[

edit

]

In summary, Rinzler's CORE of jazz need not include the combo as a key element. Jazz configurations, even in the tradition, can run the gamut from playing solo to twenty or even more musicians. Swing, while important and certainly a past jazz tradition, is no longer required for jazz. Groove is another story since it has such a shady and vague conception to begin with. Groove is not the same as swing because it can consist of non-swing rhythm patterns. Groove is still an important aspect of straight ahead styles of jazz.

This eliminates three of Rinzler's six CORE elements as not being central to jazz (even if traditional): the combo, chorus form, and swing.

What is left from the original CORE group are: improvisation, standard jazz harmony, and the blues.

These last two (standard jazz harmony and the blues) are subsumed under a central and unifying principle or musical approach that can be called the hybridization and synthesis of the diatonic and pentatonic musical scales. The blues influence IS from the pentatonic scale. Jazz harmony exists primarily because of the diatonic scale found in jazz. These points are explained and defended under the Galactic model of jazz below.

---

Timothy Williamson's Objection to Fuzzy Logic

[

edit

]

Timothy Williamson defends traditional logic even for vague concept applications. He has argued that the law of excluded middle for truth-values of true or false holds for all meaningful statements, including vague language, even if we cannot tell which is correct. His primary arguments supporting the law of excluded middle are his objections to the alternative views such as those that use fuzzy logic.

Fuzzy logic denies that every meaningful statement must always be merely true or false. Instead there can be degrees of truth and falsity and there can be a continuum of degrees of truth and falsity between perfectly true and perfectly false with all sorts of intermediate degrees of truth in between.

➢ What is Williamson's objection to fuzzy logic?

His main objection is that fuzzy logic commits itself to making implausible and incorrect claims.

"The kind of alternatives that fuzzy logic proposes does a much worse job of handling these paradoxes. One of the best known alternatives to standard logic is fuzzy logic. When you follow out the consequences of fuzzy logic for these problematic cases, it says some very implausible things."

[104]

Imagine, says Williamson that there are two qualitatively identical twins named Fred and Ted who each are going bald at exactly the same rate and in exactly the same way. When Fred loses a hair so simultaneously does Ted. Suppose they are now borderline cases where, according to Williamson's understanding of fuzzy logic, it claims that when Fred and Ted start to reach the point of hairlessness where it is unclear whether they are or are not yet bald, fuzzy logic can say of Fred that it is precisely half true that Fred is bald. On the other hand/head, it would also be half true to say that Fred is bald, but Ted isn't.

Given that Fred and Ted's baldness situations are identical, Williamson finds these conclusions of fuzzy logic odious and problematic. Why? Presumably, Williamson believes that it is either contradictory, or at the very least unhelpful for decision makers, to claim of two identical scenarios that one is half true and the other is half false.

Williamson puts it this way:

"That's a completely false description of the situation because it is absolute clear that if one of them is bald, then so is the other [one] and there is no truth at all to the claim that one of them is bald and the other isn't.

[104]

---

Possible Replies to Williamson's Objections to Fuzzy Logic

[

edit

]

Intuitions can differ for different people, different philosophical views, and even within oneself one may have opposing intuitions in different scenarios that end up conflicting. Williamson seems strongly committed to the intuitions lying behind the law of excluded middle for all meaningful statements just to be either one or the other of true or false. It may be that these powerful intuitions are driving some of Williamson's beliefs and it certain seems to be so as represented in the following argument given by Williamson from his book, Vagueness.

"Conjunction may be taken first. Suppose that p is true to the same degree as q. Thus the first and second conjuncts of p & q match the first and second conjuncts of p & p respectively in degree of truth. By generalized truth-functionality, it follows that p & q is true to the same degree as p & p. Since p & p is true to the same degree as p, p & q is true to the same degree as p. Now imagine someone drifting off to sleep. The sentences 'He is awake' and 'He is asleep' are vague. According to the degree theorist, as the former falls in degree of truth, the latter rises. At some point they have the same degree of truth, an intermediate one. By what has just been argued, the conjunction 'He is awake and he is asleep' also has that intermediate degree of truth. But how can that be? Waking and sleep by definition exclude each other. 'He is awake and he is asleep' has no chance at all of being true. Our man is not in an unclear area between the cases in which the conjunction is true and those in which it is false, for there are no cases of the former kind. If intermediate degrees of truth are a matter of vagueness, they characterize cases in which a sentence is neither clearly correct nor clearly incorrect. Since the conjunction in question is clearly incorrect, it should not have an intermediate degree of truth. It is clearly incorrect, although neither conjunct is; one must be careful to distinguish what can be said of the conjunction from what can be said of each conjunct. Thus degree-functionality fails for conjunction." [105]

Notice Williamson's fundamental assumption made during presentation of his counter-example when he baldfacedly claims that "waking and sleeping by definition exclude each other." It is this kind of thinking that appears to miss the entire point of fuzzy logic, which is that it may well be that the state of waking and the state of being asleep are not mutually exclusive domains and that it is possible to end up in a gray area where the same person is kind of awake and not awake at the same time. It may well be that these phenomena come in degrees, as fuzzy logic presumes is possible.

When a person falls asleep they typically go through several stages of different types of both consciousness and neurology.

Notice some of the oddish claims—from Williamson's point of view—being made by the author(s) of an internet wellness website discussing the four stages of sleep.

"The Beginnings of Sleep: During the earliest phases of sleep, you are still relatively awake and alert. The brain produces what are known as beta waves, which are small and fast. As the brain begins to relax and slow down, slower waves known as alpha waves are produced. During this time when you are not quite asleep, you may experience strange and extremely vivid sensations known as hypnagogic hallucinations. Common examples of this phenomenon include feeling like you are falling or hearing someone call your name.

NREM Stage 1: Stage 1 is the beginning of the sleep cycle, and is a relatively light stage of sleep. Stage 1 can be considered a transition period between wakefulness and sleep. In Stage 1, the brain produces high amplitude theta waves, which are very slow brain waves. This period of sleep lasts only a brief time (around 5-10 minutes). If you awaken someone during this stage, they might report that they were not really asleep."[106] (bold not in original)

Williamson would freak out from much of what was said above given his view that waking and sleep are diametrically opposed and one must be in only one of these two states at all times when alive. Instead, the article asserts that "during the earliest phases of sleep you are still awake". Williamson finds this to be a contradiction. On Williamson's mutually exclusive views, it is impossible to have any transition state between waking and sleeping since on his view one can only be in one or the other of the two conditions. There cannot be any transition stage on his understanding of the relevant conditions. Furthermore, Williamson has either to claim that what a person reports upon awaking from Stage 1 sleep that "he or she was not really asleep " that this is either false because they were asleep or true because they were never in Stage 1 sleep. But these reactions belay the facts. The person was in Stage 1 and they believe of themselves that they were not yet in a sleep condition.

Fuzzy Logic approaches can easily deal with what appears to be contradictions (and so impossible to occur) from Williamson's point of view. It claims there can be degrees of wakefulness and degrees of being asleep. Indeed, that there are degrees of being asleep is reflected in the four stages a brain can find itself in during resting periods.

That there are degrees of both wakefulness and sleep seems a natural position to take. Different degrees of wakefulness do seem to occur. Here's a list:

daydreaming: you are sort of awake and sort of not because it is harder to arouse a daydreamer using external stimulation. When aroused from a daydream, people do not typically say they were asleep. Instead they claim they were deep in thought and perhaps having strong visual imagery.
falling asleep: as one falls asleep one can notice different consciousness transitions.
being on drugs: like cocaine, ecstasy, or LSD can change one's energy levels and degrees of feeling wide awake.
near death experiences: sometimes described as having your life flash before one's eyes would seem to be a different state of waking.
Temporal slowdown: during an emergency situation some people report that it seems like time has slowed down for them and they can take advantage of this heightened state of consciousness to deal with a problem quickly in real time.
lucid dreaming: some people claim to be aware of when they are in a dream state and can control their actions better when in this state than when not having a lucid dream.
confused awake states: resulting from low blood sugar, or deprivations of sleep, food, or water can cause a lessening of one's normal conscious abilities compared to when not in such distressed states.

---

Rinzler's Onion Model Definition of Jazz

[

edit

]

In his ground breaking book, The Contradictions of Jazz, Director of Jazz Studies and music theory at California Polytechnic State University in San Luis Obispo, CA, Dr. Paul Rinzler explains his approaches and methodologies for mapping out which music qualifies as jazz.


"But not only that, jazz gives us clues as to how to make that happen. Improvisational jazz seems like it is primarily about the values of creativity, freedom, self-assertion, and individualism. Each player takes a turn, soloing without being confined to notes on a page. There are no absolutes."

"But as scholar Paul Rinzler argues, jazz is ultimately about relating these characteristics to their opposites. Musical creativity is not random, but is ultimately built on the tradition and its rules. Freedom of expression is tempered by responsibility to the ensemble and to the audience. Self-assertion is balanced with openness to others and to the unknown. And individualism, found in the personal expression of the solo, is set in the context of the interconnectedness of the ensemble."[107]




---

The Galactic Model for Defining Jazz

[

edit

]





The Galactic model for defining jazz claims that all jazz forms, with no exceptions, are influenced and attracted by three major musical factors: hybridization of the diatonic and pentatonic musical scales, syncopation, and improvisation, or HSI (pronounced as "sigh"). The question for each jazz form (big band, modal, cool, or free) is the extent to which these three musical factors enter into the picture. For each jazz genre, generally speaking, each of these three musical factors plays a large and significant role.

Someone might object that these three factors, by themselves, cannot constitute jazz because all three can be found in music that is the blues, and blues by itself is not a jazz musical form or genre. This would be correct. However, according to the Galactic model, the three factors of HSI are the musical features out of which all jazz genres are formed and are influenced by to varying degrees.

The three factors of HSI are neither necessary conditions for music to be jazz, nor are the three jointly sufficient for jazz to exist because blues music is not jazz and can have all three. Why then are these three features so central to the jazz universe? An important reason for appreciating the significance of HSI for jazz starts to become more obvious as we consider what these three musical features contribute to the jazz universe.

Improvisation is clearly central to jazz. Virtually all jazz theorists, and importantly all jazz musicians, are going to agree that improvisation is the raison d'être (the most important reason or purpose) for jazz's existence. It is the challenges that good improvisation poses that draws musicians into performing jazz in the first place 🥇. The difficulty and required musical skill level for producing effective and satisfying jazz improvisations should not be underestimated.

The three main elements that we find central to jazz (syncopation, which always exists in jazz swing, improvisation, and a blues influence from the hybridization of the diatonic with a pentatonic musical scale) together with standard jazz harmonies, such as found in Bebop, together are always sufficient for music to be classified as jazz. One cannot find any counter-examples that could have all four yet not count as jazz.

Still, none of these four elements (syncopation, hybridization, improvisation, or standard jazz harmony) are necessary for music to be properly classified as jazz. Outside jazz playing can lack syncopation and standard jazz harmonies. Jazz exists where improvisation doesn't, such as some Duke Ellington's band's performances. Some music that may be jazz, such as free jazz, can fail to use hybridization of a diatonic with a pentatonic musical scale.

Free jazz, such as played by Ornette Coleman on his "Free Jazz" album, or Peter Brotzmann's album "Machine Gun," does not contain standard jazz harmonies, nor does it often contain syncopation.

Big Band jazz of Duke Ellington and others did not always swing or contain improvisation.

Latin Jazz does not have to contain a blues influence, so can not be hybridizing diatonic and pentatonic scales.


Hence, if Latin Jazz, Big Band jazz, and Free jazz can count as jazz, then none of our four elements are required for a piece of music to qualify as jazz.

---

Why Latin, Big Band, and Free are all jazz

[

edit

]

➢ What then qualifies the above three music styles (Latin, big band, and free) as types of jazz?

The answer is that each style still contains important elements from the list of CORE elements (HSI) and many listeners believe that these genres can qualify as forms of jazz.

Latin Jazz

[

edit

]

For example, Latin Jazz, while lacking a blues influence, is probably the style of jazz that contains the most syncopation, can contain significant improvisation, often uses songs from the jazz musical canon, and uses many musical instruments typically found in jazz such as drums, bass, piano, saxophone, trombone, and flute. What distinguishes Latin jazz from other jazz is its emphasis on most songs being danceable with a strong use of percussion instruments like the timbales or conga.




Big Band

[

edit

]

What Big Band jazz has in its favor for being jazz is that it has a long and distinguished history of having been categorized and labeled as jazz. Few, if any people, during the 1930's and 1940's and 1950's would have called Big Band music of the orchestra's of Fletcher Henderson, Duke Ellington, or Stan Kenton any type of music other than jazz. The fact that sometimes big bands performed songs containing no improvisation does not by itself rule it out from qualifying as jazz.

An argument in favor of this is a Two Possible Worlds thought experiment. World One is the actual world where Duke Ellington composed a fully scripted piece of music where sugnificant portions of his composition makes it sound like that portion of the music may have been improvised. In possible World Two, those same sections that appear to have been improvised had not been composed or previously determined by a musical score, but the relevant musicians actually improvised these sections. In the thought experiment, this same tune in World One and in World Two sound identical. If the improvised music counts as jazz in both worlds, then wouldn't the sonically identical non-improvised tune in World One also have qualify as jazz?

Furthermore, Big Band jazz historically is part of the tradition of jazz playing. Many jazz musicians learned important skills from having played in Big Band formats. Big Bands often use syncopation with a big swinging groove to the rhythm. There is often a blues influence. So, it is not surprising, given that Big Band jazz often has all three components of HSI that it qualifies as jazz even when missing some aspect of HSI such as improvisation.

Many of Duke Ellington's music (and all of the other Big Bands) often does contain significant amounts of improvisation. Duke was famous for writing for his individual soloists setting them up to take advantage of their individual talents and musical skills from Buber Miley's slides and growls on the trombone to Johnny Hodges's alto saxophone playing. Who can forget Paul Gonsalves's infamous 27 chorus solo at the Newport Jazz Festival in 1957 during the performance of Ellington's "Diminuendo and Crescendo in Blue"? Ellington often wrote music so that it sounded like it was being improvised.




Free Jazz

[

edit

]

The hardest case to make for a style of music qualifying as jazz may be for the case of Free jazz.

This is perhaps not so hard to do for early free jazz, such as that represented in the oeuvre of the music of Ornette Coleman. His album, '"Free Jazz", came out in 1960. His previous albums all from 1959 with the forecasting titles of "Something Else," "Tomorrow is the Question," "Change of the Century," and "The Shape of Jazz to Come" contain musical elements that are easily recognizable from earlier jazz traditions. Each album uses a typical jazz quaret format (bass, drums cornet/trumpet, alto saxophone) and Ornette's alto saxophone playing can sound bluesy and not so untraditional.

Distinguished jazz author and music analyst, Alyn Shipton, writes in his A New History of Jazz that Ornette Coleman is "the most significant jazz innovator of the last 40 years of the twentieth century, and opened up a viable broad highway on which what would become known as "free jazz" was to develop." [109]

Shipton goes on to explain Coleman's innovative approach to improvisation.

""The underlying point is the crux of Ornette's importance to jazz improvisation. If you abandon chord sequences as the basis for improvisation, and use melodic fragments instead, and if you play those fragments at whatever length, pitch, and speed feel right, even if the underlying pulse never changes, you then have the essence of what he began to explore in earnest in the mid-1950's in Los Angeles."

[110]

Consistent with the Galactic model thesis that HSI constitutes the black hole attractor of the jazz universe, Shipton writes of Coleman's band, music and playing that:

"The band (in 1959) was loud, it was atonal, in the sense that he and [Don] Cherry both made liberal use of microtonal pitches, and its approach to Coleman's core repertoire altered constantly from night to night. Above it all was the plaintive sound of his own [plastic] alto saxophone, mingling aggressive and uncompromising modernism with the deep emotional power of blues phrasing and timbre."[111]

(bold not in original)

Coleman's blues phrasing and timbre are significant because it permits listeners to experience a style of some bluesiness consistent with that of the use of a pentatonic scale that produces the bluesiness found in more straightahead jazz, resulting from the hybridization of diatonic and pentatonic scales.

What is untraditional in Coleman's approach is his not conforming to the earlier rules of jazz such as staying in the same musical key during an entire song, or sticking with the chord changes to a song. Coleman and company used a freer approach.

Along somewhat similar lines of thinking is the free jazz music of Peter Brötzmann.


Ekkehard Jost, German professor of music and himself a baritone saxophone player, has written insightfully on the topic of free jazz in The Blackwell Guide to Recorded Jazz.

[The traditional format of jazz playing prior to 1960] "consisted of a couple of rules and agreements that more or less controlled the individual means of expression of improvising musicians and that regulated musical interaction within a group: the elementary formal framework of a jazz piece (theme – improvisation – theme), its harmonic and metric structure (derived from the theme) and the normative character of a constant fundamental beat. Whereas most of the preceding stylistic developments manifest themselves in gradual changes of technical and expressive means of creation, and sometimes also in the growing complexity of the structure of the background, in the years around 1960 the background itself started to disintegrate. The break from a traditional system of rules led to a precarious situation full of contradictions and insecurity, for with the liberation from old norms the question arose what this liberations should be for."[112]

(italics Jost's; bold not Jost's)

Jost importantly points out that free jazz did not outright reject following musical rules while encouraging more spontaneous interactivity between performers:

"Free jazz as a stylistic term is therefore only valuable when the freedom promised by the little word 'free' is understood as a freedom of choice among an infinite number of alternatives and not merely as a rebellion against tradition. And this of course means that free jazz cannot be understood as a compact style of jazz with definite characteristics and sharply drawn borders, but rather as a stylistic conglomerate, the most essential feature of which is its potential diversity. A few central points among the vast variety of musical changes and innovations that came along with free jazz are as follows:"

1) The questioning (not the abolition) of any kinds of rules.

2) The growing importance of spontaneous interaction among players, and connected with this, the partial nullification of traditional divisions between soloists and accompanists, and a growing tendency toward collective instead of solo improvisation."

3) The emancipation of sound color, which becomes an independent means of creation and consequently opens the possibility of improvising amelodically.

4) The importance of energy and intensity as communicative elements and sources for collective ecstasy.

5) A turn towards musical cultures of the Third World and thereby the integration of diverse 'exotic' elements into jazz.
6) A growing consciousness of social, political and economic problems among musicians and the consequent development of a new form of self-understanding."[113]

(bold, bold italics, and italics not in original)

Harder still to defend as jazz is the wildly improvisational playing of a performer such as Peter Brötzmann, as found in his album "Machine Gun" from 1968.



'Machine Gun' was Don Cherry's description of how Peter Brötzmann played his saxophone. Bassist on the album, Peter Kowald, reports that the "main objective was to really and thoroughly tear apart the old values, this meaning: to omit any harmony and melody; and the result wasn't boring only because it was played with such high intensity."[114]

Ekkehard Jost describes some of the general characteristics found in the context of the album "Machine Gun."

"Composing is generally limited to a minimum. By and large without themes, the music presents riff-like attacks and interjections, at times directed only in their movement up or down. There is a tendency to use distorted thematic quotations. The players abandon definite pitch as a stable element of musical organization in favor of unstable sound patterns. Structural distinctions result mainly from collective variations of register, density and loudness. Developmental processes lead, somewhat inevitably, towards a limit where individual musical events cannot be strictly identified as such, but combine to become a diffuse, intensive totality."

[114]

---

Why HSI is central to jazz

[

edit

]

One way of thinking about what is central to the jazz tradition is to think what skills does the ideal jazz musician need to master?

The ideal jazz musician would be accomplished in all three areas of syncopation, a blues influence using the hybridization of the diatonic and pentatonic musical scales, and improvisation.
Additionally, the ideal jazz musician can play solo or in a combo of any size, can swing and groove, can use standard jazz harmony, and knows many songs (including melody, harmony, rhythm, and lyrics) in standard 32 bar chorus form.


One way to try to avoid a specific definition of jazz would be to try following a suggestion of Bill Evans, famous jazz pianist, who said:

"Jazz is not a what, it is a how. If it were a what, it would be static, never growing. The how is that the music comes from the moment, it is spontaneous, it exists in the time it is created. And anyone who makes music according to this method conveys to me an element that makes his music jazz."

[115]

But there is a major objection to this way of trying to characterize what makes a particular music be jazz. It doesn't work. There are many kinds of music that are clearly not jazz music in style, but that are nevertheless improvisational in character, such as Indian ragas by Ravi Shankar, rock guitar solo improvs by Phish, or even classical music improvisations by Mozart and Beethoven. These musicians were not syncopating, nor swinging, neither blues influenced, nor utilizing 'standard' jazz harmonies, so no one thinks their music is jazz. Probably not even Bill Evans!

---

The Galactic Model for Jazz

[

edit

]

The purpose of a Galactic model is to find a model that can explain what all jazz genres are directly influenced by.

Just as in virtually all galaxies is a super massive black hole whose gratitational attraction directs and influences all other objects in that galactic system.

Better definitions supply an explanation of the phenomenon under question. The Galactic model claims to provide an explanation for why a genre or sub-style of music is or is not in the jazz universe.

The relevant concepts in the Galactic model include:

A synthesis and hybridization of the diatonic and pentatonic musical scales.

Syncopation, both off beat and weak beat.

The blues and a blues influence.

Swing.

Improvisation.

---

Hybridization of Diatonic and Pentatonic Musical Scales

[

edit

]

The diatonic musical scale is European in origin. It is a seven tone scale (such as the church modes) which allows for the richness of, and the European emphasis on, form and harmony. Whereas a pentatonic scale is a five note scale and provides an effective musical system for generating melodies. Often such melodies are accompanied by percussion instruments, which accounts for the emphasis on rhythm and syncopation in African music. For American jazz the relevant pentatonic scale is African in origin, although pentatonic musical systems have independently popped up all over the Earth's continents.

There are two main forms of syncopation: weak beat and off beat. Weak beat syncopation occurs in common (4/4) time signatures as emphasis on the even-numbered beats (the 'weak' beats). In rock, for instance, the snare drum generally accents the second and fourth beats. Whereas off beat syncopation, as it can occur in swing, emphasizes the note occurring at the third sub-division (the 'short' rather than the 'long' note), thus placing a rhythmic accent between beats.

Note that both syncopation types upset the regular feel of the straight beat. If you first think of marches with it's more uniform and rigid time signatures and then think of the rhythmic flexibility heard in jazz you can start to understand such differences.

---

Three Different Meanings of Swing

[

edit

]

There are at least three different usages of the term swing.

A type of rhythmic 'feel' in which the beat has three subdivisions, but with (generally) two notes per beat, one on the beat and one on the third subdivision, and also generally including "walking bass."

A style of jazz from the 1930's and 1940's where the swing feel predominated.

An evaluative term meaning that a particular performance or band excelled, especially with respect to its rhythmic feel, as in "Basie's band really swung!".

---

Different Meanings of the Blues

[

edit

]

The Blues Style: a genre of music.
The Blues Form: a repeatable chord structure of 8, 12 or 16 measures.
The Blues Influence: the use of blues elements such as blue notes and pentatonic riffs in jazz, rock and other genres.


THE BLUES STYLE: A song style, originating with American blacks, that is marked by the frequent occurrence of blue notes, and that takes the basic form, customarily improvised upon in performance, of a 12-bar chorus consisting of a 3-line stanza with the second line repeating the first.[116]

THE BLUES FORM (simple chord pattern)


|I chord | | | |IV | |
|I chord | |V |IV |I | ||





---

Key Elements of Jazz

[

edit

]

THE BLUES INFLUENCE:

➢ Use of "blue notes" (flat 3, 5, 7).

➢ Use of slides, bends and other modifications of standard sounds.

➢ Loose, somewhat improvisatory treatment of melodies.

➢ Use of pentatonic riffs.


---

CONCLUSION: These five concept of hybridization, syncopation (& swing), a blues influence, and especially improvisation play a prominent role in what specifies the boundaries of jazz.

These five concepts can be used to defend clearly true claims, the recognition and appreciation of these clearly true claims can account for the significant pessimism that has surrounded theorist's rejection of the possibility of defining jazz.

The generally pessimistic and anti-intellectual attitude adopted by a legion of theorists and commentators can be summarized by the famous comment by world famous trumpeter Louis Armstrong when asked to define jazz. He replied "Man, if you have to ask what it is, you'll never know."




Louis Armstrong (1901-1971)

---

What is Central to Jazz

[

edit

]

The three elements or main pillars central to the jazz tradition are HSI [hybridization, syncopation, and improvisation] (pronounced "sigh"):

Hybridization/Synthesis (H) of a diatonic with a pentatonic musical scale. This includes a blues influence from the use of a pentatonic African musical scale, and synthesizing that with a European influenced diatonic musical scale that accounts for the evolution of jazz harmonies.

Syncopation (S) (this subsumes swing/groove).
Improvisation (I) (concurrent composition and performance by same person).

---

The Three Pillars of Jazz

[

edit

]

I. FIRST PILLAR of Jazz: HYBRIDIZATION in three ways:


IA. Synthesizing and combining the European diatonic and the African pentatonic musical scales. This includes the blues.


IB. Willingness to incorporate new musical elements instrumentally such as the timbales, conga, oud, tabla, cello, harmonica, violin, synthesizers, electric instruments, etc.


IC. Willingness to utilize other musical elements, such as Jelly Roll Morton's Latin Tinge, advanced harmonic techniques, classical music, rap, rock, soul, groove, swing, etc.


---

II. SECOND PILLAR of Jazz: SYNCOPATION:


IIA. Weak Beat Syncopation: Occurs most commonly in 4/4 time. Beats 1 and 3 are the "strong" beats, which are normally felt as stressed. Weak-beat syncopation stresses beats 2 and 4 (usually.) Think of the snare drum in rock.


IIB. Off Beat Syncopation: Stress on the halfway point between beats in rock and Latin jazz. Stress on the third triplet (approximately) in swing. When we speak of "jazz syncopation" or "swing-like" syncopation, we mean the liberal use of both elements.


---

III. THIRD PILLAR of Jazz: Improvisation:


IIIA. Improvisation is concurrent composition while performing that composition by the same person.


IIIB. Improvisation is the raison d'être of jazz. This is true at least since the bebop era, when Bird and Dizzy needed a degree of freedom that big-band arrangements, with all the written parts, did not allow. That's Parker & Gillespie. Improvisation is the primary reason that musicians are attracted to jazz today. It is what makes the characterizations of jazz offered by Duke Ellington and Bill Evans and many others essentially correct. Improvisation elevated jazz from "popular" forms (dance music) to an art form of its own.


---

Clearly True Claims About Jazz

[

edit

]

(1) Specific instrumentation is not necessary for jazz because jazz can be played with any musical instrument.

(2) Improvisation is not a necessary feature for music to qualify as jazz because jazz exists that is not improvised (e.g., Duke Ellington big band).

(3) Improvisation is not a sufficient condition for music to qualify as jazz because many music types other than jazz use improvisation (rock, Indian ragas, blues, etc.).

(4) Swing is neither necessary nor sufficient for jazz because there is jazz that doesn't swing (free jazz) and music that does swing that isn't jazz (for example, rockabilly).


---

Why need a Galactic model for jazz?

[

edit

]

➢ Why not just accept Paul Rinzler's CORE model, which after all does disavow the project of specifying necessary and sufficient conditions for jazz?

Limitations of Rinzler's Onion and CORE Models

[

edit

]

One of the reasons is that Rinzler's Onion and CORE models are relatively static. His CORE follows the relatively stable jazz traditions.

His Onion and CORE account says little about dynamic factors in jazz history, the movement of jazz genre's status, or the altering perceptions amongst experts that can and do change. Previous expert's judgments can, as well as actually have been, mistaken about a genre's status and how it relates to jazz overall.

Nor does Rinzler's Onion and CORE models provide much of an explanation for why those non-core jazz genres are include in the undisputed area other than concurrence by the experts.

His CORE account says little about dynamic factors in jazz history, neither about the movement of jazz genre's status changes, nor anything about altering perceptions amongst jazz experts over time that can and do change. Previous expert's judgments can, as well as actually have been, mistaken about a genre's status and how it relates to jazz overall.

Nor does Rinzler's CORE or Onion model provide much of an explanation for why those non-core jazz genres are include in the undisputed area other than concurrence by the experts.

---

The Advantages of a Galactic Model for Jazz

[

edit

]

A more dynamic and explanatory model for accounting for genres existing in the jazz universe is the Galactic model.

To introduce one of the motivations for having a Galactic model think back about the past history of jazz and people's judgments about it and it's various genres and sub-types.

---

The Galactic model can account for changes in perception and actual status of sub-types of jazz

[

edit

]




Consider jazz in 1910 in the United States:

We ask all well informed judgers to determine whether Dixieland is or is not in the heart and center of jazz music. Their collective judgment would undoubtedly be that this is correct! Dixieland was a major form of jazz at that time.

➢ Was this judgment correct in 1910?

Undoubtedly it was a correct assessment at that time since there were limited other forms of competing. Since it was one of the few sub-types of jazz known to humans, then it was correct to classify Dixieland as the type of music central to playing music that is jazz.

Now jump to the present and consider Dixieland's status and perception changes about it in the United States:

Is Dixieland still considered to be near the heart and core of jazz? Here we think the answer is NO, because Dixieland has been surpassed. It no longer is considered by critics, nor by musicians, nor by the majority of well informed listeners to constitute the heart of jazz. While important, it is now at best early jazz in its teen years (literally).

➢ What explains these jazz status and perception changes regarding Dixieland?

We've seen how both judgments, as well as the status of a jazz sub-genre, can change over time. Originally, in 1910, Dixieland was king. In the present, it is now just an elderly auntie. Not only have expert's opinions altered over time, but the actual status of the genre of Dixieland has now been reduced.

The exact opposite has happened in jazz history regarding the music of Ornette Coleman.

Consider the status of Ornette Coleman's music first from the perspective of the early 1960's and then from today's perspectives:

In the early 1960's Coleman had many detractors, to say the least. Here's what a few of them had to say:

♦ Miles Davis dismissed him as "psychologically, the man is all screwed up inside." (quoted in Jazz Masters of the '50s).


♦ Max Roach allegedly punched him in the mouth during his Five Spot residency.


♦ Roy Eldridge exclaimed even after playing with him that "I think he's jiving, baby?" (Esquire, 1961).


♦ Dizzy Gillespie, "I don't know what he's playing, but it's not jazz." (Time Magazine, June 1960).

♦ Thelonious Monk, "Man, that cat is nuts!" (Los Angeles Times).


---

Ornette Coleman reports that many times in his early career when he tried to join in with other musicians that they would quit playing and leave the stage. However, perceptions changed.

By the end of his career, as reported by Larry Blumenfeld, while "early on (in Ornette's career he) was met not just with criticism but cruel derision, but by the time of his death (on June 11, 2015) he had earned every major honor imaginable, including a 2007 Pulitzer Prize for composition." (Jazzis Magazine, "Ornette Passes," Fall 2015, p. 130)

These honors included a Downbeat Hall of Fame entry, an NEA Jazz Master, a Pulitzer Prize, and a Grammy Lifetime Achievement honoree.

Coleman's music (precisely because he was willing to break the mold of older jazz traditions) has swung from the outer fringes of jazz to much closer to the center of jazz playing and tradition.

---

The Structure of a Galactic model for jazz

[

edit

]

How should we account for and provide an explanation for these types of movements amongst both the evaluator's judgments, as well as the actual objects themselves, the musical sub-genres of jazz?

The Galactic model for defining jazz permits an understanding of WHY there can be such movements of musician's and theoretician's evaluations, as well as changes in the actual statuses of any particular genre of jazz. The Galactic model can provide an explanation for these perception and actual status changes.

On the Galactic model, there must be a massive attractor to which all other nearby objects bear a relationship to it. There can be no denying its unrelenting power and influence on everything that happens in that galaxy.

Astronomers believe that at the gravitational center of every massive galaxy there lies a supermassive black hole responsible for coordinating and influencing the movement of large scale objects. Supermassive black holes are inexorably linked to the galaxies that encircle them.

Jazz history reveals that jazz is not a static musical discipline. It is dynamic just like the physical universe. Any model of the nature of jazz needs to account for this dynamism and the Galactic model does just this.

When the universe was first forming early after the big bang there was a relative uniformity (isotropy) throughout the universe, according to the inflation model of Alan Guth.





As the universe expands after the Big Bang, gravitational effects occur and physical objects begin to coalesce and form atoms, then molecules, then stars, planets, galaxies, clusters of galaxies, and super clusters of galaxies.

Paralleling this in the history of jazz are all of the various sub-genres of jazz, each being a planet or sub-system in the galaxy of jazz held together by the super massive black hole (because of its attractiveness) constituted by the three pillars of jazz: HSI (hybridization, syncopation, and improvisation).





What holds these larger astronomical structures together are super massive black holes that all of the other physical objects orbit around. It is believed by astronomers that every galaxy is organized around a super massive black hole.

This early uniformity in the universe is paralleled in the early world of jazz by there being relatively few forms of jazz. The three that come to mind are New Orleans marching bands, solo piano performers, such as Jelly Roll Morton, and Dixieland combos.

Paralleling this galactic black hole model, jazz has at the center of its universe the super massive black hole constituted by hybridization of the diatonic and pentatonic musical scales, syncopation, and improvisation (the three pillars: HSI). Everything else in this universe has a location relative to it.

So, eventually we come to have planet Soul Jazz, planet Free Jazz, planet Dixieland, planet Cool Jazz, and so forth.

The apparent change in status of a sub-genre of art can be only an illusion of perspective and lack of knowledge of other (jazz) genres. It isn't that Dixieland changed as that other jazz genres were discovered that surpassed Dixieland relative to the core of the three pillars of jazz.

The analogy used is that of ancient astronomers compared to 21st century ones. Perception of the Earth's status has altered many times throughout history. First, it was believed the Earth WAS the universe. Later, perceptions changed so the Earth was at the center of the universe. Next, not the center, but orbiting the Sun, so part of a Solar System. The Solar System is discovered to be in a galaxy, the galaxy in a cluster of galaxies, the cluster of galaxies existing in a supercluster of galaxies, etc.

At the start of jazz's Big Bang period (1880's), there were very few planets in a small galaxy, with Dixieland, solo piano, and marching bands making up the bulk of the entire universe of hearable jazz. So, these genres would be considered exemplars of music that is jazz from the point of view of 1910.

In the early universe, there were fewer planets and galaxies, but as the universe expanded and aged that number continued to increase and structures become more complex.

The same thing happened in the jazz universe. Since 1910, many jazz revolutions have occurred, from Big Band, Swing, BeBop, Soul, Cool, Modal, Fusion, and Free, to name a few. This increases the known Jazz planets that constitutes new genres of jazz.

As jazz styles increased so did the known contents of the galaxy of jazz.

At first planet Free Jazz was considered to lie at the outer fringes of jazz. However, as musicians became more sophisticated and the culture's ears became more comfortable with dissonance and other advanced harmonic sounds, musicians and listeners alike through familiarity could more easily appreciate the sonic contributions of free jazz. This ends up moving planet Free Jazz closer to the center of the jazz galaxy (and the corresponding perceptions of experts).

The Galactic model partially agrees and partially disagrees with Rinzler's CORE model. The supermassive jazz black hole (HSI) need NOT include swing, nor chorus form, nor standard jazz harmony (except as it relates to hybridization), nor the combo.

These are all more or less accidental features and NOT essential to the core of music counted as jazz, although they certainly are traditional.

---

Implications of the Galactic model

[

edit

]

So, free jazz can count as being located in the jazz galaxy while sometimes lacking syncopation and more often lacking hybridization.

The justification for including free jazz in jazz on the Galactic Model is clearly the degrees of success players have regarding their improvisations. Jazz players ideally are fantastic improvisers and free jazz players need to be to produce good music.

Having to produce successful and interesting music spontaneously from no musical score whatsoever is an extremely difficult feat. Try it if you don't believe it. It is so difficult that master improvisers such as Charlie 'Bird' Parker could never reproduce exactly what he had just improvised. You either caught it on the tape, or lost it forever. This helps account for the value of a great improvisation.

Rinzler's core model has three areas: the core, definitely jazz, and a disputed area. If we map this, we get an onion with three layers.

But can this type of model explain jazz's features?

What is judged to be in Rinzler's CORE might change, as he himself admits.








Smooth jazz, Acid jazz, or even Ragtime do not all have the same caché with critics, listeners, and musicians alike. Some genres of jazz are more valued and these differing values affect a genre's place in the jazz universe.

➢ What makes one type of jazz more admired than another?

The Galactic model for jazz can explain these differences in admiration and value.

In the natural universe every galaxy has at its rotational center a supermassive black hole. In the jazz universe what holds all of the various genres within the jazz galaxy are the three pillars of jazz embodied in HSI (hybridization, syncopation, and improvisation.

The forces driving and constituents of this supermassive black hole for jazz are hybridization syncopation, and improvisation (HSI). The relative distances that different genres are from this center explains where to rank and place them with respect to each other. Furthermore, we find the metaphor of orbits superior both conceptually and visually to that of the onion model, or even the spiky globe one. The spiky globe model does not have an account of what is making the spines stick out at varying heights from the center.

On the contrary, the Galactic model explains why each sub-genre is located where they are, as well as accounting for the history of people's changing perceptions of the relative locations of genres of jazz.

The Galactic model has some parallels to the Copernican revolution in astronomy. Prior to Copernicus many believed the Earth was the center—a geocentric model demonstrated below on the right necessitating epi-cycles to account for the (apparent) retrograde motion by the planets—and the sun revolved around it. This is opposed to a sun-centered or heliocentric model (demonstrated below on left).


A parallel in the jazz world was Dixielanders believing their genre of music lay at the center of the jazz universe.





It wasn't until as late as October 1923 when Edwin Hubble spotted what he first thought was a nova flaring up dramatically in the M31 "nebula" in the constellation of Andromeda. After careful examination of photographic plates he realized that it was a Cepheid star. Hubble measured the distance to the new Cepheid. He could then place M31 a million light-years away, which was far outside of the Milky Way and thus itself a galaxy containing millions of stars.

Similarly at first blush for free jazz except in the opposite direction. Many initial hearers thought to banish free jazz either out of the universe altogether because it was not jazz, or, at best, it existed in the outer solar system far far from the center of jazz.

Ornette Coleman's early freer approach to jazz got support from such forward thinkers as Leonard Bernstein, George Russell, John Lewis (pianist for the Modern Jazz Quartet), and eventually practically everybody else.

On the Galactic model we have the Copernican Revolution whereby at least early free jazz is closer to the center of jazz than was first believed by many free jazz opponents just like switching from Geocentrism to Heliocentrism.

Similarly, for Dixieland. Dixieland was first thought to be in the center of the jazz universe, but that has changed over time.

Defenders of Dixieland could claim that their music has all three pillars from the super-massive black hole of jazz HSI: hybridization, syncopation, and improvisation.

This is, in fact, true. However, Dixieland is not a genre that many players pursue, or that gets a lot of recordings, or is primarily enjoyed by the majority of jazz listeners. Hence, the Galactic model concedes that planet Dixieland can be in a similar orbit as some jazz genres, but it remains a smaller and less active system.

Planet BeBop, not only is a larger system/planet than Dixieland, but also orbits nearer to the center of HSI due to its advancements over Dixieland relative to the three categories of the HSI galaxy's attractors.

Moreover, jazz after Dixieland did more with HSI. Jazz became:

♦ More syncopated because of the swing feel.

♦ More hybridized due to advances in harmony, and

♦ Included more and more sophisticated improvisations.


---

Explanatory Power of the Galactic model

[

edit

]

Why Blues is not Jazz

[

edit

]

Early blues features two of the three pillars of HSI: the diatonic-pentatonic hybridization, and fairly significant amounts of improvisation, but lacks significant amounts of syncopation.

Later blues is more syncopated, but still not to the extent that jazz is. Moreover, the sophistication of its harmony and its improvisation remain at the level of rock (the chromaticism and virtuoso improvisation of jazz after Art Tatum and Charlie Parker does not occur.)

---

Why Rock is not Jazz

[

edit

]

For the same reasons, essentially, rock is not jazz. Some late R&B gets very close, however, especially with the sophistication of its harmony. Of course, there are also borderline cases, such as Take Six, some Quincy Jones, etc.

---

Why Latin Jazz is Close to the Core of Jazz

[

edit

]

The main difference between Latin and non-Latin jazz is the dance feel. Whereas most core jazz would rely on the swing feel, Latin jazz by definition does not. But if anything, Latin jazz is even more syncopated, and contains all the other key elements of Rinzler's CORE, the Galactic Model's HSI, as well as Chorus form, virtuoso improvisation, & chromaticism (a more sophisticated harmony).

Chris Washburne in his "Latin Jazz: The Other Jazz," in effect, argues that traditional jazz from its inception of leaving Ragtime and the blues always had Latin influenced musical components contained and incorporated from within.

On the Galactic model for jazz it is not necessary to make any final decision about where a particular sub-genre lies in relationship to the HSI core, or the actual size of the genre in the future, or even its relative positions to other genres currently.

Different theorists can have different opinions without upsetting the basic structure of the model.

Expert's evaluations and judgments in the past about different genre's status to jazz have sometimes been incorrect.

Dixieland was once thought to be at the core of the jazz universe. It wasn't really. It was an illusion.

Free jazz was thought either not even to exist in the galaxy of jazz, or was extremely far from the center. For early Ornette Coleman at least, his music is closer to HSI than was once believed by many. Rinzler's fuzzy logic methodology coheres with the above perspectives about genre status.

---

A Galactic Picture of Jazz

[

edit

]

The picture that we get of the jazz galaxy on a Galactic model with all jazz sub-genres being influenced by and attracted to the supermassive black hole at the center of the jazz galaxy, namely HSI (hybridization, syncopation, and improvisation). It could look like this:





➢ Does the Galactic model provide a definition for jazz?

It depends upon what you mean by definition.

Relative to the specification of sufficient and necessary conditions, there has been provided at least one sufficient condition. That sufficient condition is a genuine theoretical achievement if true. It reveals that at the heart of jazz lies HSI (hybridization, syncopation, and improvisation) and when standard jazz harmonizations are added to the mix the music can be nothing other than jazz.

Many possibilities have been ruled out as necessary conditions.

The goal, however, was never to characterize jazz solely in terms of necessary and sufficient conditions.

What has been provided is an explanation and understanding of the nature of jazz without needing to provide a set of necessary and sufficient conditions because of the possibility of degrees of jazz INCLUSION, following Paul Rinzler's 'fuzzy logic' approach. This is done intentionally because there are forms of music that are closer, as well as, farther away from more straightforward jazz types.

Instead what has been provided is an explanatory model for better understanding the nature and dynamics of jazz. The Galactic model permits powerful explanations for how to determine the status of jazz genres and their positions relative to each other, both their value and significance. It has been justified why the supermassive black hole of jazz is constituted by HSI. HSI motivates and continually drives the jazz universe forward for the foreseeable future. Long live the Jazz Galaxy.







---

Overview and Summary of Defining Jazz

[

edit

]

A definition is a specification of a set of boundary conditions that satisfactorily deliberates the items under investigation and agreed upon by experts and hopefully a vast majority of even non-expert interested parties agree that the items falling under a particular definition are the appropriate items to be included.

Jazz could be defined to various extents and its boundary conditions delineated by investigating any necessary and/or sufficient conditions for playing jazz.

The following has been definitively established as true. All of the following are clearly true claims. Any objector disputing them would have to use a different meaning or interpretation of at least one or more of the terms involved.




Clearly True Claims:

1. Neither Improvisation nor syncopation nor swing are essential for music to be jazz nor are any of them necessary conditions for jazz to exist.

Counter-examples: Duke Ellington's Big Band had jazz numbers where passages did not swing, were not improvised, and sections lacked syncopation. It remained jazz. Therefore, neither swing nor improvisation nor syncopation are necessary for jazz. Free jazz and Latin jazz often don't swing. Latin jazz strikes many as a jazz form. Therefore, swing is not necessary for jazz. Therefore, neither swing, syncopation, nor improvisation are necessary for jazz.

3. Neither swing nor syncopation nor improvisation are sufficient conditions for music to count as jazz because rockabilly swings (like the Stray cats, but it is not jazz). Many genres of music can contain improvisation including classical, rock, blues, and Indian ragas, to name a few.

4. A sufficient condition for music being jazz is if it simultaneously contains syncopation, improvisation, using a synthesis of the diatonic and pentatonic musical scales (hybridization), and standard jazz harmonies. There are no counter-examples. Therefore, this is a sufficient condition for qualifying music as jazz.

5. The pentatonic/diatonic musical synthesis (aka hybridization) is not necessary for playing free jazz.

6. All three musical properties together of hybridization, syncopation, and improvisation are not sufficient for jazz because blues performances can simultaneously have all three.




---

---