EmT9. Is jazz dead?
---
---
Introduction
State introey things.
"By 1922, Vogue contributor Clive Bell claims, "Jazz is dead—or dying, at any rate—and the moment has come for someone who likes to fancy himself wider awake than his fellows to write its obituary notice."[1] But jazz is a rebellious teenager that will live out its life to the fullest extent as it grows up in the 20th century of America.



The question—Is Jazz dead?—is not a new one. It has been raised in every era of jazz as new styles come to replace old ones. It comes from a myopic view of the music, a desire to cling to the past, and a misunderstanding of how music and art change over time. Neither critics nor the masses should make judgments about its health without first examining its history and craft.

When I asked Brian Kane, a professor in the Department of Music at Yale College, he said, "Jazz is dead if one thinks about a certain set of narrow conventions to define it. If it has to look like jazz of the past, jazz is dead." I believe this is the root of the popular belief that jazz is dead. People don't really know what jazz was, much less what it is."[2] (bold and bold italic not in original)
"In a 1983 interview, [Wynton Marsalis] said, "Everyone was saying jazz was dead because no young black musicians wanted to play it anymore." For Marsalis, the music's path since 1960 abandoned its racial roots, authenticity and sense of community."[3] (bold not in original)
"In Blue, Eric Nisenson said, "The cry that 'jazz is dead' has been so ubiquitous throughout jazz history that it has almost become a tradition in itself. John P. McCombe correctly states that this is only half of the equation, for "tales of jazz's demise usually feature the promise of jazz rebirth." In his essay "Eternal Jazz: Jazz Historiography and the Persistence of the Resurrection Myth," McCombe suggests, "the jazz master-narrative of resurrection is part and parcel of jazz's academic apotheosis." Among the death/rebirth scenarios in jazz history are the closing of Storyville in 1917, and the subsequent birth of a new scene in Chicago in the early 1920s; the supplanting of 'traditional' jazz by swing in the 1930s; the "Moldy Figs versus Moderns" debate as the swing era died out at the onset of the Bebop revolution; the "New Thing" that emerged just as hard bop was getting stale; the rise of jazz/rock fusion at the expense of acoustic jazz; and most recently, the debate over Wynton Marsalis and the neocons. At each juncture of this narrative, critics weighed in with warnings of jazz's death, using such phraseology as "nihilistic, cynically destructive" (Rudy Blesh, on swing), "and irresponsible exploitation of technique in contradiction of human life as we know it" (Philip Larkin, on Bebop), or "a horrifying demonstration of what happens to be a growing 'anti-jazz' trend" (Neil Leonard, on free jazz). Add Ken Burns to the list of doomsayers. In the final episode of Jazz, his narrator states "for a long time [in the 1970s], the real question would become whether this most American of art forms could survive in America at all."[4] (bold and bold italic not in original)
---
Musician's reveal interest in topic of jazz's death
For some evidence that people concern themselves with jazz's death, consider the following song titles, albums titles, and even record company titles as represented in the collages below. The sheer number of these proves that musicians find whether or not jazz is dead intriguing and perhaps a challenging issue.
🔆 For example, there is a record company that calls itself JAZZ IS DEAD. Click on the picture to go to their website and hear music samples.
🔆 Then, there are the 'pure' deniers.
🔆 These are followed by those who question whether jazz is dead.
🔆 Finally, there are those who deny that jazz is dead!
🔆 As an aside, one can also find song titles, artist's names, and album titles claiming their 'subject' is dead for everything from art to rock to discourse.

---
"So, Is Jazz Really Dead This Time?


The lack of interest in [Ken] Burns's program added fuel to the "Is jazz dead?" debate that had once again become a hot topic with writers, critics, and musicians. In his book Blue: The Murder of Jazz (1997) [p. 220], Eric Nisenson lays the blame for jazz's presumed demise on the neocon philosophy of stressing technique over creativity with statements such as, "Jazz without innovation is a dead art form." Gene Lees also holds Wynton Marsalis and company responsible, but for a different reason. "Either jazz has evolved into a major art form," he writes in Cats of Any Color (1995) [p. 246], "or it is a small, shriveled, crippled art useful only for the expression of the angers and resentments of an American minority. If the former is true, it is the greatest artistic gift of blacks to America, and America's greatest artistic gift to the world. If the latter is true, it isn't dying. It's already dead. Jazz critic Francis Davis also indirectly points his finger at Marsalis, but for still another reason. "'In jazz, the Negro is the product,' Ornette Coleman once sagely observed," he writes in Bebop and Nothingness: Jazz and Pop at the End of the Century (1996) [p. xi]. "But not anymore, or not exactly. The new 'product' in jazz is youth." Davis notes how jazz bands playing in New York clubs began to get younger and sound more traditional (as in "hard boppish") and less experimental after articles ran in The New York Times and Time magazine in 1990 reporting on the "jazz rebirth" and profiled a number of young lions recently signed to record contracts.[5] (bold and bold italic not in original)
If there are young lions playing jazz in the 1990's, then jazz's death has been announced prematurely at that time.
---
Evaluating why jazz is dead could be true
Why might trumpeter Nicholas Payton believe that "Jazz died in 1959" in his artistic poem-like structured essay "On Why Jazz Isn't Cool Anymore," (November 27, 2011)?
Payton may believe jazz died in 1959 because he finds the jazz label too restrictive and overly confining to his artistic aspirations. It potentially limits him from performing other non-jazz genres, he might feel. He wants to take advantage of the new and hip now, not 60 years ago. Do not limit his creativity to only an old genre. Take advantage of all of the new studio technologies and make music in the now and not in some stuffy older styles.
---
---
Reasons jazz died in 1959
As a practicing musician trying to make a living and making money through recordings and live performances, one does not need to limit themselves to only one way or style of making music. There are no requirements of allegiance to only one style or genre for musicians. They can explore and present whatever music captures their imaginations and attention. There is no demand that (jazz) musicians must always play or record music in a jazz vein.
Payton played jazz when he first recorded with Doc Cheatham in 1997,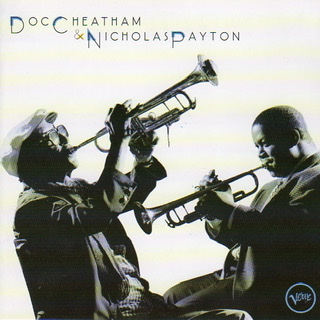 yet this need not restrict Payton's future musical prospects and genre interests.
---
Another musician who found jazz, in effect dead, and "walking backward" (although he does not use the word "dead") is Swiss jazz drummer JoJo Mayer (b. 1963) in the documentary video, "JoJo Mayer — Changing Time (Documentary)." In 2014, Modern Drummer Magazine voted Mayer one of the "50 Greatest Drummers of All Time." When he first came to New York City in the early 1990s he felt that jazz had stopped forty years before that and had ceased being progressive music and had started, as he put it, "walking backward." Here are some screen captures from the documentary recording Mayer's frustrations with pursuing jazz that he says had become "a conservative music."
---
Reasons jazz did NOT die in 1959
NOTE: Click on the page to go to its source. These two album compilations represent great jazz albums released between 1959 and 1979. At least one album, Louis Armstrong's Hot 5 and 7, was recorded much earlier between 1925 and 1928.
---
If jazz died in 1959, then there was no jazz made after that date because it would not still be alive. Because of the fantastic amount of quality music made just in the 1960s alone, under any knowledgeable assessment, for a certainty, these potential judges will accept that at least some of the albums above and below on the following lists qualify as jazz. Therefore, jazz did not die in 1959, as espoused by Payton.
If there are jazz standards, then musicians are still performing jazz from the 1950s through the 1990s.
---
---
---
Great Jazz from America in the 1960s
Oliver Nelson, "The Blues and the Abstract Truth," (Impulse!) [Rec. 1961] Oliver Nelson (as, ts), Freddie Hubbard (t), Eric Dolphy (f, as, bcl), George Barrow (bar s), Bill Evans (p), Paul Chambers (b), and Roy Haynes (d).
" . . . a stone classic modern jazz blues and roots album that is free of all hard bop cliché."[6] (bold and bold italic not in original)
"Oliver Nelson's personal masterpiece 1960's "The Blues And The Abstract Truth." Along with Miles Davis's "Kind Of Blue," John Coltrane's "Giant Steps," Ornette Coleman's "Change Of The Century" and Charles Mingus's "Ah Um," Nelson's "The Blues And The Abstract Truth" remains one of the truly indispensible albums of that era . . . and well beyond."[7] (bold and bold italic not in original)
Bill Evans Trio - "Sunday at the Village Vanguard (Riverside) [Rec. 1961] Bill Evans (p), Scott LaFaro (b), and Paul Motian (d).
Jazz hopes that the Bill Evans Trio's sublime playing counts as jazz, which no one thinks it does not, not even Nicholas Payton!
Charles Mingus, "The Black Saint and the Sinner Lady," (Impulse! Records) [Rec. 1963] Charles Mingus (double bass & piano & composer), Jerome Richardson (soprano and baritone saxophone & flute), Charlie Mariano (alto saxophone), Dick Hafer (tenor saxophone & flute), Rolf Ericson (trumpet), Richard Williams (trumpet), Quentin Jackson (trombone), Don Butterfield (tuba & contrabass trombone), Jaki Byard (piano), Jay Berliner (Classical guitar), Dannie Richmond (drums), Bob Hammer (arranger).
Eric Dolphy - "Out To Lunch" (Blue Note) [Rec. 1964] Eric Dolphy (f, as, b cl), Freddie Hubbard (t), Bobby Hutcherson (vb), Richard Davis (b), and Tony Williams (d).
The album presents a significant radicalization of jazz into free jazz.
No one thinks this album is integrating with pop music. In a review for the website All About Jazz, Mark Corroto called the album "Thirty minutes that changed the direction of jazz." He continued: "Fifty years after the recording of Albert Ayler's "Spiritual Unity," the music (and the man) are still causing tumult." It stands on its own within the jazz tradition, what Payton prefers to call lineage. Is his lineage in what people have called the jazz tradition?
No one has described Miles's music on "Bitches Brew" much better than Jon Newey, who explains it is:
brain-melting, barrier-crunching music inside, "Bitches Brew" ripped up the rule book and redefined the parameters of jazz for the next three decades and then some. A colossal, unruly combination of electric jazz impressionism, dense funk rhythms, psychedelic rock flavors, and Stockhausen's dark soundscapes, topped by some of Miles's most stunning and evocative trumpet work. A jazz-rock volcano that spat controversy with every eruption.[8] (bold not in original)
Undoubtedly many of the above albums from the 1960s are considered jazz by supporters of the genre. No one thinks Oliver Nelson's masterpiece, "Blues and the Abstract Truth," is anything other than a jazz album. If Payton were correct that jazz died in 1959, what are all of these many jazz albums found every decade afterward? Therefore, jazz did not die in 1959 and arguably remains alive in the 21st century, as the below samples from every subsequent decade demonstrate. Hear for yourself!
To see and hear samples in a jazz tradition from the 1960s, click on "Jazz Albums That Shook The World: The 1960s, Jazzwise.com, September 10, 2019.
See and hear "The 25 Best Jazz Tunes of 1960."
---
---
Great Jazz from America in the 1970s
If jazz did not die in 1959, it might still be alive in the 1970s in the United States 🇺🇸.
➢ What albums are candidates for great jazz made in America in the 1970s?
It is one of the greatest jazz-rock fusion albums ever made. Not a straight-ahead jazz album because of the rock pulsations. Integrating jazz with other genre forms, including rock music that Wikipedia: "Inner Mounting Flame" quotes the 1998 review by JazzTimes critic Bill Milkwowski that "it was numbers like "The Noonward Race," (click on song titles to watch or hear incredible live performances up close) "Vital Transformation" and especially "Awakening," fueled by Billy Cobham's smoldering intensity on the kit and McLaughlin's raging, distortion-soaked guitar lines, that really grabbed rock crowds."[9] "Combining the improvisational elements of jazz with the volume and energy of rock music, the group—who also brought elements of Far Eastern music, R&B, Classical and occasionally even Country to the table—created music that was often intricate and complex, performed by musicians who's virtuosity thrilled audiences and critics alike."[10]

Jarrett here is at his most lyrical improvising and it seems like jazz to many listeners.


Jazz fusion integrating with musical elements from Latin America, Brazil and dreamily smooth vocals from Flora Purim. Outstanding keyboard work by Corea. Blending with other musical cultures, but no direct link to pop music of the day.


"The Art Ensemble of Chicago enjoyed a critical reputation as the finest and most influential avant-garde jazz ensemble of the 1970s and 1980s. It all began in the late 1960s and early 1970s, when the Art Ensemble helped pioneer the fusion of jazz with European art music and indigenous African music. (For specific details of various configurations of musical personnel, see "Afro Avant-garde: The essential Art Ensemble of Chicago in 10 records.") It also combined elements of jazz history and pre-history—music from sanctified church services, minstrel shows, and bawdy houses of late-19th- and early-20th-century America—with a modernist spirit of experimentation. Originally comprised of no single individual was greater than the whole. The band was an assortment of composers and improvisers of great individuality. Collectively, they created a compelling and unique entity."[11] (bold not in original)
"This jazz ensemble, whose sound incorporates elements of free funk and African jazz, has more than two dozen albums to its credit. Founded in 1977, the group mainly recorded and performed as a saxophone quartet, usually with a lineup of two altos, a tenor, and a baritone (reflecting the composition of a classical string quartet), but also was joined occasionally by drummers, bassists, and other musicians. The original members were Julius Hemphill (alto and soprano saxophone, flute), Oliver Lake (alto and soprano saxophone), Hamiet Bluiett (baritone saxophone, alto clarinet), and David Murray (tenor saxophone, bass clarinet). The first three had worked together as members of the Black Artists' Group in St. Louis, Mo."[12] (bold not in original)
A collection of Buddy Rich's drum solos from around the world recorded live in 1976–1977. These are jazz drum solos so jazz was played past 1959, and they are killer!


---
---
Great Jazz from America in the 1980s
---
---
Great Jazz from America in the 1990s
The women's big band Diva Jazz Orchestra (active 1992–present).
---
Christian Scott aTunde Adjuah (b. 1983) (active 1996–present)
(All photographs creative commons licensed from Flickr.com. Background photo by Philippe Agnifili (2017). Other photos clockwise from upper right by Timothy Forbes (2012), on watch by **AB** (2012), lower right corner by Evert-Jan Hielema (2007), Justin de Nooijer (2014), Philippe Agnifili (2015), Timothy Forbes (2012), Timothy Forbes (2012), **AB** (2012), Mitch Huang (2009))

Recipient of the JazzFM Innovator of the year Award in 2016
---
Great Jazz from America in the 2000s
---
Great Jazz from America in 2010s to 2021
Aaron Diehl has a terrific touch and feel for rhythm on the piano. He is playing jazz, and no other genre of music on the opening track, "Polaris" that reviewer John Fordham describes as "restrained, delicately soft-struck and rather Modern Jazz Quartet-like "Polaris.""[13]

The 2013 recipient of the Jazz Journalists Association Award for Up-And-Coming Artist.

One of the youngest artists to be honored as the 2014 Monterey Jazz Festival Commission Artist.
He has been an Artist in Residence at some of the most prestigious jazz festivals and jazz institutions worldwide, including the London Jazz Festival, North Sea Jazz Festival, The Kennedy Center, Hollywood Bowl, Carnegie Hall and the Blue Note Jazz Club.
"Pop is uncharacteristically understated on versions of Timmy Thomas' 1973 R&B hit "Why Can't We Live Together" and Donovan's 1967 pop hit "Sunshine Superman," with stirring solos by Smith and guitarist Jonathan Kreisberg and rhythmic accompaniment by drummer Johnathan Blake and percussionist Richard Bravo. The six live tracks sandwiched in between, captured at New York's Jazz Standard in 2017 for a celebration of Smith's 75th birthday, add tenor saxophonist John Ellis, baritone saxophonist Jason Marshall, trumpeter Sean Jones, and trombonist Robin Eubanks, with powerful results."[14] (bold not in original)
Here's some great jazz from both 2018 and 2021:
---
There is still a lot of interest in the 21st century in seeing what jazz can do with other musics from Arabic, World, Chamber, Latin, or Pop.
---
JazzFuel.com lists the top ten "Best Jazz Bass Players in History" covering the decades from 1950 to the present. If there were jazz bass players performing during the last 70 plus years then jazz was not likely dead at anytime from before the 1950s to the present.
---
Critique of Nicholas Payton's remarks on the death of jazz
Anyone who writes aphorisms is not expected to develop justifications at the same time. Nicholas Payton's writing style is no exception to this rule. It is somewhat unfair to criticize any one sentence since he merely asserts them, and you either accept or reject what he says. Nevertheless, some of his claims can be argued to be false. Let's see which ones have some issues. Payton's original assertions are in green font, with commentary by PoJ.fm recessed after them in blue.
"There may be cool individuals who say they play Jazz, but ain't shit cool about Jazz as a whole."
What does cool mean here? Wikipedia: Cool says that "Coolness is an aesthetic of attitude, behavior, comportment, appearance and style which is generally admired. Because of the varied and changing connotations of cool, as well as its subjective nature, the word has no single meaning. It has associations of composure and self-control and often is used as an expression of admiration or approval."
The article continues later and reports that "In general, coolness is a positive trait based on the inference that a cultural object (e.g., a person or brand) is autonomous in an appropriate way; that is, the person or brand is not constrained by the norms, expectation of beliefs of others."
On these readings, something has a cool aesthetic if it is admired, has composure and self-control, is approved of, and is appropriately autonomous because not constrained by norms or the expectations of others.
As we go through these traits, it is easy to see that jazz meets them. If jazz meets them, then jazz is cool as a whole, contrary to Payton's tossed-off remarks. Jazz is admired by many. Good jazz musicians have a lot of self-control, musically speaking, since jazz is a performer's medium more than a composer's one where the musicians can deviate from the musical score. Jazz musicians have autonomy, i.e., independence since they can change how they play a song each time it is performed.
Jazz has not been constrained by norms or the expectations of others since it has led to so many revolutions and creations of new sub-fields of jazz. Each of these sub-genres resulted in revolts of significant changes to prevailing attitudes about jazz, including swing, Bebop, modal, soul jazz, cool jazz, hard-bop, post-bop, or free jazz itself.
"Jazz died when cool stopped being hip."
To be hip is to be informed about the latest ideas, styles, and developments. If cool is achieved by being admired because of one's autonomy, can cool ever stop being hip?
"Jazz was a limited idea to begin with."
Almost everything is a limited idea in some sense. A dog is not a cat. Does this make the conception of a dog 'limited'? Is this bad?
Furthermore, how limited an idea could jazz be if it has expanded from Ragtime and Dixieland into swing, Bebop, cool, soul jazz, hard bop, Latin jazz, and free jazz, to name a few?
If jazz is so 'limited,' how come no one thinks they can define it easily. Should not anything limited be relatively easy to define? Since no one can define jazz easily, it proves it is not so limited.
"Jazz is a label that was forced upon the musicians."
Can anyone force a label upon something? The term "Ragtime" was appropriate since they were ragging the music, meaning applying syncopation to it. The origin of the word "jazz" is likely originally meaning "enthusiasm" and from its use in baseball sports writing where it meant pep, vigor, and energy. Does early jazz have enthusiasm, vigor, pep, and energy? Yes, it did, because it too used syncopation and improvisation, revealing the pep and energy of this way of playing music and in an enthusiastic manner.
Dr. Lewis Porter (b. 1951) agrees that the word "jazz" came from baseball sports writing and that it was not racist when first applied to music in his article "Origins of the word "jazz."
"The musicians should've never accepted that idea."
Musicians had little choice of whether to accept that their music is labeled as jazz. Throughout jazz's history, several musicians have disliked the label of jazz, including Duke Ellington, Miles Davis, Rahsaan Roland Kirk, Max Roach, and several more. The vast majority of musicians have accepted that their genre of music is called jazz—many more have accepted the label than have rejected it.
"Jazz ain't shit."
Here Payton gets carried away by his rhetoric. He knows that jazz existed from 1916 to at least 1959. In that period of time, this music was played by incredibly talented improvising musicians, such as Louis Armstrong, Charlie Parker, Thelonious Monk, and Lester Young, to name a handful. Payton does not believe that what these musicians were playing was caca.
"Jazz is incestuous."
What does this even meaning for a genre of music? Maybe it means that the music interacts with past versions of itself. There is no problem with music doing that. When Herbie Hancock reinterprets a Nirvana song in a jazz manner, is that incestuous? Even if it is, there is nothing wrong with what Hancock strove to achieve.
"Jazz separated itself from American popular music."
The word "separated" can have several meanings. Jazz did 'separate' itself from popular music in one sense of striving to be a serious art form that popular music does not strive for as much. Jazz since Bebop uses more complex harmonies and sophisticated musical techniques typically not found in much popular music. In this sense, jazz did strive to 'separate' itself from pop music.
However, in another sense, jazz is still connected to popular music by producing jazz versions of popular songs. For example, in the popular musical "My Fair Lady," the song "My Favorite Things" was taken over and made into a vehicle for John Coltrane's impressive jazz interpretation of that tune. Many jazz albums have covered popular music. Of more recent vintage, in 1996 Herbie Hancock in his album "The New Standard" covers a Beatles' tune ("Norwegian Wood"), Kurt Cobain's Nirvana song "All Apologies," "New York Minute" (Don Henley, Danny Kortchmar, Kai Winding), "Mercy Street" (Peter Gabriel), "When Can I See You" (Kenny "Babyface" Edmonds), "You've Got It Bad Girl" (Stevie Wonder, Yvonne Wright), "Love Is Stronger Than Pride" (Sade Adu, Andrew Hale, Stuart Matthewman), "Thieves in the Temple" (Prince), and Steeley Dan's "Your Gold Teeth II" (Donald Fagen, Walter Becker). In 2000, the band The Bad Plus covered Nirvana's "Smells Like Teen Spirit."
Reviewing Hancock's album, music critic Scott Yanow concludes that:
"On first glance this record would not seem to have much promise from a jazz standpoint. Herbie Hancock performs a set of tunes which include numbers from the likes of Peter Gabriel, Stevie Wonder, Sade, Paul Simon, Prince, the Beatles ("Norwegian Wood") and Kurt Cobain. However by adding vamps, reharmonizing the chord structures, sometimes quickly discarding the melodies and utilizing an all-star band, Hancock was able to transform the potentially unrewarding music into creative jazz. Hancock, who sticks to acoustic piano, shows that he is still in prime form, taking quite a few fiery solos. With Michael Brecker on tenor and surprisingly effective soprano, guitarist John Scofield, bassist Dave Holland, drummer Jack DeJohnette and percussionist Don Alias (along with an occasional horn or string section that was dubbed in later), the results are often quite hard-swinging and certainly never predictable. Although it is doubtful that any of these songs will ever become a jazz standard, Herbie Hancock has successfully created a memorable set of "new" music. Well worth investigating."[15] (bold and bold italic not in original)
Big mistake.
The music never recovered.
Playing Jazz is like running on a treadmill: you may break a sweat, but ultimately you ain't going nowhere.
Jazz is a marketing ploy that serves an elite few.
The elite make all the money while they tell the true artists it's cool to be broke.
I am not speaking of so-called Jazz's improvisational aspects.
Improvisation by its very nature can never be passé, but mindsets are invariably deadly.
Jazz has nothing to do with music or being cool.
It's a marketing idea.
A glaring example of what's wrong with Jazz is how people fight over it.
People are too afraid to let go of a name that is killing the spirit of the music.
Life is bigger than music, unless you love and/or play Jazz.
Miles Davis personified cool and he hated Jazz.
What is Jazz anyway?
"When you're truly creating you don't have time to think about what to call it."

Maybe. However, we now have the time to reflect and knowledgeable evaluators judge much music since 1959 to be jazz.
"Playing Jazz is like using the rear-view mirror to drive your car on the freeway 🛣."

What might Payton have in mind when he makes this rear-view mirror comment? Were one to be looking in one's rear-view mirror one would be looking behind or back. Payton might believe that playing jazz requires one to take a step backwards from creativity. It is true that jazz musicians are generally speaking required or expected to know many jazz tunes (the 'standards') from the past. Has this prevented jazz from surging forward over its history? Far from it given all of the numerous new sub-genres of jazz that have been developed since Ragtime, Swing, and Bebop.
If you think Jazz is a style of music, you'll never begin to understand.
Jazz is a brand.
Jazz ain't music, it's marketing, and bad marketing at that.
It has never been, nor will it ever be, music.
Here lies Jazz (1916 – 1959).
I believe music to be more of a medium than a brand.[16] (bold not in original)
---
Nicholas Payton walks back his comments on the death of jazz
In the excerpt below, Nicholas Payton concedes all of the following, thereby walking back most of his controversial claims about jazz:

(1) Jazz is not dead.

(2) There is still music and musicians playing jazz today, so jazz exists now and never died in 1959.

(3) He recognizes that he cannot get rid of the word "jazz" as a label for a style of music, whether he wants to or not.

(4) It is unnecessary to try to get rid of the usage of the word "jazz," and it would be unrealistic to try to do so.

(5) Most of the music that is currently called jazz IS jazz.
(6) Payton agrees that he respects jazz musicians labeled as such: " . . . if people want to call what they do jazz and whatever comes along with that, I respect that. I'm not trying to change that. Because that deserves to be here, too." (bold and bold italic not in original)
Now, that is walking it back, baby!
Richard Scheinin's complete interview with Nicholas Payton October 8, 2013 with an excerpt from that interview proving all six claims made above.
Q: (by Richard Scheinin) When we first exchanged e-mails, you told me that I'd misunderstood your #BAM posts – that you've never set the goal of removing the word "jazz" from common parlance, as I'd written. You explained that you personally object to the word, but that you're not trying to get others to deep-six the word.
But you've put the word "jazz" in the same sentence as the N-word, drawing a connection between them. So to me, it doesn't feel like a huge leap to think that you're trying to create a movement where the music moves forward while the word "jazz" is left behind and replaced with your term – #BAM, or Black American Music.
A: (by Nicholas Payton) First of all, I don't think it's realistic or necessary. As much as I talk about racism, do I seek to try and create to live in a world where there's no prejudice? No, that's part of the human experience, and I think people should be allowed to feel hate or whatever.
If a musician would like to call what they play "jazz"—okay, and jazz does exist. And most of the music that is called jazz IS jazz. But as far as the real true spirit of music and ancestry, that is not jazz. So if people want to call what they do jazz and whatever comes along with that, I respect that. I'm not trying to change that. Because that deserves to be here, too. I'm not trying to sanitize the world and try to create some kind of utopia where only the good things exist.
Q: Will you lay out your arguments for what you object to in the word "jazz."
A: Jazz is the white appropriation of Black American music. It's a caricaturization of the music that Bolden and King Oliver and Armstrong and others created, and the first documented jazz recording was by the Original Dixieland Jazz Band. And as for "Dixieland" — we know the connotation that "Dixie" has to the Confederate South and slavery. And "jazz," the word itself, is of dubious origin at best. The first documented printed use of the word is tied to baseball.
It had to do with some kind of English or pizzazz that you put on the ball. I think it was like 1913, and was published in the San Francisco Chronicle or some place out there.
And a lot of the early musicians refuted the title. They didn't want the association with the word. And even cats like Louis Armstrong said, "We didn't call it that." It was not called that in New Orleans. It would've been "blues" or "ragtime." And the first band that made a record and called it "jazz," that was the Original Dixieland Jazz Band. It was minstrelsy. The cats were making animal sounds and a mockery of this beautiful music made by the likes of King Oliver and Louis Armstrong. (bold and bold italic not in original)
---
---
Evaluating why jazz is dead is false
The topic or question of whether jazz is dead is fraught with problems created by its detractors.
One of the musicians who find severe problems using the term "jazz" is New Orleans post-modern trumpeter Nicholas Payton (b. 1973). In 2011, Payton put forth a manifesto declaring jazz dead since 1959. Here's a brief excerpt from his posting:
"If you think Jazz is a style of music, you'll never begin to understand."

Does Payton think any styles of music exist? If there were no styles, then jazz could not have or be one. On its face, the reference to music styles suggests that there are such things, but jazz is not amongst them. Let us consider this point in some detail.
---
Styles of music
---
➢ What is a style of music?
A category of artistic composition, as in music or literature, characterized by similarities in form, style, or subject matter. Origin: early 19th century: French, literally 'a kind.'
The term music genre is used to refer to a variety of facets of music, including the period during which a musical composition was written, its style, its instrumentation and treatment of those instruments, its form and function, its means of transmission, its means of dissemination, and the location of its geographical origins sometimes crossed with the cultural or ethnic background of the composer.
"A music genre is a conventional category that identifies pieces of music as belonging to a shared tradition or set of conventions. It is to be distinguished from musical form and musical style, although in practice these terms are sometimes used interchangeably."[17]
---
---
Problems with jazz being dead
Notice several possible problems for anyone who envisions jazz is dead.
(1) If jazz is genuinely dead, it must have been 'alive' earlier, or it would not be possible to die. Given this truth, is Payton presuming that there used to exist a coherent musical tradition sufficient to comprise a distinct genre of music from 1916 to 1959? If so, then jazz is not dead since it is a particular genre of music. It may well be that such a music genre no longer is an active area of musical concern for practicing musicians, but this would not make the genre itself dead, just no longer utilized.
However, even this must be false and false given Payton's understanding since he cavalierly asserts that all of these music styles can still be heard today performed by active musicians. Here's the list that Payton himself provides of these forms of music. He separated each sentence in the quotation below, but they are all strung together for the spatial economy.
"Definitions are retrospective. And if you find yourself getting mad, it's probably because you know Jazz is dead. Why get upset if what I'm saying doesn't ring true? I can't speak for anyone else, but I don't play Jazz. I play Postmodern New Orleans music. Louis Armstrong and Danny Barker play Traditional New Orleans Music. Ellis Marsalis and James Black play Modern New Orleans music. Kidd Jordan and Clyde Kerr play Avant-garde New Orleans music. Donald Harrison plays Neoclassical New Orleans music. I play Postmodern New Orleans music. I am a part of a lineage. I am a part of a bloodline. My ancestors didn't play Jazz; they played Traditional, Modern, and Avant-garde New Orleans Music."[18] (bold not in original)
(2) Boldly stating that Payton's musical ancestors did not play jazz does not make it right. For multiple decades well-informed musicians and musical authorities have understood and labeled a style of performing music with the jazz label. How could it fail to be true that this music was jazz? It could not since even Payton presumes jazz existed between 1916 through 1959 in his original posting. He is the one getting all bent out of shape about needing to establish jazz is dead and is probably sick and tired of people asking him why he isn't playing jazz like he used to with Doc Cheatham (1905–1997) and many of Payton's recordings are in the jazz vein. For proof, knowledgeable persons described Payton's music as being in the jazz genre; look up anything where he plays jazz and see it described that way.
(3) Furthermore, Payton has contributed to many other musician's albums who label themselves as playing jazz, such as Eric Alexander (b. 1968) on the recording "Summit Meeting" (2001), with NEA jazz Master (2018) and jazz pianist Joanne Brackeen (b. 1938) on "Pink Elephant Magic"[19] (Arkadia Jazz, 1998), with NEA jazz master (1999) saxophonist Joe Henderson (1937–2001) on "Big Band"[20] (Verve, 1996), with NEA jazz Master (2003) drummer Elvin Jones (1927-2004) on three albums ("Youngblood" (Enja, 1992), "Going Home" (Enja, 1992), "It Don't Mean a Thing" (Enja, 1993), with NEA jazz Master (2008) organist Jimmy Smith (1928–2005) on "Angel Eyes: Ballads & Slow Jams" (Verve, 1996) and Damn! (Verve, 1995), with 2012 U.S. National Medal of Arts New Orleans pianist Allen Toussaint (1938-2015) on his second jazz album, "The Bright Mississippi" (Nonesuch, 2009).
Payton objects to the term "jazz" because he finds it a racist label imposed upon primarily black musicians by overbearing capitalistic managers and fixers of business practices. For a critique of Payton's claims denying the racist origins of the word "jazz," see Jon Wertheim's "Nicholas Payton Is Chillin' On Our Nutz: How One Musician Misrepresented the Facts And Bullied the Jazz Narrative Off Course," NextBop.com, April 3, 2012.
(4) Realize that even Payton needs to refer to music genres to describe differences in approach between musicians. He uses the terms "traditional," "modern," "avant-garde," "neoclassical," and "postmodern." Does Payton believe that these are 'legitimate' kind names for music genres? He uses them to distinguish between the types or styles of music that separate the various musician's kinds of music from each other. Since Payton finds this to be acceptable, then he cannot protest when others do the very same thing but use the label "jazz."
(5) If jazz is dead in 1959, who are all of these NEA Jazz Masters since then, and what music are they playing?
(6) JazzHouse.org's "The Last Post" lists 582 primarily jazz musician's deaths from 1900 to 2009. Many of these musicians have played jazz since 1959. If they were playing jazz, then jazz was not dead.
(7) Grammy Awards for Best Original Jazz Composition from 1961–1967. A panel of music experts sitting on the Grammy judging panel chose these compositions as the best in jazz for that particular year. These expert evaluations all concurred that these compositions qualified as jazz. Therefore, jazz existed at least up to 1967.
---
---
What could count as the death of jazz?
Is there any dead music now? Which ones are dead and why? Can dead kinds of music be revived and made alive again? If such rejuvenated music were to happen, was the original music really dead or just lying dormant? Are music perceivers required for determining the death or non-death of a genre of music? What counts as non-death of a kind of music?
One line of argument equates death with being unpopular. This reading means that jazz was alive in the late 1930s and 1940s because it was popular as dance music for couples. After 1945 and the Bebop phenomenon, jazz stopped being as popular with pop culture and became more of a niche market. Currently, jazz records sell around 1–2% of all recorded music genres. Jazz is popular with an older demographic, and this only gets older as time moves on.
Death of a musical genre could mean that it is no longer popular, but what is the minimum amount of popularity to count as non-dead? Not many people make model airplanes from a kit; it was more popular in the 1950s than today. Is model airplane making from a kit dead? Not if you build one, it isn't.
---
---
Jazz is only mostly dead on the radio and television
At the question and answer website Quora, Bruce Edwards, answers the question whether jazz is dead with these responses:
"Jazz is only dead on the radio—in most US cities. Jazz artists are performers first, recording artist second. This is obvious when noticing the success of Jazz festivals around the world.


[New Orleans] Jazz & Heritage Festival drew around 450,000 fans during its seven-day event [in 2019] at the Fair Grounds Race Course, according to a news release announcing attendance numbers. That's around 25,000 more people than last year's festival, . . .

Notice this comment about the youth audiences: The 2018 Xerox Rochester International Jazz Festival had record attendance, drawing 208,000 across the nine-day event. According to a release from the festival's public relations firm, five headlining shows sold out, . . . There were also a record number of youth workshop attendees and "great" attendance at the jams at the new Hyatt venue.

How about the US west coast? Fillmore Jazz Festival is the largest free Jazz festival on the West Coast, drawing over 100,000 visitors over the Independence Day weekend.

Is there jazz interest in small unpopular southwestern towns? In north Texas, there is the Denton Arts & Jazz Fest where there is a popular university with a prominent music program.

Interest in jazz is noticed more with live performances as we listeners want to witness a musician's mastery, not just hear it in a recording. A jazz artist is not on stage to dance and twerk his derriere only using a guitar as a prop! Also this interest in connecting with our jazz artists at a live performance is evident when we follow the money.

This particular musician turned over his financial data to the FMC throughout the years 2006–2009. Here are the highlights:

Between 2006 to 2009, the majority of his income came from live performance, whether as a leader or soloist. Touring ranged from a little over 60% to over 91% of his revenue. His U.S. engagements comprise between 56-64% of his touring activity, and Europe is a regular part of his touring schedule as well, comprising some 20-38% of performance revenue. In comparison, money earned from recording was a much smaller, but not negligible portion of his income, ranging from nearly 3% to nearly 18% of his income. Money earned from composing grants and commissions tallied much the same way, accounting for nearly 3% to over 20% of his income. "Knowledge of craft"—i.e., teaching, giving clinics, producing records and advising—accounted from between .3% and 3.6% of his income."[21] (paragraphs reconfigured for spatial economy and bold and bold italic not in original)
---
Peter Watrous on jazz in the 1990s
"Thirty Years of Our JazzTimes: The 1990s" — For JazzTimes's 30th anniversary, Peter Watrous looks back at music from the magazine's third decade. Originally published September 1, 2000. Updated January 2, 2020.

Watrous argues that jazz in the 1990s splintered into many sub-categories of jazz as musicians explored new avenues for playing music in a jazz context, including Jam band and jazz-fusion, or the rise of the jazz soloist playing over funk or post-Grateful Dead backgrounds.
Watrous believes this was started by saxophonists Branford Marsalis (b. 1960) (between 1990 and 1994) or David Murray (b. 1955) sitting in with the Grateful Dead in 1993 at Madison Square Garden.
Other sub-genres garnering movement generated by jazz musicians according to Watrous in the 1990s included:
Klezmer jazz

Latin jazz, which was revitalized by the Cuban scene

M-Base jazz

New Orleans jazz

San Francisco jazz

Acid jazz See NOTE below on why PoJ.fm does not consider acid jazz a sub-genre of jazz.
Ecstatic jazz, the marketing term used to cover the conjunction of the avant-garde with rock

Electronica and jazz

Eastern European jazz

Knitting Factory jazz

Chicago jazz, experimental and otherwise

---
NOTE: PoJ.fm does not recognize acid jazz as a sub-genre of jazz. Also, acid jazz was not generated primarily by jazz musicians (except for Branford Marsalis (b. 1960) in Buckshot LeFonque).

The early paragraphs of Wikipedia: Acid jazz reports that acid jazz was never a true jazz genre and later became an unstable genre label no longer used:
"The genre's name was coined by Gilles Peterson (b. 1964), and . . . the name refers to the acid house genre, which was popular in UK clubs in the 1980s. Acid jazz consisted of two related movements. The first was based on records by disc jockeys and music producers who added percussion and electronic dance beats to jazz tracks from the 1960s and 1970s. The second movement included groups who were influenced by these recordings and who emphasized a groove. Acid jazz borrowed from jazz, funk, and hip-hop. Because it relies heavily on percussion and live performance, it is sometimes associated with jazz, but its emphasis on groove aligns it more with funk, hip hop, and dance music. . . . The rise of electronic club music in the middle to late 1990s led to a decline in interest, and in the twenty-first century, the movement became indistinct as a genre. Many acts that might have been defined as acid jazz are seen as jazz-funk, neo soul, or jazz rap." (bold and bold italic not in original)
---
---
Types of death and relationships to jazz
➢ What do native language users of English say can be dead?
English language users say things such as:
"Latin is a dead language."
"He was dead as a door nail."
"Don't use that lightbulb 💡 because it's dead."
"People do not go to that restaurant anymore because it died."
---
Dead used as an adjective:
1. no longer alive, as in "a dead body."
2. (of a place or time) characterized by a lack of activity or excitement, as in "Brussels isn't dead after dark, if you know where to look."
3. (of a piece of equipment) no longer functioning, especially because of a fault, as in "the phone had gone dead."
4. (of an electric circuit or conductor) carrying or transmitting no current, as in "the batteries are dead."
5. no longer burning, as in "the fire had been dead for some days."
6. (of the ball in a game) out of play, as in "the ball had gone dead."
7. (of a glass or bottle) empty or no longer being used, as in "they got all the dead glasses and put them on the table."
8. no longer current, relevant, or important, as in "pollution had become a dead issue."
9. (of money) not financially productive, as in "far from being dead money, it is available to be spent or invested."
10. (of sound) without resonance; dull, as in "the note sounds dead compared to all others on the keyboard."
11. (of a playing field, ball, or other surface) lacking springiness or bounce, as in "there is a dead spot on the floor."
12. (of a color) not glossy or bright, as in "higher up, the marble becomes a dull, dead color."
13. complete; absolute, as in "we sat in dead silence."
Dead as an adverb:
1. absolutely; completely, as in "you're dead right."
Which of these cannot have been meant by Nicholas Payton when he declared that jazz is dead since 1959? Numbers above of 4, 5, 6, 7, 9, 10, 11, 12, or 13 we rule out because the genre of jazz is (4) not an electrical circuit, (5) not something combustible, (6) nor a ball out of play, (7) not a container, (9) not a financial instrument, (10) not dull, (11) not springy, (12) not a color, and (13) not an absolute.
We are left with 1, 2, 3, and 8. Consider each of these in turn, as Payton may have meant them.
1. no longer alive, as in "a dead body."
Payton cannot mean number 1.'s meaning literally because only living things that are particularly well-functioning entities can die in this sense. To die here means to no longer be well-functioning or even in existence. Still, Payton may have in mind a kind of symbolic meaning for the death of jazz in that he finds jazz from 1916 to 1959 not to be any longer living. Instead, he finds it to have become fossilized and stagnant, inert, and no longer viable as a compelling musical form. Notice though in these metaphorical/symbolic senses, jazz is still alive. People still play ragtime and old-timey New Orleans jazz at Preservation Hall in New Orleans, LA.
Nicholas Payton likely has the remaining meanings in mind when he proclaims jazz died in 1959 in the senses of 2., 3., and 8.
2. (of a place or time) characterized by a lack of activity or excitement.
3. (of a piece of equipment) no longer functioning, especially because of a fault.
8. no longer current, relevant, or important, as in "pollution had become a dead issue."
Using these three meanings were jazz to be dead would require that it no longer generates excitement or activity, is no longer functioning, or has stopped being relevant or important. Are any of these valid for current jazz?
None of them are true. Jazz at Lincoln Center is still highly active and well functioning. Jazz is studied around the globe in 492 collegiate music programs having jazz as a major. Because jazz emphasizes performance, jazz festivals are doing well. There are seventeen historic jazz festivals from ten to over 66 years old that remain active, with over 85 jazz festivals in North America alone. Around the world, there are several hundred dynamic jazz festivals. Norway alone had 20 jazz festivals in 2013.
"Norway has more than 400 music festivals, and 20 jazz festivals alone, offering substantial performing opportunities. This is in a country with a population of just less than 5 million—roughly the population of Alabama. It's no surprise that more than 20 percent of Norwegians attend a music festival each year: They can't help running into at least one."[22] (bold not in original)
Up to 2012, Christa Bruckner-Haring reports that jazz has been well-supported in Austria 🇦🇹.
"Jazz has been an integral part of the Austrian music scene since the postwar era and has found wide acceptance in the Austrian cultural landscape over time. This paper presents an overview of the most important developments and personalities in Austrian jazz history. The sources for this information include musicological texts on jazz in Austria as well as interviews with observers and active members of the jazz scene; online research is also of particular relevance, especially concerning more recent history. The first section, "From the beginnings to the end of World War II", deals mainly with the early development of jazz until the Nazi era. The second, "Postwar and the 1960s" traces the beginnings of an independent scene and important Austrian expatriate musicians as well as discussing Graz as a stimulating force and academic institutionalization. The section "The late 1960s to the generational change of the late 1970s" deals with the Vienna scene as well as the influence of the "Vienna Art Orchestra" and its leading soloists from that period. The final section, "Stylistic pluralism – the 1980s to the present" examines various trends and musicians from the 1980s and 1990s as well as introducing the first generation of the new millennium."[23] (bold not in original)
---
---
Difficulties with definitions for being alive
There is an objection to anyone holding that only biological organisms can be alive. One way of establishing this is first to imagine that the claim is true. Philosophers could make this be a necessary condition for being alive: all living things are biological organisms with a physical body. The claim would be that without a physical or biological embodiment, nothing can ever be alive. Given this understanding of what is required to live, a pre-condition for being able to die, what would a counter-example look like? The clear answer is that we would need to find a plausible example where intuitively, an entity is alive yet either is not physical or not a biological organism. Can any such examples be provided?
---
---
Examples of entities that are alive without being biological organisms
It is notoriously difficult to define what it takes to be alive.
"There is currently no consensus regarding the definition of life. One popular definition is that organisms are thermodynamically open systems that maintain homeostasis, are composed of cells, have a life cycle, undergo metabolism, can grow, adapt to their environment, respond to stimuli, reproduce and evolve. Other definitions sometimes include non-cellular life forms such as viruses and viroids."[24] (bold not in original)
To any proposed definition, there is a well-established counter-example. No one believes that fire 🔥 is alive, yet it is dynamic, consumes resources to continue to exist, must seek out and acquire resources to remain in existence, has, in effect, a metabolism defined as "the set of life-sustaining chemical reactions in organisms. The three main purposes of metabolism are: the conversion of food to energy to run cellular processes; the conversion of food/fuel to building blocks for proteins, lipids, nucleic acids, and some carbohydrates; and the elimination of metabolic wastes. These enzyme-catalyzed reactions allow organisms to grow and reproduce, maintain their structures, and respond to their environments." (bold not in original)
Fire does all of these things. It converts 'food' (oxygen and combustible material) into energy. Indeed, it does not do this to "run cellular processes," but this merely begs the question in favor of biological organisms made of cells. The second metabolic process is for converting food/fuel! for maintaining and even building itself. Again, we have the same problem of assuming what is to be proved regarding living beings being biological organisms if only biological organisms can have proteins, lipids, nucleic acids, or carbohydrates. However, building blocks may be a fancy term for producing physical objects through kinetic chemical processes, and this fire most certainly can achieve through oxidation.
However, we can synthesize proteins through chemistry. Lipids, too, can be made in the laboratory. Wikipedia: Life points out that molecules relevant to forming life can and have been created from non-living chemical components, as established with the classic 1952 Miller-Urey experiments. This experiment's success supports the theory of abiogenesis, which is a natural process by which life has arisen from non-living matter, such as simple organic compounds.
"The classic 1952 Miller–Urey experiment and similar research demonstrated that most amino acids, the chemical constituents of the proteins used in all living organisms, can be synthesized from inorganic compounds under conditions intended to replicate those of the early Earth. Complex organic molecules occur in the Solar System and in interstellar space, and these molecules may have provided starting material for the development of life on Earth."[25] (bold and bold italic not in original)
Fires are shedding metabolic wastes in the chemical by-products unconducive to fires casting them off in the form of carbon dioxide gas and water vapor as the fire burns. If a fire's fuel source is carbon and completely burns, the only remaining chemical by-products are carbon dioxide and water vapor;[26] both are antagonists of fire and are used to put out fires with carbon dioxide fire extinguishers🧯and water hoses.
Fires respond to their environment growing larger with more resources (oxygen and combustible material) and withering away without them. A fire, then, can grow and reproduce, creating more fires like themselves as a response to finding more flammable material. Given the material resources, fire can maintain its structures—the specific chemical reactions involved—in response to this environment. Growing smaller when resources dwindle and growing and propagating new progeny when resources are plentiful.
Lastly, if fires cannot acquire resources, then they die out to extinction.
Intuitively, we still know that fire is not a living being, so any definitions along the lines discussed above will fail to pick out all and only those things that can be alive. We could eliminate fire from being alive should the definition require all of the metabolic processes are related to operations in cells of biological organisms. That definition is too strong if you think viruses are ever alive since they are not formed of cells, although they remain organic material replicating itself and undergoing evolution.
---
---
One could make a distinction between two types of life as biological and non-biological. See the next section for many possible examples of non-biological entities that could still be alive. Strikingly, viruses may not fall under either category depending upon how living organism is defined. If we require living organisms to be composed of cells, then viruses get ruled out since they need cell invasion to replicate themselves since they lack cells that do the replicating for a virus.
"Whether or not viruses should be considered as alive is controversial. They are most often considered as just replicators rather than forms of life. They have been described as "organisms at the edge of life" because they possess genes, evolve by natural selection, and replicate by creating multiple copies of themselves through self-assembly. However, viruses do not metabolize and they require a host cell to make new products. Virus self-assembly within host cells has implications for the study of the origin of life, as it may support the hypothesis that life could have started as self-assembling organic molecules."[27] (bold and bold italic not in original)
---
---
Counter-example non-biological beings who could be alive
Surprisingly, counter-examples to the claim that a necessary condition for any living being is that it be a biological organism are 'super' easy to come by. We do not even have to have any of the counter-example non-biological living entities even exist—their mere possibility is enough to prove the conceptual falsehood that only biological entities are living beings. Anyway, below is a list of counter-examples of possible living non-biological entities. As you read, ask yourself if this possible entity were to exist, would it:

(1) be alive.

(2) have a non-biological body.

(3) could be extinguished and cease to exist, thereby no longer living?

If the entity receives Yes to all questions, then it is a counter-example to the claim that all living things must be biological organisms.
LIST of possible living non-biological beings:
Silver Surfer. He was born a biological entity (a young astronomer named Norrin Radd on the planet Zenn-La). Galactus transformed his body so that he is no longer biological and is now a humanoid alien with a new body having silvery metallic skin who can travel through space with the aid of his surfboard-like craft 🏄 🏄‍♀️ 🏄‍♂️ (hence his name) on which he could travel faster than light.
"A sentient star was a star that was alive, and could feel, think, react and, in some instances, manipulate certain things around them. Removing part of a sentient star caused it pain. The Torajii system had a sentient star at its centre. The SS Pentallian used a fusion scoop to mine gases from the star as fuel, and the star reacted by possessing the ship's crew. The Tenth Doctor and Martha Jones followed a distress call and the Doctor realised that the sun was alive. He made Martha dump the fuel with the sun particles and the sun let the ship leave. He made sure the sun had protection, just like any other living organism, after the endeavour."[28] (bold and bold italic not in original)
Is the entity a person or thing that is dynamic with whom you could hold a conversation? If so, that person or thing is alive. If it can cease to exist, then it can die as well. It does not need to be a biological organism to achieve these two things, conversing and ceasing to exist.
---
---
Definitions for dead
Merriam-Webster Dictionary definitions for dead (renumbered).
Dead used as an adjective:
1. deprived of life; no longer alive, as in "a dead tree."
2. lacking power to move, feel, or respond; numb, as in "my arm feels dead."
3. very tired, as in "Our legs were completely dead after the hike."
4. incapable of being stirred emotionally or intellectually; unresponsive, as in "a heart dead to pity" or "he felt dead inside."
5. grown cold; extinguished, as in "dead coals."
6. inanimate, inert, as in "dead matter."
7. barren, infertile, as in "dead soil."
8. no longer producing or functioning; exhausted, as in "a dead battery."
9. lacking power or effect, as in "a dead law."
10. no longer having interest, relevance, or significance, as in "a dead issue."
11. no longer in use; obsolete, as in "a dead language."
12. no longer active; extinct, as in "a dead volcano."
13. lacking in gaiety or animation, as in "a dead party."
14. lacking in commercial activity; quiet, as in "The city is dead after five o'clock."
15. commercially idle or unproductive, as in "dead capital."
16. lacking elasticity, as in "a dead tennis ball."
17. being out of action or out of use, as in "The phone went dead."
18. specifically, electrical engineering; free from any connection to a source of voltage and free from electric charges, as in "a dead electrical circuit."
19. sports and games; being out of play, as in "a dead ball."
20. not running or circulating; stagnant, as in "dead water."
21. mechanical engineering; not imparting motion or power although otherwise functioning, as in "a dead rear axle."
22. lacking warmth, vigor, or taste, as in "The fire was dead."
23. unerring, as in "a dead shot with a rifle."
24. exact, as in "dead center of the target."
25. certain to be doomed, as in "she's dead if she's late for curfew."
26. irrevocable, as in "a dead loss."
27. abrupt, as in "brought to a dead stop."
28. complete, absolute, as in "a dead silence."
29. all-out, as in "caught it on the dead run."
30. devoid of former occupants, as in "dead villages."
31. incapable of being effective; stalled, as in "peace talks were dead in the water."
32. absolutely, utterly, as in "dead certain," "finished dead last," "The room became dead quiet."
33. suddenly and completely, as in "stopped dead in her tracks."
34. directly, as in "dead ahead."
That is a lot of different meanings for how English speakers use the word "dead." Not all of them are involved when Nicholas Payton declared jazz to be dead since 1959. In fact, we can rule out as irrelevant 2, 3, 4, 9, 13, 14, 16, and 18–34. We are left with 1, 5–8, 10–12, 15, and 17. What do these have to say if Payton meant any of them about jazz?
(1) means no longer alive. Problematically, the adjective word "alive" has at least five different meanings as found at Dictionary.com:

1. having life; living; existing; not dead or lifeless.
2. living (used for emphasis), as in "the proudest man alive."
3. in a state of action; in force or operation; active, as in "to keep hope alive."
4. full of energy and spirit; lively, as in "Grandmother's more alive than most of her contemporaries."
5. having the quality of life; vivid; vibrant, as in "The room was alive with color."
Of these five, the second one being used for emphasis can be ignored. The rest are relevant to what Payton may have had in mind for the death of jazz. Here's a way of making the case. In the sense of 1. jazz is not alive because it stopped 'having life' suggests that the music played in 1959 is no longer meaningful to people when played live, so in this sense it is 'lifeless.' Is it true that people find jazz from 1959 or earlier to be lacking life? Can contemporary music that purports to be a jazz genre style still be active, full of energy and spirit while being vivid and vibrant?
An example of jazz still being found active, spirited, and vibrant is the 1959 Miles Davis(1926-1991) masterpiece "Kind of Blue" that still sells well in the 21st century. Many of the songs from this album have been recorded numerous times by other jazz musicians since 1959 perhaps most especially the tune "All Blues":

If jazz is so dead, why is everybody and their brother still playing and reinterpreting this song over the last sixty years?
Jazz musician Greg Tivis (b. 1960) has another reason to believe jazz isn't dead at this time. It is because the Great American Songbook has songs remaining popular with an American audience.
"The songs of the Great American Songbook are classics for all time, and everyone from young to old loves them. The popularity of jazz records my rise and fall, and there may be challenges that we the musicians will have to meet to get the music to the audience. But the audience is out there, and jazz is far from dead."[29] (bold not in original)
CONCLUSION: Jazz still has an active following in the music community so is still alive.
---
---
Jazz is not dead yet
In his article for CNN Entertainment, John Blake, "When Jazz Stopped Being Cool," gives three theories why rock and other forms of music eclipsed jazz. Blake is factually correct that rock and other music vastly outsells jazz. If we want to say rock eclipsed jazz, then no one should disagree. It does not follow from being eclipsed, though, that this means that the eclipsed has died. PoJ.fm inserts commentary below interspersed between Blake's presentation of his three theories.
"It lost out to the accountants: If it doesn't make dollars, it doesn't make sense. That business adage doomed jazz artists because they couldn't sell records like rock groups could, some say. Consider one of the most popular jazz albums of all time: Dave Brubeck Quartet's "Time Out." It's musically daring, features superb musicianship, and yielded a monster hit that became a jazz standard: "Take Five." It could be considered the perfect jazz record. Yet how many copies do you think were sold? By 1963, four years after its release, "Time Out" had gone gold, selling 500,000 records. Not bad—but rock groups came on the scene and sold records in the millions. The biggest rock groups sold so many that the industry had to create a new category—platinum, to mark a million sales. Record executives were no longer content to keep prestigious jazz artists on their labels if they just had middling sales."[30] (bold not in original)
When something still makes money and is supported by the music industry, then it cannot be dead, only diminished at worst. Jazz remains popular with music students in college interested and musically invested in learning how to play it. If music students still wish to learn to play jazz, then it cannot be dead. Click on the list of the many famous contemporary jazz musicians who are alumni of the Jazz Studies and Performance programs from William Paterson University in New Jersey.
"It lost the booty: When jazz trumpeter Nicholas Payton wrote a famous essay about the demise of jazz, "On Why Jazz Isn't Cool Anymore," he made a curious declaration: "I create music for the heart and the head, for the beauty and the booty." When, however, was the last time anyone associated shaking their booty to jazz music? Probably not since the swing and big band era of the 1930s and '40s, when people actually danced to jazz. They also sang along to jazz tunes. Vocal standards like "Summertime," "Alone Together," and "Days of Wine and Roses" were written for Broadway or Hollywood. Jazz offered accessible melodies that anyone could hum along to. Then bebop came along after World War II and fans had trouble keeping up. Titans like trumpeter Dizzy Gillespie and saxophonist Charlie "Bird" Parker played music that was hyper-fast and fiendishly complex. The focus was on the virtuoso soloist – not a catchy melody. People stopped singing and dancing to jazz; bebop supplanted the booty. "Bebop found a home in the nightclub and eventually on the concert stage," DeVeaux says. "In both of these venues, there isn't room for dancing. It's understood that the music is there to be listened to." Jazz also became more esoteric, its leaders becoming self-indulgent and playing primarily for themselves. If you were too square to follow, too bad. So when trumpeter Miles Davis started turning his back to the audience while performing live, it symbolized what jazz had already done—it tuned out its audience. "Jazz separated itself from American popular music. Big mistake. The music never recovered," Payton wrote."[31] (bold not in original)
Jazz was the most popular in the United States when people would dance to it while listening to big bands swinging away in the 1930s and first half of the 1940s. In the 21st century, people still buy jazz, attend jazz festivals, and even go to bars and clubs to listen to it live. Contemporary musicians came up as beginners learning how to play in the jazz tradition. Modern players even if their music is not straight-ahead jazz can be found with significant jazzy aspects to be found in their new music, such as drummer Mark Guiliana's tune, "Girl." Click on "Girl" to see and hear the video made for the tune with its trippy drumming, or click here on NPR to see and hear a live version of "Girl" starting from around 12:58 until they end the song at 18:10. Virtually no previous (jazz) musicians could ever have sonically reproduced this tune because of all of the cutting-edge technology employed during its performance by all four musicians: multiple electronic keyboards and synthesizers, drum pad, and filters for the electric bass. Therefore, jazz is not dead because it is still influencing how musicians compose and perform new music.
Since 1945 jazz moved away from being primarily a dance music to more of an art and listening medium. Still, soul jazz and especially Latin Jazz, are easily danceable so these sub-genres of jazz have not 'lost the booty' because the booty can still dance to them. In Guiliana's video for "Girl" the girl is dancing to the music so booty there, baby! Lastly, it is a myth that no one can dance to modern jazz. For a refutation and example videos of dancers jiving to jazz, see the New York Jazz Workshop's website article "Is jazz danceable?".
Miles Davis did not turn his back to an audience because he was arrogant or that he wished to separate his music from what audiences found appealing in popular music. He did it to focus on listening to his bandmates and making sure that their musical performance was excellent, as reported by Miles's biographer Quincy Troupe (b. 1939). Troupe tells us in Miles's biography that he could more easily signal his bandmates when and what to play. Being "a man of few words," he typically did not talk to the audience, or even announce song titles. He let the music speak for itself.
Miles Davis several times explained about his lack of interaction with the audience and it was not because he wanted to turn his back on popular music.
"Nobody ever asks classical orchestra conductors why they have their backs to the audience. The reason is that they're telling the orchestra what to play and when. You don't criticise them for doing it, so why do you criticise me for doing the very same thing?" [32]
The claim that Miles avoided popular music is inaccurate since under the influence of his then-wife, Betty (Mabry) Davis, he listened to Sly and the Family Stone, Jimi Hendrix, and James Brown.[33] In later years his band often featured the tunes "Human Nature" by Michael Jackson and Cyndi Lauper's "Time After Time." He could make audiences weep with how movingly beautiful he could play the trumpet on Lauper's tune.
"It lost the future: Here's a depressing fact for jazz fans: One of the best-selling jazz records today was made in 1959. Davis' "Kind of Blue" still sells a thousand copies a week on vinyl. The persistent popularity of "Kind of Blue" points to a problem with the contemporary jazz genre: Too many people buy the old records; not enough buy the new. According to Nielsen's 2014 year-end report, jazz is the least listened-to music in the U.S. after children's music, the online magazine The Jazz Line reported. Online music streaming isn't helping jazz either. According to the magazine, jazz was the only genre to have its digital album sales fall between 2011 and 2012."[34] (paragraphs integrated; bold not in original)
Here in the 21st century, drummer Mark Guiliana (b. 1980) has been voted best jazz drummer (2017) and collaborated with many major performers and groups at least some of whom are considered jazz musicians. He has played music with Avishai Cohen's (b. 1970) band since 2003 and appeared on stages including the Blue Note Jazz Club in New York's Greenwich Village and in Tokyo, the Standard bank Joy of Jazz Festival in the largest city in South Africa 🇿🇦 Johannesburg, the North Sea Jazz Festival in Holland, so he might just be playing jazz![35]
Additionally, Guiliana has a unit that he records under with the name of "Mark Guiliana's Jazz Quartet."
To prove the point, Guiliana claims he is always influenced by his jazz training when he says, "You know, every time I sit down it's jazz whether it is or not." (Click on quotation for source.)
His dynamic interaction with the musicians listed in the following quotation using jazz drumming techniques proves jazz is still alive and functioning in the contemporary music world. At the least we have the drumming techniques by Guiliana inspired by his jazz training.
"Guiliana was chosen as Best Jazz Drummer in the Modern Drummer Readers Poll 2017, while DownBeat dubbed him a Rising Star in its Critics Poll. JazzTimes aptly proclaimed: "Guiliana, a technical master with a rare sense of musicality, has over the past decade become one of the most influential drummers of his generation." Along with leading his own groups—the acoustic Mark Guiliana Jazz Quartet and electronica-minded Beat Music—the drummer has appeared on a string of acclaimed recordings with others. The verve and precision of Guiliana's drumming was a primer mover of "Blackstar," David Bowie's multiple Grammy Award-winning final album. Guiliana teamed with keyboardist Brad Mehldau as the duo Mehliana for the Nonesuch release Taming the Dragon, and he has also collaborated with such artists as saxophonist Donny McCaslin, guitar hero John Scofield, Soundgarden/Pearl Jam drummer-songwriter Matt Cameron, neo-soul singer-songwriter Meshell Ndegeocello, guitarist-vocalist Lionel Loueke, jazz bassist Avishai Cohen, reggae/hip-hop artist Matisyahu and jazz singer Gretchen Parlato.[36] (bold not in original)
---
Live/Recorded Streaming: Jazz is not dead yet in 2020
Lee Mergner is JazzTimes's Contributing Editor who served the magazine in a multitude of roles between 1990 and 2018, including Editor and Publisher and he reports on his week of live streaming jazz from November 2020.
Lee Mergner, "Jazz Is Alive Online, or My Week of Listening Virtually: Day One, reports on the first day of seven in his immersion into online jazz performances in November 2020, published November 13, 2020. Mergner audiences (1) Harry Allen (tenor saxophone) Trio at Smalls Jazz, (2) John Pizzarelli (guitar) with "It's 5 O'Clock Somewhere: A Musical Social from a Distance," (3) Eric Alexander (tenor saxophone) with David Hazeltine (piano) Jazz Forum at Home, and (4) tablaist Zakir Hussain with guests drummers Mickey Hart & Rakesh Chaurasia for SFJAZZ.
Lee Mergner, "Jazz Is Alive Online, or My Week of Listening Virtually: Day Two, reports on the second day of seven in his immersion into online jazz performances in November 2020, published November 15, 2020; updated December 7, 2020. Mergner audiences (1) Paolo Fresu (trumpeter/flugelhornist) & Daniele di Bonaventura (bandoneonist) for the Italian Culture Institute of Washington, (2) Imani-Grace Cooper (singer and songwriter) at An Die Musik (live streaming of classical, jazz, and world music), (3) Daniela Soledade (Brazilian singer of Bossa Nova) and Nate Najar (accompaning guitarist) for Love & Bossa Nova, (4) Sons of Kemet (new wave of jazz from Great Britain) has Shabaka Hutchins on saxophone and Theon Cross on tuba at SFJAZZ Fridays at Five, (5) Renee Rosnes (piano) Quartet at the Village Vanguard.
Lee Mergner, "Jazz Is Alive Online, or My Week of Listening Virtually: Day Three, reports on the third day of seven in his immersion into online jazz performances in November 2020, published November 16, 2020. Mergner audiences (1) a conversation with Brandee Younger, (2) The Big Blind at the Kurt Elling Cocktail Hour, (3) pianist Ethan Iverson & Thomas Morgan at Mezzrow, (4) keyboardist Patrice Rushen & Billy Childs in Duos & Duets for the Carr Center, (5) Veronica Swift with the Joe Farnsworth Trio at Smoke Jazz Club, (6) Live from Rudy Van Gelder's Studio: Joe Lovano, Ron Carter, Isaiah Thompson, and Kenny Washington, (7) The first lady of song (Ella Fitzgerald) at Jazz at Lincoln Center, hosted by Harry Connick, Jr. with singers Camille Thurman, Marilyn Maye, Diana Krall, Renée Fleming, Audra McDonald, Roberta Gambarini (in a duet with singer, not drummer, Kenny Washington), and Cécile McLorin Salvant, (8) Saturday Night with bassist Marcus Miller & Friends featuring guitarist George Benson & organist Joey DeFrancesco.
Lee Mergner, "Jazz Is Alive Online, or My Week of Listening Virtually: Day Four, reports on the fourth day of seven in his immersion into online jazz performances in November 2020, published November 13, 2020. Mergner audiences (1) Diane Schuur, Carmen Lundy, and Yuko Mabuchi at Palm Springs Women's Jazz Festival, (2) Ted Rosenthal Trio for Live from Ted's Place, (3) vocalist Maysa with Kitchen Karaoke Sundays.
Lee Mergner, "Jazz Is Alive Online, or My Week of Listening Virtually: Day Five, reports on the fifth day of seven in his immersion into online jazz performances in November 2020, published November 13, 2020. Mergner audiences (1) guitarist Anthony Wilson Quartet at Athenaeum Music & Arts Library, (2) pianist Emmet Cohen Trio with Live from Emmet's Place, (3) John Hanrahan Quartet, with Hanrahan (drums), Andrew Dixon (tenor sax), Javier Santiago (piano), and Reed Mathis (electric bass), celebrating the late jazz piano great McCoy Tyner's 1967 Blue Note album "The Real McCoy."
Lee Mergner, "Jazz Is Alive Online, or My Week of Listening Virtually: Day Six, reports on the sixth day of seven in his immersion into online jazz performances in November 2020, published November 13, 2020. Mergner audiences (1) guitarist Dan Wilson Trio for DTC Live at the AV Club, (2) singer Jazzmeia Horn & pianist Keith Brown and the Virgin Island Jazz Collective for the National Jazz Museum in Harlem.
Lee Mergner, "Jazz Is Alive Online, or My Week of Listening Virtually: Day Seven, reports on the seventh day of seven in his immersion into online jazz performances in November 2020, published November 13, 2020. Mergner audiences (1) reedman Adrian Cunningham for Jazz Interludes from Vail Jazz, (2) vocalist Sheila Jordan 92nd Birthday Celebration at Smalls with pianist Alan Broadbent and double bassist Harvie S, (3) bassist Nicki Parrott interviewed by bassist John Clayton for Jazz Cruise Conversations Live.
---
---
What is learned in a jazz instructional setting?
➢ What is meant by jazz techniques?
One way to conceive an answer to the question is to research what publishers of learning to play jazz books have included in their learning jazz manuals. At the JazzFuel website they list twenty-five useful jazz instructional manuals. There are quite a few things that jazz instruction may include such as learning about scales and modes, especially major chords, dominant seventh chords and sus chords, dominant alterations and extensions, flat nine chords, flat 13 chords, augmented dominant chords, altered dominants, Lydian dominant chords, minor six and minor/major seventh chords, half diminished chords, and diminished chords. See JazzFuel.com's "A Guide to Scales and Chords in Jazz." Other technical matters relating to jazz performance include developing one's instrumental technique, transcribing jazz solos, learn jazz standards, learn vocabulary or 'licks,' learn to play the blues, reading about jazz musicians and jazz history, listen to the jazz greats and apply to improvising, find a great teacher, learn how to accompany, play with other jazz students, learn jazz piano, and work on composing.
Another piece of evidence is to consider what music courses include on their syllabi at high schools, colleges and universities. Here is a sample of what is a course of study for budding jazz musicians at Community High Jazz in Ann Arbor, MI:



And the outstanding results achieved with several well received CDs 💿. You can listen to four tracks of the small group Unified Field Theory. Communuity High Jazz can boast they have ten jazz combos.



Here is what is on the syllabus for the Ann Arbor Community High School Intermediate Jazz program:
"Jazz Styles, Jazz Improvisation, History and Social Studies, Instrument-Specific Roles, Reading (Pitch and Rhythm Training), Critical Listening/Transcribing, Jazz Repertoire, Vocabulary for Improv, Ear Training, Technical Studies, Expressive Devices, and Performance Preparation."[37]
---
Wikipedia: 2000s in jazz provides a description of musicians labeled as jazz musicians who became prominent in the 2000s.
Wikipedia: 2010s in jazz provides a description of musicians labeled as jazz musicians who became prominent in the 2010s.
---
---
Conclusions
➢ Which side makes a better case and why?
➢ What methodology should one adopt to determine best response to whether jazz can die?
One approach to the second question dictates that as a methodology, one should determine what dead means in its application to jazz as a music. Let's focus in on that now.
---
---
Can jazz die?
Arguments concluding jazz CANNOT die
I. JCNAD: Jazz cannot be alive 😎 or dead 💀.
(JCNAD 1): Only things that are living biological organisms can die.
(JCNAD 2): Jazz is not a living biological organism.
___________________________________________________________________________
Therefore, (JCNAD-C): Jazz cannot die (since it was never alive as a biological organism).
II. MCND: Music 🎶 cannot die 💀.
(MCND 1): Jazz is music.
(MCND 2): Music is sounds and silences.
(MCND 3): Sounds and silences cannot die.
___________________________________________________________________________
Therefore, (MCND-C): Jazz cannot die .
---
Evaluating the JCNAD argument
The argument does not work for at least two reasons. One, something can die in the sense of not existing anymore, even if not a biological entity. Two, non-biological entities can be alive (see above at "Counter-examples of non-biological beings who could be alive"), so the first premise in the argument is false.
---
Evaluating the MCND argument
Sounds and silences can begin and end. Before they start, there was not that sound or silence. It did not yet exist until it starts. Sounds or silences, once begun, can cease to be. In this sense of no longer existing, this can indeed happen to sounds or silences. A silence can end because of a sound and vice-versa. Not existing or ceasing to exist are ways in which competent language users of English have applied the idea of dying to something. The sentence, "The alarm bell slowly died off," has been said and meant to assert that the noise from the alarm had a gradual reduction in volume until it ceased sounding altogether. Therefore, sounds can die—meaning cease to exist.
➢ Can jazz die in this cease to exist sense?
Yes, the sounds of jazz can cease flying through the air. This is not what Nicholas Payton meant when he said jazz is dead. He meant jazz as a genre either never existed in the first place or that now, since 1959, it is passé, and no one plays it anymore who is hip.
---
---
Reasons why jazz CAN die
If death means ceasing to exist, then jazz perhaps could die in this sense so let's explore that idea.
Suppose that a meteorite hits the Earth incinerating everything on the surface. Now there are no more people, no more recordings, no paper musical scores, and nothing left on the Earth. If you think a meteorite is insufficient, then wait until the expansion of the Sun completely engulfs and removes the Earth as a planet from the solar system in 7.6 billion years from now (or maybe not). And that's just the good part. Long before the sun (possibly) engulphs the Earth, all plant and animal life ceases in 600 million years because of changing carbon dioxide levels in the atmosphere, and it just gets worse from there:
"In about 600 million years from now, the level of carbon dioxide will fall below the level needed to sustain C3 carbon fixation photosynthesis used by trees. Some plants use the C4 carbon fixation method, allowing them to persist at carbon dioxide concentrations as low as 10 parts per million. However, the long-term trend is for plant life to die off altogether. The extinction of plants will be the demise of almost all animal life since plants are the base of the food chain on Earth.


In about one billion years, the solar luminosity will be 10% higher than at present. This will cause the atmosphere to become a "moist greenhouse", resulting in a runaway evaporation of the oceans. As a likely consequence, plate tectonics will come to an end, and with them the entire carbon cycle. Following this event, in about 2–3 billion years, the planet's magnetic dynamo may cease, causing the magnetosphere to decay and leading to an accelerated loss of volatiles from the outer atmosphere. Four billion years from now, the increase in the Earth's surface temperature will cause a runaway greenhouse effect, heating the surface enough to melt it. By that point, all life on the Earth will be extinct. The most probable fate of the planet is absorption by the Sun in about 7.5 billion years, after the star has entered the red giant phase and expanded beyond the planet's current orbit."[38] (bold and bold italic not in original)
➢ Is there anything left that would still be a representation of jazz music and the history of jazz?
The answer to this question of jazz's survival is that radio waves and jazz on the television have been projecting into the vast void of outer space with radio starting in earnest by the 1920s and television hitting its stride in the 1950s in America and the United Kingdom. These electro-magnetic representations of jazz in both sound and pictures still exist in outer space 🪐 after the complete elimination of the planet Earth from existence. Other civilizations besides Earthlings could tune in to this energy and these aliens would be seeing and listening to jazz on the radio and watching it on television. If these aliens are bopping along to Charlie Parker's tune "Confirmation," then we can confirm that jazz still exists even after all evidence on Earth has been incinerated. Indeed, given the relative indestructibility of electromagnetic radiation as it propagates through empty space over time the only thing that could eliminate jazz would be the destruction and non-existence of the entire universe, or at the very least, eliminate that part of the universe within the light cone of Earth for all past evidence of the existence of jazz to disappear.
Even then a supernatural being such as God who cannot be destroyed by definition would know that jazz existed and therefore jazz would still exist in this being's mind and he has an excellent memory this guy.
Electromagnetic radiation is likely good for traveling through outer space for at least 10 to 16 billlion light years. However, given that the universe is at least 13 billion years old it may well be that degradation and extinction of the photons in any electromagnetic transmission can occur. The signals become weaker and more diffuse and harder to pick up and read.
BBC News Magazine reports in their 2008 article "Can our TV signals be picked up on other planets?," (last updated August 6, 2008) that transmissions are only out 50 to 70 light years from Earth and diffusing and getting weaker as they propagate further into outer space.
"But ordinary television and radio broadcasts can also travel out of Earth's atmosphere and through space, albeit quickly becoming mind-bogglingly diffuse and hard to pick up. Space scientist Dr Chris Davis, of the Rutherford Appleton Laboratory, says it is possible that television and radio signals from Earth could be picked up on other planets, but it isn't easy. Some radiowaves, such as those of a short-wave frequency, bounce back off the ionosphere and are therefore poor candidates to be picked up in space. But waves like FM radio or television signals can pierce it and travel through the vacuum of space at the speed of light. . . . As you go into space that power would dissipate. They would need more and more sensitive equipment to pick it up. . . . Of course, no one more than about 50–70 light years away will have yet heard from us, but I figure that our earliest broadcasts are washing over about one new star system each day. So the potential audience is growing.""
"The low density of matter in outer space means that electromagnetic radiation can travel great distances without being scattered: the mean free path of a photon in intergalactic space is about 1023 km, or 10 billion light years. In spite of this, extinction, which is the absorption and scattering of photons by dust and gas, is an important factor in galactic and intergalactic astronomy."[39]
It is even more complicated than this because of red shifting making the light from any galaxy eventually becoming invisible.
"Though, in principle, more galaxies will become observable in the future, in practice, an increasing number of galaxies will become extremely redshifted due to ongoing expansion; so much so that they will seem to disappear from view and become invisible. An additional subtlety is that a galaxy at a given comoving distance is defined to lie within the "observable universe" if we can receive signals emitted by the galaxy at any age in its past history (say, a signal sent from the galaxy only 500 million years after the Big Bang), but because of the universe's expansion, there may be some later age at which a signal sent from the same galaxy can never reach the Earth at any point in the infinite future (so, for example, we might never see what the galaxy looked like 10 billion years after the Big Bang), even though it remains at the same comoving distance (comoving distance is defined to be constant with time—unlike proper distance, which is used to define recession velocity due to the expansion of space), which is less than the comoving radius of the observable universe. This fact can be used to define a type of cosmic event horizon whose distance from the Earth changes over time. For example, the current distance to this horizon is about 16 billion light-years, meaning that a signal from an event happening at present can eventually reach the Earth in the future if the event is less than 16 billion light-years away, but the signal will never reach the Earth if the event is more than 16 billion light-years away."[40] (bold not in original)
This is a reciprocal relationship so that if the alien galaxy is more than 16 billion light years away they could never observe any jazz in the electromagnetic energy coming from Earth.
---
---
Conclusions whether jazz can die
Summary of Evaluations
(S0) People are interested in the topic of whether or not jazz is dead as shown at PoJ.fm's Musician's reveal interest in topic of jazz's death.
(S1) Reasons why jazz could be dead are considered at PoJ.fm's Evaluating why jazz is dead could be true.
(S2) Jazz music was created, performed, innovated, and recorded as well as enjoyed by millions around the world during all decades since 1959 up to the present day as shown at PoJ.fm's Reasons why jazz did not die in 1959.
(S3) Even Nicholas Payton backtracked on his claims that jazz is dead! He now agrees that:
(1) Jazz is not dead.

(2) There is still music and musicians playing jazz today, so jazz exists now and never died in 1959.

(3) He recognizes that he cannot get rid of the word "jazz" as a label for a style of music, whether he wants to or not.

(4) It is both unnecessary to try to get rid of the usage of the word "jazz," and that it would be unrealistic to try to do so.

(5) Most of the music that is currently called jazz IS jazz.
(6) Payton agrees that he respects jazz musicians labeled as such: " . . . if people want to call what they do jazz and whatever comes along with that, I respect that. I'm not trying to change that. Because that deserves to be here, too." (bold and bold italic not in original)
You can read his comments above at PoJ.fm's Nicholas Payton walks back his comments on the death of jazz.
(S4) There are many different usages and meanings for the word "death" some of which do not and cannot apply to jazz and some that might apply as explored at PoJ.fm's Definitions for dead and Types of death and relationships to jazz.
(S5) Reasons are given justifying that jazz can be a style of music at PoJ.fm's Evaluating why jazz is dead is false.
(S6) Seven problems with jazz being dead are presented.
(S7) Evidence is given that musician's such as Mark Guiliana are still playing jazz in the 21st century.
(S8) Two arguments are presented and shown to be flawed at PoJ.fm's Can jazz die?.
(S9) Reasons are offered to prove that jazz can die.
---
---
Internet Resources on jazz is dead
On the jazz is dead side
Monika Herzig (b. 1964), "What the World Needs Now is Jazz," Critical Studies in Improvisation, Vol. 14, Nos. 2–3, special double issue of Critical Studies in Improvisation / Études critiques en improvisation, "Volume II: Improvisation, Musical Communities, and the COVID-19 Pandemic," published May 12, 2021. Jazz is not dead until all of these 21st century musicians stop playing and performing it.
Ben Hughes, "The Death of Jazz," Esquire, August 9, 2007.
Marc Myers, "Who Killed Jazz and When?," JazzWax, May 30, 2008.
John Blake, "When Jazz Stopped Being Cool," CNN, September 26, 2016.
---
On the jazz is NOT dead side
Seth Colter Walls, "Is Jazz Entering a New Golden Age?," The Guardian, July 8, 2016.
Evan Haga, "What's Behind the New Jazz Resurgence?," Rolling Stone, July 31, 2018.
John Lewis, "The New Cool: How Kamasi, Kendrick and Co Gave Jazz a New Groove," The Guardian, October 6, 2016.
Natalie Weiner, "Way Out West: How Flying Lotus, Kamasi Washington and Brainfeeder Are Bringing Jazz Back to the People," Noisey, July 29, 2015.
---
NOTES