Jazz History
---
Click or tap on any subheading of the Contents Outline and you are taken to that section on this page.
Click or tap on any Question/Topic and its page opens up. Any words below colored in bold in these instructions are hot links to the area designated. Click or tap on them to go to that area.
If you have submitted your email in the Join Us link (located in the upper right corner on the top of the HOME page menu bar or under the Navigation menu on top left of each page) and have received a confirmation reply email, you may then edit the website as a writer/editor.
To Login as a writer/editor, click on Personal located at the top left of the page, then click on login. To upload an image it must be either a .jpg, .jpeg, .png, or .gif and preferably a Creative Commons Zero (CC0) license. This means the pictures are completely free to be used for any legal purpose and free for personal and even commercial use. They can be modified, copied and distributed without asking for permission or setting a link to the source, so that attribution is not required. Click on the Tools menu bar located at top of page on right then fifth item down that says Upload file. Please read under the Wiki menu (located on home page or under Navigation menu), PoJ.fm's Format Philosophy for the Procedures and Protocols for uploading an image.
---
---
JAZZ HISTORY[edit]
Smithsonian Jazz Oral History Program "contains over 100 transcriptions and recordings of oral histories of NEA Jazz Masters as part of the Smithsonian Jazz Oral History Program in partnership with the National Endowment for the Arts. Established by the Smithsonian's National Museum of American History in 1992, the Program seized the opportunity to document more than one hundred senior jazz musicians, performers, relatives, and business associates. Each interview was conducted by a jazz authority and was recorded on digital audiotape by a professional audio engineer. The interviews average six hours in length and cover a wide range of topics including early years, initial involvement in music, generally, and jazz specifically, as well as experiences in the jazz music world, including relationships to musicians."
---
---
On the Word "Jazz"[edit]
---
---
One of the most user-friendly presentation of the etymology of "jazz" was "When 'Jazz' Was a Dirty Word" in 2013 by Terry Teachout in the Wall Street Journal.
Introduction to the History of Jazz[edit]
Jazz has evolved from several different types and strains of music and has itself produced numerous jazz styles. It has always been hybrid music (a combination of types). Pre-cursor music to jazz was European twelve-tone classical music, African rhythms, Ragtime, marches, brass bands, chamber orchestras, work songs, spirituals, church call and response, Dixieland, and even opera. Jazz's origins can be traced to specific geographical locations starting with New Orleans (Jelly Roll Morton, King Oliver, Louis Armstrong, Sidney Bechet), Chicago (where Oliver and Armstrong went from New Orleans), New York City, Kansas City, Chicago, St. Louis, Philadelphia, Baltimore, and Los Angeles.
The origins of jazz are obscure due to the lack of recording technology. Credit is due to the Original Dixieland Jazz (or Jass) Band in 1917 for making the first recorded jazz. The music was developed primarily by people of color (non-white), especially Afro-Americans and Creoles (people with mixed heritage). The genre was nurtured by urban musicians in New Orleans and played in whorehouses, funeral services, parades, and dance halls.
Although there is controversy over the definition of jazz, everyone agrees that its most significant element and part of the essence of jazz performance is improvisation. Improvised music consists of making music up on the spot as a spontaneous composition. The jazz artist must produce new music often formed from an established melody or group of chord changes, modes, or musical forms (melody, harmony, rhythm).
---
"While jazz history benefits greatly from the fact that the many of the major figures involved have lived documented lives—and good jazz history must involve the remembrances of the people involved—Kelley is correct in his assertion that oral history needs to be checked and balanced with other sources. It is important to remember that while oral history is an invaluable supplement to other sources, it is not itself a primary source. Too much reliance on oral history can perpetuate myths, particularly myths that the musicians or the person compiling the oral history have reason to emphasize. This overreliance on oral history is particularly problematic in relation to writings on the blossoming of bebop. Ira Gitler's Swing to Bop is one of the most popular sources for facts about the story of how bebop began, but in fact the book only offers various musicians' opinions and anecdotes. Ultimately, the only primary sources regarding jazz music itself are audio and video recordings, sheet music manuscripts, and photographs. Everything else has been processed by a person somewhere between the music and the historian who is publishing it." [1] (bold and bold italic not in original)
These claims of Christopher Dennison go too far. It is false that the only primary sources regarding jazz are audio and video recordings, sheet music manuscripts, and photographs. Just because oral histories are subject to error and distortion does not preclude their value as information. If ten different musicians not influenced by a central author all report that Charlie Parker played in a particular manner, then the group's agreement on these observations can be a source of truth. Oral histories need corroboration to provide further justification for believing any generated claims, but they still count as evidence to various degrees of usefulness for discovering what happened.
---
Early Jazz History[edit]
History of the Phonograph[edit]
Thomas Alva Edison invented the phonograph (literally meaning "sound writer") in 1877 using tinfoil discs. Edison was not the first to invent a mechanical device that could record sound. The very first recording device was developed by a Frenchman Edouard-Leon Scott de Martinville and patented on March 25, 1857. His device could record sound to a visible medium, but had no means to play back the sound after it was recorded. Edison's device could do so. However, Edison's use of tinfoil for his recording and playback medium was impractical as the tinfoil tore easily, its sound was distorted and squeaky, and it was good for only a few playbacks.
A distinct improvement in sound quality and longevity was accomplished by Alexander Graham Bell at Bell's Volta laboratory in Washington, D.C. using waxed cylinders. Bell and his two associates developed the wax cylinders beginning in 1879 and patented the technique in 1886.
---
Eight Major Revolutions in Jazz[edit]
---
Swing era musicians ordered by lifespan with hyperlinks to biographies at Wikipedia[edit]
---
Table of Jazz Musicians by Decade and Instrument[edit]
Tables organizing musicians by dates are problematic. By what criteria should a musician's name be associated with a date? Should it be when he or she is born? No, they have not yet developed musical skills or accomplishments. Even after picking a criterion, it remains a challenge precisely where to put a particular musician into which time period.
The following table uses the criterion of placing musicians into time periods when they first came to prominence. Most of these musicians then remained active in the field for several more decades although their names are not repeated later in the table.
Tables at PoJ.fm use the following abbreviations table to abbreviate the names of musical instruments.
---
Abbreviations Table of Musical Instruments hyperlinked to Wikipedia[edit]
---
Table of Musicians by Decade and Musical Instruments[edit]
NOTE: In this table, one can click on any item as a hyperlink for more information except for the top headings or musical instruments' abbreviations.
---
Early Jazz Styles and Some of Their Representatives[edit]
Early Jazz[edit]
Dixieland – (Original Dixieland Jazz Band)
---
Ragtime – (Scott Joplin (p))
---
Table of Early Jazz Musicians by Instrument and Lifespan Dates[edit]
Ragtime, Dixieland, Piano Professors
Migration from New Orleans to other large cities (Chicago, New York, Los Angeles, Kansas City, Memphis, etc.)
NOTE: Click on musician's name or musical instrument below for more information.
| Musician | Instrument | Lifespan Dates |
| --- | --- | --- |
| | | 1877–1930 |
| | | 1885–1938 |
| | | 1886–1973 |
| | | 1889–1933 |
| | | 1889–1961 |
| | | 1890–1941 |
| | | 1890–1966 |
| | | 1892–1940 |
| | | 1897–1959 |
| | Stride piano | 1897–1973 |
| | Piano | 1898–1971 |
| | Cornet, Trumpet | 1901–1971 |
| | Cornet | 1903–1931 |
| | Piano | 1903–1983 |
| | Cornet | 1905–1965 |
| | Piano | 1909–1956 |
---
(Original Dixieland Jazz Band)
Jazz in the 1920's: Ragtime & Blues[edit]
Original Dixieland Jazz Band, Joe "King" Oliver (cornet), Louis Armstrong (trumpet), Jelly Roll Morton (piano), Bix Beiderbecke (trumpet), Sidney Bechet (clarinet)[edit]
---
Jazz in the 1930s: Big Band & Swing: Big band orchestras of: Benny Goodman, Duke Ellington, Count Basie[edit]
1931–1957
Count Basie, Benny Goodman, Duke Ellington, Louis Armstrong, Earl Hines, Jimmie Lunceford, Tommy Dorsey, Mills Blue Rhythm Band, Fletcher Henderson, Woody Herman, Artie Shaw, Chick Webb, Don Redman, Charlie Barnet, Casa Loma Orchestra, Lionel Hampton & Claude Hopkins, Georgie Auld, Cab Calloway, Bob Crosby, Jimmie Dorsey, Teddy Hill, Harry James, Gene Krupa, Stan Kenton, Glenn Miller, Shorty Rogers, Pete Rugolo, and Jack Teagarden.
1930–40s: Buddy Tate, Earle Warren, Jo Jones, Dickie Wells and Buck Clayton, Andy Kirk, John Hammond.
---
Swing era musicians ordered by lifespan with hyperlinks to biographies at Wikipedia[edit]
---
Big Band Jazz (1920's-1940's)[edit]
Michael Verity explains below in green font how jazz began to switch from group and big band arrangements in the late 1930's-early 1940's to increased emphasis on individual solo improvisations. The innovations of Coleman Hawkins (1904-1969) and Lester Young (1909-1959) helped lead to further developments later in Bebop.
"In 1922, Coleman Hawkins moved to New York, where he joined Fletcher Henderson's (pictured below) orchestra. Inspired by Louis Armstrong who briefly toured with the group, Hawkins resolved to create an individualistic improvisation style.


The primacy of the soloist was budding thanks to Armstrong's Hot Five recordings on Okeh Records. Famous songs included "Struttin' With Some Barbecue," and "Big Butter and Egg Man." Saxophonist Sidney Bechet's virtuosity was documented as well, with his 1923 recording of "Wild Cat Blues" and "Kansas City Blues."

In 1927, cornetist Bix Beiderbecke recorded "In a Mist" with C-melody saxophone player Frankie Trumbauer. Their refined and introspective approach contrasted with the gregarious New Orleans style. Tenor saxophonist Lester Young brought the style to prominence, and offered an alternative to the gruffer playing of Coleman Hawkins.

It wasn't just in tone that the two differed. Young's specialty was embellishing and creating melodies, while Hawkins became an expert at outlining chord changes by playing arpeggios. The convergence of these two approaches were integral in the development of bebop in later years."[2] (bold not in original)
"Sweet" Big Band Dance Orchestras - "sweet" meant more lyrical, slow, and popular (as represented by Paul Whiteman's band)
---
"Hot" Big Band Dance Orchestras - "hot" meant faster, energetic, more powerful – (as represented by Glenn Miller or Fletcher Henderson's Orchestras)
Glenn Miller
---
Fletcher Henderson
---
Swing Bands (1935-1945)[edit]
Swing - Swing music became popular around 1935 (although it began in the 1920s). It is distinguished by a more supple feel than the more literal 4/4 timing of earlier jazz with a walking bass line developed by Walter Page – (Duke Ellington's or Count Basie's Orchestras)
---
Duke Ellington[edit]
Edward Kennedy "Duke" Ellington
---
Count Basie[edit]
William "Count" Basie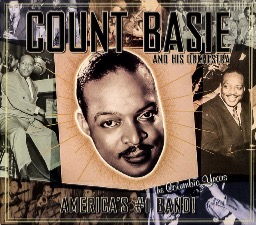 ---
Table of Bebop Musicians by Instrument (early 1940's-1955)[edit]
Bebop developed in the 1940's and is characterized by sophisticated improvisations involving fast tempos with rhythmic unpredictability and harmonic complexity. Wikipedia: Bebop explains that Bebop musicians "explored advanced harmonies, complex syncopation, altered chords, extended chords, chord substitutions, asymmetrical phrasing, and intricate melodies." The term "bebop" is an onomatopoeic reference to the accented melodic lines and references the rhythmic punches heard in the music. A typical Bebop band consisted usually of saxophone and trumpet with rhythm sections of piano, bass, and drums. Because the band had fewer members bebop shifted musical focus from complex band arrangements to increased improvisation and interaction between members. The Bebop rhythm section (piano, bass, drums) innovated as well in that their roles were expanded from just being time-keepers to interacting with soloists and adding their own embellishments. Bebop drummers Kenny Clarke and Max Roach often get credited for shifting focus from the bass drum to the ride cymbal as the main time-keeping element of the drum set.[3] This permitted greater flexibility in a group's overall sound and allowed soloist's room to experiment with rhythm while enabling drummers to interact more easily with soloists.
---
SWING ERA including trumpeters Joe Guy, Hot Lips Page, Roy Eldridge
---
Jazz in the 1940's: Roy Eldridge (trumpet), Coleman Hawkins (tenor saxophone), Ben Webster (tenor saxophone), Lester Young (tenor saxophone)[edit]
---
Jazz in the 1950's – Bebop: Charlie "Bird" Parker (alto saxophone)[edit]
---
Cool Jazz, West Coast Jazz, Hard-Bop and Modern Mainstream[edit]
Cool Jazz: Miles Davis, Dave Brubeck, Modern Jazz Quartet, Lee Konitz, Gerry Mulligan, Shorty Rogers, Tony Scott & Bill Evans, J. J. Johnson, Lennie Tristano.
West Coast: Stan Getz ("West Coast Jazz"), Chet Baker ("Chet Baker and Crew"), Gerry Mulligan ("California Concerts"), Chico Hamilton ("Quintet; With Strings Attached"), Harold Land ("West Coast Blues"), Jimmy Giuffre ("Jimmy Guiffre 3"), Herb Geller, Barney Kessel, Clifford Brown, Tadd Dameron, Serge Chaloff, Shelly Manne, Art Pepper ("Surf Ride"), Shorty Rogers, Bill Perkins ("Octet"; "On Stage"), Howard Rumsey ("Howard Rumsey's Lighthouse Allstars"; "Lighthouse at Laguna"), Marty Paich ("I Got a Boot Out of You"), Curtis Counce ("Carl's Blues"), Stu Williamson ("Stu Williamson Plays"), Red Callendar ("Swingin' Suite"), Gerald Wiggins ("Trio"; "Wiggin' with Wig"), Bob Brookmeyer ("The Modernity of Bob Brookmeyer"), Dave Pell ("Octet"; "Love Story"), Teddy Edwards ("Sunset Eyes").
Hard Bop: Clifford Brown, John Coltrane, Sonny Rollins, Art Blakey, Cannonball Adderley, Thelonious Monk, Lee Morgan, Horace Silver, Jimmy Smith, Cannonball Adderley, Nat Adderley, Art Blakey, Thelonious Monk, Sony Clark, Paul Chambers, Miles Davis, Kenny Dorham, Dexter Gordon, Johnny Griffin, Thad Jones, Jackie McLean, Charlie Mingus, Hank Mobley, Max Roach, Prestige All-Stars.
Modern Mainstream: Dizzy Gillespie, Mose Allison, Kenny Burrell, Al Cohn, Zoot Sims, Herb Ellis, Erroll Garner, Dizzy Gillespie, Sonny Rollins, Sonny Stitt, Milt Jackson, J. J. Johnson, Kai Winding, Quincy Jones, Oscar Peterson, Buddy DeFranco, Oscar Peterson, Zoot Sims, Birdland Stars, Four Brothers.
---
Cool jazz/West Coast jazz — (Miles Davis (tr), Chet Baker (tr), Gerry Mulligan (bs), Dave Brubeck (p), Lennie Tristano (p))
---
Bossa Nova — Brazilian music and jazz (Stan Getz (ts))
---
Modal Jazz — (Miles Davis's "Kind of Blue")
---
Hard Bop — (Art Blakey's Jazz Messengers, Horace Silver (p), Clifford Brown (tr), Lou Donaldson (as), Max Roach (d), Miles Davis (tr) in the early 1950's, Jimmy Smith (org), Stanley Turrentine (ts), Julian "Cannonball" Adderley (as), Johnny Griffin (ts), Eddie "Lockjaw" Davis (ts), Kenny Clarke/Francy Boland Big Band, Charlie Rouse (ts,fl))
Horace Silver, Cannonball Adderley, the stark, astringent, tormented music of saxophonists Jackie McLean, and Tina Brooks; the gentler, more lyrical contributions of trumpeter Art Farmer, pianists Hank Jones and Tommy Flanagan, composer Gigi Gryce; and such consciously experimental and truly one-of-a-kind players and composers as Andrew Hill, Sonny Rollins, John Coltrane, Charles Mingus.
---
Free jazz — (Ornette Coleman (ts,as,vio,tr), Peter Brötzmann (as), Albert Ayler (ts,as))
---
Soul Jazz — (Cannonball Adderley (as), Horace Silver (p))
---
Latin Jazz — (Machito (voc, conductor, maraca's), Tito Puente (timbales), Cal Tjader (vibes), Poncho Sanchez (congas))
---
Third Stream — classical music & jazz (Paul Whiteman (viola, violin, conductor), Gunther Schuller (theorist, conductor, French horn, fl), Modern Jazz Quartet)
---
Jazz-Rock fusion — (post 1969 Miles Davis, Mahavishnu Orchestra, Weather Report, Return to Forever)
---
Table of Post Bop jazz musicians by instrument [edit]
---
Table of Post Bop Jazz Vocalists[edit]
---
World fusion jazz — (Shakti, Nguyen Le)
---
Heavy Metal Jazz — (Last Exit)
---
Creative Improvised Music — heavy blowing, traditional/non-traditional, and free (Sun Ra, Peter Brötzmann, Anthony Braxton, AACM, Henry Threadgill)
---
color
---
---
Internet Resources on Jazz History[edit]
Jazz Timeline from Jazz in America (Herbie Hancock Institute, formerly Thelonious Monk Institute)

Jazz Family Tree by Styles & Dates (1863-1980)
Wikipedia: Jazz drumming

Wikipedia: Improvisation

"Jazz at 100" University of Virginia's WTJU 91.1 FM 📻

"One hundred years of jazz recordings in 100 one-hour programs that will present representative music from a century of recorded jazz history since the 1917 recordings by the Original Dixieland Jazz band. The series explores the broad sweep of that narrative, its representative and its idiosyncratic players, its durable movements and dead ends, and its popular recordings and rarities."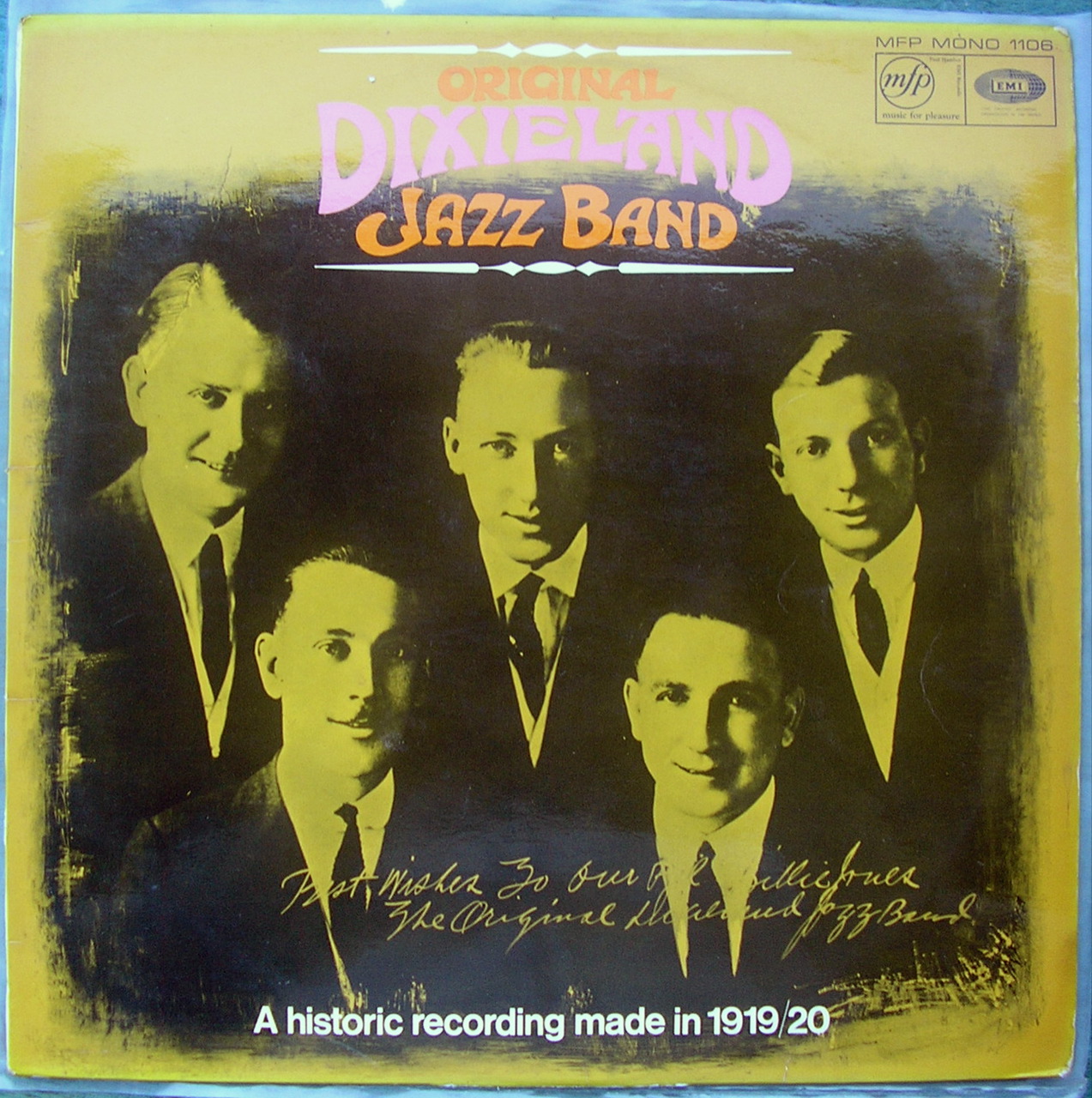 ---
↑ Christopher Dennison, Primary Sources: An Examination of Ira Gitler's "Swing to Bop and Oral History's Role in the Story of Bebop, M.A. thesis, Graduate School-Newark, Rutgers University, The State University of New Jersey, May, 2015, 6-7.
↑ "Jazz by Decade 1930-40" by Michael Verity at ThoughtCo.com
↑ "The man given credit for founding Bop (or "klook-mop") drumming is Kenneth (Klook) Clarke, who was born in Pittsburgh, Pennsylvania in 1914. He had the house band at Minton's Playhouse in New York, where, along with musicians such as Thelonious Monk, Charlie Parker, and Dizzy Gillespie, they experimented with, and developed the bebop style of playing. Clarke had been experimenting prior to this, in the late thirties, and had been let go by Louis Armstrong and Teddy Hill because of it. Clarke's playing was said to be a model of solidity and good taste, and his use and non-use of the bass drum was widely copied. Clarke influenced many young drummers, including Max Roach, in the early forties." (Thomas Shultz, A History of Jazz Drumming, 1979, 123)