Jazz Resources
Click or tap on any subheading of the Contents Outline and you are taken to that section on this page.
Click or tap on any Question/Topic and its page opens up. Any words below colored in bold in these instructions are hot links to the area designated. Click or tap on them to go to that area.
If you have submitted your email in the Join Us link (located in the upper right corner on the top of the HOME page menu bar or under the Navigation menu on top left of each page) and have received a confirmation reply email and clicked on link to approve your email, you may then edit the website as a writer/editor.
To Login as a writer/editor, click on Personal located at the top left of the page, then click on login. To upload an image it must be either a .jpg, .jpeg, .png, or .gif and preferably a Creative Commons Zero (CC0) license. This means the pictures are completely free to be used for any legal purpose and free for personal and even commercial use. They can be modified, copied and distributed without asking for permission or setting a link to the source, so that attribution is not required. Click on the Tools menu bar located at top of page on right then fifth item down that says Upload file. Please read under the Wiki menu (located on home page or under Navigation menu), PoJ.fm's Format Philosophy for the Procedures and Protocols for uploading an image.
---
---
General Jazz Resources
---
---
Jazz Bibliography
---
Useful Jazz Websites

Smithsonian Jazz Oral History Program
"These transcriptions and recordings of oral histories of NEA Jazz Masters are part of the Smithsonian Jazz Oral History Program in partnership with the National Endowment for the Arts.



About the Smithsonian Jazz Oral History Program: Established by the Smithsonian's National Museum of American History in 1992, the Program seized the opportunity to document more than one hundred senior jazz musicians, performers, relatives, and business associates. Each interview was conducted by a jazz authority and was recorded on digital audiotape by a professional audio engineer. The interviews average six hours in length and cover a wide range of topics including early years, initial involvement in music, generally, and jazz specifically, as well as experiences in the jazz music world, including relationships to musicians." (bold not in original)
---
Jazz Library is a free and open source jazz piano textbook, in process. Discovery practical ideas and techniques for improving your jazz piano playing, including voicings, scales, lead sheet approaches, chord substitutions and more.
---

The National Jazz Archive United Kingdom
is the United Kingdom's (UK) 🇬🇧 research and information centre for the history of jazz, blues, and related music holding the UK's finest collection of written, printed and visual material on jazz, blues and related music from the 1920s to now documenting, preserving and making accessible the past, present and future of jazz and related musics
---

National Jazz Museum in Harlem located at 58 West 129th Street, Harlem, New York, NY 10027 (212) 348-8300 email: info@jmih.org

Open everyday from 11:00 am until 5:00 pm, except closed Tuesday and Wednesday and all Federal holidays.

The mission of the National Jazz Museum in Harlem is to preserve, promote, and present jazz by inspiring knowledge, appreciation and celebration of jazz locally, nationally, and internationally.
---

Jazz and European Cultures: Rhythm Changes
dedicated to bringing researchers together, in Europe
---

Institute of Jazz Studies, Rutgers, Newark, New Jersey

The mission of the Institute of Jazz Studies is to collect, preserve, and make accessible the heritage of jazz, an American art form that has been embraced by the world. Vision: The Institute of Jazz Studies will be a leader in fostering the recognition of jazz as a seminal American contribution to world culture by sharing its unique holdings and expertise through emergent technologies and innovative programming. Goals: Collect, preserve, and make accessible the materials in the Institute of Jazz Studies archives to the growing field of jazz scholarship and research, to the jazz community, the media, and other legitimately interested parties.
---

Journal of Jazz Studies,
(formerly the print journal Annual Review of Jazz Studies) is an open-access peer reviewed online journal published by the Institute of Jazz Studies at Rutgers, The State University of New Jersey, providing a forum for jazz scholarship from technical analyses to oral history to bibliography to cultural interpretation
---
---

​Current Research in Jazz (Open source)
---

Leeds College of Music Jazz Archive
(1) Ted Heath's manuscript band scores and parts. Ted Heath led Britain's greatest post-war big band.
(2) Max Abrams diaries, scrapbooks and correspondence give a detailed insight into the life of this well-known drum teacher who got jobs for his students with the top big bands.
(3) Joe Daniels's Band sets, both original and published arrangements, whose drumming career lasted from the 1920s to the 1970s.
(4) Reel to reel tapes of around 5,000 hours of recordings of Duke Ellington, some of which have never been made available commercially.
(5) There are many thousands of recordings available in the archive, including 33rpm albums, 78rpm discs, home-recorded cassette tapes and a huge CD collection.
(6) Ronnie Aldrich Band set scores. He was the pianist in The Squadronaires from 1940 and later famous for his Phase 4 stereo recordings exploiting the stereo possibilities of two pianos.
---

Chicago Jazz Archive The Chicago Jazz Archive was founded in 1976 to preserve materials on the birth and early growth of Chicago jazz spanning more than eight decades of Chicago and general jazz history.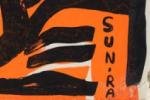 ---

Hogan Jazz Archive, Tulane, New Orleans
---

​International Jazz Collection, Idaho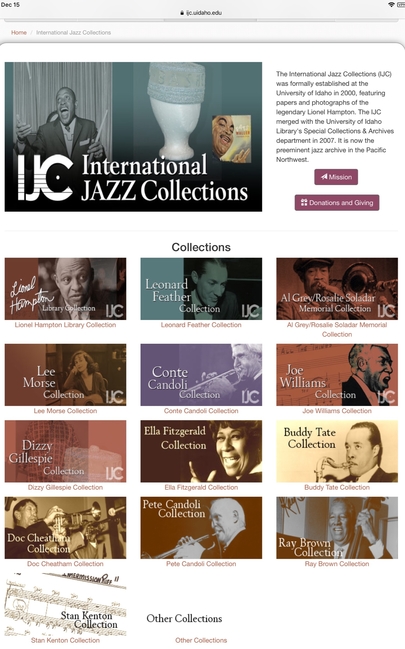 ---

​International Research and Information Center on Jazz, Darmstadt

---

British Library; Jazz in Britain, Oral History
---

​
Alan Lomax Archive, Cultural Equity Organization
---

Gene Lee's Jazz Newsletter Archive
---

Noal Cohen's Jazz History Website: Other Jazz Websites of Interest
---

Washington, D. C. Jazz Network
---

The Richard F. Wright Jazz Archive,
University of Kansas
---

---

---

---
Jazz Interviews
Interviewed by August Blume, June 15, 1958, Courtesy of the Slought Foundation
Interviewed by Kaname Kawachi, July 9, 1966, Japan
Interviewed by Frank Kofski, August 18, 1966, Courtesy of Pacifica Radio Archives
50 Jazz Inspirational Video Interviews from JazzAdvice.com: Click on the JazzAdvice link to see and hear interviews with these artists.
---
---
Jazz Quotations
♦ Quotations from Jazz musicians, composers and fans at APassionForJazz.net
♦ Jazz Quotations They claim to be the #1 Resource on the Web for Quotations and Sayings about jazz.
---
"Jazz speaks for life. The Blues tell the story of life's difficulties and if you think for a moment, you will realize that they take the hardest realities of life and put them into music, only to come out with some new sense of hope or triumph. This is triumphant music. Modern Jazz has continued in this tradition, singing the songs of a more complicated urban existence. When life itself offers no order, the musician creates an order and meaning from the sounds of the earth which flow through his instrument. Everybody has the Blues. Everybody longs for meaning. Everybody needs to love and be loved. Everybody needs to clap hands and be happy. Everybody longs for faith. In music, especially this broad category called Jazz, there is a stepping stone toward all of these." (Dr. Martin Luther King, Jr., opening speech at the 1964 Berlin Jazz Festival) (bold and bold italic not in original)
♦ "Storytelling in Jazz Improvisation: Implications of a Rich Intermedial Metaphor," at "Storytelling in Jazz Improvisation: Implications of a Rich Intermedial Metaphor," Sven Bjerstedt, (accessed January 30, 2019).
---
---
Jazz Glossary
About the Jazz Glossary: The Jazz Glossary is a multimedia index of vocabulary specific to the interdisciplinary field of jazz. It includes more than 250 terms ranging from the sounds and techniques of jazz music to relevant cultural and historical phenomena. (Terms that apply more generally to all musics are not included.) The terms contained in the Jazz Glossary were developed from a number of sources, and edited by John Szwed of Columbia University. Special thanks for their help to Professor Chris Washburne of Columbia University and Professor Lewis Porter and the graduate students of the Master's Program in Jazz History and Research of Rutgers University-Newark.
---
---
Jazz Slang
♦ "What is Hip?" and other inquiries in jazz slang lexicography" A revision of a paper given at the Music Library Association New York State-Ontario Chapter meeting in Buffalo, N.Y. on 14 October 1999 by Rick McRae, associate librarian of the music library at the State University of New York at Buffalo.
---
On Improvisation
---
---
How Does Jazz Work?
Miles Davis and John Coltrane
---
History of Jazz
♦ See PoJ.fm's own Ep16. What are jazz legend's notable accomplishments?
♦ The Atlantic Monthly (Online) All jazz-related articles 1922 to 2003.
♦ "Hear the Earliest Surviving Radio Broadcast by Duke Ellington, A Historic Find, in Deep Dive," by Lewis Porter, October, 4, 2018.
---
---
The Jazz Track
♦ The Jazz Track is an itinerary for visiting jazz-related places (particularly big band and traditional jazz) in the United States 🇺🇸 by car over 13 days to follow the route of jazz via travels to the following cities: New York City → Chicago → Kansas City → Memphis → New Orleans.
---
Jazz-Philosophy Fusion

JazzPhi (pronounced "Jazz-Fye") is a new subgenre of music, created by Prof. James Tartaglia, that uses jazz to approach philosophical ideas. For the philosophy behind JazzPhi see What is the Philosophy behind JazzPhi?.
---
SoulandJazzandFunk
♦ SoulandJazzandFunk website by Bill Buckley and Charles Waring.


Soul and Jazz and Funk, an independent soul news and reviews website compiled by Charles Waring and Bill Buckley, two of the UK's most experienced and respected Soul music writers. Both Charles and Bill have written for Blues and Soul magazine for over ten years and their contributions and album reviews have always been accepted as fair, sound and accurate. At the same time Charles and Bill have contributed to a number of other magazines - Melody Maker, Sounds, (Black) Echoes, MOJO and Record Collector. Between them, they have compiled dozens of albums for major and independent Soul labels and written hundreds of sleeve notes. Their work has allowed them to interview countless Soul artists.
---
Ph.D. in Jazz & Improvisation
♦ Effortless Mastery Institute, with Director Kenny Werner who wrote Effortless Mastery.
---
Jazz Around the World
♦ Jazz in India Taj Mahal Foxtrot: The Story of Bombay's Jazz Age
♦ Polish Jazz For Dummies: 60 Years Of Jazz From Poland written by Cezary L. Lerski
---
---
Jazz & Philosophy Intermodal Conference 2017 & 2019 Participants
Dr. David C. Ring
Dr. David C. Ring was Co-Director for JPIC 2019 & 2017, Philosopher, Orange Coast College
"The Universe is not only queerer [stranger] than we suppose, but queerer [stranger] than we can suppose."
(J. B. S. Haldane (1892-1964), British evolutionary biologist, in Possible Worlds and Other Papers (1927), p. 286)
 

Co-Director for the Jazz & Philosophy Intermodal Conference for 2017 & 2019, Dr. David C. Ring retired in 2015 after fifteen years at Orange Coast College in Costa Mesa, CA as a full professor and chair of the Philosophy department.

---

EDUCATION:

Attending Cornell University and studying philosophy under Robert Stalnaker (undergraduate advisor), Jaegwon Kim, Norman Kretzmann, Richard Boyd, and Norman Malcolm, Dr. Ring went on to receive his M.A. and Ph.D. in philosophy from the University of Wisconsin-Madison (1974-82) writing on Descartes's theory of ideas: "Material Falsity, Objective Reality, and Representation in Descartes's Theory of Ideas," under dissertation supervisor Terry Penner, with a minor in psychology and the history of science.

TEACHING CAREER:

Dr. Ring has taught philosophy at:

University of Wisconsin-Madison (1975-1982) (T.A.)
University of Texas at Austin (1982-1983) (tenure track)
North Carolina State University (post-doctoral fellowship in logic) (1985-86)
University of Texas at Arlington (1989-90)
Southern Methodist University (1984-89; 1991-95)
Pasadena City College (1995-96)
California State University Long Beach (1995-97)
Long Beach City College (1996-99)
Cerritos College (1998-99)
Orange Coast College in Costa Mesa, CA (1999-2015)

 

---

INTEREST IN PHILOSOPHY OF JAZZ:

During his sabbatical at Orange Coast College in 2009, Dr. Ring began working in the philosophy of jazz.  That work led to the eventual development of a new editable Mediawiki website devoted to the subject: PhilosophyOfJazz.net or PoJ.fm begun in March, 2016, with the help of web designer Glenn Zucman, of gzdesign.

Working with long time collaborator, Dr. Charles Otwell, Ring and Otwell gave a talk at Northern Arizona University on the complexity of defining jazz using a Galactic model on March 31, 2016.  This talk and questions and answers can be viewed here: PoJ.fm videos, as well as a film made on the same subject matter during Dr. Ring's sabbatical with the help of videographer and editor Kyle Trulin, and Orange Coast College faculty and jazz musicians, Charles Otwell, Joe Poshek (pictured above), Dave Murdy, and Dana Wheaton (pictured second).

 
---