OntmetaBadMiles
(Montreux, Switzerland
Photo by Dennis Jarvis)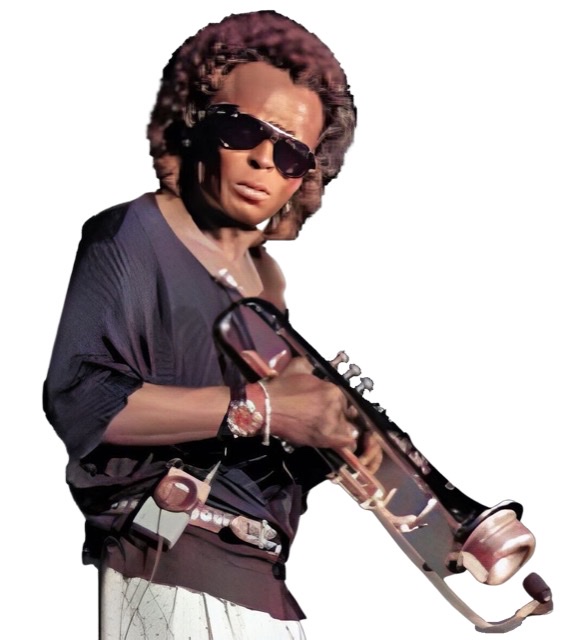 (Photo by Lajos Jardai at Colozine)
---
Notable Achievements:[1]
"arguably the most influential jazz musician in the post-World War II period, being at the forefront of changes in the genre for more than 40 years."[2]

(bold and bold italic not in original)
cool[3] persona

and

dresser.[4]


"By 1960 Miles was a GQ fashion plate and on Esquire's best-dressed list. Ever ahead of the pack, he'd already moved on to slim-cut European suits. Press releases for upcoming concerts detailed the sartorial as well as musical program."[5]

"Throughout his four decades in jazz, in which he was at the forefront of every major innovation, Miles Davis always shunned the stale and the hackneyed—what he called "warmed-over turkey." This artistic integrity, this determination to be unpredictable, to stand for the new and to take risks, is key to understanding Davis's chameleon-like role as style icon."[6]

(bold not in original)

 

stylist innovator (hard bop, cool, modal, jazz/rock fusion, rap hip-hop jazz on the album "Doo-Bop" with rapper Easy Mo Bee).


"formed a nonet with arranger-pianist Gil Evans, saxophonists Gerry Mulligan and Lee Konitz, and pianist John Lewis to record his first major musical statement, "Birth of the Cool," using the standard piano, bass, and drums rhythm section, along with the nonet's horn section of French horn, tuba, trombone, and alto and baritone saxophones, lending the band a unique harmonic 'cool' sound"; (hence birth of the cool)."

[7]
in a professional career lasting 50 years, he was at the forefront of Bebop, cool, Hard bop, orchestral jazz (Third Stream), Modal jazz, Jazz-rock fusion and Techno-funk.[8]
"played the trumpet in a lyrical, introspective, and melodic style, often employing a stemless Harmon mute to make his sound more personal and intimate."

[8]
attended for a year the Institute of Musical Art in New York City (renamed Juilliard) in September 1944.
joined Benny Carter's band and made his first recordings as a sideman (1945).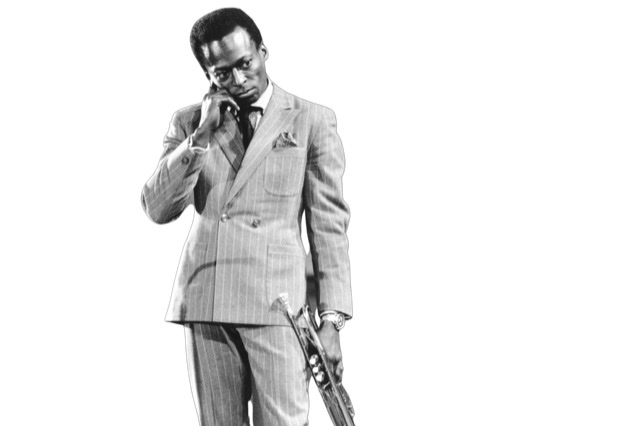 (performing onstage circa 1959 in West Germany photographed by Michael Ochs)


played with Billy Eckstine in 1946–1947.


member of Charlie Parker's group in 1947–1948.
recording debut as a leader on a 1947 session that featured Charlie Parker, pianist John Lewis, bassist Nelson Boyd, and drummer Max Roach.


recorded three sessions (Jan. 21 & Apr. 22, 1949; March 9, 1950) in New York City that became the "Birth of the Cool" compilation album released on Capitol Records (1957). Wikipedia: Birth of the Cool reports that the music featured

"unusual instrumentation and several notable musicians, the music consisted of innovative arrangements influenced by classical music techniques such as polyphony, and marked a major development in post-bebop jazz."




🔵 "Kind of Blue: How Miles Davis Changed Jazz"
recorded the landmark modal jazz album "Kind of Blue" with his first great sextet Bill Evans on piano, Paul Chambers on bass, Miles on trumpet, John Coltrane on tenor saxophone, and Cannonball Adderly on alto saxophone. Wynton Kelly on piano only on the song "Freddie Freeloader", and Jimmy Cobb on drums (not seen in photograph). The album is ranked #12 on Rolling Stone's 500 Greatest Albums of All Time.


formed his "second great quintet" of [reading left to right in photograph below] Herbie Hancock on piano/keyboards, Miles on trumpet,

Ron Carter on bass, Wayne Shorter on tenor saxophone, and Tony Williams [obscured] on drums.






They recorded 1964's "Miles in Berlin," made after Shorter joined, followed by "ESP" (1965), "Sorcerer" (1967), "Nefertiti" (1967/1968), "Miles in the Sky" (1968), (hinting at the beginnings of jazz rock, with Hancock introducing the Fender Rhodes), "Filles de Kilimanjaro" (1968/1969), and the stunning "The Complete Live At the Plugged Nickel" (1965/1995).
recorded the album ESP (1965) that pointed the way to the fusion of jazz and rock.
recorded landmark jazz/rock fusion album Bitches Brew (1969). Read the assessments by multiple musicians of the forty years of inspirational impact "Bitches Brew" has had on culture and art.


(Miles Davis performing live on stage at the Isle Of Wight Festival)
(at Afton Down on the Isle of Wight, England on August 29, 1970)
(Photo by David Redfern (1936–2014))

 

together with producer Teo Macero[9] made "the most hated album in jazz" thus having the distinction of making both the best liked album of all time (most sales) in "Kind of Blue" (1959) together with what was once considered the worst jazz album in "On The Corner" (1972).
See why people think it was or was not a 'sell out.'


was the only major jazz figure to appear with top rock bands in stadiums and theaters around the world.


Miles at North Sea Jazz Festival 1991
(Photo by Peter Buitelaar)
NEA (National Endowment for the Arts) Jazz Master (1984)


has the most immediately recognizable iconic profile in jazz history:
What he did, says fellow trumpeter Lester Bowie (1941–1999), is play "completely different from anybody else in his era. The way he plays his intervals, the way he plays through chord changes, that's what made him really different. Everybody else played sort of the same, up and down, musical passages, chord changes, in intervals of seconds, thirds, fourths, fifths, and sixths. But Miles plays in between all of that. He plays sideways. He runs through whole tunes sideways. It was really different from the way anybody else had ever approached the trumpet. It takes genius to come up with a different idea, a different way of doing something. Considering all the great trumpet players who had come before him, it took quite a bit for Miles to come up with a new and different approach. He was the innovator on the trumpet."[10]

(bold not in original)

 

inducted into Downbeat magazine's Jazz & Blues Hall of Fame in Reader's Poll, 1962.
Grammy Lifetime Achievement Award (1990).
See the list of where Miles Davis is ranked as an artist (currently 16th greatest of all-time) and where his albums rank at AcclaimedMusic.net.
Read one of the best interviews ever on how Miles Davis made music at the end of his career from Marcus Miller being interviewed by Brett Premack, "Marcus Miller Remembers Miles Davis" (aka "Marcus Miller Spills the Tea on Miles Davis"), January 8, 1998.