Difference between revisions of "Sp7. Women and Jazz"
Line 383:
Line 383:
 

----

 

----

 
 
−

<div align="center">[[file:CloseupDriftwoodPOJLogos.jpeg|link=http://www.facebook.com/otisbdriftwoodcomedyband/|alt=A closeup photograph of a large piece of driftwood appearing to have engraved PoJ.fm logos burned into the wood and a large shiny gold tenor saxophone leaning prominently up against the driftwood on the left side at a 22.5° angle.]]</div>

+

<div align="center">[[file:CloseupDriftwoodPOJLogos.jpeg

 
+

link=http://www.facebook.com/otisbdriftwoodcomedyband/|alt=A closeup photograph of a large piece of driftwood appearing to have engraved PoJ.fm logos burned into the wood and a large shiny gold tenor saxophone leaning prominently up against the driftwood on the left side at a 22.5° angle.]]</div>

 
 
 

----

 

----
---
Revision as of 23:03, 27 November 2021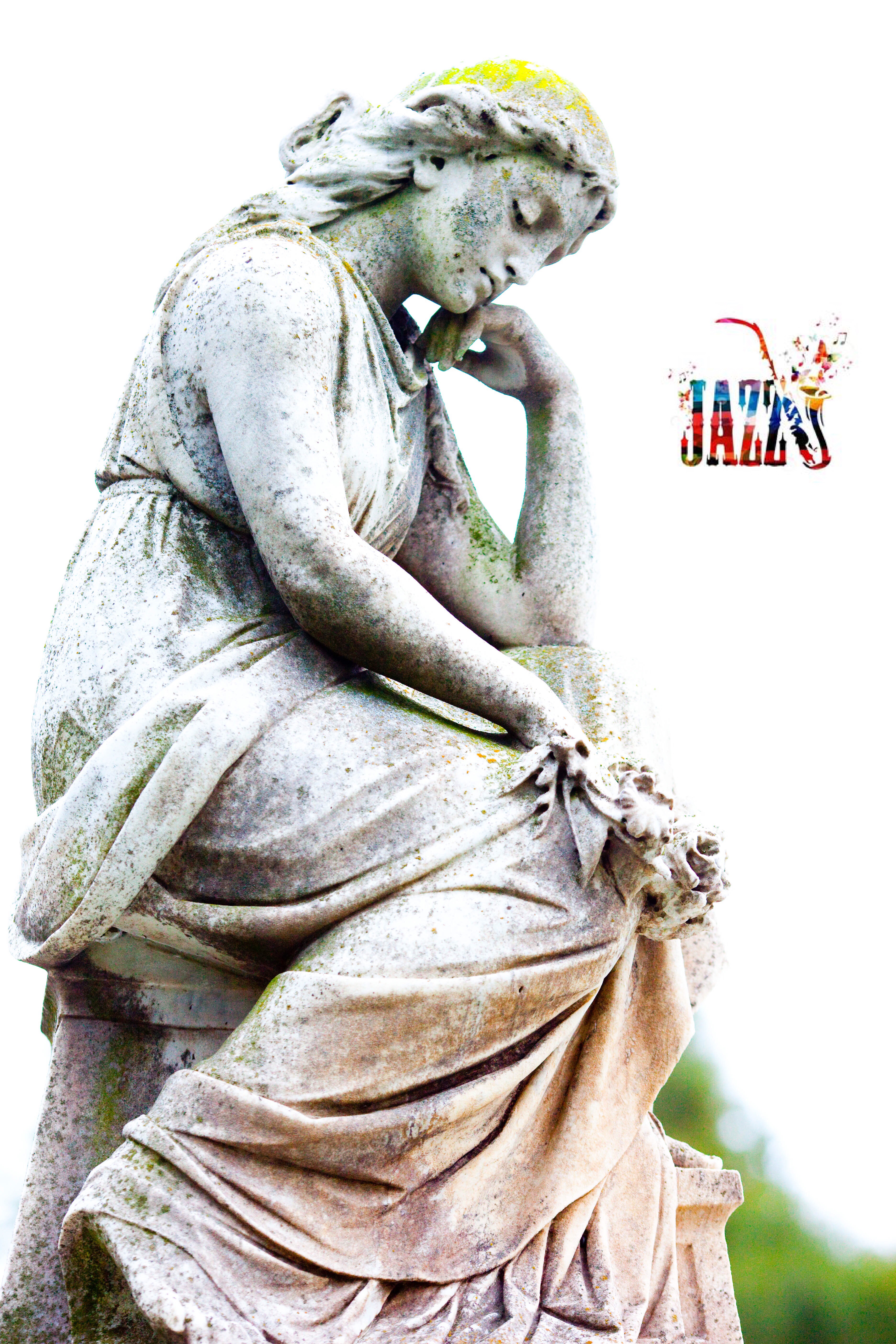 ---
(
Cindy Blackman
Santana
(b. 1959))
---
"Leonard Feather, a fellow expatriate from England, and well-known figure in the jazz world as a critic, composer, and record producer, had by then begun tracking Marian McPartland's career, carefully and with a certain concern. Writing in Downbeat in 1952, he drily, but bluntly, summed up Marian's position in jazz: "She is English, white, and a woman—three hopeless strikes against her.""[1] (bold not in original)
""Only God can make a tree," the swing historian George T. Simon wrote in The Big Bands (London: Macmillan, 1967), "and only men can play good jazz."[2] (bold not in original)
"In addition to unfair pay scales, jazz women encountered equally hostile philosophical and sexist attitudes. An unsigned Down Beat article of 1938 illustrates one particularly potent masculine point of view:



Why is it that outside of a few sepia females, the woman musician never was born capable of sending anyone further than the nearest exit? It would seem that even though women are the weaker sex they would be able to bring more out of a poor, defenseless horn than something that sounds like a cry for help. You can forgive them for lacking guts in their playing but even women should be able to play with feeling and expression and they never do it. ("Why Women Musicians are Inferior" 1938)


Both the anonymity of this tirade and the willingness of Down Beat to publish it reveal a latent yet permeating sexism. The explicitly masculinist and racialized tone of this passage represents one particularly prevalent political ideology. Here, women are defined as physically inferior, yet are somehow expected to have greater expressive and emotional capacities. Further, the anonymous author promulgates racial stereotypes by admitting a few black (sepia) female musicians into the masculine institution of jazz."[3] (bold and bold italic not in original)
---
Click on picture to see source and learn more.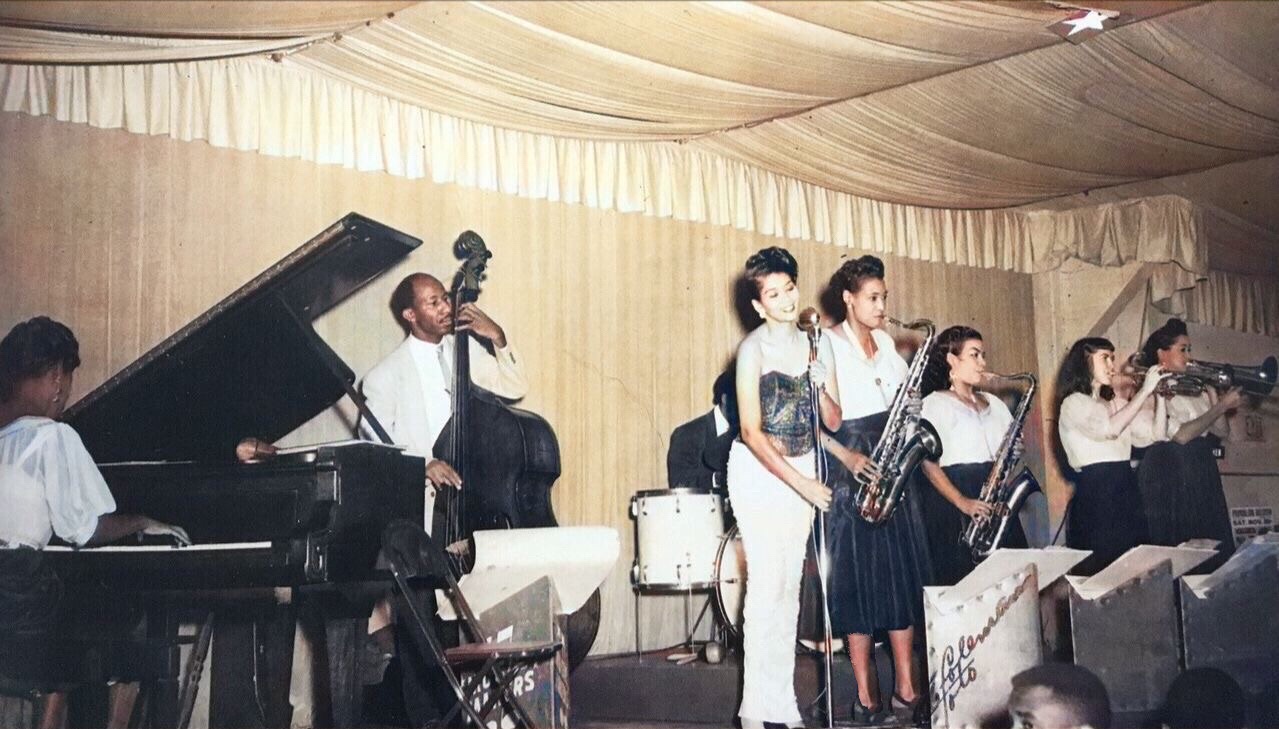 ---
Group shot for Director Judy Chaikin's documentary "The Girls in the Band" (picture modeled after Art Kane's Esquire magazine photograph "A Great Day in Harlem" taken in 1958).
Chaikin's documentary tells the true stories of female jazz musicians enduring sexism, racism, and lack of opportunities all so they could play their music.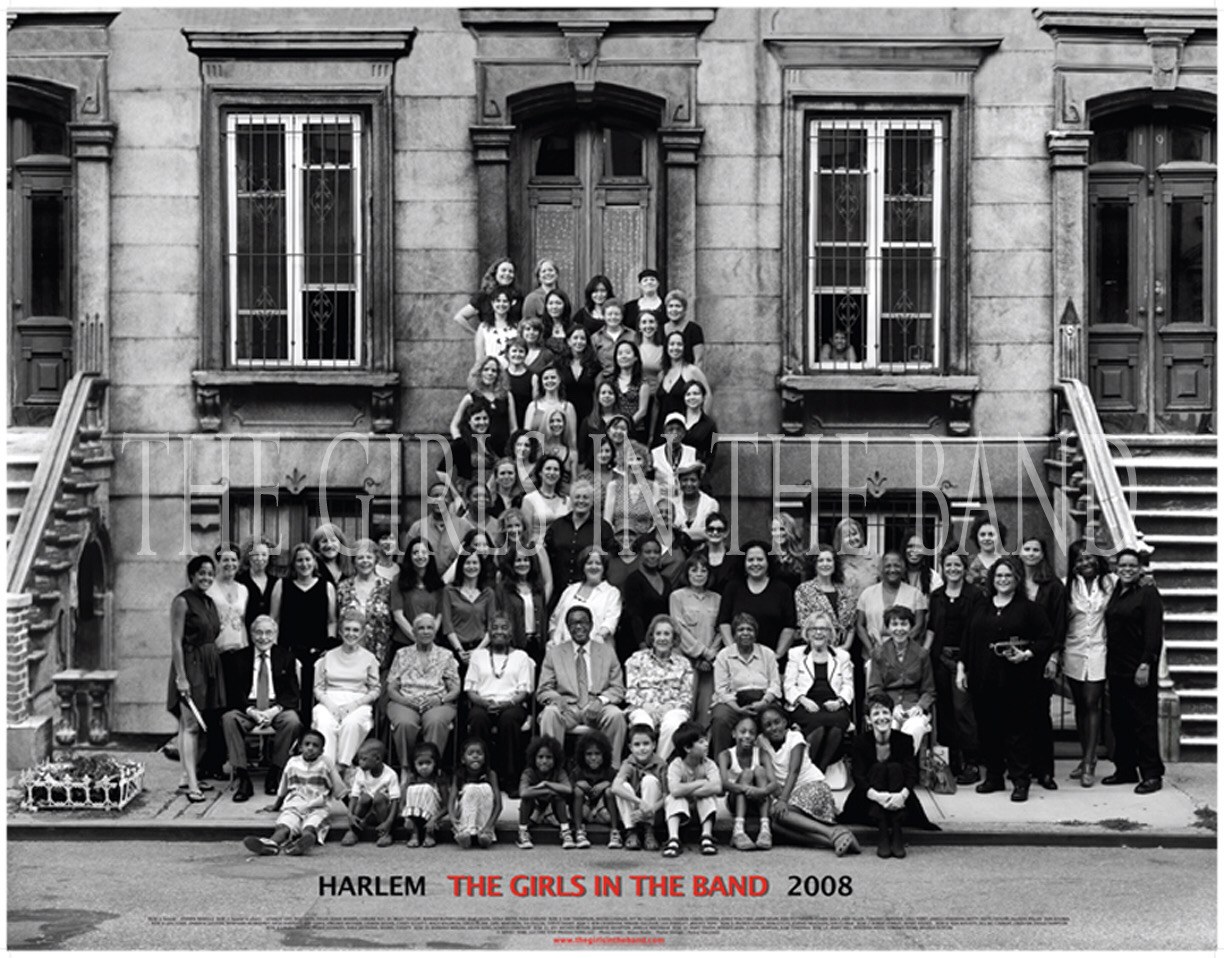 Group shot for Director Judy Chaikin's documentary "The Girls in the Band" (picture modeled after Art Kane's Esquire magazine photograph "A Great Day in Harlem" taken in 1958).
Chaikin's documentary tells the true stories of female jazz musicians enduring sexism, racism, and lack of opportunities all so they could play their music.
---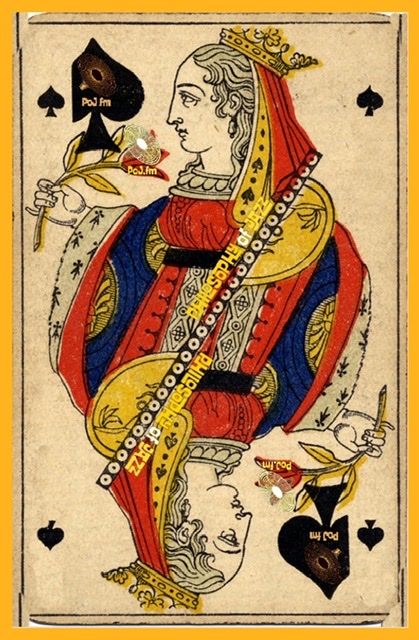 ---
Introduction
Women have probably been underrepresented in every professional field with few non-gendered exceptions. For how this has affected women philosophers generally, see Rebecca Buxton and Lisa Whiting's essay "Women or Philosophers" (February 4, 2021) and Helen Beebee's article "Women in Philosophy: What's Changed?" (May 29, 2021) both at The Philosophers' Magazine. To see what has been adopted to assist UK philosophy departments, learned societies and journals in ensuring that they have policies and procedures in place that encourage the representation of women in philosophy, see "Good Practice Scheme." For women's representations in philosophy classrooms and faculty offices, see "The Diversity of Philosophy Students and Faculty in the United States," (May 30, 2021) by Eric Schwitzgebel, Liam Kofi Bright, Carolyn Dicey Jennings, Morgan Thompson and Eric Winsberg.
Established jazz author Ted Gioia, in his third edition of The History of Jazz (2021) points out how women instrumentalists have often struggled to make it in an overly patriarchal jazz community.
"Women had long been accepted as vocalists in popular music, but few had enjoyed successful careers as jazz instrumentalists, and even fewer managed to make records during this period. Surviving news coverage attests that female bands were well known during the 1930s, and we hear mention of the Harlem Playgirls, the Darlings of Rhythm, the Hip Chicks, Dixie Sweethearts, and other ensembles, but we have little documentation of the music they made. But in 1937, the International Sweethearts of Rhythm, an all-female swing band, was formed—initially as a fund-raising project at the Piney Woods Country Life School for poor and orphaned African American children in Mississippi. But the band members had larger ambitions and, after a well-received debut at the Howard Theater, would go on to tour the United States and Europe, as well as record for the Victor label. The ensemble was often marketed for its glamour, and this may have led some to overlook its high musical standards, as demonstrated on tracks such as "Swing Shift" and "Bugle Call Rag." But Louis Armstrong was so impressed with trumpeter Ernestine "Tiny" Davis that he offered her a job at a substantial pay raise, which she declined, and the propulsive drummer Pauline Braddy, billed as "Queen of the Drums," was a major talent by any measure. The International Sweethearts of Rhythm not only helped establish women as respected instrumentalists, but also broke down barriers as the first integrated female band in the United States. Yet their example would stand out as a rare exception, and only gradually gain the interest of critics and music historians. A turning point came in 1980, when pianist and broadcaster Marian McPartland worked with the Kansas City Jazz Festival to sponsor a reunion and public event honoring nine surviving band members. Williams, for her part, gradually rose through the ranks of the Kirk organization: for a time she acted as chauffeur for the band (she also worked as a hearse driver during this period), eventually securing a spot as a staff writer and full-time performer. But from 1930 until 1942, Williams served as the main catalyst for the Kirk ensemble. Her charts, such as "Mary's Idea" and "Walkin' and Swingin'," were marked by a happy mixture of experimentalism and rhythmic urgency, while her playing soon earned her star billing as "The Lady Who Swings the Band." In later years, Williams's progressive tendencies became even more pronounced, leading her to adopt much of the bebop vocabulary and inspiring her to compose extended pieces, most notably the Zodiac Suite from 1945. Following her conversion to Catholicism in the 1950s, Williams wrote and performed a number of sacred works and continued to expand her musical horizons long after the age when most artists settle comfortably into a familiar style and repertoire. Her 1962 work for voices "Black Christ of the Andes" is a neglected masterpiece that makes clear that Williams could have reached the highest rung as a choral composer, and fifteen years later this stalwart of traditional jazz went head-to-head with free-jazz titan Cecil Taylor in a controversial Carnegie Hall concert. At this high-profile performance, held four years before Williams's death in 1981, two confident masters of the jazz keyboard confronted each other head on, and neither side blinked. As such daring gestures made clear, 'none of the Kansas City pioneers brought a broader perspective to their music making than Mary Lou Williams."[4] (bold not in original)

In her "Women in Jazz 1920s–1950," a term paper in 2015 for her "History of American Music" course, author Emma Lamoreaux explains that women are underrepresented in jazz history for multiple reasons. First, there was significant and repressive male prejudice against all non-male musicians. Second, jazz had a social stigma of being sleazy and sexy, allegedly inappropriate for female participation since people judged it socially unacceptable for women to participate in such activity. A third and strikingly telling reason accounting for women's underrepresented in jazz history is from an over-reliance on recordings. Female jazz musicians were underrepresented in recordings precisely because of the first two prejudices against their playing jazz in the first place.
Women jazz musicians have almost always been in a discouraging situation caused by numerous factors against them: male gender prejudices against female musicians, the belief by many that there are no good female jazz players (although this has always been false), that playing anything other than the piano or singing was not 'lady-like' and was inappropriate for women to play the trumpet, the saxophone, the bass, or the drums.
Several newspaper reporters have written about the problems for women entering into the jazz field, including Robert Palmer (1945–1997) in his January 21, 1977 New York Times article "Women Who Make Jazz" and Peter Watrous in his November 27, 1994 New York Times article JAZZ VIEW: "Why Women Remain At the Back of the Bus."
Lamoreaux, in her paper, discusses multilingual composer, instrumentalist, singer, and dancer Valaida Snow (1904–1956). Often known as the "Queen of Trumpet," Snow recorded her album "Hot Snow," containing both her singing as well as playing her trumpet. By the age of 15, she had learned to play the cello, bass, banjo, violin, mandolin, harp, accordion, clarinet, trumpet, and saxophone. Louis Armstrong thought so highly of her trumpet playing that he said she was the world's second-best jazz trumpet player besides himself. Because of this, she was named "Little Louis" after Louis Armstrong.

A more well-known and influential woman musician was singer, songwriter, electric guitarist, and recording artist Sister Rosetta Tharpe (1915–1973), who was not really a jazz musician but more of a hot gospel performer with her electric guitar playing using heavy distortion and influencing 1960's British electric blues guitar players, such as Eric Clapton and Keith Richards. Wikipedia: Sister Rosetta Tharpe notes that "She attained popularity in the 1930s and 1940s with her gospel recordings, characterized by a unique mixture of spiritual lyrics and rhythmic accompaniment that was a precursor of rock and roll. She was the first great recording star of gospel music and among the first gospel musicians to appeal to rhythm-and-blues and rock-and-roll audiences, later being referred to as "the original soul sister" and "the Godmother of rock and roll.""

Another unsung woman of jazz was Dorothy Donegan (1922–1998), an American jazz pianist and vocalist, working primarily in the stride piano and boogie-woogie style, but she also could play Bebop, swing jazz, or even classical music.

The International Sweethearts of Rhythm was an all-female jazz orchestra in the 1940s that toured widely, including traveling and performing in many venues.
Irene Schweizer
Jolle Leandre
European ones like Barbara Thompson and Marilyn Mazur

Above all, however, they looked to Jutta Hipp, who had already proven in the early 1950s that a musician could be taken seriously as a woman at the instrument even without the "exotic bonus."
There were only three female musicians in Cologne, Germany's WDR big band in 2018. Australian-born trombonist Shannon Barnett became a full member in January, 2014. See and hear her killer trombone solo at 2:12 in on a Paquito D'Rivera date with the WDR Cologne big band.
Karolina Strassmayer alto saxophonist. Since 2004 she has been the first woman to be a permanent member of the WDR Big Band Cologne. In 2004, Strassmayer was also named "Top Five Alto Saxophonist" of the year by the American jazz magazine Downbeat. She played alto sax on Joe Lovano's 20th album "Symphonica" released in 2009 on Blue Note Records from a November 26, 2005 live recording.
Drummer Eva Klesse (b. 1986) became the first female instrumentalist to be appointed professor of jazz at Hochschule für Musik, Theater and Medien in Hannover, Germany (2018).
See below for more facts about these individuals and groups.
---
---
NOTE: Screencapture below of women in jazz from WikiVisually: Jazz under topic heading of 2. Elements and Issues of 2.4 Roles of women. Click on any hyperlink, including the photo itself, to go there, then scroll down, or click here and go directly.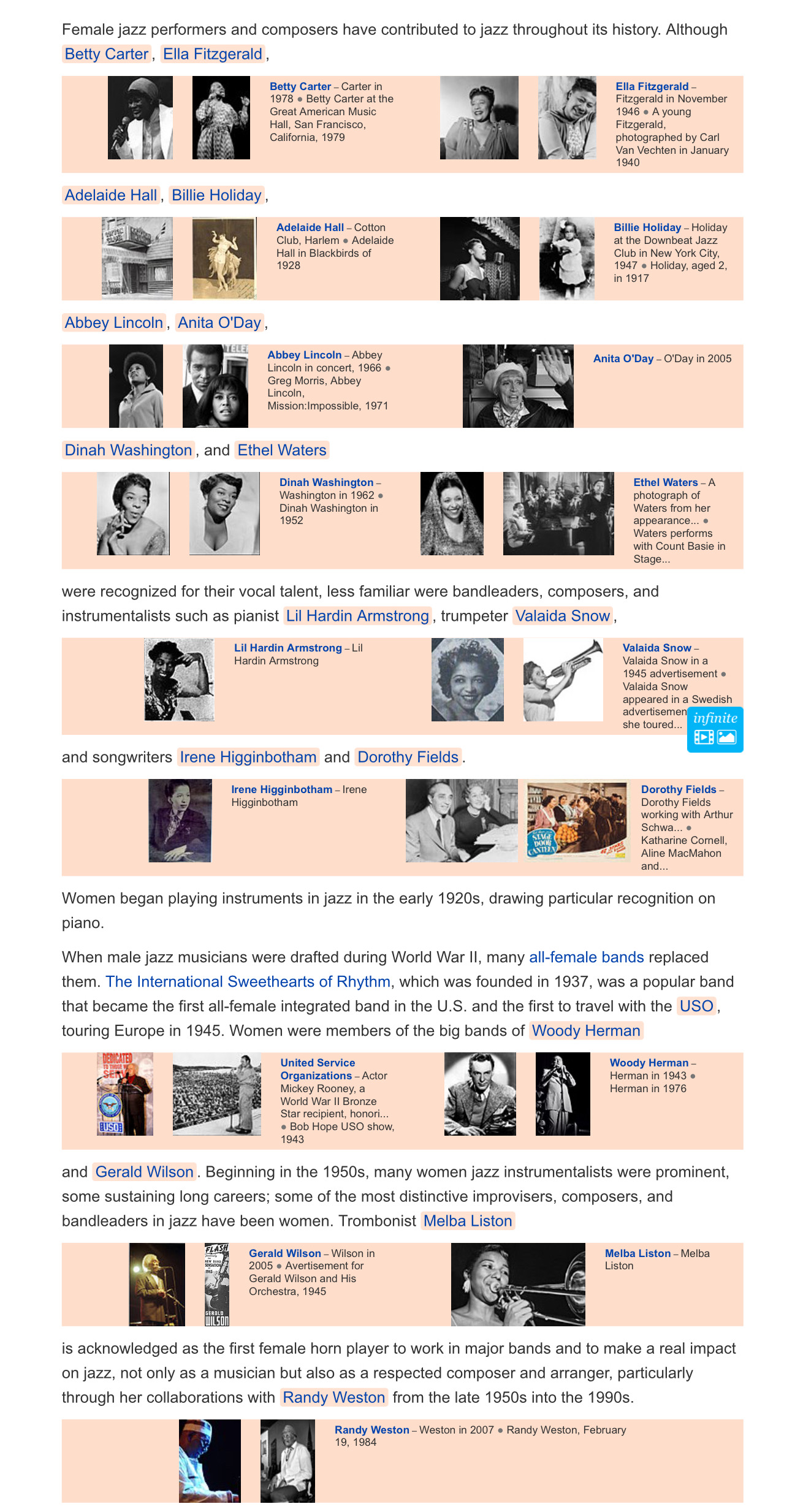 ---
🌕 Rosetta Reitz (1924–2008) championed women's jazz.
🌕 See Douglas Martin's obituary "Rosetta Reitz, Champion of Jazz Women, Dies at 84," NYTimes, November 14, 2008.
---
---
---
Jazz women 1910-1920s America
Bertha Gonsoulin
Bertha Gonsoulin (1890–1951)
(active 1915→1944)
(
Bunk
Johnson
played a concert a week at the
Geary Theatre in San Francisco,
starting in May 1943 and recruited from Los Angeles players who were sympathetic to his aims. Pictured l. to r.
Everett Walsh
drums,
Buster
Wilson
piano,
Ed
Garland
bass, Bertha Gonsoulin piano,
Frank Pasley
guitar,
Kid
Ory
trombone,
Bunk
Johnson
trumpet.) (Source:
Black Beauty
White Heat
)

As a young woman she played piano in her father's orchestra in Louisiana with trumpeter Bunk Johnson.[5]

learned three tunes as a pupil of Jelly Roll Morton in early 1920s: "Kansas City Stomp," "The Pearls," and "Frog-i-more" as reported by musicologist, music historian, book author, professor, and journal editor Dr. Sherrie Tucker.
"At some point in the early nineteen twenties, either before her departure to Chicago with Oliver, or after her return, she took some lessons from Jelly Roll Morton. Bill Colburn told William Russell that Bertha "couldn't go to the places where [Morton] played, so he went to her home [in San Francisco] to teach her. She said he taught her several of his compositions, including "Kansas City Stomp," "The Pearls," and "Frog-i-more."[6] (bold not in original)

became King Oliver's pianist after Lil Hardin left the band in California in 1921 and stayed with them when they arrived at the Royal Gardens in Chicago in 1922.

One afternoon in May 1943 at a rehearsal in the San Francisco home of Bertha Gonsoulin, Bunk played four versions of this same tune as part of a medley of Buddy Bolden(PoJ.fm) tunes using the song "Make Me a Pallet on the Floor."A (Wiki) Bunk started the tune by playing "Make Me a Pallet on the Floor"B (see 108 vocal versions; 46 instrumental) in the key of Eb and then changing key to Ab in the 'making runs' part. The 'making runs' part has the same basic chord structure as, for instance, "Tiger Rag." With his fertile imagination, Bunk could play a chorus a hundred different ways.

Reviewer Scott Yanow informs us that Gonsoulin played two good numbers on Bunk Johnson's album titled "Bunk Johnson in San Francisco."
---
Marie Lucas

Protege of James Reese Europe (1881–1919).


came from a family of musicians and became distinguished during the Harlem Renaissance as a music and dance director. Her father was Samuel Lucas (1840-1916), a minstrel comedian, musician, and singer who starred in vaudeville and musical comedy during the 1860s to early 1900s and known as "the Grand Old Man of the Negro Stage," performing with most of the major minstrel and theatrical troupes of the era. Her mother, Carrie Melvin Lucas, Sam's second wife, was a musician as well as an actress. Sam and Carrie were married in Boston, Massachusetts on August 11, 1886 and divorced in 1899.


Marie's musical education began with her parents, since her mother played the violin and cornet, and her father played the guitar.


She received formal musical training at schools in Nottingham, England, and at the Boston Conservatory in Massachusetts.


In 1909, Lucas's father obtained a leading role in an original musical comedy The Red Moon, and Marie made her debut in this show that ran from May 3, 1909 to May 29, 1909.


had several established musicians in her various bands, including tubist and bassist Rafael Escudero (1891–1970), trombonist Juan Tizol (1900–1984), jazz double bassist, tubist, and bandleader Bill Benford (1905–1994), his drummer brother Tommy Benford (1904–before 1994), and American trumpeter, pianist, arranger, and composer Dave Nelson (1905–1946).


has the ignominious distinction of NOT having a Wikipedia entry.


conducted (James Reese) Europe's Lady Orchestra, (see p. 17 or p. 38), NY Age, Thursday, December 3, 1914.


she debuted an all-female orchestra at the Lafayette Theatre in Harlem, New York City on December 3, 1914. Experienced musician's in that orchestra included Marie Wayne (Townsend) and Mildred Franklin, violins; Maude Shelton, viola; percussionist Alice Calloway, cello; and Nellie Shelton, bass violin. Later members of Lucas's Lafayette Ladies Orchestra were Olivia Porter (Shipp) with Maude Shelton playing violin as well as viola.


In 1916 she became musical director of the Quality Amusement Corporation, which was responsible for managing several black theaters on the East Coast.


she directed an all-female orchestra known as the Lucas Colonial Theater Orchestra in Baltimore, Maryland and later held a lengthy residency with an orchestra at the Howard Theater in Washington, D.C. (1916-17), included in the bands were Evangeline Sinto, violin and double bassist and bass violinist 🎻 (Lolita Cordoba) Santos Rivera.


advertisements circulated announcing Lucas's availability to teach and train "all young women with even a slight knowledge of music" for female theater orchestras in Boston, Baltimore, Philadelphia, and Washington, D.C.[10]


Female orchestras under her superb direction performed between the years 1915 and 1920 as she was one of the "best known of the female leaders of syncopated orchestras."[11]
" . . . her groups also played regularly at theaters in Baltimore, Philadelphia, and Washington, D.C. Like the male musicians, the women moved from one group to another. The most active women on the East Coast during this period included, in addition to Anderson and Lucas, Alice Calloway (drums), Mildred Franklin (violin), Pearl Gison (cornet), Leora Meaux (cornet), Mamie Mullen (piano), Olivia Porter (string bass), Ruth Reed (cornet), Maud Shelton (violin), Nellie Shelton (string bass), Eva Sinton (violin), Della Sutton (trombone), and Florence Washington (drums). Trombonist Mazie Mullins played with both male and female bands."[11]

Jazzmen Elmer Snowden (1900–1973) and Duke Ellington (1899–1974) wrote of her 1919–20 activities at Washington D.C.'s Howard Theatre.
"According to Snowden, Marie Lucas's band [male] would come out into the pit, and she had sent down to Cuba or wherever it was [Ellington said Puerto Rico] and got all those musicians like trombonist Juan Tizol (1900–1984) and bassist and tubist Ralph Escudero (1898–1970) and had enlarged her band. They would play the show, and we'd [Louis Thomas's Band] come back and play the intermission and exit music (Stanley Dance, The World of Swing, p. 47). In his book Music Is My Mistress Ellington indicated that a group under Lucas's direction played the TOBA circuit as well as the Howard Theatre. He indicated that the group was very impressive "because all the musicians doubled on different instruments, something that was extraordinary in those days" (p. 34)."[10]

she was listed as a "composer and arranger" in The Official Theatrical World of Colored Artists the World Over, with her address being at the Lincoln Theater in Lexington, Kentucky.


During the 1930s, she toured with the Merry Makers, an all-male group.[12]


In 1931, the Afro-American newspaper 📰 The Chicago Defender

reported that, "Lucas of New York and Her Merry Makers are leaving a smoking trail for the gang who are behind her band . . . ." ("Orchestras," January 3, 1931, p. 5).
Sources: (Click on book cover to see preview pages, if available, that are searchable)


 

---
Marion Harris

began her career in the 1910s by singing with colored slides used by motion picture houses of the day.

introduced to New York's Theatrical community by dancer Vernon Castle after starting her career on Chicago's Vaudeville circuit.

starred in the Irving Berlin revue "Stop! Look! Listen!" (1915) playing the character of the aptly named Marion Bright, produced by Broadway producer Charles Dillingham, who did over two hundred shows.

became a very popular vaudeville performer playing numerous engagements at the PalaceTheatre in New York during the 1920's.

Among the first white female Jazz singers.
---
---

Recorded "After You've Gone" on October 18, 1918 composed by Turner Layton with lyrics by Henry Creamer at the Victor recording studio in Camden, New Jersey.

After three years of recording with Victor from 1916 to 1919, Miss Harris left for Columbia Records recording there from 1920 to 1922.

A very popular singer in the 1920's, Marion Harris recorded into the 1930's with over 130 recordings to her credit. She performed with the Isham Jones Orchestra and at the Cafe de Paris in London in the early 1930's.

In 1927 Marion could be seen in Broadway productions of "Yours Truly" and "A Night In Spain." Marion made numerous appearances at the Palace in New York during 1926 to 1931. In 1929 she sang Vincent Youman's "More Than You Know" in the musical play "Great Day" which opened in Philadelphia.

first widely known white female singer to record jazz and blues, featuring a lot of material by African American composers.


Recorded "Never Let No One Man Worry Your Mind"
recorded October 6, 1920

first white woman to record a jazz vocal on "When I Hear That Jazz Band Play" (1921). Click on song title to hear her sing the song.


"A blonde flapper, she seemed to epitomize the Jazz Age, and many of the songs she sang included "jazz" in the title."[13]

began her recording career with "I Ain't Got Nobody Much" (1916) ("Much" was subsequently dropped from the song title) for Victor Records.


popularized such song standards as "After You're Gone" (1918), "A Good Man Is Hard To Find" (1919), "Look For The Silver Lining" (1920), "I'm Nobody's Baby" (1921), "Carolina In The Morning" (1922), "It Had To Be You" (1924), "Tea For Two" (1924), "I'll See You In My Dreams" (1925) and "The Man I Love" (1927).

had to leave Victor Records for Columbia Records in 1920 when Victor objected to her desire to record 'race music.' Victor thought it inappropriate for a white women to record such music, especially W. C. Handy's "St. Louis Blues." Columbia records agreed that she could record blues songs. This wasn't a case of appropriating Black music. She really took a career risk with this and fought the good fight in terms of racial discrimination in the early 1920s.
Listen and read the lyrics to "I'm a Jazz Vampire,"
Columbia Records, January, 1921.

in late 1922 went to Brunswick Records and remained with Brunswick until 1930.

from 1931 to 1934 she recorded for Columbia Records in London producing her last recording, the appropriately titled "Singin' The Blues" (Decca F-5160).
"Beale Street Blues," "Who's Sorry Now," "The Man I Love" and what many consider the definitive performance of "After You've Gone."

often was heard on the radio.

starred in an eight-minute film called "Marion Harris, Songbird of Jazz" (1928). (Click on the film title or the screen captures composited below to see and hear it.)

arrived in London, England (1931) and established herself as a cabaret star and BBC radio personality.

continued to record through 1934 when she retired.
---

made these feature-length films listed below. Her final film "Trouble Ahead"/"Falling in Love" (original title) was released in the United Kingdom in 1934 two years before its release in the United States.


Read more about these songs:
Read the lyrics to all of these songs:
See her biography and song and film discography at "Marion Harris" from archived http://www.redhotjazz.com.

---
---
Valaida Snow

a child star from the age of 5 when she began stealing the show as a member of her father's performance troupe.


jazz pioneer


world traveller


became a big name in Europe and Asia, just as much as she was in black communities across the United States.


often gave some of the first jazz performances on major international stages.


helped to bring black music from the vaudeville stage into the audiovisual age by appearing on the movie screen.


African-American newspapers and the international press celebrated Snow both for her immense skill and for her novelty as a female trumpet master.


Dashing and charismatic, Snow earned the nicknames Little Louis — a reference to Louis Armstrong's influence on her — and Queen of the Trumpet, given to her by W.C. Handy, who himself was known as the Father of the Blues. That appellation often appeared below her name on the 78-r.p.m. records she made.


Dr. Tammy Kernodle, a musicologist at Miami University in Ohio, said in a phone interview that "she was a greatly respected musician on the vaudeville circuit, and even amongst male jazz musicians themselves."


joined the popular revue "Holiday in Dixieland" in 1921 and began to make her name on the national stage.

held a long residency in 1922 at a Harlem cabaret run by the famed proprietor Barron Wilkins that brought her new levels of attention.


Eubie Blake and Noble Sissle cast her in "In Bamville" in 1924 (the follow-up to their smash hit musical "Shuffle Along") where It traveled to New York the next year under the name "The Chocolate Dandies." The show got poor critical reviews except for Snow and her co-star Josephine Baker, who was early on in her own career,


during 1925 she had several tours of the U.S. with small jazz bands.


starting in 1926 at the tender age of 22 she spent three years traveling across Europe and Asia and became an established star by first going to London and Paris with producer Lew Leslie's "Blackbirds" revue then joining drummer Jack Carter's octet on a tour of China and Southeast Asia.


Dr. Tammy Kernodle reports that "she is important in terms of helping us gain an understanding of the spread of jazz to Europe, particularly after World War I because she helped shift the context of jazz away from the early Dixieland style."


after returning to the United States in 1929, she had a major role in the musical, "Rhapsody in Black," where she directed the production's 60-person stage band known as Pike Davis's Continental Orchestra. Show producer Lew Leslie had designed the show to showcase her talents, although Ethel Waters was billed as its star.


from 1935 through 1940 she recorded roughly forty album sides in studios across Europe, including her signature song, "High Hat, Trumpet and Rhythm," but never made a commercial recording in the United States as a trumpeter.


moved to Los Angeles in 1943 and became a mentor and inspiration to beginning musicians along Central Avenue clubs that became a hotbed of modern jazz innovation.


performed at Town Hall in New York City in 1949 and got her first and only mention in The New York Times, May 21, 1949, a one paragraph review under the title "Song Recital by Valaida Snow."

---
---
---
Ina Ray Hutton
Ina Ray Hutton (1916–1984)
Odessa Cowan [birth name]
(active 1924→1954)
[[file: .jpeg]]
[[file:
.jpeg]]

See and hear her perform the song "Truckin'" fronting her orchestra—all eyes on her—energetically conducting a polished band that swings, singing the solo vocal, then concluding with a rousing tap dance perfectly in rhythm made more amazing because of the restrictive nature of her tight-fitting dress.
---
🔸 Metro-Gnomes, a small band fronted by Jack Hylton's then-wife Ennis Parkes.
| 🔸 | 🔸
---
pianists such as Lil Hardin Armstrong
Lovie Austin developed jazz and led their own bands;
in New York, Hallie Anderson, organist
pianist Mattie Gilmore and trombone player and arranger Marie Lucas trained orchestras for theaters.
Sherrie Tucker's four-year research on New Orleans jazzwomen uncovers a few of the female musicians, mainly pianists and self-trained instrumentalists, who worked in the red light district:
cornet Antonia Gonsalez
Mamie Desdunes, pianist
Dolly Adams, pianist
Camilla Todd, pianist
Edna Mitchell, pianist
Rosalind Johnson, pianist who was also a song writer and received formal musical training.
---
---
Jazz women in 1930's America
excellent all-female group including Jean Starr (1919-1956) on trumpet, Marjorie Hyams on vibes, Marian Gange on guitar, Vicki Zimmer on piano, Cecilia Zirl on bass, and Rose Gottesman on drums.
---
L'ana (Webster) Hyams
---
Viola Smith
Viola Smith (1912–October 21, 2020)
(active 1925→1968)

first professional female jazz drummer.[14]
who played a giant 12-piece drum kit and was billed as the "fastest girl drummer in the world" — and who wrote a widely read essay during World War II advocating for big bands to hire female musicians in place of the male ones who had been drafted — died on Oct. 21 at her home in Costa Mesa, Calif. She was 107.
Her nephew Dennis confirmed her death.
Ms. Smith, who hailed from a little town in Wisconsin, grew up playing in a jazz band with her seven sisters. Her entrepreneurial father had conceived of the group, the Schmitz Sisters Orchestra, and they performed at state fairs and toured the vaudeville circuit. After most of her sisters left the band, Ms. Smith started another all-female outfit, the Coquettes, which rose to modest national fame in the late 1930s.
Ms. Smith became the first female star of jazz drumming. She performed at President Harry S. Truman's inauguration gala, and she worked with Ella Fitzgerald and Chick Webb. Her showcase tune was a jazzy arabesque called "Snake Charmer," in which she exhibited her virtuosity in a flashy solo.
When people called her the "female Gene Krupa," she corrected them: Krupa, she said, was the male Viola Smith.
As the ranks of predominantly male big bands thinned out during the war, Ms. Smith published an editorial in DownBeat Magazine titled "Give Girl Musicians a Break!," urging orchestras to hire talented female musicians who were eager to fill the slots of the absent players.
"Why not let the girls play in the big bands?" she wrote. "In these times of national emergency, many of the star instrumentalists of the big name bands are being drafted. Instead of replacing them with what may be mediocre talent, why not let some of the great girl musicians of the country take their places?"
"There are many girl trumpet players, girl saxophonists and girl drummers who can stand the grind of long tours and exacting one-night stands," she continued. "The idea of girls being able to play only legitimately is a worn-out myth now."
Despite Ms. Smith's impassioned argument, the big bands didn't heed her calls for inclusion.
Viola Clara Schmitz was born in Mount Calvary, Wis., on Nov. 29, 1912. Her father, Nicholas, ran a tavern and a dance hall and played cornet professionally. Her mother, Louise (Steffes) Schmitz, was a homemaker. Viola grew up in a musical household with nine siblings and attended a rural schoolhouse.
No immediate family members survive.
When Ms. Smith was 13, her father assigned her the drums in the family band, partly because all the other instruments were spoken for. The Schmitz Sisters Orchestra toured heavily and once participated in a radio battle with an all-male big band, performing Gershwin's "Rhapsody in Blue."
Ms. Smith's sisters gradually left the band to raise families or pursue other occupations, and with her remaining bandmate, Mildred, she formed a new all-female ensemble, billed as Frances Carroll (the frontwoman) and the Coquettes. Their picture appeared on the cover of Billboard magazine, and they performed in a Warner Bros. musical short. Mildred eventually also got married, and Ms. Smith became the last sister standing.
The bright lights of New York, and the hot jazz coming out of the nightclubs on 52nd Street, called out to Ms. Smith, and she headed to the big city with her drumsticks.

Opportunity abounded for her in New York. She studied timpani at the Juilliard School and played with the snare drum virtuoso Billy Gladstone at Radio City Music Hall. A young Frank Sinatra chatted her up one night at a chop house. She found a studio apartment in Midtown, where she ended up living for 70 years.
Opportunity abounded for her in New York. She studied timpani at the Juilliard School and played with the snare drum virtuoso Billy Gladstone at Radio City Music Hall. A young Frank Sinatra chatted her up one night at a chop house. She found a studio apartment in Midtown, where she ended up living for 70 years.
ADVERTISEMENT
Ms. Smith joined Phil Spitalny's all-female big band, Hour of Charm, and stayed with the group for over a decade, appearing with them in the Abbott and Costello comedy "Here Come the Co-eds." Ms. Smith also made several appearances on Ed Sullivan's popular variety show and signed endorsement deals with Ludwig Drums and the Zildjian cymbal company.
By the 1950s, the big-band era was coming to an end. A few years after performing on Broadway as a member of the Kit Kat Band in the original 1966 production of "Cabaret," she retired. She spent the following years getting good at bridge and enjoying the wonders of a rent-regulated New York apartment.
When Ms. Smith discovered much later that she was being hailed as a female pioneer of drumming, the news surprised her.
"It's all amazing to me what I see now on the internet," she told Tom Tom, a drumming magazine, in 2013. "Everything comes as a great surprise. I'm very thankful that I'm accepted as a girl drummer because, one time, there was no such thing."
'See and hear her play a drum solo and perform with the orchestra on the video Frances Carroll and her Coquettes.

Great article about her at 107 years old by Emma Starer Gross, "The Beat of Her Own Drum: How did the 107-year-old jazz legend Viola Smith wind up in a law-breaking Christian quilting commune in an Orange County suburb?," in thelandmag.com, September 22, 2020.
---
trumpeter Ernestine "Tiny" Davis
propulsive drummer Pauline Braddy, billed as "Queen of the Drums"
---
Winner number two
instrument/role


Hot pink number 3
---
---
Jazz women in 1940's America
Sarah Vaughn
vocalist

pianist

accompanist

radio DJ


"possessed one of the most remarkable voices in jazz—a voice of great beauty, suppleness, flexibility, and power. She had a full two-octave range, perfect pitch, and an improvisatory ability the equal of any instrumentalist. She could easily have been a diva in the world of opera, but early in life Vaughan was drawn to jazz and so lent her talents to it for over forty years."[15]


Melba Liston

was the first woman trombonist to play in multiple big bands (Gerald Wilson's (1943–44), Count Basie (1948–1949), Dizzy Gillespie's (1949–1950) and in the 1960s.[16]


worked with trumpeter Dizzy Gillespie (1947), saxophonist Dexter Gordon (1947), vocalist Billie Holiday (1949), saxophonist John Coltrane (in big band 1949), in pianist and band leader Count Basie band (1949), with drummer Art Blakey (1957), with trumpeter and arranger Quincy Jones (1959 & 1961), and with vocalist and band leader Billy Eckstine (1961)


worked as an extra in Hollywood, appearing with Lana Turner in The Prodigal (1955) and was in The Ten Commandments (1956)


later in her career (late 1950s) became a well-known arranger for pianist Randy Weston (b. 1926–d. 2018) and again in 1980s and 1990s.


In early 1960s worked with vibraharpist Milt Jackson, trumpeter Clark Terry, and saxophonist Johnny Griffin.


early 1960s arranged for Motown and was on a album with Ray Charles.


helped establish the Pittsburgh Jazz Orchestra (1964).


called the "first lady of the slide trombone."


throughout her career she played and recorded with EVERYBODY:

forty year career in jazz.

Listen to "Blues Melba" at YouTube.com.

Listen to entire album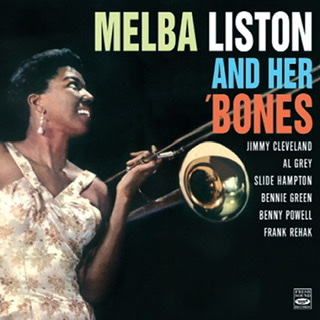 "Melba Liston and her Bones" at YouTube.com.
Ada Leonard's All-American Girl Orchestra
conductor

arranger

composer

bandleader


Marjorie Rainey's Rhythmettes
conductor

arranger

composer

bandleader


---
---
Barbara Carroll
---
Mary Lou Williams
as can easily be seen by all of the jazz genres Williams performed over her career listed above, she was open and adaptive to new music.

Williams took the name "Mary Lou" at the suggestion of Brunswick Record's Jack Kapp as quoted in Max Jones's Jazz Talking: Profiles, Interviews, and Other Riffs on Jazz Musician's, Da Capo Press, 2000, 190. Her last name of Williams came from her husband, saxophonist John Williams, who she married at age 16.
musical prodigy who could pick out simple tunes at age two, who taught herself to play the piano at three years old, including playing back a tune she heard her mother play on the family organ at that age, and discovered in high school she had perfect pitch.[17][18]


supported her large family by playing at parties at six years old.


began performing publicly at the age of seven when she became known in Pittsburgh as "The Little Piano Girl."


her professional debut with big bands came in 1922, at age 12, when she substituted for a pianist in the Buzzin' "Sparrow" Harris and His Hits and Bits Revue, a traveling show.[19]


billed as Mary Lou Burley, she toured occasionally for the next few years (early 1920s) passing through New York City several times, playing for such artists as Jelly Roll Morton, Willie ("the Lion") Smith, Fats Waller, and Duke Ellington. Played with Duke Ellington's Washingtonians when only twelve years old, as well as with Johnny Hodges and Benny Carter, according to Williams in her interview on Marian McPartland's "Piano Jazz" (1978).


known as "the first lady of the jazz keyboard."


(Photo by William P. Gottlieb)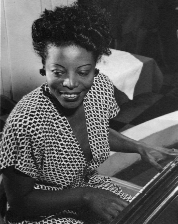 one of the earlier women recognized as highly successful in jazz.
"No woman other than the vocalists Billie Holiday and Ella Fitzgerald had so dominated the swing scene or earned the genuine respect of bandleaders and musicians alike."[20]


joined the St. Louis based band the Synco Jazzers in 1925 led by John Overton "Bearcat" Williams (1905-1996), whom she married in 1926.


played with John Williams's Syncopators (1926–1929).


served as deputy pianist and arranger for Andy Kirk's


Twelve Clouds of Joy band until April 1930, at which time she became a regular member.


the Kirk band in the 1930s success was largely due to her distinctive arrangements, compositions and solo performances on the piano.[21] Listen to Andy Kirk's Clouds of Joy with arrangements and compositions by Williams. See Andy Kirk and his Clouds of Joy discography.


"an important swing pianist, with a lightly rocking, legato manner based on subtly varied stride and boogie-woogie bass patterns."[22]
 
wrote and arranged "Camel Hop" written for Benny Goodman's radio show sponsor, Camel cigarettes, followed by another big hit for Goodman in her "Roll 'Em" (a boogie-woogie piece based on the blues) (1937), "What's Your Story, Morning Glory" for Jimmie Lunceford, arrangements for the biggest act at the time of Cab Calloway, rearranged Irving Berlin's "Blue Skies" as "Trumpets No End" (1943) a big hit for Duke Ellington that Ellington recorded in 1946[23] and the Dizzy Gillespie smash hit, "In the Land of Oo-Bla-Dee" (1949).
 
supplied noteworthy swing-band scores arranging for Louis Armstrong, Tommy Dorsey, and Earl Hines, during the late 1930's.[23]


became involved with a younger group of New York musicians including Bud Powell, Thelonious Monk, Charlie Parker, Tadd Dameron, and Dizzy Gillespie (1943), moving from what Encyclopedia Brittanica describes as "an established musician in the swing style, she easily made the transition to bebop. Her apartment became a meeting place, and she wrote several important compositions in the bebop style, including "In the Land of Oo-Blah-Dee," "Tisherone," "Knowledge," "Lonely Moments," and "Waltz Boogie." The latter was recorded with Girl-Stars, one of her several women's bands, in 1946."
 




quit the Kirk band to form her own small group in New York with her second husband, trumpeter Shorty Baker, (1942).[23]


premiered the first of many large compositions including the 12-movement Zodiac Suite whose "Capricorn" movement was created especially for dancer Pearl Primus who also performed at Café Society (1945).
 
moved to Europe performing in both Paris and London (1952).


famously halted a 1954 Paris concert beginning her hiatus from the stage before starting again to perform in 1957 with Dizzy Gillespie at the Newport Jazz Festival and later performing with her own trio.


founded Mary Records, the first recording company begun by a woman.


three movements from her "Zodiac Suite" were performed in Carnegie Hall by the New York Philharmonic Orchestra—a very early instance of the recognition of jazz by a leading symphony orchestra (1946).


among the first jazz artists to perform at Carnegie Hall and St. Patrick's Cathedral in Manhattan, New York City (1946).


an important figure in Bebop who contributed scores to Dizzy Gillespie's big band.
 

worked with some of music's greatest legends, including Ben Webster, Bud Powell, and Thelonious Monk.
based in Europe between 1952 and 1954.


retired from music in 1954 to pursue religious and charitable interests.
resumed her career in 1957 where she remained active throughout the 1960s and 1970s leading her own groups in New York clubs, composing sacred works for jazz orchestra and voices, and devoting much of her time to teaching.
 
long regarded as one of the most significant female musicians in jazz, as an instrumentalist, as a composer, and as an arranger.[24]


retained the status of a modernist for most of her career.


"easily adapting in the 1940s to the new Bebop idiom and in the 1960s her play attained a level of complexity and dissonance that rivaled avant-garde pianism of the time, but without losing the underlying blues feeling."[25]
 
breadth of her work as a composer and arranger can be seen from her expert swing-band scores for Andy Kirk's Clouds of Joy (Listen to Walkin' and Swingin', or Mary's Idea, etc.) to the large-scale sacred works of the 1960s and 70s.


her "Waltz Boogie" (1946) was one of the earliest attempts to adapt jazz to non-duple meters.
 
wrote hundreds of compositions and arrangements recorded in 78, 45, and LP formats. See some of her album covers below and click on any of them to go to her discography.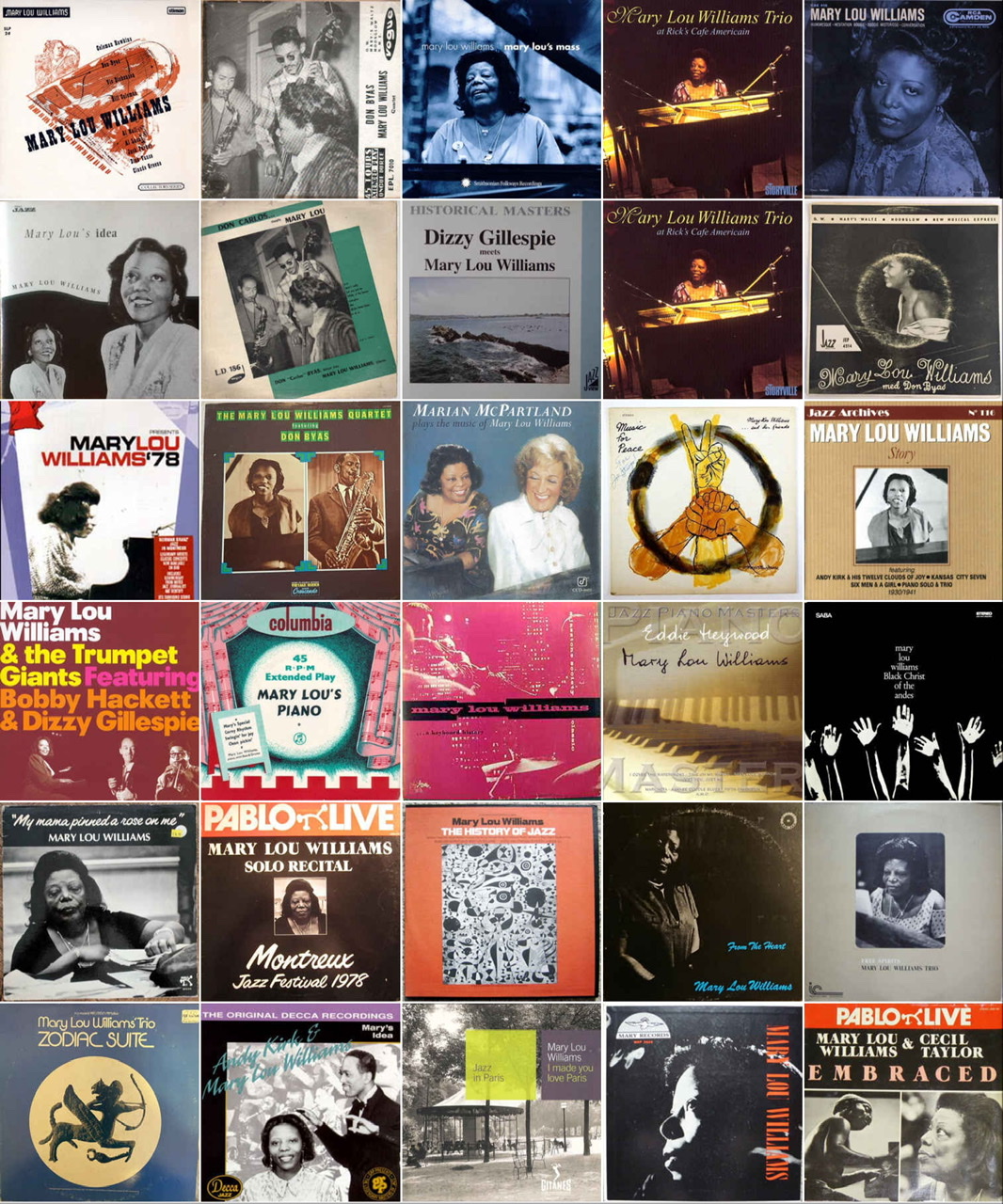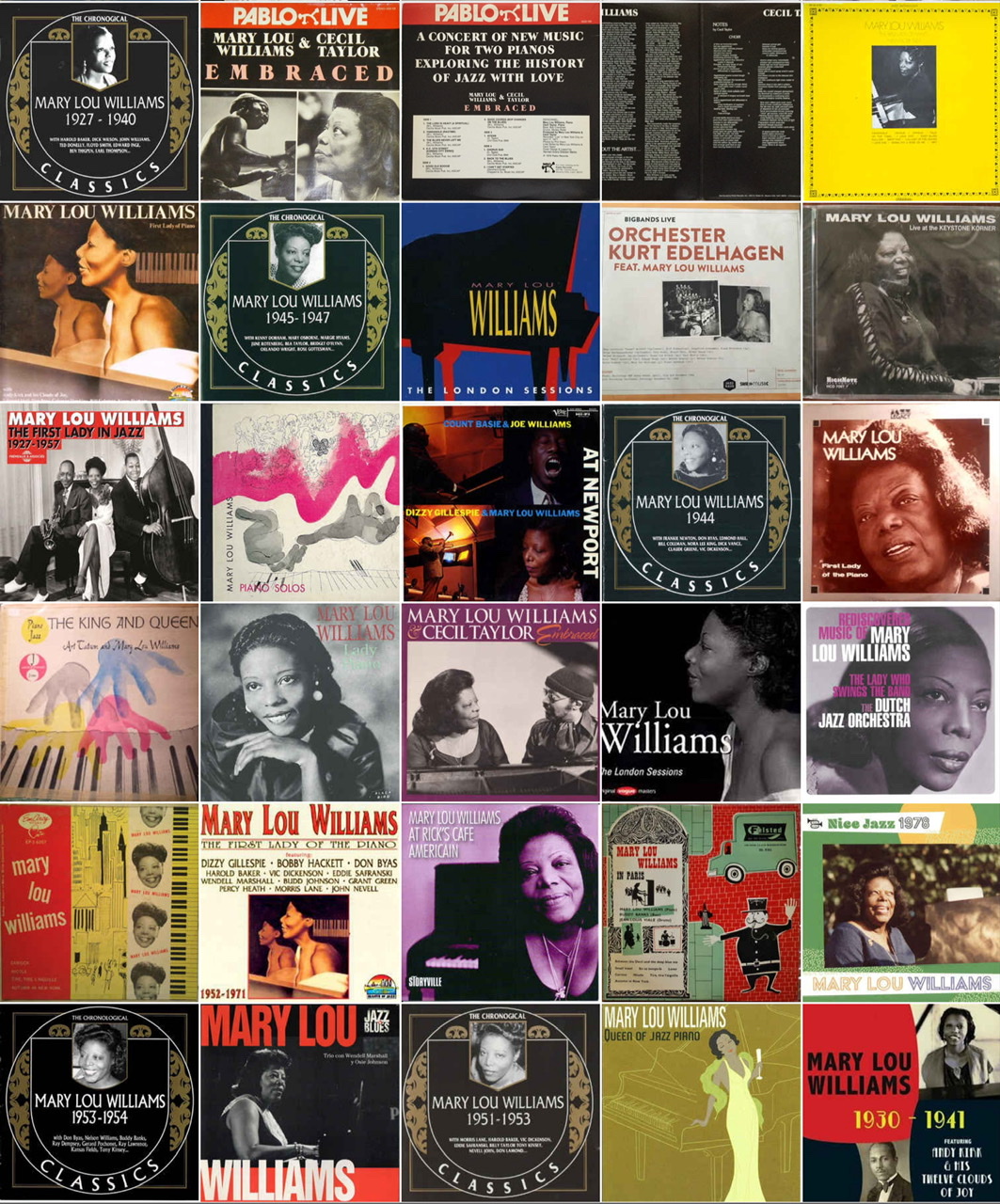 friend, mentor, and teacher to Thelonious Monk, Charlie Parker, Miles Davis, Tadd Dameron (to the right of Mary Lou in photograph), Bud Powell, and Dizzy Gillespie (Dizzy partially hidden by piano player; click on photo for who else is in photograph by William P. Gottlieb).
 
In the 1960s and '70s composed a number of her sacred works and liturgical pieces for jazz ensembles, including a cantata, "Black Christ of the Andes" (1962); three masses that included "Black Christ of the Andes" (see track list for "Black Christ of the Andes") (1963)[26], "Mass for the Lenten Season" (1968), "Music for Peace" (1970), popularly known as "Mary Lou's Mass" which (1970) became well known in a version choreographed by Alvin Ailey.
 
In 1970 as a solo pianist and providing her own commentary, she recorded a comprehensive performance-lecture entitled "The History of Jazz." (FW2860)
 

made an appearance (click on "appearance" to view video) on

Mister Roger's Neighborhood (PBS) with bassist Milton Suggs (1973).
Guggenheim Fellowships, 1972 and 1977.


"Why have jazz historians generally avoided serious consideration of her music and her contributions to jazz, even as she garnered praise and respect from her peers? One obvious answer is that Mary Lou Williams was a woman performing and writing in the male-dominated field of jazz music whose abilities enabled her to defy the conventional gender roles implicit in the jazz narratives of her day. According to this view, women in jazz were rare, women pianists rarer still, and women who, besides their superiority as players, could also compose and arrange first-class music for big band and combo were simply unheard of. Yet Duke Ellington famously described (in his autobiography, Music Is My Mistress) that Williams was "perpetually contemporary," going on to say that "her writing and performing are and have always been just a little ahead throughout her career."[27]
nominee Grammy Awards, Best Jazz Performance – Group, for the album "Giants—Dizzy Gillespie, Bobby Hackett, Mary Lou Williams" (1971); also released under the title "Mary Lou Williams and the Trumpet Giants."


honorary degree from Fordham University in New York (1973).


In 1975 was appointed to the faculty of the University of Massachusetts, Amherst and in 1977 to the faculty at Duke University.


performed duets in concert with avant-garde player Cecil Taylor (1977).


founded the Mary Lou Williams Foundation (1980).


honorary degree from the Jesuit school Rockhurst University in Kansas City, Missouri (1980).


taught on the staff of Duke University as the first Artist-in-Residence from 1977 until her death in 1981.


received the Duke University's Trinity Award 🥇 (May 10, 1981)[28] for service to the university, an award voted on by Duke University students.


Duke University established the Mary Lou Williams Center for Black Culture (1983).
 
the Kennedy Center in Washington, D.C. has an annual Mary Lou Williams Women in Jazz Festival (annually since 1996).


her archives are preserved at Rutgers University's Institute of Jazz Studies in Newark (since 2000).


her Pennsylvania State Historic Marker is placed at 328 Lincoln Avenue, Lincoln Elementary School, Pittsburgh, PA, noting her accomplishments and the location of the school she attended.
 
trumpeter Dave Douglas released the album "Soul on Soul" as a tribute to her, featuring original arrangements of her music and new pieces inspired by her work (2000).
 
the album "Impressions of Mary Lou" by pianist John Hicks featured eight of her compositions (2000).
 
had a small cameo in Ken Burns's documentary "Jazz" on PBS (Public Broadcasting System) (2001).


the Dutch Jazz Orchestra researched and played rediscovered works of Williams on their album "Lady Who Swings the Band" (2005).


Geri Allen's Mary Lou Williams Collective released their album "Zodiac Suite: Revisited" (2006).


a YA historical novel based on Mary Lou Williams entitled Jazz Girl, by Sarah Bruce Kelly, published in 2010.
 
merited a children's book based on Mary Lou William's early life, entitled The Little Piano Girl by Ann Ingalls and Maryann MacDonald with illustrations by Giselle Potter, (published in 2010).
 
a poetry book by Yona Harvey entitled Hemming the Water published in 2013, inspired by Williams and featuring the poem "Communion with Mary Lou Williams" (2011).
 
the American Musicological Society published Mary Lou Williams's Selected Works for Big Band, a compilation of eleven of her big band scores (2013).


Her New York Times obituary reports that "Miss Williams was an important contributor to every aspect of jazz that developed during a career that began in the late 1920's and lasted for more than half a century."[29]
 
an award-winning documentary film entitled, "Mary Lou Williams: The Lady Who Swings the Band,"
produced and directed by Carol Bash, premiered on American Public Television and was screened at various domestic and international film festivals (2015).
 
What'sHerName women's history podcasts aired the episode "THE MUSICIAN: Mary Lou Williams," with guest expert "Mary Lou Williams: The Lady Who Swings the Band," producer and director Carol Bash (2018).
 
Listen to an "Interview with Mary Lou Williams" (recorded live in 1976).

Listen to "NPR's 'Jazz Profiles' on Mary Lou Williams, 'Perpetually Contemporary'," July 25, 2007.
 
Listen to Mary Lou Williams playing, even singing, and being interviewed by Marian McPartland (1918–2013)




on the very first episode of McPartland's "Piano Jazz" (recorded live in 1978) with bassist Ronnie Boykins (1935–1980).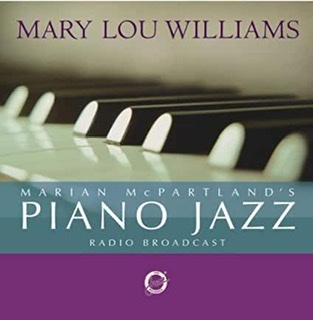 Listen to "Mary Lou Williams Centennial On JazzSet," from radio station WBGO, broadcast May 6, 2010. The first concert is from the University of Michigan (1978) where she plays her history of jazz medley first playing solo piano on spirituals (her own composition), Ragtime playing "Fandangle" a rag her mother had taught her, demonstrates Kansas City Swing (a "Blues,") a swinging left hand untitled number, a boogie-woogie on "Baby Bear Boogie." Adding bassist Ronnie Boykins, they perform "On Green Dolphin Street," "Baby Man" (by John Stubblefield), "Jeep Is Jumpin'" (by Johnny Hodges), and "Let's Do the Froggy Bottom." The University of Wisconsin, Madison concert adds drummer Charlie Persip where the trio plays Dizzy Gillespie's "Olinga," followed by "Medi II," then "Bag's Groove" by Milt Jackson.

Mary Lou Williams Lane, a street near 10th and Paseo in Kansas City, Missouri, was named after her (2018).

Tammy L. Kernodle, (B.M., M.A.), "Anything You are Shows Up in Your Music: Mary Lou Williams and the Sanctification of Jazz," Ph.D. dissertation, Ohio State University, 1997.
Tammy L. Kernodle, Soul on Soul: The Life and Music of Mary Lou Williams (Boston: Northeastern University Press, 2004).
Ayana Contreras, "Mary Lou Williams, Writ Large," DownBeat, December 7, 2020.
---
Billie Rogers
International Sweethearts of Rhythm
---
Marjorie Hyams
---
Hazel Scott
Hazel Scott (1920–1981)
(active 1938→1981)
(Click on montage of screen captures to see and hear her swing Chopin for Army–Navy Screen Magazine)
jazz and classical pianist who could swing the classics


the first black American to host her own TV show.[30]


"Relaxed Piano Moods" was inducted into the NPR Basic Jazz Record Library in 2001. The album was recorded in 1955 for Debut Records with Scott accompanied by the label's two owners and Hall of Fame musicians drummer Max Roach and bassist Charles Mingus. "The album is now considered by jazz critics and aficionados as one of the most important jazz recordings of the twentieth century."[31]

had prodigious piano technique.[32]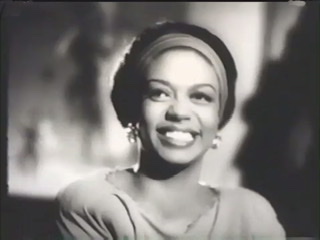 one of the first artists making her mark in classical music and jazz when soloing with both the New York Philharmonic and the Philadelphia Orchestras.[32]

uses post-bebop embellishment techniques that provide lush harmonies highlighting her ideas, as in her solo on George Gershwin's "A Foggy Day."[32]

"a true trailblazer in African-American culture."[33]

Read
Karen Chilton's
HAZEL SCOTT: The Pioneering Journey of a Jazz Pianist from Cafe Society to Hollywood to HUAC
---
Beryl Booker
---
Dorothy Donegan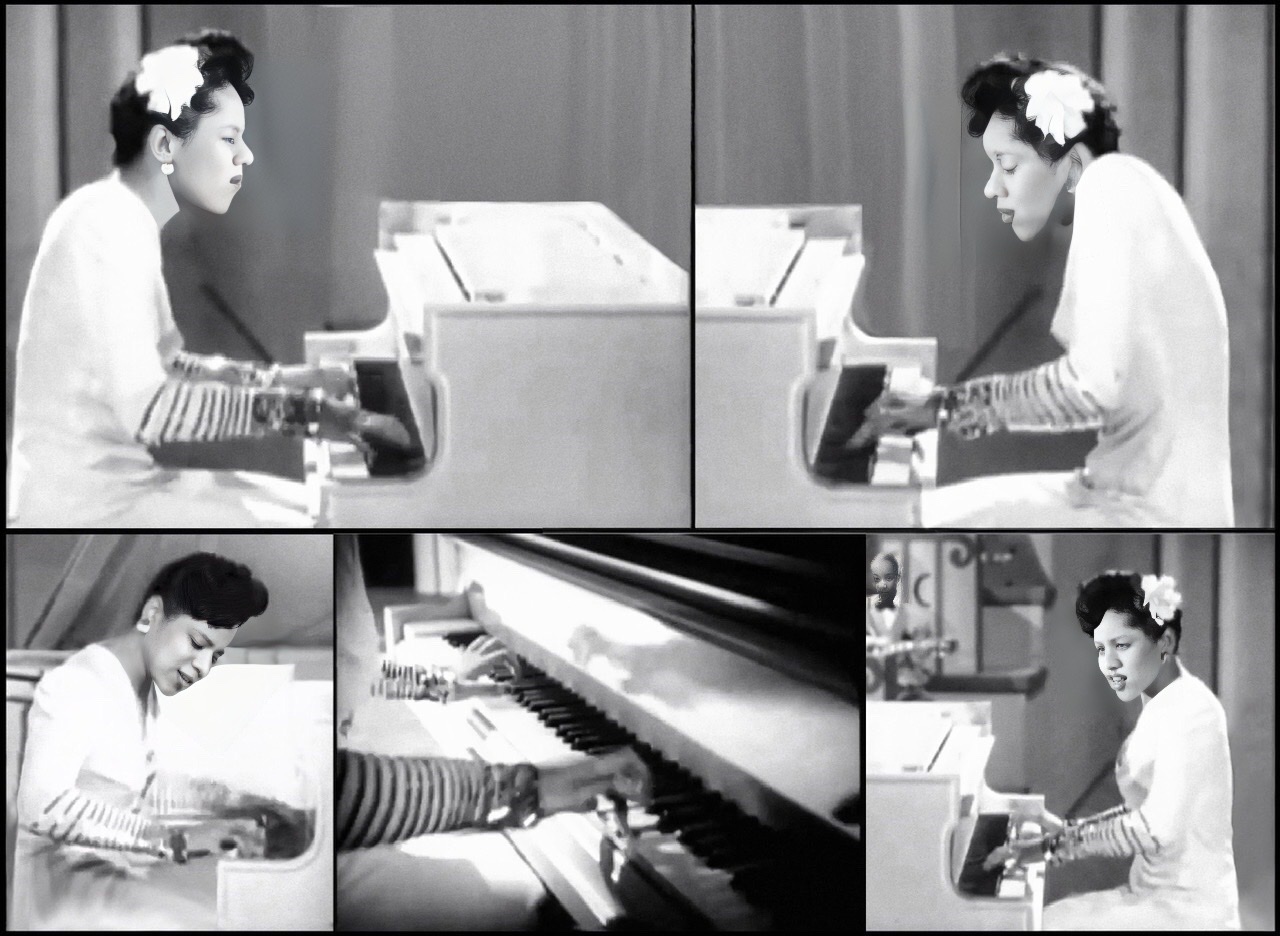 (Film stills above taken from the movie
"Sensations of 1945"
)

first black woman to perform at Chicago's Orchestra Hall in 1943.


sixty year career.


could play stride piano, boogie-woogie, swing jazz, Bebop, blues, and classical.


a protégé of Art Tatum (1909–1956), who said she was "the only woman that can make me practice."


music critic of the New York Times John S. Wilson in 1981 proclaims her "the lustiest, most exciting, hard swinging and virtuosic jazz pianist in the world. . . one of the most brilliant pianists, male or female, that jazz has ever known."


Listen to her all instrumental track "I Just Want to Sing" or another swinging version of it.

See Wilma Dobie's article "Dorothy Donegan Did It Her Way: Fans Loved but Critics Belittled," Jazz Journalists Association Library, 1998.

---
---
Jazz women in 1950's America
Jutta Hipp
pianist

bandleader

painter, who as a teenager studied at the Leipzig Kunstakademie

photographer

started playing piano at the age of nine and as a teenager listened to and practiced jazz in Germany during the Nazi suppression of jazz in World War II.


admired swing pianists such as Count Basie, Teddy Wilson and Fats Waller. After reaching Munich in the 1950s she found inspiration in pianists Bud Powell, Lenny Tristano and later moved away from Bebop greatly influenced by Horace Silver's blues-inspired rhythmic abilities.[35]

moved to Munich, Germany in early 1950s and in 1952 recorded with saxophonist Hans Koller (1921–2003).

led her own quintet in Frankfurt in 1953–1955 and recorded for several labels, including a session that was later released by Blue Note.

sought out in Germany in January 1954 by music critic Leonard Feather (1914–1994) who had heard recordings of Hipp in 1951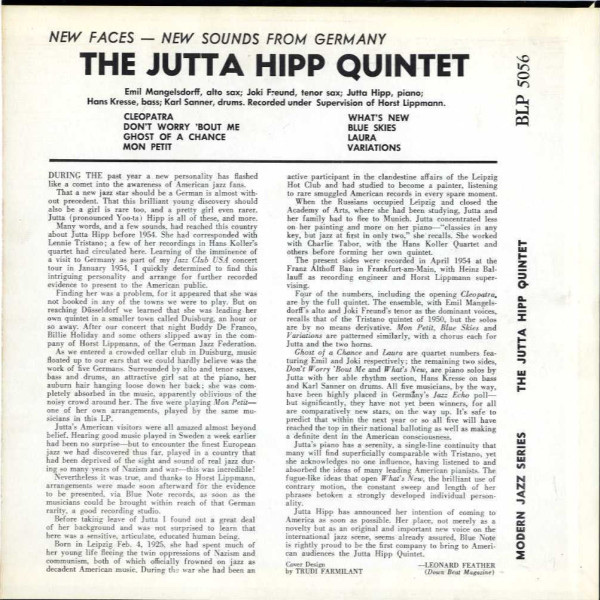 and encouraged by him to come to New York City, which she did.


played at the Deutsches Jazzfestival in Frankfurt (1954).

moved to New York City in November 1955 and played at the Hickory House
beginning in March 1956 recording two trio albums
for Blue Note Records playing in a more blues drenched style following Horace Silver. Her trio mates were British bassist Peter Ind (1928–2021) and drummer Ed Thigpen (1930–2010) known for his years with pianist Oscar Peterson (1925–2007) for Volumes 1 and 2 (Blue Note, April, 1956) .

"the first white female jazz instrumentalist as well as the first European instrumentalist to be signed by Blue Note Records."[36]


her first recording for Blue Note Records in 1954 was a live recording with sidemen
titled "New Faces, New Sounds from Germany."

performed at the Newport Jazz Festival in the summer of 1956 performing "a magnificent version of the "St. Louis Blues.""









her last recording on Blue Note with Zoot Sims
(1956) shows herself to have an original style.


Ben Ratliff, in The New York Times 2003 obituary, wrote that Hipp "developed a style that was lean, percussive, swinging and interrupted with plenty of rests, not far from Horace Silver's style but more low-key."

The Penguin Guide to Jazz observed that Hipp is "not as easy to pigeonhole as some accounts suggest. There are extra notes in many of the chords that give them a tense, slightly jangling quality, but Hipp was also capable of playing with delicate lyricism [ . . . ] and with a rugged, funky edge."

painted scenes of street life in Queens, New York, USA 🇺🇸.

was also a fine photographer, who took many shots of her favorite Long Island beaches and of the musicians playing in New York City and Long Island jazz clubs.
"As Hipp…matured artistically, she had defined her own artistic standards and revolted when pressured to record music she did not like. She also suffered from severe stage fright throughout her career. Thus being the featured artist at a large performance venue was more of a daunting chore for Hipp than a joyful public celebration of her talent." – All About Jazz[37]
---
Shirley Scott
---
Blossom Dearie
---
---
Jazz women in 1960's America
Joanne Brackeen

Joanne Brackeen was born Joanne Grogan in Southern California in 1938, and began to play the piano at the age of 9, even though she had desired to play since age 5.

is a full-time professor at Berklee College of Music in Boston, Massachusetts, and a Berklee guest professor at the New School in New York City.

Brackeen was a child prodigy who at age 11, learned to play the piano in six months by transcribing eight Frankie Carle solos. By 12, she was already performing professionally.
---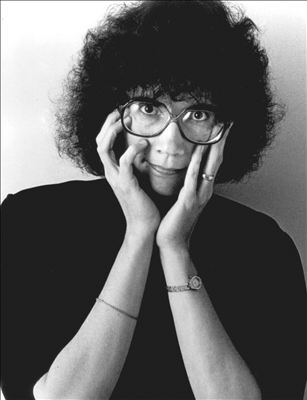 ---

Some of her musical constituents at the time were Art Farmer, Dexter Gordon, Charlie Haden, Billy Higgins, Bobby Hutcherson, Scott Lafaro, and Charles Lloyd.

the Los Angeles Conservatory offered her a full scholarship, but she attended classes for only a few days before deciding that live performance on the bandstand would help her career more than school 🏫.

Brackeen married and moved her family, including four children, to New York in 1965. She began her career there with such luminaries as George Benson, Paul Chambers, Lee Konitz, Sonny Stitt, and Woody Shaw among others.

joined Art Blakey's Jazz Messengers in 1969, becoming the first and only female member of the group, staying until 1972.

Brackeen then performed extensively with Joe Henderson (1972-75) and Stan Getz (1975-77). After leaving Stan Getz' quartet, she emerged as a leader.

Traveling and performing mainly with her own band was a delightful and enriching experience for both Brackeen and her band members, which included Terence Blanchard, Michael Brecker, Ravi Coltrane, Jack DeJohnette, Eddie Gomez, Billy Hart, Horace "El Negro" Hernandez, Branford Marsalis, Cecil McBee, John Patitucci, Chris Potter, and Greg Osby.

has recorded more than two dozen recordings as a leader, which include 100 of her 300 original compositions. She appears on nearly 100 additional recordings.

In addition to teaching at Berklee College of Music and the New School, she has led clinics, master classes, and artistic residencies worldwide.
---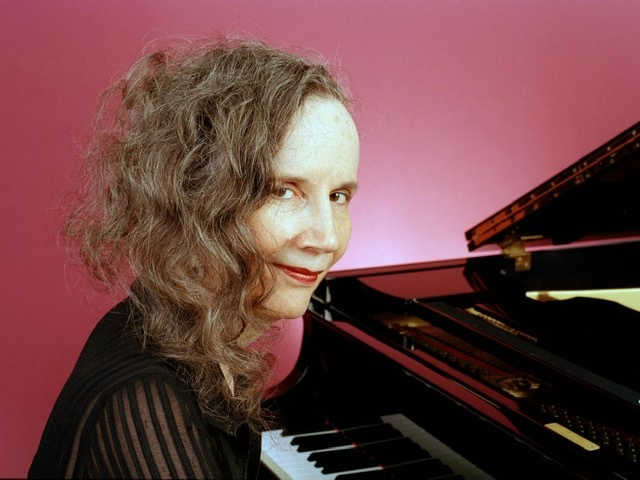 ---

Berklee College of Music has recognized Brackeen with the following prestigious honors: a Distinguished Professor Award, an Outstanding Achievement in Education Award, and the Berklee Global Jazz Institute Award.
---
---

received an Outstanding Educator Award from the International Association for Jazz Education, a Living Legend Award from the International Women in Jazz, and the BNY Mellon Jazz 2014 Living Legacy Award.
---
---

received two National Endowment for the Arts grants for commissions and performances and received a U.S. Department of State sponsorship for a tour of the Middle East and Europe in the mid-1980s. She continues to teach and tour internationally, and to date, she has played in 46 different countries.
Selected Discography:
Six Ate, Candid (1975)
Fi-Fi Goes to Heaven, Concord Jazz (1986)
Live at Maybeck Recital Hall, Concord Jazz (1989)
Pink Elephant Magic, Arkadia Jazz (1998)
Popsicle Illusion, Arkadia Jazz (1999)

2018 NEA Jazz Master. Since the program started in 1982, she is one of the few non-singing female musicians crowned an NEA Jazz Master along with trombonist/arranger Melba Liston (1987), pianists and composers Marian McPartland (2000), Toshiko Akiyoshi (2007), Carla Bley (2015), Maria Schneider (2019), and Dorthaan Kirk—recipient of the 2020 A.B. Spellman NEA Jazz Masters Fellowship for Jazz Advocacy.
Read John Murph's "Joanne Brackeen: Still Proudly Unorthodox," JazzTimes, February 10, 2020.
Listen to
Joanne Brackeen on NPR's Piano Jazz originally recorded August 15, 2005 and read about it from author David Lyon published March 14, 2014.
Listen to her interview with Bob Karcy.
Carol Sloan

"Her main assets were her warmly appealing timbre, good range and secure time, all amply demonstrated in these two albums made in 1961–62. On "Out of the Blue," a record with memorable contributions by soloists Bob Brookmeyer, Clark Terry, Nick Travis and Jim Hall, she is backed mostly by Bill Finegan's arrangements." (Click anywhere on quotation for source)

Started singing with a local danceband as a 14-year old in 1951.


In 1960, Jon Hendricks asked her to temporarily sub for Annie Ross in Lambert, Hendricks & Ross.


appeared at the 1961 Newport Jazz Festival.


recorded two albums for Columbia Records in 1961–1962.


played and recorded with pianist Bill Charlap (b. 1966), alto saxophonist Phil Woods (1931–2015), clarinetist and tenor saxophonist Ken Peplowski, and pianist Sir Roland Hanna (1932–2002).


recorded more than thirty albums under the Prestige, Contemporary, and especially the Concord label.


Read about "Sloane: A Jazz Singer" movie 🎥 at GoingBarefoot.com.


Listen to "I Never Went Away."
---
---
Jazz women in 1970's America
Ahnee Sharon Freeman
Starting in 1982, she was musical director and a member of Charlie Haden's Liberation Music Orchestra.

She has played with Frank Foster, Charles Mingus, Don Cherry, Muhal Richard Abrams, David Murray, Lionel Hampton, Don Pullen and Beaver Harris.
nominated for a Grammy for her arrangement of "Monk's Mood" for five French horns and rhythm section for Hal Willner's album, That's the Way I Feel Now: A Tribute to Thelonious Monk.

commissioned by the Jazz Composer's Orchestra, the Brooklyn Philharmonic, and the Harlem Piano Trio.

Hear her interviewed and playing piano on Marian McPartland's "Piano Jazz" broadcast in the Spring of 1988.
---
Jessica (Jennifer) Williams
(Photo by Jimmy and Deana Katz/courtesy of Jessica Williams)
---
---
DAVE BRUBECK (1920 – 2012) calls her "One of the greatest jazz pianists I have ever heard."
McCOY TYNER (1938–2020) says "Jessica is a beautiful player."
ALUN MORGAN (1928–2018) of Gramophone believes her to be "The most important pianist to arrive since Bill Evans."
SCOTT YANOW (b. 1954): "A powerful virtuoso whose complete control of the keyboard, wit, solid sense of swing, and the influence of Thelonious Monk have combined to make her a particularly notable player. One of the top pianists of today . . . she is a giant . . . consistently brilliant." All Music Guide
JEFF WINBUSH (b. 1956): "Williams is, as always, brilliant and transcendent." All About Jazz reviewer.
HUMPHREY LYTTELTON (1921–2008), BBC: "I"m running out of superlatives to describe her playing!"
DAN MCCLENAGHAN (b. 1952), "But listening to "Tatum's Ultimatum" (Red and Blue Recordings, 2008) or "Songs for a New Century" Origin Records, 2008) makes clear that Williams ranks with Keith Jarrett, or beyond." Williams has positioned herself in the top level of current jazz pianists and, with discs like Songs for a New Century and Tatum's Ultimatum, she has established herself as the top solo pianist working today.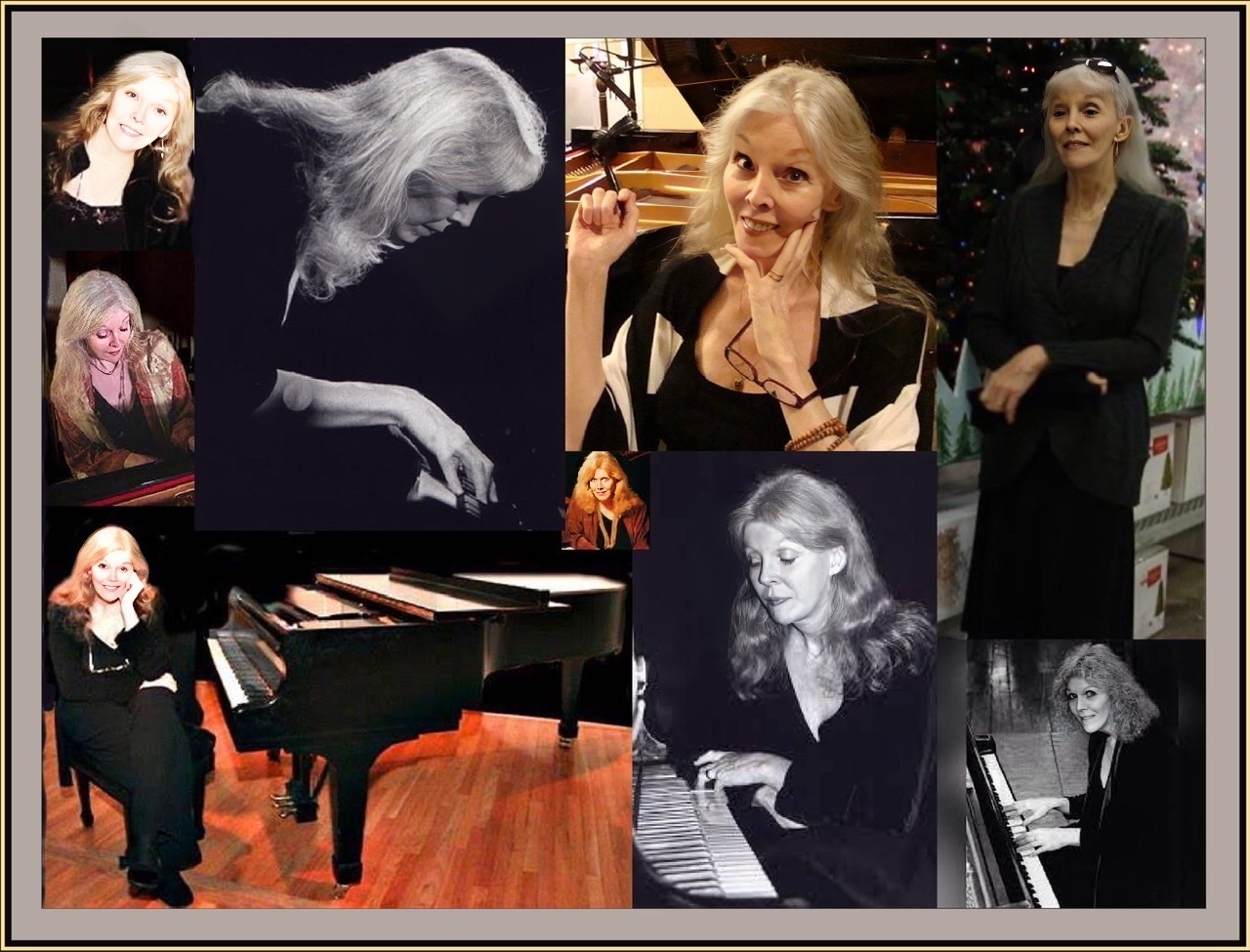 started playing the piano at age four with music lessons from a private teacher at five, and enrolled in the Peabody Preparatory at age seven.

a graduate of the Peabody Conservatory of Music.

In June 1976 when twenty-eight years old she began performing regularly with the "Philly Joe" Jones band in New Jersey. Philly Joe (1923–1985) was the drummer for the first Miles Davis Quintet (1955–1958).

Subsequently, she worked with drummer Lex Humphries (1936–1994) in Philadelphia and New York City, before switching to the West Coast in October 1976.

In 1977, Williams moved to San Francisco, where she played in various house bands at the Keystone Korner. She played in the bands of Eddie Harris, Tony Williams, Stan Getz, Bobby Hutcherson, and Charlie Haden, eventually leading her own jazz trio, and recording prolifically for the next several decades.

her musical career was mostly on the West Coast, San Francisco in the 1970s and 80s, and thereafter in the Pacific Northwest, though she toured widely as a soloist and with her trio. She recorded several albums in Portland, Oregon, including two with the great walking bass player Leroy Vinnegar and drummer Mel Brown.
Listen to Jessica Williams's Portland Trio with Leroy Vinnegar and Mel Brown on Jazz Northwest from KNKX Public Radio from a 1994 date at the posh Portland restaurant Atwaters that closed in 2001.

performed with a who's who in jazz over a four decade career, including:


has released over 70 albums and written over 1,000 compositions.

See a timeline of her discography.

Recorded excellent tribute albums for Thelonious Monk's "In the Key of Monk" (recorded 1997/released 1999) & "More for Monk" (2007) & ("Deep Monk" (2008), Bill Evans (recorded 1996/released 1998), Duke Ellington (recorded 2000/released 2001), Dr. Billy Taylor (2006), Miles Davis (released 2007), and John Coltrane (recorded 2007/released 2011). See and hear from the album covers below.
Click on any of the album covers for more information about it and listen to thirty second samples of any tune on the album in question, then click on the back arrow of your browser to return to PoJ.fm.


qualified for two grants from the National Endowment for the Arts (1984 & 1988).

awarded a Rockefeller Grant for composing (1989)

won the Alice B. Toklas Grant for Women Composers (1992).

received a Fellowship in Music Composition with the John Simon Guggenheim Memorial Foundation (1995).

received The ASCAP-PLUS AWARD for distinguished contributions in the areas of composition and performance, yearly for twenty-four years.

two-time Grammy Nominee, including her 1986 album "Nothin' But the Truth," and "LIVE at Yoshi's Volume One" in 2004 for Best Jazz Instrumental Album.

Over fifty years has recorded for Adelphi, Clean Cuts, Jazz Focus, Candid, Concord, Landmark-Fantasy, Timeless, Maxjazz, and Origin Arts.

In 1997, she established her own record label, Red and Blue Recordings. She also started her publishing company, JJW Music/ASCAP, and an internet mail order business, jessicawilliams.com (now defunct).

was a guest on NPR's Fresh Air with Terry Gross
March 29, 2002.

On NPR Piano Jazz
she told interviewer Marian McPartland (1918–2013) that her main influences were not pianists, but horn players, most notably Miles Davis and John Coltrane.

Her album "Joyful Sorrow" was among the Top 5 CDs of JazzTimes Critics Poll in 1999.

her album "In the Key of Monk" won that honor again in 2000.

In Europe, she scored Jazz Record of the Year for two consecutive years in the Jazz Journal International Reader's Poll.

Best Instrumental Jazz Album National Endowment for the Arts (1988, 1992).

Alice B Toklas Fellowship Money for Women (1993).

Rockefeller Grant (1990).

Record of the Year (1994, 1995) Jazz Journal International Reader's Poll.

Presented a plaque of civic appreciation from Mayor of Sacramento, CA Anne Rudin with a key to the City of Sacramento (1989).

Meet the Composer Grant (1991).

Sacramento Arts Commission, four grants (1984–1988).

Keys to the City of San Mateo (1997).

Artist of the Year Award Santa Cruz County (2002).

One of the TOP 5 CDs of 2000 (JazzTimes Critics Poll — "In the Key of Monk").

One of the TOP 5 CDs of 1999 (JazzTimes Critics Poll — "Joyful Sorrow").

Fifteen Special Awards Panel Grants from ASCAP for composition.

Best Jazz Album of the Year
("Live at Yoshi's, Vol 1") (recorded live in July, 2003; released 2004) from All About Jazz

Best Jazz Album of the Year ("Live at Yoshi's, Vol 2") (recorded live in July, 2003; released 2005)
from All About Jazz.

written scores for PBS and HBO.

appeared in festivals and venues worldwide, including the Purcell Room in London, the Bern Jazz Festival, the Monterey Jazz Festival, the New Morning in Paris, Spivey Hall in Georgia, the Opera House in Tokyo, and hundreds of other venues.

opened at the 2004 and May, 2006 "Mary Lou Williams Women in Jazz Festival" at the John F. Kennedy Center for the Performing Arts in Washington, D.C..

interviewed by the BBC in Brecon, Wales.
Grammy nominations:
Nothin' But the Truth — 1986
Live At Yoshi's, Vol. 1 — 2004
National Endowment for the Arts grants — 1984, 1988
Rockefeller Grant (composing) — 1989
Alice B. Toklas Grant for Women Composers — 1992
John Simon Guggenheim Memorial Foundation Fellowship — 1995
Presented the keys to the city of Sacramento, California.
Four grants from the Sacramento Arts Commission.
Presented the Keys to the City of San Mateo, California.
Artist of the Year in Santa Cruz County — 2002
Jazz Record of the Year for two consecutive years in the Jazz Journal International Reader's Poll.
Billboard Magazine charting: "This Side Up" — Top Jazz Albums, peak No. 24, 2002
---
Jazz women in 1980's America
Emily Remler
American jazz guitarist who rose to prominence in the 1980s.


primarily playing bop guitar with her own groups.

playing was significantly influenced by Wes Montgomery (1923–1968) and Herb Ellis (1921–2010).

released six albums with her own groups
(1981),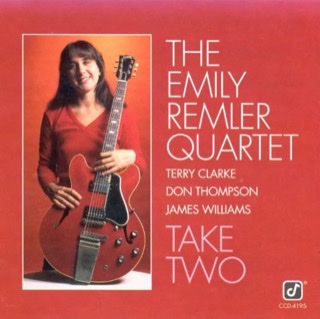 (1982),
(1984),
(1985),
(1988) and a duet album with Larry Coryell
(1985).

her final album, "This is Me,"
was her first entry into the contemporary jazz-pop realm.
---
Terri Lyne Carrington

American drummer


Composer


Educator


Producer


NEA Jazz Master 2021
Kris Davis
🔸 Kris Davis

singer


Nichole Mitchell
Nichole Mitchell

singer


---
Fay Victor
Fay Victor

singer


---
Nedra Wheeler
American jazz bassist based in Los Angeles

bandleader

composer

vocalist

experience with diverse musical genres including jazz (straight-ahead and contemporary), Pop, R&B, World Music and interpretations of original compositions for modern dance


performs in Southern California and has toured internationally for more than 30 years.


recipient of the 2006 Jazz Legend of Los Angeles Awards from the Dunbar Economic Development Corporation and The City of Los Angeles.


has a Master of Fine Arts degree from the California Institute of the Arts.


a performer and teacher with the Jazz Mentorship Program at the City of Los Angeles Department of Cultural Affairs-Watts Towers Arts Center & the Charles Mingus Youth Arts Center.


Developer of the U.S./Japan Gospel Workshop and Inter-Cultural exchange for the CAT Music College of Osaka.


Adjunct Professor in music at the Los Angeles Community College School District.

​

performed and recorded with Stevie Wonder, Ella Fitzgerald, Pat Benatar, Linda Hopkins, Kenny Kirkland, Jeff "Tain" Watts, Bob Dylan, Billy Higgins, The Harper Brothers, Branford Marsalis, Tracy Chapman, Kenny Barron, Al "Tootie" Heath, Cedar Walton, Elvin Jones, and Alice Coltrane.


recordings include film soundtracks for "Malcom X," "Chick Peas," "Clockers," "Menace to Society," and "King of California."


self-produced her debut CD entitled "Gifts: Live at Birdland West" (1989).
---
Geri Allen

pianist


singer


educator


composer


arranger


Art Song / Folk / Pop / Post-Bop / Avant-Garde Jazz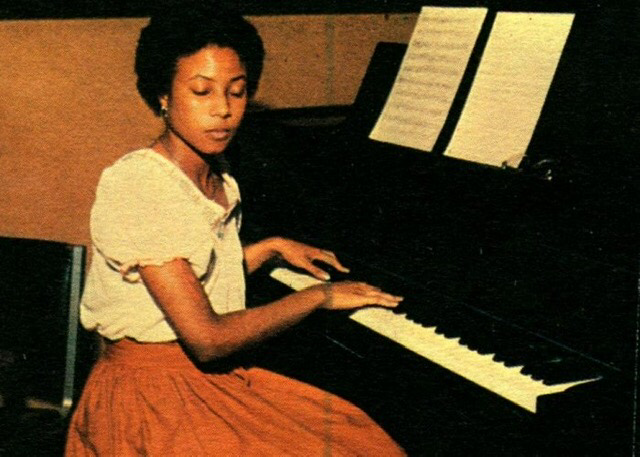 worked with many jazz musicians, including Ornette Coleman, Ron Carter, Tony Williams, Dave Holland, Jack DeJohnette, and Charles Lloyd.

her primary musical influences were her four mentors Marcus Belgrave, Donald Walden, Betty Carter, and Dr. Billy Taylor, as well as pianists Bud Powell, Mary Lou Williams, Thelonious Monk, Hank Jones, Alice Coltrane, Cecil Taylor, McCoy Tyner, and Herbie Hancock.

received her early music education at the Cass Technical High School in Detroit and the Jazz Development Workshop mentored there by trumpeter/teacher Marcus Belgrave.

earned her bachelor's degree in jazz studies from Howard University in Washington, D.C. (1979).

studied under composer Thomas Kerr, and pianists Raymond Jackson, John Malachi, Fred Irby, Arthur Dawkins, and Komla Amoaku.

moved to New York City after graduating and studied with pianist Kenny Barron.

attended the University of Pittsburgh and earned a master's degree in ethnomusicology (1982).

returned to New York (1982) to tour with Mary Wilson and The Supremes.

became a charter member of the Black Rock Coalition and the Brooklyn M-Base movement in mid 1980s, including saxophonists Steve Coleman, Greg Osby, Gary Thomas, and vocalist Cassandra Wilson among others.

played on several of Steve Coleman's albums, including his first, "Motherland Pulse," (1985) providing the composition "The Glide Was in the Ride", (click on song title to listen) a track listed on the "New Smithsonian Collection of Classic Jazz"
(2011).

was the original keyboarder of Steve Coleman's M-Base band Five Elements.

had her debut album as leader, "The Printmakers"
(1984), with Anthony Cox and Andrew Cyrille recorded in Germany and released by the newly founded German label Minor Music.

performed with two members of the Association for the Advancement of Creative Musicians (AACM) Joseph Jarman and Frank Lowe, then toured and recorded with altoist Oliver Lake.

recorded first solo piano album, "Home Grown"
(1985) followed by an album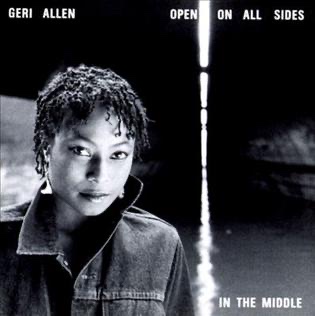 and a concert tour with the large ensemble project "Open on All Sides in the Middle."

her last recording for Minor Music, "Twylight," (1989) had her singing on two tracks and playing a synthesizer.

played piano on bassist Charlie Haden's album "Etudes"
(1988) in a trio with drummer Paul Motian.

played on drummer Paul Motian's album
"Monk in Motian" (1988).

played in Charlie Haden's Liberation Music Orchestra Montreal concert (1989).

was the first recipient of 1995s Soul Train's Lady of Soul Awards for jazz album of the year
for "Twenty-One," featuring Tony Williams and Ron Carter.

first woman, and youngest person, to receive the Danish Jazzpar Prize (1996).

recorded with Ornette Coleman on his "Sound Museum" (1996) and later "The Gathering" (1998).

recorded "The Life of a Song" with Dave Holland on bass and Jack DeJohnette on drums.

commissioned to compose "For the Healing of the Nations" (2006), a Sacred Jazz Suite for Voices, written in tribute to the victims, survivors and their families of the 9/11 attacks.

active in the documentary film "Live Music, Community & Social Conscience" (2007) while performing at the Frog Island Music Festival in Michigan.

contributed original music for the documentary film "Beah: A Black Woman Speaks," directed by Lisa Gay Hamilton, that received a Peabody Award

helped orchestrate Andy Bey's "American Song" nominated for a Grammy Award.

received a Guggenheim fellowship in 2008.

received "A Salute to African-American Women: Phenomenal Woman" from the Alpha Phi Alpha fraternity, Epsilon chapter at the University of Michigan (2008).

awarded the "African-American Classical Music Award" from the Women of the New Jersey Chapter of Spelman College (2008).

her album "Flying Toward the Sound"
was rated one of the Best Of 2010 on NPR, DownBeat magazine, the All About Jazz website, and the Village Voice's Jazz Critics' Poll.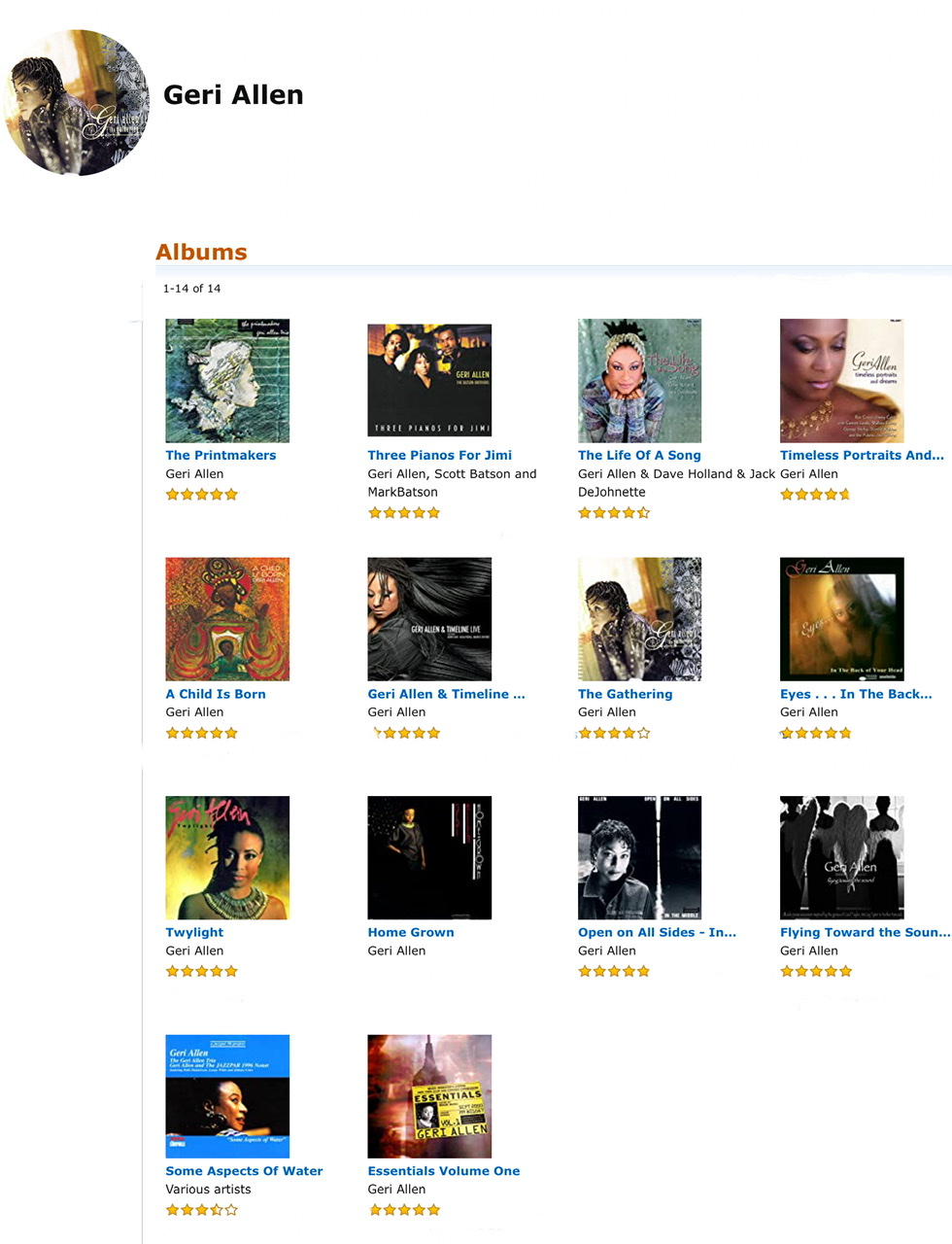 received a nomination for the NAACP Image Award for Best Jazz Album, "Geri Allen & Timeline Live" in 2011.

nominated for The 10th Annual Independent Music Awards under the Live Performance Album category, and for "Best Jazz Pianist" by the Jazz Journalists Association (2011).

served as an Associate Professor of Jazz & Contemporary Improvisation at the School Of Music Theatre & Dance, at the University of Michigan (2011).

was a curator in New York City at the STONE (2012).

beginning in 2013 returned to her alma mater, the University of Pittsburgh, as an Associate Professor of Music and Director of the Jazz Studies Program.

awarded an Honorary Doctorate of Music from Berklee College of Music (May 2014).

part of two recent groundbreaking trios: ACS (Geri Allen, Terri Lyne Carrington, and Esperanza Spalding) and the MAC Power Trio with David Murray and Terri Lyne Carrington with their debut recording "Perfection" (2016) released on Motéma Music to critical acclaim.

toured Europe as a guest artist with McCoy Tyner (Spring 2017).
---
Saskia Laroo
[[file:SaskiaLaroo.jpeg
link=
alt=.]]

trumpet


cornet


saxophone


piano


upright bass


singer


composer


arranger



---
Dena DeRose

pianist


singer


educator


composer




Dena DeRose overcame a debilitating physical illness to become a significant force in jazz as both a pianist and a singer. She brings a modern-jazz hipness to the American standard repertoire, and approaches virtually everything she plays with a "swing first" mentality. By the time she released 1996's Introducing Dena DeRose for Sharp Nine Records, her leader debut, she had already faced down the twin blows of rheumatoid arthritis and carpel tunnel syndrome, which threatened to end her career. While recovering from corrective surgery she was dared to sing in a club. A few weeks after taking that dare, she was touring as a vocalist. For 2002's acclaimed Love's Holiday, the last of her leader dates for the label, she enlisted heavy weights such as pianist Bill Charlap, vibraphonist Joe Locke, and trumpeters Jim Rotondi and Brian Lynch to expand the sonic reach of her trio. Three years later she produced her own Grammy-nominated Max Jazz debut, A Walk in the Park. Two years later she issued three albums in a single year including the first of three best-selling Live at the Jazz Standard volumes with her trio -- with bassist Martin Wind and drummer Matt Jones -- the second volume spent 12 weeks on the jazz charts. Her 2014 High Note debut, We Won't Forget You: An Homage to Shirley Horn, added an all-star horn section to the trio and made numerous critics' year-end lists; some drew favorable comparisons between DeRose and her subject. 2016's United was widely celebrated for its title track original, as well as the inclusion of guest trumpeter Ingrid Jensen and guitarist Peter Bernstein.
Another World DeRose began playing piano when she was three and, in addition to her piano lessons, she studied classical organ and percussion. In school. She played in the orchestra, the marching band, and the jazz band, and accompanied musicals. She took classes in classical piano at SUNY Binghamton and worked as a jazz pianist in upstate New York. But in the mid-'80s she was struck with a combination of arthritis and carpal tunnel syndrome that greatly affected her right hand. She had two operations and was unable to play piano at all for two years. It looked as if her musical career was over before it had really begun. But one night while in a jazz club with some friends, she took a dare to sing. DeRose did well and enjoyed the experience so much that within a few weeks she was booking herself as a singer. By the time she was becoming well known as a jazz vocalist, her hand had completely recovered, and she became a singer/pianist. In 1991, DeRose moved to New York City, where she began working the club circuit. Since then, she has also become a busy music educator, but appears regularly at jazz festivals. In addition to leading her own trio, DeRose has worked with such major names as Randy Brecker, Bruce Forman, Ray Brown, Clark Terry, Benny Golson, Houston Person, and Ken Peplowski. As a solo artist, DeRose made her debut in 1996 with Introducing Dena DeRose on Sharp Nine Records, followed by 1999's Another World, 2001's I Can See Clearly Now, and 2002's Love's Holiday. DeRose next moved to MaxJazz for several well-received albums, including 2005's A Walk in the Park and 2012's Travelin' Light. She then paid tribute to one of her idols, legendary pianist/vocalist Shirley Horn, with 2014's We Won't Forget You: An Homage to Shirley Horn on HighNote Records. In 2016, DeRose released her eighth studio album, United, featuring guest appearances from longtime associates trumpeter Ingrid Jensen and guitarist Peter Bernstein.
La Rosita Two years later, DeRose served as pianist in tenorist Scott Hamilton's quartet on La Rosita, and in 2019 stretched her own boundaries on Alpenglow in Copenhagen serving as pianist in an avant improvising trio with bassist Mads Vindig and improvising vocalist Annette Giesriegl. In 2020, DeRose returned as a bandleader for High Note with Ode to the Road. The set featured her trio with guest trumpeter Jeremy Pelt, saxophonist Houston Person, and vocalist Sheila Jordan on select cuts.

---
Jazz women in 1990's America
Lena Bloch
---
---

Lena plays marvelous tones. See and hear it for yourself at the opening of "Heart Knows." Who can play like this? Oh yeah, John Coltrane.
""In jazz", muses Lena Bloch, "many things come together that are thought of as opposites: mind and feeling, responsibility and abandonment, looseness and precision, improvisation and composition. I just love that."

Born in Moscow, Russia, Lena Bloch immigrated to Israel to attend the Rubin Academy of Music and Dance (now called the Jerusalem Academy of Music and Dance) and afterwards moved to Europe in 1990, where she became a part of the European jazz scene in Germany and Holland for twelve years.

came to the United States in 2003, earning a Master's Degree in Composition at the University of Massachusetts, Amherst.

after moving to Brooklyn, New York🗽 in 2008 has performed with, among others, Dan Tepfer, Roberta Piket, Brad Linde, and Sarah Hughes, George Schuller, Frank Carlberg, Putter Smith, Mark Ferber, Sumi Tonooka, Kim Clarke, Vishnu Wood, and Vladimir Shafranov contributing to the development of the tradition of spontaneous improvising and open musical communication.

a fifteen year disciple of saxophonist Lee Konitz (1927–2020), a close friend.

collaborated with many former students of Lennie Tristano's, including Bob Arthurs, Connie Crothers, Ted Brown, Harvey Diamond, Joe Solomon, and Charles Sibirsky.

an improviser, dedicated to spontaneity and precision.

featured in the "Four Extraordinary Women In Jazz" workshop/performance (with Connie Crothers) and in the Lester Young 100's Birthday Concert with Ted Brown and Chris Byars at Smalls Jazz Club.

a soloist for the Vermont Jazz Big Band, the Ambassadors of Light, and the Vishnu Wood Quartet.

has also gained significant recognition in Europe, performing with such diverse musicians as "Embryo", Keith Copeland, Alvin Queen, and Steve Reid.

During her first years in Brooklyn Lena was featured in the "Four Extraordinary Women In Jazz" workshop/performance (with Connie Crothers) and in the Lester Young 100's Birthday Concert (with Ted Brown and Chris Byars, Smalls Jazz Club).
She was a frontman in Vishnu Wood Quartet (2008-2014) and performed with this group at several festivals (with Vishnu Wood, James Weidman, Bertha Hope, Makaya MacCraven, R J Miller).
Lena has been a part of Lady Got Chops festival (NY State) with groups led by Mala Waldron, Sumi Tonooka, Kim Clarke.
Other musicians Lena has worked with, are Arturo O'Farrill, George Schuller, Putter Smith, Bill Wurtzel, Scott Wendholt and many others.
In 2014 Lena Bloch was invited as a soloist with New York Chamber Players Orchestra, performing the concerto for alto saxophone and orchestra by Eric Koenig at the Merkin Concert Hall.
5 years ago Lena's own project came to life, when she met the nucleus of her recent quartet: bassist Cameron Brown and drummer Billy Mintz, both stellar musicians with tremendous experience and deep understanding of music. With these colleagues and a very talented young guitarist from Chicago, Dave Miller, Lena recorded her first album as a leader. The album "Feathery" was top-rated in Downbeat Magazine, Pop Culture Classics, Jazz Inside Magazine, New York City Jazz Record, France Musique, Canadian Audiophile, Music Charts Magazine – and was voted the best debut release of 2014 by Dan Morgenstern, as well as one of the top 10 Jazz Albums 2014 (Just Jazz, USA) and top 50 Jazz Albums 2014 (JazzLinks, Austria-Germany).
After Miller's departure from NYC, Lena's quartet took a different turn, when in 2014 pianist and composer Russ Lossing joined the group. Lena Bloch Quartet, called Feathery, has been performing regularly since then, presenting original music, written by Lena and Russ. The quartet has performed in various New York City and Brooklyn concert spaces and jazz clubs, has released its album "Heart Knows" in 2017 (Fresh Sound Records) and was selected to perform at the showcase for the 40th National Chamber Music Conference in NYC (2018).
Lena's inspirations and interests come from her musical experience and study with masters. She studied with Yusef Lateef in Massachusetts, Kaveh Dalir-Azar from Iran in Germany, David Liebman in his European workshops, Dave Holland and Joe Lovano in Banff Canada, and, most notably, with Lee Konitz, whom she met in 2001 in Cologne.
She acquired her Artist Diploma from Cologne Conservatory (Germany), where her teachers were Keith Copeland and John Marshall, with whom she also performed with her quartet.
In Europe Lena Bloch has met and performed with fabulous jazz musicians and masters, such as Mal Waldron, Johnny Griffin, Horace Parlan, Alvin Queen, Jurai Stanik.
In 2000-2002 she was the saxophonist and composer with the legendary jazz percussionist Steve Reid (album "Live In Europe", Mustevic Records, 2000), along with Boris Netsvetaev and Chris Lachotta.
In 2003, graduate school followed – Master's Degree in Composition and teaching assistantship at the University of Massachusetts Amherst – study with Salvatore Macchia and Jeff Holmes.
She played the first tenor chair in the Jazz Ensemble and got a "Downbeat Student Award" 2005 and MENC Award 2004 in Minneapolis.
With her unique cultural background, Lena is working in a "singular manner" (as Mark Keresman of NYC Jazz Record puts it), towards an original style and very personal expression. Her inspirations range from Eastern European and Middle Eastern tradition to 20th-21st Century and Western classical music.
Lena is also an active instructor and clinician, teaching woodwinds and improvisation, member of Jazz Education Network, New Music USA and Chamber Music America.
She served as a panelist for National Endowment for the Arts in 2015.
Currently a faculty member at Slope Music, Brooklyn.
– and since then traveled the world, performing in various settings in Israel, Holland, Italy, Germany, Belgium, England, Canada, Russia, Slovenia and United States.
In 1994 Lena received a full scholarship for Jazz In July workshop, to study with Yusef Lateef and Billy Taylor, and won the "Outstanding Performance Award."
Lena acquired her Artist Diploma cum laude from Cologne Conservatory, Germany, in 1999. There she studied with great American jazz artists Keith Copeland and John Marshall.
In 1999 Lena was granted a full scholarship to attend Jazz Workshop in Banff, Canada, where she studied with Joe Lovano, Kenny Werner and Dave Holland.
In 2001 Lena met her most important teacher, Lee Konitz, who she studied with until recently. Lee introduced Lena to the music of Lennie Tristano's school, especially Warne Marsh.
Lena received her Master's of Music degree in Jazz Studies and Composition from the University of Massachusetts Amherst in 2006, where she was studying with Salvatore Macchia and Jeff Holmes. She played the first tenor chair in the Jazz Ensemble and got a "Downbeat Student Award" 2005 and MENC Award 2004 in Minneapolis.
Since 1993 Lena has been leading her own quartet and trio, writing music and arranging.
With her unique cultural background, Lena is working towards a unique style, her musical influences in jazz ranging from European Classical tradition to Middle Eastern and Turkish music.
Lena became interested in Arabic, Persian and Turkish music in Germany, where she met many immigrant musicians and played in the legendary "Embryo" band, who she toured the Italy with.
In her own compositions, Lena incorporates Middle-Eastern and Eastern European elements into jazz idiom, achieving a unique sound. She is also an inventive improviser and a refreshing performer of standard jazz material.
In Europe Lena has met and performed with fabulous jazz musicians and masters, such as Mal Waldron, Johnny Griffin, Horace Parlan, Keith Copeland, John Marshall, Alvin Queen.
She met the legendary jazz percussionist Steve Reid and recorded a CD with him, "Steve Reid Live In Europe."
After she moved to United States, Lena worked with Vishnu Wood, Arturo O'Farrill, George Schuller, Billy Mintz, Dave Shapiro, Roberta Piket, Scott Wendholt, Dan Tepfer, Jeremy Stratton, Chris Higgins, Bill Wurtzel, Kim Clarke, Bertha Hope, Ted Brown, Jimmy Wormworth, Taro Okamoto, and Shinnosuke Takahashi.
Lee Konitz invited Lena to sit in with his quintet at Dizzy's Club Coca-Cola in the summer of 2008, with the band which included Dan Tepfer, Peter Bernstein, Ray Drummond and Matt Wilson.
In 2009 Lena recorded some CD material with Vadim Neselovskyi on piano and George Kaye on bass.
Lena has performed in various venues in NY, such as Birdland, Dizzy's Club Coca-Cola, Smalls Jazz Club, St.Peter Church Jazz Ministry, St.Marks Church, Sofia's, Fat Cat, Puppets, 5C, The Old Stone House Brooklyn and others.
As a member of other bands, Lena Bloch has played with "Ambassadors of Light" (Vermont), Vermont Jazz Center Big Band, Vishnu Wood Safari East, Kim Clarke's Inner Circle, Bill Wurtzel Trio, Afro-Cuban Latin Jazz Orchestra and most recently as a guest artist with Brad Linde Ensemble, Lester Young Birthday Tribute and Jimmy Giuffre – Gerry Mulligan projects.
Festivals:
Red Sea Jazz Festival – Eilat, Israel 1990
Leipziger Jazz Newcomers Competition, winner – Lepzig, Germany 2000
Leverkusener Jazz Tage – Leverkusen, Germany, 2001
Ingolstadter Jazz Tage – Ingolstadt, Germany, 2001
Jazz Lent Maribor (with Alvin Queen) – Slovenia 2002
Voronezh Jazz Festival – Russia 2002
Women In Jazz Festival – Amherst MA USA 2004
Lady Got Chops Festival – New York City NY USA, 2010 and 2011
Temple Of The Arts Jazz Festival – 2011, 2012, 2013
Lena's debut album "Feathery" (2014, Thirteenth Note Records) was top-rated in Downbeat Magazine, Pop Culture Classics, Jazz Inside Magazine, New York City Jazz Record, France Musique, Canadian Audiophile, Music Charts Magazine – and was voted the best debut release of 2014 by Dan Morgenstern, as well as one of the top 10 Jazz Albums 2014 (Just Jazz, USA) and top 50 Jazz Albums 2014 (JazzLinks, Austria-Germany).
Lena currently is leading her quartet with Russ Lossing (piano), Cameron Brown (bass) and Billy Mintz (drums).
Lena is also a creative and inventive educator, successfully teaching woodwinds and jazz improvisation to all ages and levels since 1990, currently a faculty member at Slope Music (Brooklyn).
Selected jazz festivals:


🐉 Red Sea Jazz Festival – Eilat, Israel 1990
🐉 Leipziger Jazz Newcomers Competition, winner – Lepzig, Germany 1999
🐉 Leverkusener Jazz Tage – Leverkusen, Germany, 2000
🐉 Ingolstadter Jazz Tage – Ingolstadt, Germany, 2001
🐉 Jazz Lent Maribor (with Alvin Queen) – Slovenia 2002
🐉 Voronezh Jazz Festival – Russia 2002
🐉 Women In Jazz Festival – Amherst MA USA 2004
🐉 Lady Got Chops Festival – New York City NY USA, 2010 and 2011
🐉 Temple Of The Arts Jazz Festival – 2010, 2011, 2012
🐉 Washington Women in Jazz Festival (soloist with Brad Linde Ensemble) – 2015
🐉 40th National Chamber Music Conference – showcase with Feathery Quartet – 2018
Listen to both renditions of Bloch's "Heart Knows" or "Heart Knows" for an excellent composition, beautiful performance, and all players creating an outstanding jazz musical mood.
---
Roberta Gambarini
ROBERTA GAMBARINI was born in Torino, Italy, into a family where jazz was much loved and appreciated. She began listening to this music as a child and started taking clarinet lessons when she was twelve years old. By the time she was 17, she began singing and performing in jazz clubs around Northern Italy and at the age of 18, she decided to move to Milan to pursue a career as a jazz singer.
Soon after her move to Milan, Roberta took third place in a national jazz radio competition on TV, leading to performance opportunities at jazz festivals throughout Italy. She performed on Jazz broadcasts on Italian radio and TV channels and in 1986 began recording both under her own name and as a guest. In 1997, she worked with French Hammond organ player Emmanuel Bex, touring jazz clubs throughout Italy.
In 1998 she moved to the United States with a scholarship from the New England Conservatory in Boston. Two weeks later, Roberta stunned many in the jazz world with a third place finish in the Thelonious Monk International Jazz Vocal Competition.
A dynamic performer with virtuosic vocal chops, she draws rave reviews and enthusiastic fan support wherever she performs. And until her North American debut, Easy to Love (Groovin' High/Kindred Rhythm), was released on June 6, 2006, she had done so with just word of mouth alone.
On Easy to Love, Roberta showed off her instrumental approach and warm timbre, impeccable timing and intonation, incredible technique and scatting and improvisation skills on a set of 12 excellent jazz standards and classic songs from The Great American Songbook. The album also included two bonus tracks and featured special guest James Moody on a scintillating scat duel.
Easy to Love was nominated for a GRAMMY® in 2007 in the Best Jazz Vocal Album category (along with albums by Karrin Allyson, Nancy King, Diana Krall, and Nancy Wilson). Roberta's "formidable talent" (DownBeat Magazine) has also garnered her wins as the 2007 Female Jazz Singer of the Year from the Jazz Journalists Association (JJA) and as the 2007 Talent Deserving Wider Recognition from DownBeat Magazine's Annual Critics Poll.
On February 12, 2008, Roberta made her major label debut with You Are There (Groovin' High/Emarcy), a collection of 14 hauntingly beautiful melodies, with the legendary pianist, Hank Jones. The music was recorded in one afternoon; Roberta and Hank had no concept for the album- just 25 tunes they liked and thought would be interesting to record. "There were no isolation booths, no headphones, no over dubs," Gambarini remembers. "The sound would be just what you would hear had you been in someone's living room playing among friends." That is the magic of Hank Jones.
Roberta Gambarini has performed with Michael Brecker, Ron Carter, Herbie Hancock, Slide Hampton, Roy Hargrove, Jimmy Heath, James Moody, Hank Jones, Christian McBride, and Toots Thielemans, among many others, and has performed at Carnegie Hall, Kennedy Center, Lincoln Center, Town Hall and Walt Disney Concert Hall, and jazz festivals around the world such as Barbados, London, Monterey, North Sea, Toronto, and Umbria.
Roberta was recently voted Rising Star Female Vocalist of the Year in 2008 DownBeat Critics Poll. Roberta will tour internationally with her band in support of her new album, So In Love, which is scheduled for a Summer 2009 release.
---
DIVA jazz orchestra

🔸 Diva Jazz Orchestra albums at Discogs

See and listen to the DIVA band Live at Birdland swinging away.

recording of four musicians from the jazz big band Diva (founded in 1992)—bassist Melissa Slocum (b. 1961) (center top of album cover), pianist Jill McCarron (b. 1961) (center bottom), alto saxophonist Carol Chaikin (b. 1959) (left on album cover), and drummer Sherrie Maricle (b. 1963) (right on album cover).
---
Melissa Slocum (born July 26, 1961) is an American double bass player who is active in both jazz and classical music.
The following is an English translation of the German Wikipedia page on Melissa Slocum.
"Life and work: Slocum grew up in a musician household in Ohio (her father was a horn player in the Cleveland Orchestra; her mother, a professor of medieval studies, played the viola) and began playing the piano at the age of three. She was encouraged by her parents to study classical music. She started playing bass guitar at the age of twelve, and a year later she began performing professionally as a musician. A gifted girl, she graduated from high school at the age of 15. By age 18, she had earned a bachelor's degree in classical piano music from Youngstown State University; she spent another year there to get a second degree in art history, specializing in ancient Egyptian art.



In 1981 Slocum moved to New York to study art and shortly afterwards began playing the double bass, which she studied with Lisle Atkinson in the Jazzmobile and later privately. In 1984 she became the bassist for Ted Curson's late night sessions at Blue Note; 1985/86 she was a member of the house band at Arthur's Tavern. In 1986 she received a scholarship to study with Rufus Reid and gave up her art history studies. For the next several years she worked with Dakota Staton, Lionel Hampton, Art Blakey, Bobby Enriquez and Ralph Peterson; she also belonged to Charli Persip's Superband in the late 1980s, before she was a founding member of the Diva Jazz Orchestra in 1992. She also completed a master's degree in jazz at the Manhattan School of Music (1994) to study classical double bass there. After further studies at Mannes College of Music (1997–98), she took part in the double bass performance doctoral program at Stony Brook University, focusing on historical performance practice of baroque music. While working for this degree, she freelanced with Kevin Mahogany, the Duke Ellington Orchestra, and Roy Meriwether, and worked as the bassist for the Broadway musical Phantom of the Opera.


Slocum has also worked with Cab Calloway, Clark Terry, Wynton Marsalis, Woody Shaw, Hank Jones, Hamiet Bluiett and Don Byron. She also accompanied Howard Johnson's Tubachor Gravity for more than 20 years. In the field of classical music she worked with Kurt Masur, Neeme Järvi, Zdeněk Mácal, Itzhak Perlman and Stanislaw Scrowachewsky. In 2013 she made a recording of Tchaikovsky's Nutcracker Suite with the Harmonie Ensemble New York. She can also be heard on albums by Özay Fecht, Kevin Mahogany and Avery Brooks as well as with Concert Royal, the American Classical Orchestra and the Fairfield Symphony." (bold not in original)
---
Leslie Gourse (1939-2004), Madame Jazz: Contemporary Women Instrumentalists (Oxford: Oxford University Press, 1995). Clicking on the ISBN number takes you to Amazon.com where you can see inside of this book: ISBN 0-19-508696-1.

Quotations below from Carolyn Glenn Brewer, Changing The Tune: The Kansas City Women's Jazz Festival 1978–1985
(Oxford: Oxford University Press, 1995), 9–13. Some paragraphs combined into one block quotation.
"When Dianne called Marian (McPartland), the quintet was preparing for a three-night gig in Rochester, New York, and a live recording. Marian had picked an eclectic bouquet of players. Veteran guitarist Mary Osborne, whom many called the best guitarist of her generation, was already well known to New York audiences. Dottie Dodgion on drums had made her reputation playing and singing in Chicago, Washington, D.C., and San Francisco with Charles Mingus and Al Cohn, among others. Vi Redd's soulfully fearless alto saxophone sound had complimented the groups of both Max Roach and Dizzy Gillespie. Marian picked bassist Lynn Milano, the youngest of the group by a generation and a graduate of Eastman, because her sound contradicted her petite size. None of the women had played together as a group before.[39] (bold not in original)



There was nothing new about a group of women playing jazz. Since baby jazz wailed its first double high C, women's groups have played in ballrooms, in vaudeville venues, at movie premiers, and on every imaginable road gig—right alongside the men. As early as the 1920s, bands such as Babe Egan's Hollywood Red Heads and The Bricktops contributed to the popularity of the new sound. Peggy Gilbert's All Girl Band and Ina Ray Hutton and her Melodears attracted the attention of promoters Florenz Ziegfeld and William Morris, and both bands participated in early, short subject sound films for Fox, Movietone, and Vitaphone. That women could hold all the chairs in a performing jazz band was unique only in the sense that, in the early-twentieth century, female musical education was predominately gender specific. Girls were encouraged to play piano or sing, perhaps play the violin, but blowing was considered unfeminine. Females were not thought strong enough to hold and play, much less carry, large instruments such as the baritone saxophone or string bass. By the 1920s much of that changed. High school concert bands either integrated both genders into their programs or formed all-female bands. With the availability of jazz recordings, female and male musicians had access to the same music to listen to. Female ears absorbed the complexities of what they were hearing as well as those of their male counterparts."[40] (bold not in original)


" . . . Goodman, girls learned to swing as strongly as their dance partners. But firmly established cultural stereotypes kept denying that this was so. In a February 1938 Down Beat opinion piece, an anonymous writer stated, "Women as a whole are emotionally unstable, which prevents their being consistent performers on musical instruments." Bandleader and saxophonist Peggy Gilbert lost no time writing a rebuttal. "The manager is constantly reminding the girls not to take the music so seriously, but to relax, to smile," Gilbert wrote in Down Beat in April of 1938. "How can you smile with a horn in your mouth? How can you relax when a girdle is throttling you and the left brassiere strap holds your arm in a vice?" The undeniable truth was that a female jazz artist's popularity was based on visual attributes rather than musical expertise. Long, flowing, tight-waisted gowns, with billowing sleeves, in cotton candy colors, defined the dress code. Saxophonist Roz Cron remembers a particularly humiliating outfit. "I was playing at the Oriental Theater in Chicago with Ada Leonard's band," Cron recalls. "The manager brought out this god-awful, pink thing and said that was what I was to wear. It had all these flounces and flares and ruffles. I was mortified. I'm a professional, not a dress up doll. I hated that costume with a passion." Another member of the band stated, "A man could have white hair and glasses and weigh 300 pounds, but if he could play, great. The girls had to look like starlets. And the things they put on us were unbelievable."[41] (bold not in original)



Vocalists and a few instrumental soloists, such as pianists Hazel Scott and Mary Lou Williams, managed to break the gender barrier, but they too were expected to present themselves as sex symbols in provocative clothing. Women jazz musicians put up with this because they wanted to play and their opportunities were limited, but the bitter reality was their performances were seen all too often as highly sexualized spectacles. Peggy Gilbert lamented in her Down Beat piece, "Men's orchestras are usually hired because of their ability as musicians. Their good looks, their presentability other than neatness, will rarely enter the question. " Not only men criticized female jazzers. In a 1951 Down Beat interview, Lorraine Cugat, then wife of Xavier Cugat, stated that she would use all men in her new Latin band. "We might as well be honest about this. A girl, no matter what she's got, just can't be a glamorous creature with the mouthpiece of a saxophone between her pretty red lips or while blowing her lovely face all out of shape playing a trumpet or trombone." Waggish gossip columnists of the day speculated that Mrs. Cugat's interest in glamour and an all-male band was motivated by revenge against her philandering, estranged husband more than by a lack of faith in female players, but she went on. "Girls who want to be musicians should stick to any instrument . . . the playing of which doesn't detract from their feminine appeal." Some all-girl bands had drummers who played in high heels. Brass and reed "fem cats" were told to paint their lips with Mercurochrome rather than wear lipstick. In some bands eyeglasses were forbidden. Contact lenses were very primitive, not to mention painful and expensive in those days, so near-sighted players had to memorize the music. Even the highly successful and popular all-female group Hour of Charm, led by Phil Spitalny, one of the few men to front a girl band, was founded in musical compromise."[42] (bold not in original)


---
"Even the highly successful and popular all-female group Hour of Charm, led by Phil Spitalny, one of the few men to front a girl band, was founded in musical compromise. Spitalny publicly made it clear that he wasn't looking for a powerful, hard-swinging sound. In a band that employed more violins than brass, two pianos, and a harp, it's not surprising their repertoire consisted of mostly mellow, sweet tunes. That also pleased the sponsors of the Sunday night radio show of the same name. The listening public deemed Hour of Charm the ideal all-female band. It wasn't only the jazz world that discriminated against female players. Girl harpists and violinists might be acceptable on a stage clouded with taffeta and sequined dresses. Anonymous female trombonists and bassists could be heard on radio broadcasts without public outcry. But in the male dominated world of symphony orchestras, the subject of female members wasn't even open for discussion. It would be 1982 before the Berlin Philharmonic hired a woman. In Vienna it was 1997. [43] (bold not in original)


Ingrid Laubrock

primarily tenor saxophonist


also can play soprano, alto, and baritone saxophones 🎷


educator


composer


arranger


Free jazz / Avant-Garde jazz


German saxophonist now living in New York City since 2008.
---
---
Jazz women in 20th century
🔸 Geri Allen (1957–2017) American (Pittsburgh) pianist, composer, and educator.
🔸 Renee Rosnes (b. 1962) Canadian jazz pianist, composer, and arranger.
🔸 Cindy Blackman Santana (b. 1959) American jazz and rock drummer.
🔸 Jane Bunnett (b. 1956) Canadian soprano saxophonist, flautist, bandleader, and educator especially known for performing Afro-Cuban jazz and often traveling to Cuba.
🔸 Mary Lou Williams (1910–1981)
🔸 Dorothy​ Donegan (1922–1998) American jazz pianist, vibraphonist, and vocalist, primarily known for performing in the stride piano and boogie-woogie style as well as playing bebop, swing jazz, and even classical music.
🔸 Marian McPartland (1918– 2013) English-American jazz pianist, composer, and writer. hosted "Marian McPartland's Piano Jazz" on National Public Radio from 1978 to 2011.
🔸 Mary Osborne (1921–1992) American jazz guitarist
🔸 Toshiko Akiyoshi (b. 1929) Japanese-American jazz pianist, composer, arranger, and bandleader.
June, the Universal Jazz Coalition will present a four‐day "Salute to Women in Jazz" in New York from Monday, June 26, through Thursday, June 29, in the room at 52d Street and Broadway that was once the legendary Birdland (it is now a disco known as CasaBlanca 2).
The Salute will provide a showcase for some of the women who are not as celebrated as the stars who played in Kansas City, among them
🔸 Carline Ray (b. 1925) American jazz pianist, guitarist, and vocalist. She was a member of the International Sweethearts of Rhythm.
🔸 Janice Elaine Robinson (b. 1959) American (Pennsylvania) trombonist.
🔸 Patti Bown (1931–2008) American jazz pianist, composer, and singer.
🔸 Andrea Brachfeld (b. 1955) American jazz and Latin jazz flutist.
🔸 JoAnne Brackeen (b. 1938) American jazz pianist and music educator.
🔸 Valerie Capers (b. 1935) American pianist, composer, and music educator.
🔸 Sue Evans (b. 1951) American jazz, pop, classical, and studio percussionist/drummer.
🔸 Corky Hale (b. 1936), American jazz harpist, pianist, flutist, and vocalist. She has been a theater producer, political activist, restaurateur, and the owner of the Corky Hale women's clothing store in Los Angeles, California.
🔸 Emmelyne "Emme" Kemp (b. 1936), pianist, vocalist, band leader, Broadway composer, actress, lecturer, and an American music researcher. A protégé of Eubie Blake and best known as a Broadway composer and actor for Bubbling Brown Sugar. Acted in the Woody Allen film "Sweet and Lowdown." She has performed throughout the United States, Germany and Japan.
🔸 Jill McManus (b. 1940), American jazz pianist, composer, teacher, and author.
🔸 Nina Sheldon (b. 1940), American pianist, singer, composer and lyricist.
🔸 Led the house band at the Village Gate (1974 –1977) in New York City. Has played with Sonny Stitt, George Coleman, Maxine Sullivan, Budd Johnson, Bobby Hackett, and Vic Dickenson. Taught jazz history and improvisation at the Peabody Conservatory in Baltimore, Maryland. Performed at major jazz festivals such as Newport jazz festival and the Kool jazz festival in New York and the Kansas City Women's jazz festival.

A set of three records providing background on the involvement of women with jazz, produced by Bernard Brightman.
three disks on "Women in Jazz," collections of recordings made between 1926 and 1961, providing a very convincing demonstration that women, singly and in groups, have been making impressive contributions to jazz since its earliest recorded days and doing it for the most part, in relative anonymity.

🔸 Margie Hyams (1920–2012), for example, who played vibes in Woody Herman's band in the 40's and in George Shearing's original quartet
🔸 Vi Burnside (1915–1964), saxophonist
🔸 Vi Redd, saxophonist
🔸 Valaida Snow, trumpeter
🔸 Jean Starr, trumpeter
🔸 Marion Gange, a guitarist
🔸 Terry Pollard, vibes and piano
🔸 Lovie Austin, a pianist in Chicago in the 20's around whom a whole school of male musicians flourished
🔸 International Sweethearts of Rhythm, an all‐woman big band
🔸 Una Mae Carlisle, a singer and pianist who recorded with Fats Waller and whose accompanying group follows the patterns of Waller's sextet
🔸 Beryl Booker, a pianist who is heard urging Miles Davis' trumpet along on Tadd Dameron's "Squirrel"
🔸 Kathy Stobart, an English saxophonist
🔸 Jutta Hipp, a German pianist
🔸 Japan's ground‐breaking contribution to jazz, Toshiko Akiyoshi, pianist and conductor
---
---
Jazz women in 21st Century
Ingrid Jensen, Anat Cohen, Sherrie Maricle and the indomitable DIVA Jazz Orchestra, Geri Allen, Cindy Blackman, Tia Fuller
---
Esperanza Spalding
---
Sarah Milligan

Sarah Milligan (b. 1998), saxophone

Sarah Milligan Arts Wordpress

Sarah Milligan Arts


Performed at the Next Generation Jazz Festival


Jazz at Lincoln Center's Essentially Ellington


The Montreux Jazz Festival (Switzerland)


North Sea Jazz Festival (Netherlands)


Shared stage at different times with Terrell Stafford, Cyrus Chestnut, Kenny Rampton, and Conrad Herwig


spent the summer of 2018 interning with the Development Department at Ballet Austin


served as Social Media Manager for the Jazz Outreach Initiative in 2019


Hear her play "East of the Sun" and other tunes

---
---
ARTEMIS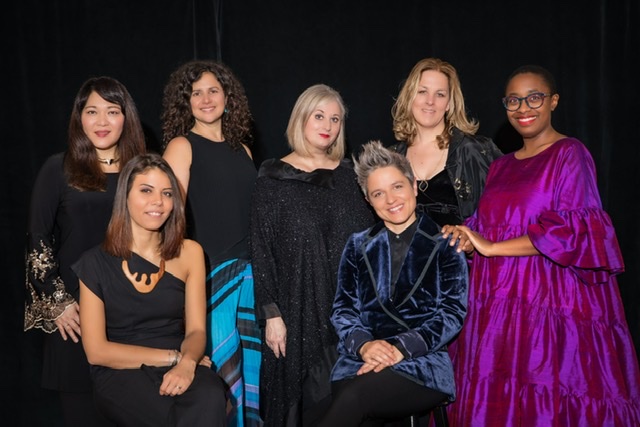 (from l. to r.: bassist Noriko Ueda, tenor saxophonist Melissa Aldana, clarinetist Anat Cohen,
pianist Renee Rosnes, drummer Allison Miller, trumpeter Ingrid Jensen, and vocalist Cécile McLorin Salvant)

🔸 Artemis all female jazz supergroup signs with Blue Note Records in 2019.
🔸 releases their first album
in 2020.
(from l. to r.: pianist Renee Rosnes, bassist Noriko Ueda, vocalist Cécile McLorin Salvant, tenor saxophonist Melissa Aldana,
drummer Allison Miller hidden behind to left of clarinetist Anat Cohen, and trumpeter Ingrid Jensen)
---
---
Internet & Bibliographic Resources on Women in Jazz
NOTE: The information below varies in formatting and does not conform to standard bibliographic formatting for ease of reading.
Kai EL' Zabar (Executive Director of the eta Creative Arts Foundation in Chicago, IL as of July 2019), "Eleven Jazzy Divas Celebrate Women's History Month," The Chicago Defender, March 9, 2016. The featured vocalists include Joan Collaso, Bobbi Wilsyn, Tecora Rogers, Yvonne Gage, Maggie Brown, Julia Huff, Margaret Murphy-Webb, Lynne Jordan, Frieda Lee, Greta Pope, and Felena Bunn singing the music of Chaka Khan, Nancy WIlson, Ella Fitzgerald, Dianne Reeves, Phyllis Hymen, Abbie Lincoln, Lena Horne, Eartha Kitt and more.
Giovanni Russonello, "10 Women in Jazz Who Never Got Their Due," New York Times, published April 22, 2020, updated May 9, 2020.
The ten women list includes:
Lovie Austin, pianist (1887–1972)
Lil Hardin Armstrong, pianist (1898–1971)
Valaida Snow, trumpeter (1904–1956)
Peggy Gilbert, saxophonist (1905–2007)
Una Mae Carlisle, pianist (1915–1956)
Ginger Smock, violinist (1920–1995)
Dorothy Donegan, pianist (1922–1998)
Jutta Hipp, pianist (1925–2003)
Clora Bryant, trumpeter (1927–2019)
Bertha Hope-Booker, pianist (1936– )
"Women In Jazz Interview"
by Mike Flynn at Jazzwise.com webzine, February 17, 2020.
Louise "Lou" Paley and Nina Fine are addressing the gender imbalance in jazz in the United Kingdom in practical and positive ways.
Cecilia Björck and Åsa Bergman, "Making Women in Jazz Visible: Negotiating Discourses of Unity and Diversity in Sweden and the US," IASPM Journal, Vol 8, No 1 (2018).
Abstract: "The aim of this article is to examine responses to a project that aspires to further gender-equal jazz scenes in Sweden and the US. The project brought together actors at various levels of the industry: cultural agencies, commercial organizers, activists, and artists. Our analysis—with special focus on resistance-voiced—is based on observations, interviews with organizers, and a documentary about the project. The project's central ambition was to make women in jazz visible in order to change a structural imbalance where men still take up most of the space on stage. This ambition was, however, complicated as different actors resisted a female–male binary, and thus the very idea of "women in jazz." The resistance was played out through gender equality discourses of either unity or diversity, varying in relation to national context and generation. The article also discusses visibility as a central but also problematic aspect for gender equality efforts in music."[44] (bold and bold italic not in original)
By 1999, little had changed in mainstream jazz historiography as evidenced by the continued absence of many prominent jazzwomen from the jazz sections of the Reader's Guide to Music History, Theory, and Criticism edited by Jeremy Steib.
Linda Dahl. Stormy Weather: The Music and Lives of a Century of Jazzwomen. New York: Limelight Editions, 1989. In addition to an impressive collection of biographical information and an extensive discography, Dahl includes chapters such as "Equal time: Beyond the Fraternity, Toward Community" and "Building a Support System," which further contextualize female participation and give voice to a budding movement toward the normalization of gender in jazz.
Handy, D. Antoinette. Black Women in American Bands and Orchestras, Second Edition. Lantham, Mass. and Kent: Scarecrow Press, 1998.
Sally Placksin. American Women in Jazz: 1900 to the Present, Their Words, Lives, and Music. New York: Wideview Books, 1982. A well-researched collection profiling over sixty jazzwomen.
Susan Cavin, "Missing Women: On the Voodoo Trail to Jazz," Journal of Jazz, Studies Vol. 3, no. 1, Fall 1975, 4–27.
Angela Y. Davis, Blues Legacies and Black Feminism: Gertrude "Ma" Rainey, Bessie Smith, and Billie Holiday,
first Vintage Books edition, February 1999. Published in the United Slates by Vintage Books, a division of Random Home, Inc., New York, and simultaneously in Canada by Random House of Canada Limited, Toronto. Originally published in hardcover in the United States by Pantheon Books, a division of Random House, Inc., New York, in 1998.
Jeffrey Taylor, "With Lovie and Lil: Rediscovering Two Chicago Pianists of the 1920s" (conference paper), Society for Music Theory, Annual Meeting, Columbus, OH, November 1, 2002. Reprinted in Big Ears: Listening for Gender in Jazz Studies, Edited by Nichole T. Rustin & Sherrie Tucker, Durham: Duke University Press, 2008.
Charles Chamberlain. "The Goodson Sisters: Women Pianists and the Function of Gender in the Jazz Age." The Jazz Archivist, vol. XV (2001), 1–9.
"The Girls in the Band" Female Jazz Instrumentalists and their websites
ArtVilla.com's Women Jazz Musicians Instrumentalists and Vocalists
"A DIY Guide to the History of Women in Jazz" by Laura Pelligrinelli at NPR'S A BLOG SUPREME, May 10, 2013.
"Ireland's jazz scene continued to grow in strength and diversity in 2019: Smaller regional festivals were major successes while a number of important projects were led by Irish and Irish-based women," The Irish Times News, Saturday, Dec 7, 2019.
Jazz, Gender, Authenticity, Proceedings of the 10th Nordic Jazz Research Conference Stockholm August 30–31 2012, Alf Arvidsson, editor, 2014. The articles published here are the authors's revised versions of the presentations at the 10th Nordic Jazz Conference: Gender and Notions of Authenticity in Jazz, Stockholm, August 30–31, 2012. ISBN: 978–91–979205–3–7. ISSN: 0281–5567.

Lamoreaux, Emma. "Women in Jazz 1920's-1950. " In "History of American Music," Term Paper #1, February 22, 2015. Also available at "Women in Jazz 1920's-1950."

"Polyrhythms And Improvization: Lessons For Women's History," Elsa Barkley Brown, History Workshop 31 (1991), 85-90. America: History and Life with Full Text.

"Sound Recordings Reviews," Cheryl L. Keyes (Professor in Department of African American Studies at UCLA and Professor and Director of Graduate Studies, Department of Ethnomusicology), Journal Of American Folklore, 105.415 (1992), 73.

"Beyond Beethoven And The Boyz: Women's Music In Relation To History And Culture," Britain Scott and Christiane Harrassowitz, Music Educators Journal, 90.4 (2004), 50.

"Telling Performances: Jazz History Remembered And Remade By The Women In The Band," Sherrie Tucker, The Oral History Review, Volume 26, Issue 1, Winter-Spring 1999, 67–84. http://doi.org/10.1093/ohr/26.1.67

"Black Women Working Together: Jazz, Gender, and the Politics of Validation," Tammy L. Kernodle, Black Music Research Journal, Vol. 34, No. 1 (Spring), 27-55.

Rosetta Reitz (1924–2008) obituary written by Douglas Martin, "Rosetta Reitz, Champion of Jazz Women, Dies at 84, NY Times, November 14, 2008.
"Extended Abstract: Jazz and Gender—the impact of gender in jazz production and education," Beatriz Nunes.

Wikipedia: All-female band/The 1920s–1950s


Leslie Gourse, "Madame Jazz: Contemporary Women Instrumentalists. Oxford: Oxford University Press, 1996. Leslie Gourse published Madame Jazz "the most comprehensive list ever assembled of women currently playing instruments professionally." Gourse provides a balanced look at the bright future of female instrumentalists with an acknowledgment of the reality that chauvinism is (and was) alive and well.

"Madame Jazz is a fascinating invitation to the inside world of women in jazz. Ranging primarily from the late 1970s to today's vanguard of performance jazz in New York City and on the West Coast, it chronicles a crucial time of transition as women make the leap from novelty acts regarded as second class citizens to sought-out professionals admired and hired for their consummate musicianship. Author Leslie Gourse surveys the scene in the jazz clubs, the concert halls, the festivals, and the recording studios from the musicians' point of view. She finds exciting progress on all fronts, but also lingering discrimination. The growing success of women instrumentalists has been a long time in coming, she writes. Long after women became accepted as writers and, to a lesser extent, as visual artists, women in music—classical, pop, or jazz—faced the nearly insuperable barrier of chauvinism and the still insidious force of tradition and habit that keeps most men performing with the musicians they have always worked with, other men."



"Ivy Benson was born to be a musician. A good pianist by the age of ten, she was influenced by the music of Benny Goodman, Artie Shaw, and other jazz legends to become a professional instrumentalist—and at age fifteen, having taught herself to play the clarinet and saxophone, Benson joined an all-girl band in Yorkshire, England. Sax Appeal chronicles Benson's life—beginning with her childhood of relative poverty, exploring her time as a teenage musician playing in the seedy clubs of London, and highlighting her founding of a professional all-female jazz and swing band that would remain active for over forty years."



"In Peggy Gilbert & Her All-Girl Band, Jeannie Gayle Pool profiles the fascinating life of this multi-talented saxophone player, arranger, bandleader, and advocate for women instrumental musicians. Based on oral history interviews and Gilbert's collection of photographs, newspaper clippings, and other memorabilia, this book includes many materials not previously available on all-women bands from the 1920s, 30s, and 40s."
Sherrie Tucker. "Telling Performances: Jazz History Remembered and Remade by the Women in the Band." Women and Music: A Journal of Gender and Culture. Volume 1, 1997.



Sherrie Tucker. "Telling Performances: Jazz History Remembered and Remade by the Women in the Band". The Oral History Review (Winter–Spring 1999) 26 (1): 67–84. doi:10.1093/ohr/26.1.67. JSTOR 3675691.

Sherrie Tucker, "Women" in the New Grove Dictionary of Jazz, ed. Barry Kernfeld, MacMillan, 2001, 978–984.

Sherrie Tucker. Swing Shift: "All-Girl" Bands of the 1940s. (Durham, North Carolina: Duke University Press, May 23, 2001).

"The forgotten history of the "all-girl" big bands of the World War II era takes center stage in Sherrie Tucker's Swing Shift. Although all-female jazz and dance bands had existed since the 1920s, now hundreds of such groups', both African American and white, barnstormed ballrooms, theaters, dance halls, military installations, and makeshift USO stages on the home front and abroad. Filled with firsthand accounts of more than a hundred women who performed during this era and complemented by thorough—and eye-opening—archival research, Swing Shift not only offers a history of this significant aspect of American society and culture but also examines how and why whole bands of dedicated and talented women musicians were dropped from—or never inducted into—our national memory. Comparing the working conditions and public representations of women musicians with figures such as Rosie the Riveter, WACs, USO hostesses, pin-ups, and movie stars, Tucker chronicles the careers of such bands as the International Sweethearts of Rhythm, Phil Spitalny's Hours of Charm, The Darlings of Rhythm, and the Sharon Rogers All-Girl Band."[45] (bold and bold italic not in original)

Sherrie Tucker. "A Feminist Perspective on New Orleans Jazzwomen," Sherrie Tucker Principal Investigator, submitted by Center for Research University of Kansas, September 30, 2004 to New Orleans Jazz National Historical Park National Park, a study of women in New Orleans jazz, contracted by the National Park Service, completed between 2001 and 2004.  


Rustin, Nichole T. and Tucker, Sherrie (eds). Big Ears: Listening for Gender in Jazz Studies. (Durham, N.C.: Duke University Press, 2008). Series: Refiguring American Music.
Morning Glory: A Biography of Mary Lou Williams. Linda Dahl. 1999.
Strange Fruit: Billie Holiday, Café Society, and An Early Cry for Civil Rights. David Margolick. 2000.
Lady Day: The Many Faces of Billie Holiday. Robert G. O'Meally. 1991.
Jazz women: a Feminist Retrospective (1923–57) (Stash) 2 LPs.
Stormy Weather: The Music and Lives of a Century of Jazzwomen. Linda Dahl. New York: Pantheon Books, 1984.
"Women in Jazz, Past and Present." John S. Wilson. The New York Times. June 11, 1978.
"Women in Jazz Town Hall (A jazz conversation)," hosted by Kaisha S. Johnson, Jazz at Lincoln Center's World Congress 2020.
 
Jazzwomen Speak: Interviews with Six Musicians, Wayne Enstice and Janis Stockhouse, (Bloomington: Indiana University Press, 2013).



The musician's interviewed are: (1) JoAnne Brackeen, piano and composition, (2) Clara Bryant, trumpet, (3) Sheila Jordan, vocals, (4) Abbey Lincoln, vocals, (5) Marian McPartland, piano and composition, (6) Dottie Dodgion, drums.
Maxine Gordon's website. Maxine Gordon has had a long involvement with jazz, including working with the queen of the jazz organ Shirley Scott, producing a son with trumpeter Woody Shaw (1978), becoming wife of saxophonist Dexter Gordon (1983), tour manager for Gil Evan's big band, road manager for the Berlin Jazz Festival (1973), road manager for Dexter Gordon's return from Europe to the United States (1976–1983), author of Sophisticated Giant: The Life and Legacy of Dexter Gordon (2018), an oral historian and archivist in the fields of jazz and African American cultural history, New York University, M.A., (2001–2009) Ph.D.  Candidate, History (African Diaspora). In 2020 still working on her newest book, Jazz Quartette: Shirley Scott, Velma Middleton, Melba Liston, Maxine Sullivan.


🔸 JazzWax Interview with Maxine Gordon.


🔸 Fiona Ross, "Maxine Gordon and the Jazz Flame," Interview with Maxine Gordon, Part 1, at the Jazz in Europe website, March 8, 2021.


🔸 Fiona Ross, "Maxine Gordon and the Jazz Flame," Interview with Maxine Gordon, Part 2, at the Jazz in Europe website, March 8, 2021.


 
---
NOTES