Ontdef7. Features of jazz and definition of terms
---
Major Features of Jazz

[

edit

]
Features of Jazz
I. Improvisation
II. Syncopation
III. Blues Influence
IV. Hybridization of the (European) diatonic musical scale with an (African) pentatonic one.
---
Definition of Terms

[

edit

]
Improvisation: Music made up in the moment and not composed in advance while being concurrently performed.
Syncopation: Emphasis of the weak beats or on the off-beats.
Beats: A steady pulse that synchronizes and organizes music in time.
Blues: Early African-American music featuring African melodies with European harmony and improvisation, typically in twelve bar blues forms using a pentatonic scale. Often the blues contains vocals portraying troubling times.
The blues uses musical features found from both Africa and Europe. The African elements stress emphasis on rhythm with pentatonic melodies and incorporation of buzzes and growls. European musical elements emphasize musical form with diatonic harmony. Europeans also developed most musical instruments.
Melody: A succession of single notes. Below shows a musical score displaying a melody.
Chords: From the word "accord" and referencing the harmonious combination of (typically) three or more musical notes or pitches. Below shows a musical score displaying chords.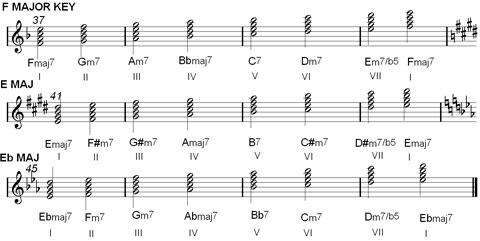 Harmony: Simultaneous sounding of more than one note. In jazz, usually accomplished using chords.
Form: Ordering of repeating and contrasting sections of a song.
Blues form: Below is a musical score displaying a blues form.
---