Template:MaryLouWilliams
as can easily be seen by all of the jazz genres Williams performed over her career listed above, she was open and adaptive to new music.

Williams took the name "Mary Lou" at the suggestion of Brunswick Record's Jack Kapp as quoted in Max Jones's Jazz Talking: Profiles, Interviews, and Other Riffs on Jazz Musician's, Da Capo Press, 2000, 190. Her last name of Williams came from her husband, saxophonist John Williams, who she married at age 16.
musical prodigy who could pick out simple tunes at age two, who taught herself to play the piano at three years old, including playing back a tune she heard her mother play on the family organ at that age, and discovered in high school she had perfect pitch.[1][2]


supported her large family by playing at parties at six years old.


began performing publicly at the age of seven when she became known in Pittsburgh as "The Little Piano Girl."


her professional debut with big bands came in 1922, at age 12, when she substituted for a pianist in the Buzzin' "Sparrow" Harris and His Hits and Bits Revue, a traveling show.[3]


billed as Mary Lou Burley, she toured occasionally for the next few years (early 1920s) passing through New York City several times, playing for such artists as Jelly Roll Morton, Willie ("the Lion") Smith, Fats Waller, and Duke Ellington. Played with Duke Ellington's Washingtonians when only twelve years old, as well as with Johnny Hodges and Benny Carter, according to Williams in her interview on Marian McPartland's "Piano Jazz" (1978).


known as "the first lady of the jazz keyboard."


(Photo by William P. Gottlieb)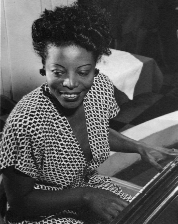 one of the earlier women recognized as highly successful in jazz.
"No woman other than the vocalists Billie Holiday and Ella Fitzgerald had so dominated the swing scene or earned the genuine respect of bandleaders and musicians alike."[4]


joined the St. Louis based band the Synco Jazzers in 1925 led by John Overton "Bearcat" Williams (1905-1996), whom she married in 1926.


played with John Williams's Syncopators (1926–1929).


served as deputy pianist and arranger for Andy Kirk's


Twelve Clouds of Joy band until April 1930, at which time she became a regular member.


the Kirk band in the 1930s success was largely due to her distinctive arrangements, compositions and solo performances on the piano.[5] Listen to Andy Kirk's Clouds of Joy with arrangements and compositions by Williams. See Andy Kirk and his Clouds of Joy discography.


"an important swing pianist, with a lightly rocking, legato manner based on subtly varied stride and boogie-woogie bass patterns."[6]
 
wrote and arranged "Camel Hop" written for Benny Goodman's radio show sponsor, Camel cigarettes, followed by another big hit for Goodman in her "Roll 'Em" (a boogie-woogie piece based on the blues) (1937), "What's Your Story, Morning Glory" for Jimmie Lunceford, arrangements for the biggest act at the time of Cab Calloway, rearranged Irving Berlin's "Blue Skies" as "Trumpets No End" (1943) a big hit for Duke Ellington that Ellington recorded in 1946[7] and the Dizzy Gillespie smash hit, "In the Land of Oo-Bla-Dee" (1949).
 
supplied noteworthy swing-band scores arranging for Louis Armstrong, Tommy Dorsey, and Earl Hines, during the late 1930's.[7]


became involved with a younger group of New York musicians including Bud Powell, Thelonious Monk, Charlie Parker, Tadd Dameron, and Dizzy Gillespie (1943), moving from what Encyclopedia Brittanica describes as

"an established musician in the swing style, she easily made the transition to bebop. Her apartment became a meeting place, and she wrote several important compositions in the bebop style, including "In the Land of Oo-Blah-Dee," "Tisherone," "Knowledge," "Lonely Moments," and "Waltz Boogie." The latter was recorded with Girl-Stars, one of her several women's bands, in 1946."


 




quit the Kirk band to form her own small group in New York with her second husband, trumpeter Shorty Baker, (1942).[7]


premiered the first of many large compositions including the 12-movement Zodiac Suite whose "Capricorn" movement was created especially for dancer Pearl Primus who also performed at Café Society (1945).
 
moved to Europe performing in both Paris and London (1952).


famously halted a 1954 Paris concert beginning her hiatus from the stage before starting again to perform in 1957 with Dizzy Gillespie at the Newport Jazz Festival and later performing with her own trio.


founded Mary Records, the first recording company begun by a woman.


three movements from her "Zodiac Suite" were performed in Carnegie Hall by the New York Philharmonic Orchestra—a very early instance of the recognition of jazz by a leading symphony orchestra (1946).


among the first jazz artists to perform at Carnegie Hall and St. Patrick's Cathedral in Manhattan, New York City (1946).


an important figure in Bebop who contributed scores to Dizzy Gillespie's big band.
 

worked with some of music's greatest legends, including Ben Webster, Bud Powell, and Thelonious Monk.
based in Europe between 1952 and 1954.


retired from music in 1954 to pursue religious and charitable interests.
resumed her career in 1957 where she remained active throughout the 1960s and 1970s leading her own groups in New York clubs, composing sacred works for jazz orchestra and voices, and devoting much of her time to teaching.


 
long regarded as one of the most significant female musicians in jazz, as an instrumentalist, as a composer, and as an arranger.[8]


retained the status of a modernist for most of her career.


"easily adapting in the 1940s to the new Bebop idiom and in the 1960s her play attained a level of complexity and dissonance that rivaled avant-garde pianism of the time, but without losing the underlying blues feeling."

[9]
 
breadth of her work as a composer and arranger can be seen from her expert swing-band scores for Andy Kirk's Clouds of Joy (Listen to Walkin' and Swingin', or Mary's Idea, etc.) to the large-scale sacred works of the 1960s and 70s.


her "Waltz Boogie" (1946) was one of the earliest attempts to adapt jazz to non-duple meters.
 
wrote hundreds of compositions and arrangements recorded in 78, 45, and LP formats. See some of her album covers below and click on any of them to go to her discography.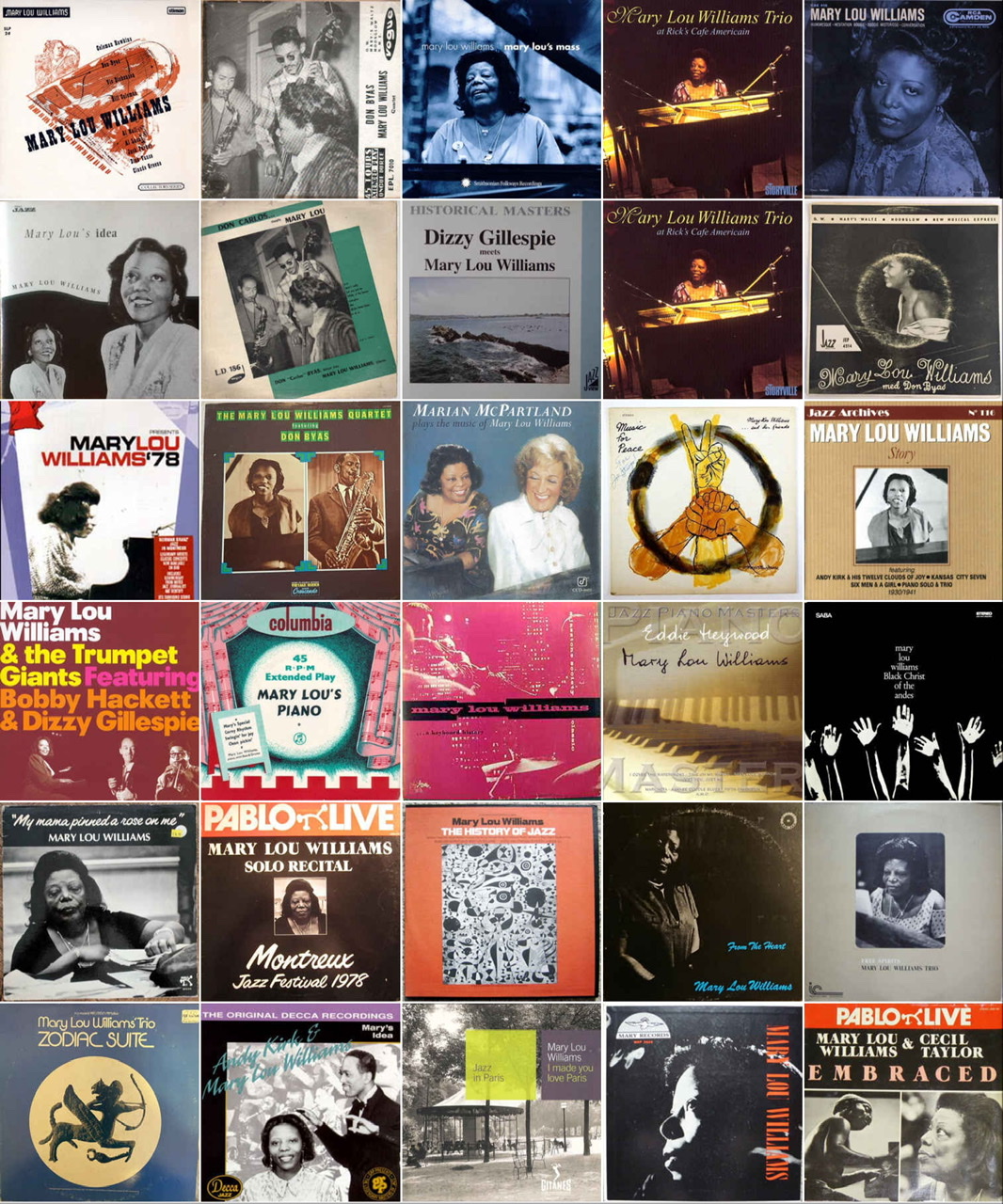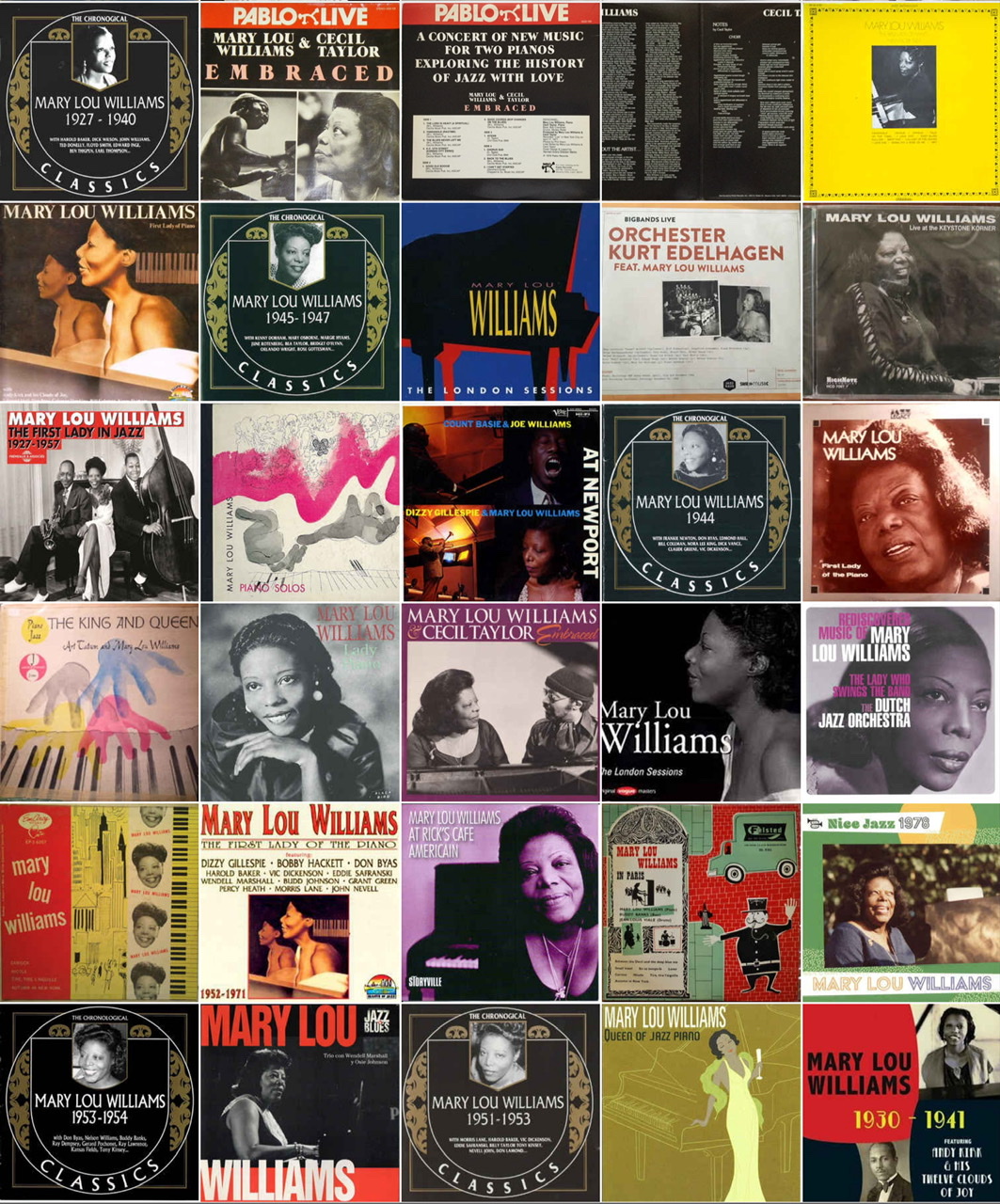 friend, mentor, and teacher to Thelonious Monk, Charlie Parker, Miles Davis, Tadd Dameron (to the right of Mary Lou in photograph), Bud Powell, and Dizzy Gillespie (Dizzy partially hidden by piano player; click on photo for who else is in photograph by William P. Gottlieb).
 
In the 1960s and '70s composed a number of her sacred works and liturgical pieces for jazz ensembles, including a cantata, "Black Christ of the Andes" (1962); three masses that included "Black Christ of the Andes" (see track list for "Black Christ of the Andes") (1963)[10], "Mass for the Lenten Season" (1968), "Music for Peace" (1970), popularly known as "Mary Lou's Mass" which (1970) became well known in a version choreographed by Alvin Ailey.
 
In 1970 as a solo pianist and providing her own commentary, she recorded a comprehensive performance-lecture entitled

"The History of Jazz."

(FW2860)


 

made an appearance (click on "appearance" to view video) on

Mister Roger's Neighborhood (PBS) with bassist Milton Suggs (1973).
Guggenheim Fellowships, 1972 and 1977.


"Why have jazz historians generally avoided serious consideration of her music and her contributions to jazz, even as she garnered praise and respect from her peers? One obvious answer is that Mary Lou Williams was a woman performing and writing in the male-dominated field of jazz music whose abilities enabled her to defy the conventional gender roles implicit in the jazz narratives of her day. According to this view, women in jazz were rare, women pianists rarer still, and women who, besides their superiority as players, could also compose and arrange first-class music for big band and combo were simply unheard of. Yet Duke Ellington famously described (in his autobiography, Music Is My Mistress) that Williams was "perpetually contemporary," going on to say that "her writing and performing are and have always been just a little ahead throughout her career."[11]
nominee Grammy Awards, Best Jazz Performance – Group, for the album "Giants—Dizzy Gillespie, Bobby Hackett, Mary Lou Williams" (1971); also released under the title "Mary Lou Williams and the Trumpet Giants."


honorary degree from Fordham University in New York (1973).


In 1975 was appointed to the faculty of the University of Massachusetts, Amherst and in 1977 to the faculty at Duke University.


performed duets in concert with avant-garde player Cecil Taylor (1977).


founded the Mary Lou Williams Foundation (1980).


honorary degree from the Jesuit school Rockhurst University in Kansas City, Missouri (1980).


taught on the staff of Duke University as the first Artist-in-Residence from 1977 until her death in 1981.


received the Duke University's Trinity Award 🥇 (May 10, 1981)[12] for service to the university, an award voted on by Duke University students.


Duke University established the Mary Lou Williams Center for Black Culture (1983).
 
the Kennedy Center in Washington, D.C. has an annual Mary Lou Williams Women in Jazz Festival (annually since 1996).


her archives are preserved at Rutgers University's Institute of Jazz Studies in Newark (since 2000).


her Pennsylvania State Historic Marker is placed at 328 Lincoln Avenue, Lincoln Elementary School, Pittsburgh, PA, noting her accomplishments and the location of the school she attended.
 
trumpeter Dave Douglas released the album "Soul on Soul" as a tribute to her, featuring original arrangements of her music and new pieces inspired by her work (2000).
 
the album "Impressions of Mary Lou" by pianist John Hicks featured eight of her compositions (2000).
 
had a small cameo in Ken Burns's documentary "Jazz" on PBS (Public Broadcasting System) (2001).


the Dutch Jazz Orchestra researched and played rediscovered works of Williams on their album "Lady Who Swings the Band" (2005).


Geri Allen's Mary Lou Williams Collective released their album "Zodiac Suite: Revisited" (2006).


a YA historical novel based on Mary Lou Williams entitled Jazz Girl, by Sarah Bruce Kelly, published in 2010.
 
merited a children's book based on Mary Lou William's early life, entitled The Little Piano Girl by Ann Ingalls and Maryann MacDonald with illustrations by Giselle Potter, (published in 2010).
 
a poetry book by Yona Harvey entitled Hemming the Water published in 2013, inspired by Williams and featuring the poem "Communion with Mary Lou Williams" (2011).
 
the American Musicological Society published Mary Lou Williams's Selected Works for Big Band, a compilation of eleven of her big band scores (2013).


Her New York Times obituary reports that

"Miss Williams was an important contributor to every aspect of jazz that developed during a career that began in the late 1920's and lasted for more than half a century."

[13]
 
an award-winning documentary film entitled, "Mary Lou Williams: The Lady Who Swings the Band,"
produced and directed by Carol Bash, premiered on American Public Television and was screened at various domestic and international film festivals (2015).
 
What'sHerName women's history podcasts aired the episode "THE MUSICIAN: Mary Lou Williams," with guest expert "Mary Lou Williams: The Lady Who Swings the Band," producer and director Carol Bash (2018).
 
Listen to an "Interview with Mary Lou Williams" (recorded live in 1976).

Listen to "NPR's 'Jazz Profiles' on Mary Lou Williams, 'Perpetually Contemporary'," July 25, 2007.
 
Listen to Mary Lou Williams playing, even singing, and being interviewed by Marian McPartland (1918–2013)




on the very first episode of McPartland's "Piano Jazz" (recorded live in 1978) with bassist Ronnie Boykins (1935–1980).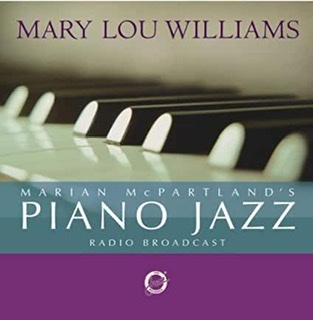 Listen to "Mary Lou Williams Centennial On JazzSet," from radio station WBGO, broadcast May 6, 2010. The first concert is from the University of Michigan (1978) where she plays her history of jazz medley first playing solo piano on spirituals (her own composition), Ragtime playing "Fandangle" a rag her mother had taught her, demonstrates Kansas City Swing (a "Blues,") a swinging left hand untitled number, a boogie-woogie on "Baby Bear Boogie." Adding bassist Ronnie Boykins, they perform "On Green Dolphin Street," "Baby Man" (by John Stubblefield), "Jeep Is Jumpin'" (by Johnny Hodges), and "Let's Do the Froggy Bottom." The University of Wisconsin, Madison concert adds drummer Charlie Persip where the trio plays Dizzy Gillespie's "Olinga," followed by "Medi II," then "Bag's Groove" by Milt Jackson.

Mary Lou Williams Lane, a street near 10th and Paseo in Kansas City, Missouri, was named after her (2018).



Tammy L. Kernodle, (B.M., M.A.), "Anything You are Shows Up in Your Music: Mary Lou Williams and the Sanctification of Jazz," Ph.D. dissertation, Ohio State University, 1997.
Tammy L. Kernodle, Soul on Soul: The Life and Music of Mary Lou Williams (Boston: Northeastern University Press, 2004).
Ayana Contreras, "Mary Lou Williams, Writ Large," DownBeat, December 7, 2020.
---