Ontmeta00007. Test page
Louis Armstrong

[

edit

]
bandleader

featured soloist

composer

singer

actor


Early Jazz

New Orleans Jazz

Dixieland

Swing

Vocal Jazz

Traditional Pop


joined[1] King Oliver's band in Chicago (1922)


moved to New York in 1924 to play with the Fletcher Henderson Orchestra, cornet to trumpet.



widely recognized as the founding father of jazz.



an instrumentalist virtuoso.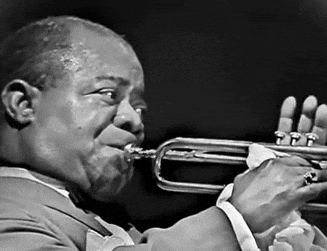 pioneered jazz style vocals and popularized scat style vocals.


along with Fletcher Henderson and many others he was the instigator of the second wave of jazz, Swing.


recording hit songs, many of which have become jazz standards, for five decades.


his talent for improvisation helped the trumpet emerge as a solo instrument.


a masterful accompanist and ensemble player.



known as a tireless performer, averaging over 300 concerts a year.

his celebrity extended beyong music, appearing in over 30 motion pictures.

promoted extended improvised solos.

"Armstrong was jazz's first superstar. Satchmo's explosive creativity defied conventions of early New Orleans jazz; he was a charismatic showman and dazzling trumpet player who was, literally, too good for his band. His performances were largely responsible for shifting the focus from the group to the soloist, and he was also quite an innovator when it came to scat. Perhaps most importantly, his acceptance by the social elite helped popularize jazz across racial and social boundaries."[2]

(bold not in original)

America's 1st jazz ambassador.
strong vocalist

[3]

"recorded with Clarence Williams, Fletcher Henderson, Bessie Smith and others before making his leader debut in late 1925."[4]


"Melancholy Blues," (1927) performed by Louis Armstrong and his Hot Seven included on golden record sent in 1977 on Voyager 1 spacecraft
 




developed a way of playing jazz, as an instrumentalist and a vocalist, which has had an impact on all musicians to follow.


recorded hit songs for five decades, and his music is still heard today on television and radio and in films. Listen to Armstrong's music, including in his own words, at Jazz Rhythms: "Louis Armstrong: A Seminal Voice in Jazz"
 
wrote two autobiographies (click on book titles to read them), and , more than ten magazine articles, hundreds of pages of memoirs, , and thousands of letters
 
appeared in more than thirty films (over twenty were full-length features) as a gifted actor with superb comic timing and an unabashed joy of life as in "Hello Dolly" where he co-starred with Barbra Streisand and Walter Matthau. He also had many television appearances
 

composed or performed dozens of songs that have become jazz standards, such as "Dippermouth Blues/"Sugar Foot Stomp," "Heebie Jeebies," "Potato Head Blues," "West End Blues," "Basin Street Blues," and "Ain't Misbehavin'."


performed an average of 300 concerts each year, with his frequent tours to all parts of the world earning him the nickname "Ambassador Satch," and became one of the first great celebrities of the twentieth century
 
Time

magazine cover (1949)


 

Downbeat magazine Hall of Fame,

Reader's Poll (1952)


 




Armstrong and Dizzy Gillespie sang and played together only once on the song "Umbrella Man" as part of the Timex All-Star Jazz Show on NBC January 7, 1959. The joint-appearance was preplanned but not rehearsed.
 



  Cover of Life magazine, April 15, 1966
 


 
Grammy Lifetime Achievement Award

(1972)

 

inducted into the Rock And Roll Hall Of Fame in 1990 (Early Influence).



U.S. Commemorative stamp (1995)

inducted into the Rhythm & Blues Hall of Fame (2017) as a 20th Century Early Music Influence.


50 year career
See and hear him play and sing (including scatting) in Copenhagen, Denmark in 1933.


 

Krebs, Albin. "Louis Armstrong, Jazz Trumpeter and Singer, Dies." New York Times Obituary, July 7, 1971.

Glaser, Matt. "Satchmo: The Philosopher," in Satchmo at 100, Village Voice, June 5, 2001.

Morgenstern, Dan. "Satchmo and the Critics." in Satchmo at 100, Village Voice, June 5, 2001.

Louis Armstrong Readings.
---
---
---