Ae7*. What makes different jazz styles valuable
---
"Relaxing on his couch in a sky-blue shirt, khakis and brown suede shoes, [David] Sanborn insists that [Hank] Crawford's early Atlantic albums mean as much to him as Ornette Coleman's early Atlantic releases, also personal favorites. But how can that be? How can Crawford's R&B instrumentals mean as much as Coleman's precedent-shattering free-jazz breakthrough? How can the first alto saxophonist's simply constructed blues live up to the second's leap beyond conventional chord changes? Sanborn has to stop and think about that for a few minutes.
"I want to hear a story from a musician," he says finally, tentatively, "but there are different ways of telling a story. You can tell a story by deconstructing a song's harmony and showing another side to it, as Ornette did. But you can also tell a story by sticking to the original harmony and making an emotional connection through your timbre, as Hank did. Both are equally valid to me."

(bold and bold italic not in original)
"David Sanborn: The Blues and the Abstract Truth," in JazzTimes by Geoffrey Himes, November, 2008, paragraphs fourteen and fifteen. Updated July 22, 2020. Accessed July 22, 2022.
---
---
Introduction

[

edit

]
What answers would satisfy an inquirer concerning the values of jazz styles?
☞ Are there different jazz styles?
☞ What values are being assumed or used in analyzing jazz?
☞ What determines jazz values?
☞ Can jazz values be ranked in comparison to each other?
☞ Are all jazz styles equally valuable?
☞ What values does each jazz style have?
☞ Why are there different jazz styles/sub-genres?
---
Why are there different jazz styles/sub-genres?

[

edit

]
There are different jazz styles because of at least two reasons. First, musicians get bored and strive to find new and different ways to perform music. Second, musicians enjoy being creative and finding new things to play so as to make a name for themselves. Many jazz players have talked about being true to one's own music and not only following current musical trends. Such iconoclastic and innovative composers and performers such as Theloniious Monk, Ornette Coleman, and Miles Davis all discussed following their own muse and struggling to do so. Many people, including fellow jazz musicians, have accused Monk and Coleman of 'not being able to play.' Charles Mingus doubted that Ornette could even play a C scale straight on his saxophone. Monk had odd, flat fingering techniques he used when playing a piano and he often inserted dissonant sounding notes into his own compositions. Miles Davis had the 'problem' of his fans constantly wanting him to play 'his old music.' Miles has already played in those earlier styles and sought out new and different ways to play music. After playing Bebop with Charlie Parker, Miles went, with a lot of input from his fellow musicians, to help invent cool jazz, modal jazz, jazz/rock fusion, and even hip-hop jazz with producer and rapper Easy Mo Bee (b. 1965).
---
---
Jazz trees and sub-genres of jazz

[

edit

]
☞ Are there different jazz styles?
Yes, there are established sub-categories of jazz manifesting themselves throughout jazz's history. People have often put together jazz 'tree' diagrams as well as jazz sub-genre flowcharts for representing the sub-genres of jazz and their historical developments, as presented below.
See also:
Joe Germuska's Jazz Styles Flow Chart based on Joachim Berendt's in his The Jazz Book.
"Text about the history of jazz from a section of "An overview of the history of jazz" by Wolfram Knauer (Director of the Darmstadt Jazz Institute).
"Jazz musicians tend not to stay in one genre too long."

[1]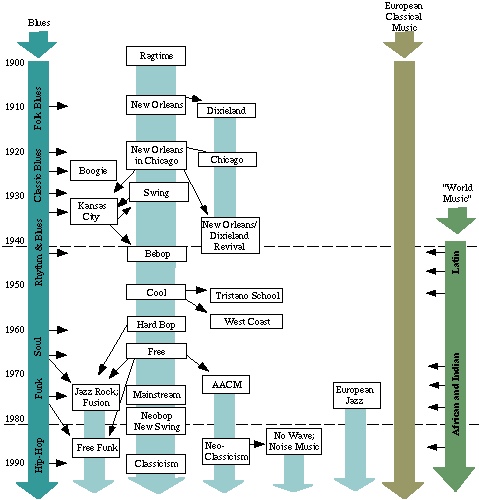 ---
How do the jazz trees present jazz?

[

edit

]
A tree diagram provides a representation of the hierarchical nature of a structure in a graphical form. It is named a "tree structure" because the classic representation resembles a tree, although for many the chart is generally upside down compared to a biological tree, with the "stem" at the top and the "leaves" at the bottom. However, most 'jazz trees' keep the roots at the bottom.
Wikipedia: Tree structure specifies the elements found in an abstract tree structure as having these components and structural relationships to each other.
"The tree elements are called "nodes". The lines connecting elements are called "branches". Nodes without children are called leaf nodes, "end-nodes", or "leaves".


Every finite tree structure has a member that has no superior. This member is called the "root" or root node. The root is the starting node. But the converse is not true: infinite tree structures may or may not have a root node.

The names of relationships between nodes model the kinship terminology of family relations. The gender-neutral names "parent" and "child" have largely displaced the older "father" and "son" terminology. The term "uncle" is still widely used for other nodes at the same level as the parent, although it is sometimes replaced with gender-neutral terms like "ommer.""[2] (bold not in original)
A tree itself (not a diagram) is defined somewhat loosely because some plants in their early development are thought by some people to be bushes (or shrubs), but when they reach an arbitrary subjective height are then considered trees.
A tree has strong roots that typically are at least as long in the ground as the tree is tall and often up to 1.5 times the height. Most trees have bark around the base of the tree with strong branches bearing off from this main trunk. The branches usually have stems coming off of them with green leaves containing chlorophyll. All of the parts of a tree are interconnected because disconnection prevents distribution of water and nutrients.
In summary, trees have many inter-locking and inter-dependent components that need to stay connected to each other for the tree to achieve full functionality.
This inter-dependence between a tree's functioning systems is not required for a jazz sub-genre to survive. Acid jazz may or may not have much of a relationship to jazz and it can survive as a musical system even if it is entirely cutoff from the rest of jazz. Hence, musical sub-genres are not dependent on any other sub-genre and may have weak musical relationships to other jazz sub-genres contrary to how they may appear connected in a jazz tree. For example, free jazz need not pay attention or be connected to soul jazz in order to thrive.
Why, then, are tree diagrams so often used in describing the relationships amongst various jazz sun-genres?
There are several reasons that the tree metaphor/simile works effectively. Here is a list of connections between trees 🌳 and the history of jazz:
Both individual trees and jazz came into existence at some point in time.

Both can be thought of as living, active, dynamic, organic entities that can grow and change over time.

Because jazz is a music that incorporates musical influences existing prior to jazz, these earlier musical components can correctly be said to be causally influential in how jazz was formed and functions and this parallels the system of roots in a tree as laying a foundation down for the rest of the structures.

Branches can be part of the same general trunk, but remain as distinct branches from each other even on the same tree trunk, just as their are different 'branches' of jazz.

Both trees and jazz have a growth history where one can mark a beginning and sometimes even an end of that genre's dominance.
---
What do jazz trees display as the musical genres constituting the roots of jazz?

[

edit

]
Interestingly, the different tree diagrams do not each list all of the same precursor musical genres supporting jazz's musical features. Not surprisingly, many of the jazz trees include the same genres and musical influences, even if one jazz tree lists a musical genre that another one leaves off.
➢ What do the trees list as the musical roots of jazz?
Here is a compilation of what musical genres have been listed as jazz's roots ordered in relative importance:
European music, especially harmony
 1.

African musical traditions, especially rhythm
Blues and recorded blues

Congo Square in New Orleans with African drumming and dancing

Afro-Cuban rhythmic elements

New Orleans Society Orchestra

Syncopated dance music

Ragtime

Military brass and marching bands

Popular songs

Minstrel shows

Negro spirituals

Work songs (chants de travail)

Ring shouts

Call and response

Ballads

Gospel songs

Church music and hymns/cantiques (religious songs of praise)

Black musical theater and Vaudeville
Some jazz trees list something that they distinguish as other than Ragtime and some even list a category preceding it called "archaic jazz" listed as existing in the period between 1863 to 1865. This would make it during the American civil war.
Such a category of archaic jazz is meant to be a grab-all one and is supposed to precede both Ragtime and jazz. Given that everyone now is dead who could possibly have heard 'archaic' jazz in 1863, and no jazz recordings occurred until 1917, it is difficult to find any actual evidence supportive of an archaic jazz existence claim. It is far more rational to believe archaic jazz didn't exist rather than that it did, until evidence in its support is proffered.
---
What other ways has the history of jazz been graphically presented?

[

edit

]
Here are some other examples of alternative ways of presenting a history of jazz in a graphically precise manner.
Periodic tables of the jazz elements

[

edit

]
The first periodic table of jazz below was constructed by David Marriott Jr. and consists of the top eight innovative jazz musicians per decade starting in the 1920s to the '80s where it gets harder to determine choices of the top eight innovative jazz musicians. Marriott Jr. discusses his process and logic used for constructing his periodic table in the quotations following his table.

(Upper left hand corner percentages of non-Afro-Americans not in original)
"SOME NOTES ON MY PROCESS AND LOGIC by David Marriott Jr."



After a quick count of the original periodic table's rows and columns, I made two quick decisions: one, that each row would equal a decade starting with the 1920s since I would be able to take the chart to the present; two, that with eighteen columns, I would eliminate one to allow for a center column if needed (I could always put it back if I wanted to).

After placing Louis Armstrong and Jelly Roll Morton as the tent poles of the '20s, I made a few other decisions in my logic: along the left, I would try to pick the two most dominant, innovative, or otherwise significant voices of the decade (I couldn't always make this work and didn't apply them to the last twenty years, but more often that not, I felt comfortable with those choices); along the right, I would populate piano players, in an effort to have at least one instrument be able to follow perfectly vertically across the decades. I filled in the pairings along the left fairly quickly through the 1980s and set to work on the rest of each row.

Based on the choices and decisions I'd made thus far, I was starting to find the format of the periodic table quite limiting. With only eight names for the '30s and '40s, it was tough! I often found myself left with one square open and a difficult choice to make, so I let others make it for me. I defaulted to Gunther Schuller's The Swing Era in choosing Jimmie Lunceford, for example—I was leaning towards Fletcher Henderson myself.

The overriding factors in my decision making were influence and innovation within jazz improvisation and style. Many of my favorite musicians did not make this list—you'll notice there are no trombone players. Take J. J. Johnson—is he more important, more influential, more innovative or otherwise more significant than any of the eight I placed on the chart (Bird [Charlie Parker], Diz [Dizzy Gillespie], Dexter [Dexter Gordon], Max [Max Roach], Lee Konitz, Lennie [Lennie Tristano], Bud [Bud Powell] and Monk [Thelonious Monk])? You'd have a tough time convincing me of that. This was the argument I found myself in more often that not. "What, no Oscar Peterson?" "What, no Tony Williams?" Sadly, yes. But given the limitations of the setup, I made some difficult choices—ones you might make differently, and I encourage you to do so, it is a wonderful exercise!

I also found that as I got further down, the decade rule got looser, especially with more and more people crossing the '60s and '70s, or the '70s and '80s. So I decided to live with that, and just not be so strict. In the end, the evolution would stay intact whether I put Bill Evans in the '60s or '70s, for example. Plus, I felt obligated to represent as many different kinds of innovation as possible. The 1980s is about so much more than the "Wynton-Branford-"Young Lions"-neo-classicism (for example), as so many have written quite eloquently, yet I felt that in the end, or at least in twenty years, the '80s will still be thought of as mainly that movement.

Miles Davis was another tough one. His voice, and those of his many progeny, reverberates so strongly through the '50s, '60s and '70s, that I felt he needed that "tree trunk" down the middle of sorts. This also gave me a rough area of the chart to gravitate trumpet players, as well as put people and voices connected to Miles near him. I thought about calling the group "Prince of Darkness," but decided making his category black was enough of a nod.

I also tried to have fun. Many of the "element symbols" are nicknames or other references. I also had to include Horace Silver and Herbie Nichols [(nickel = Ni)] with their real element symbols, thus the "Ag" for Horace Silver.

The last twenty years are more difficult. What will the history books say about Craig Taborn and Geoff Keezer in 2030, for example? Were Medeski, Martin, and Wood a passing fancy? Will Miquel Zenon still be considered a "genius" in 2035? Those are much tougher questions to answer. I am not a critic, nor a fortune teller. I only know that time and time again, these people made "Best of Decade" lists by both critics, musicians and fans alike. I'll admit there are some sentimental favorites here and there since the '80s, and that's okay with me. This is "AN evolution" of jazz style, improvisation and innovation, not "THE evolution." The way I teach it may or may not be the way you would, and I'm okay with that. This is also an exercise more than anything—in a perfect world, I would make a list of all the important people and make a form that fits that list, not the other way around."[3] (bold and bold italic not in original)
---
"The Elements of Jazz"




Jazz is one of the world's great music genres. Characterized by swing and blue notes, call and response vocals, polyrhythms, and improvisation. Jazz originated in the African-American communities around New Orleans. John F. Szwed wrote in his classic guide to the genre, Jazz 101, that the "Jazz musician offered one of the first truly non-mechanical metaphors of the twentieth century. Now, whether one has heard of Charlie Parker or not, we inherit a notion of cool, an idea of well–etched individuality, a certain angle of descent." This is a visual tribute to a wonderful art form, using the periodic table as the framework. The table includes some of the greatest jazz albums of all-time. Each cell includes information on the album title, the artist and the year of release. The first periodic table was produced in 1869 by Dimitri Mendeleev, a Russian scientist. His iconic table illustrates the periodic law which states that certain properties of elements repeat periodically when arranged by atomic number.[4] (bold not in original)
---
---
Infographics

[

edit

]
Infographics are a collection of imagery, data visualizations like pie charts and bar graphs, and minimal text that gives an easy to understand overview of a topic. Infographics are visual tools used to provide striking, engaging imagery and text to communicate information quickly, clearly, and memorably making complex information easier to understand and recall. They can provide a quick overview of a topic by explaining complex processes, or displaying, summarizing, and raising awareness of research findings or comparing and contrasting multiple options.
Whereas jazz trees and jazz periodic tables are bound by assumptions, such as tree roots and branches, or grouping categories of eight elements, infographics have no such background assumptions about how information needs to be organized.
The following are examples of jazz infographics. Click on the infographic for its source and credit.
List of infographics below:
---
---
---
---
Ragtime, with its syncopated rhythms, is often considered as a precursor to early jazz. Early jazz, such as played by the Buddy Bolden band emphasized brass musical instruments over stringed ones likely played blues tunes with improvisation. This then developed into a traditional sounding New Orleans Dixieland style with multiple simultaneous improvisation.
Big bands of the hot and sweet types. Big bands that swing.
Smaller jazz combos that play Bebop, or hard bop, or post bop, this last -bop being a small-combo jazz that assimilates hard bop, modal jazz, avant-garde or free jazz without necessarily being immediately identifiable as any one of those forms.
Other jazz styles include cool jazz (sometimes called West Coast jazz), soul jazz, bossa nova, Latin jazz, modal jazz, jazz/rock fusion, gypsy jazz, Third stream jazz, jazz rap, smooth jazz, or free jazz.
Pianists might play stride, boogie-woogie, or free jazz.
---
☞ What values are being assumed or used in analyzing jazz?
☞ What determines jazz values?
☞ What values does each jazz style have and how is this determined?
As regards personal and subjective preferences amongst jazz styles, a person might prefer any jazz style over all others.
Amongst contemporary jazz musicians one can make a case that some jazz styles are not pursued as much as others. The vast majority of contemporary jazz players do not play Ragtime, or Dixieland, or in a traditional New Orleans style. If frequency of people playing in that style determines value amongst performing musicians, then these styles are held in less value than Bebop, or Hard Bop, or Post-Bop, which are played more.
Interestingly, most current jazz is somewhat hard to categorize as the musicians incorporate and blend together aspects of hard bop, modal jazz, avant-garde, free jazz, world music, smooth jazz, or contemporary pop.
It is said that most styles of jazz when they first get introduced usually dominate for less than a decade. See a "Jazz Timeline."
---
---
How is value determined?

[

edit

]
Things are considered valuable if they fall under the definitions used for determining value.
"A theory of value is any economic theory that attempts to explain the exchange value or price of goods and services. Key questions in economic theory include why goods and services are priced as they are, how the value of goods and services comes about, and—for normative value theories—how to calculate the correct price of goods and services (if such a value exists)."

[5]
Value is determined by considering these parameters as provided by Wiktionary: value giving a partial definition of "value."
"value (countable and uncountable)

"1. The quality (positive or negative) that renders something desirable. Synonym: worth.

2. The degree of importance given to something, as in The value of my children's happiness is second only to that of my wife's.


3. That which is valued or highly esteemed, such as one's morals, morality, or belief system, as in He does not share his parents' values.




4. The amount (of money or goods or services) that is considered to be a fair equivalent for something else.

[6]
Jazz has value under any of the four definitions. Jazz has worth as enjoyable music. When played well, jazz has positive qualities that make it desirable to some people.
➢ What desires does jazz satisfy in musicians who play jazz?
Musician's desire to play music well. In addition to the technical requirements of keeping time, listening to bandmates and responding appropriately, there are other features that musicians and listeners can both desire including emotional expressiveness, promotion of exuberance, playing sadly or wistfully, generating excitement, energy, sexiness, or even playing humorously. Because human performers or listeners each can desire these stages that music can stimulate, it makes music desirable for these multi-faceted reasons.
Does jazz have degrees of importance? Many people have claimed that jazz is one of America's contributions to culture and the world's music genres. Being a cultural icon gives jazz importance over music's not created in America for those promoting American culture.
The third definition of value is had by things that are esteemed, respected, or admired. Jazz musicians have been all three. The skills to make effective and successful improvisations requires thousands of hours of training, or what musicians sometimes call woodshedding, which is more than just practicing— it is the place where one works out the techniques that form the foundation of one's improvisational ability. Such improvisational expertise is admired and respected because of the level of difficulty and the success in having mastered one's instrument and musical abilities.
The fourth definition for value was the amount (of money or goods or services) that is considered a fair equivalent for something else. People pay money to watch and listen to jazz performances. Jazz meets this definition of value because of the economic market forces involved.
---
What is valued in jazz?

[

edit

]
Jazz musicians and jazz listeners are highly appreciative of high-quality improvisations.
➢ What is it about improvisations that makes them admired and valued?
Jazz lovers and purists appreciate quality improvisations because of their unpredictability and requirement of constant chance-taking. The music can be at a frenetic pace. Some ten songs of Charlie Parker improvisations in the Charlie Parker Omnibook have tempos of three hundred quarter notes or more per minute. Three hundred beats per minute is equal to playing ten 8th notes per second.[7]
Listen to the frenetic pace of Charlie Parker playing "Move" from One Night in Birdland with the Charlie Parker Quartet featuring Parker on alto saxophone, Curly Russell on bass, Art Blakey on drums, Bud Powell on piano, and Fats Navarro on trumpet possibly on June 30, 1950.
Listen to the speed of Charlie Parker and trumpeter Red Rodney playing "Koko" live at Carnegie Hall.
---
Different Determiners of Value: Subjective versus Objective

[

edit

]
Some things are subjectively valuable, but not non-subjectively valuable. Subjective value is determined by personal preferences and desire and one's emotional attachments to things or events. The non-subjective values, perhaps sometimes misleadingly called the objective value, can still have different means other than personal preferences for how that value gets established.
Some objects have intrinsic value where this value cannot vary with resource scarcities. Some things proposed as having intrinsic value are friendship, love, or truth-telling/honesty. Socrates (470–399 BC) believed that justice was not dependent upon any person's beliefs or desires.
Ethics professor and Director of the Ted Rogers Leadership Centre at Ryerson University in Toronto, Canada, philosopher Chris MacDonald explains the differences between intrinsic and extrinsic value.
"Intrinsic value is best understood in contrast to extrinsic value.

Things with extrinsic value have value because of what they can get us. My car has extrinsic value because people value the things it does for me—like getting me to work, and taking me on vacations.

I value friendship, on the other hand, for its own sake. It's not a way for me to get something else.

Some things might be thought either intrinsically or extrinsically valuable. Many people would say love has intrinsic value—we value it for its own sake. Others might argue that we value it because it brings us joy, which would make it extrinsically valuable."[8] (bold not in original)
Economic theory has sometimes based a theory of value on the intrinsic value of things.
"In economics, an intrinsic theory of value (also called theory of objective value) is any theory of value which holds that the value of an object or a good or service is intrinsic, meaning that it can be estimated using objective measures. Most such theories look to the process of producing an item, and the costs involved in that process, as a measure of the item's intrinsic value. Paradigmatically, money is supposed to be good, but not intrinsically good: it is supposed to be good because it leads to other good things, such as buying better teaching equipments at a local primary school. The explanation aims to differentiate the original meaning of intrinsic value from the actual physical benefit it has.

The labour theory of value is an early example of an intrinsic theory, which was originally proposed by Adam Smith and further developed by David Ricardo and Karl Marx."[9] (bold not in original)
Economically non-intrinsically valuable things can still have considerable value; the objects involved can even have intrinsic value. such as gold, for example. Gold has inherit properties that make it intrinsically valuable, such as being malleable. If one desires or values malleability, then gold has positive values in this regard and they are intrinsic to what is the nature of gold's properties. However, if gold were found lying everywhere on the surface of the earth in big chunks easily mined, then it would lose its economic value as a commodity for trading because of its relative scarcity, just as people do not use ordinary dirt out of anyone's yard for currencies of exchange. Gold's economic value varies with the level of scarcity and difficulty and expense in acquiring the material, hence it does not have intrinsic economic value since the value can vary. If aliens from another galaxy carefully deposited mountains made of gold everywhere on Earth the price of gold would plummet to almost nothing proving the economic value of gold is not entirely intrinsic to itself, but dependent on relative scarcity and the costs involved in acquiring it.
Gold is a valuable metal with higher value than other metals, such as iron, because it is scarcer than iron and costs more to mine and refine it. Yet the value of gold is non-subjectively valuable, whether anyone knows this or not, because on Earth it is a scarcer metal. The scarcity that determines gold's relative value to other metal deposits is not determined by any one person, or any size group of persons. Hence, it is an 'objective' feature of the value of gold in the preceding sense.
Gold is formed in nuclear synthesis by stars. Nowhere in the entire universe, is there a lot of gold because it is manufactured in stars in smaller quantities than other metals. So, supply is low and the demand is high.
Gold has many properties that give it value:
★ Rarity—there's a lot of aluminum and iron in the Earth—there's not much gold with atomic number 79 (and there's more silver with atomic number 47 than gold since elements with a lower atomic number are more common than those with higher atomic numbers).
★ Chemical stability—gold doesn't react with much of anything, so you'll almost always find gold in its elemental form (unlike carbon, aluminum, and most other metals).
★ Radiological stability—unlike polonium, bismuth, uranium, and other really heavy elements, gold doesn't decay away over time.
★ Solidity—it's not a gas or liquid so it won't just waft away or spill and be lost—unlike oxygen, chlorine, mercury, bromine, and similar elements.
★ Utility—gold can actually be made into things like jewelry and coins and (more recently) electrical conductors. Gold is an excellent conductor of heat and electricity.
★ Attractiveness—gold looks better than many other elements such as lead, iron, tin, and so forth.
Gold was one of the elements that was rare enough and useful enough to be valuable; as well as chemically, radiologically, and physically stable enough to serve as the basis for a monetary system. And it's pretty too!
Industrial uses of gold are many, especially concerning gold's relative insolubility.
There are many more characteristics of Gold that makes it valuable. Its usefulness is derived from a diversity of its special properties. Gold conducts electricity, does not tarnish, is easy to work, can be drawn into wire, can be hammered into thin sheets, alloys with many other metals, can be melted and cast into highly detailed shapes, has a wonderful color and a brilliant luster. Gold is a memorable metal that has been revered by humans for thousands of years.
As per a law of economics, if the supply is low and the demand is high, then prices increase.
---
The labor theory of value

[

edit

]
"Another main concern for [Adam] Smith [(1723–1790)] involved tracing the roots of value. He identified two different kinds of value, "use value" and "exchange value." The concept of exchange value interested Smith considerably. The diamond-water paradox, in particular, proved puzzling to him: Why is it that diamonds, which have very little practical use, command a higher price than water which is indispensable to life? By discovering the true source of value Smith hoped to find a benchmark for measuring economic growth. Eventually Smith settled on labor as the source of value: The number of hours labor that a good can be exchanged for constitutes its inherent worth. (Note, this is not the same as saying that a good is worth the number of hours spent in its production.) The value of a good can also be referred to as the "natural price." The natural price need not function as the actual cost of a good in the marketplace. Competition, however, was expected to push the market price towards the natural price."[10]

(bold and bold italic not in original)
The labor theory of value held that the value of a thing was determined by the labor that went into its production. This contrasts with the modern contention of neoclassical economics, that the value of a thing is determined by what one is willing to give up to obtain the thing.
"In economics, utility is the satisfaction or benefit derived by consuming a product. The marginal utility of a good or service describes how much pleasure or satisfaction is gained by consumers as a result of the increase or decrease in consumption by one unit. There are three types of marginal utility. They are positive, negative, or zero marginal utility. For instance, you like eating pizza, the second piece of pizza brings you more satisfaction than only eating one piece of pizza. It means your marginal utility from purchasing pizza is positive. However, after eating the second piece you feel full, and you would not feel any better from eating the third piece. This means your marginal utility from eating pizza is zero. Moreover, you might feel sick if you eat more than three pieces of pizza. At this time, your marginal utility is negative. In other words, a negative marginal utility indicates that every unit of goods or service consumed will do more harm than good, which will lead to the decrease of overall utility level, while the positive marginal utility indicates that every unit of goods or services consumed will increase the overall utility level.

In the context of cardinal utility, economists postulate a law of diminishing marginal utility, which describes how the first unit of consumption of a particular good or service yields more utility than the second and subsequent units, with a continuing reduction for greater amounts. Therefore, the fall in marginal utility as consumption increases is known as diminishing marginal utility. Economists use this concept to determine how much of a good or service that a consumer is willing to purchase.

The term marginal refers to a small change, starting from some baseline level. Philip Wicksteed explained the term as follows: Marginal considerations are considerations which concern a slight increase or diminution of the stock of anything which we possess or are considering. Another way to think of the term marginal is the cost or benefit of the next unit used or consumed, for example the benefit that you might get from consuming a piece of chocolate. The key to understanding marginality is through marginal analysis. Marginal analysis examines the additional benefits of an activity compared to additional costs sustained by that same activity.

As a topic of economics, utility is used to measure worth or value. Economists have commonly described utility as if it were quantifiable, that is, as if different levels of utility could be compared along a numerical scale. Initially, the term utility is equated usefulness with the production of pleasure and avoidance of pain by moral philosophers such as Jeremy Bentham and John Stuart Mill. Moreover, under the influence of this philosophy, they viewed utility as "the feelings of pleasure and pain" and further as a "quantity of feeling."

Contemporary mainstream economic theory frequently defers metaphysical questions, and merely notes or assumes that preference structures conforming to certain rules can be usefully proxied by associating goods, services, or their uses with quantities, and defines "utility" as such a quantification. In any standard framework, the same object may have different marginal utilities for different people, reflecting different preferences or individual circumstances.

The law of diminishing marginal utility is at the heart of the explanation of numerous economic phenomena, including time preference and the value of goods . . . The law says, first, that the marginal utility of each homogeneous unit decreases as the supply of units increases (and vice versa); second, that the marginal utility of a larger-sized unit is greater than the marginal utility of a smaller-sized unit (and vice versa). The first law denotes the law of diminishing marginal utility; the second law denotes the law of increasing total utility."[11] (bold not in original)
The theory of marginal utility, which is based on the subjective theory of value, says that the price at which an object trades in the market is determined neither by how much labor was exerted in its production nor on how useful it is on the whole. Rather, its price is determined by its marginal utility. The marginal utility of a good is derived from its most important use to a person. So, if someone possesses a good, they will use it to satisfy some need or want, starting with the one that takes highest priority.[12]

(bold not in original)
---
The subjective theory of value

[

edit

]
"The subjective theory of value is a theory of value that believes that an item's value depends on the consumer. This theory states that an item's value is not dependent on the labor that goes into a good, or any inherent property of the good. Instead, the subjective theory of value believes that a good's value depends on the consumer's wants and needs. The consumer places a value on an item by determining the marginal utility, or additional satisfaction of one additional good, of that item and deciding what that means to them.

The modern subjective theory of value was created by William Stanley Jevons, Léon Walras, and Carl Menger in the late 19th century. The subjective theory contradicted Karl Marx's labor theory which stated an item's value depends on the labour that goes into production and not the ability to satisfy the consumer.

The subjective theory of value helped answer the "diamond–water paradox," which many believed to be unsolvable. The diamond–water paradox questions why diamonds are so much more valuable than water when water is necessary for life. This paradox was answered by the subjective theory of value by realizing that water, in total, is more valuable than diamonds because the first few units are necessary for life. The key difference between water and diamonds is that water is more plentiful and diamonds are rare. Because of the availability, one additional unit of diamonds exceeds the value of one additional unit of water."[13] (bold and bold italic not in original)
"The subjective theory of value is an economic theory which proposes the idea that the value of any good is not determined by the utility value of the object, nor by the cumulative value of components or labour needed to produce or manufacture it, but instead is determined by the individuals or entities who are buying or selling the object in question. This trend is often seen in collectable items such as cars, vinyl records, and comic books. The value of an object may have increased substantially since its creation or original purchase due to age, a personal affinity, or scarcity.

According to the subjective theory of value, by assuming that all trades between individuals are voluntary, it can be concluded that both parties to the trade subjectively perceive the goods, labour or money they receive, as being of higher value to the goods, labour or money they give away. The theory holds that one can create value simply by trading with someone who values the items higher, without necessarily modifying those.

This suggests that items cannot be objectively valued as any value placed upon the item is only correct if both buyer and seller agree on the price and a transaction takes place. A seller may value an item in their possession higher than any buyer will value it leading to either a price reduction until the item's price equals a buyer's value of the item, or the seller will continue to value the item higher than any buyer and no transaction will occur.

Individuals will experience more radical improvements to life and satisfaction from acquiring the first unit of a good compared to the marginal utility from acquiring additional units of a good. They will initially prioritise obtaining the goods they most need (of central, not marginal utility), such as essential food, but once their need for it is satisfied up to a certain level, their desire for other luxury or surplus goods will begin to rise, and the satisfaction obtained from the original essential goods will diminish.

The subjective theory of value presents a solution to this paradox by arguing that value is not determined by individuals choosing among entire abstract classes of goods, such as all the water in the world versus all the diamonds in the world. Rather, an acting individual is faced with the choice between definite quantities of goods, and the choice made by such an actor is determined by which good of a specified quantity will satisfy the individual's highest subjectively ranked preference, or most desired end. Water is very abundant, therefore its marginal utility is not that high, despite its important function in keeping organisms alive."[14] (bold not in original)
---
---
Which values does jazz have?

[

edit

]
Jazz and intrinsic value

[

edit

]
There are different levels of intrinsic value for jazz. The loci of intrinsic value lives in the musician, the music, the listeners, and society generally. Consider now each in turn.
Something has intrinsic value in two ways, as noted above. Something can be considered to have intrinsic value when the value determiners are non-subjective. Subjective values are a consequence of individual people's desires and preferences. Chocolate ice cream may be more valued by Miriam than vanilla ice cream, but another person may be the opposite in personal preferences and desires and likes vanilla better than chocolate. Hard as it may be to believe, vanilla ice cream may be the most popular flavor of ice cream.[15] As of 2021, vanilla ice cream sales amounted to 26% for all flavors of ice cream.
---
Jazz and subjective value

[

edit

]
---
Jazz and the labor theory of value

[

edit

]
Expert jazz musicians have likely put in a minimum of ten thousand hours of practice, or twenty hours a week for ten years. That s a lot of labor. As a consequence, from the labor theory of value, when jazz musicians perform audience members are seeing the results of each musician's riot practicing. With a quintet that could easily be fifty thousand labor hours. Audience members value the resulting high quality performances and recordings as a result.
"One thing emerges very clearly from Bloom's work: All the superb performers he investigated had practiced intensively, had studied with devoted teachers, and had been supported enthusiastically by their families throughout their developing years. Later research building on Bloom's pioneering study revealed that the amount and quality of practice were key factors in the level of expertise people achieved. Consistently and overwhelmingly, the evidence showed that experts are always made, not born. These conclusions are based on rigorous research that looked at exceptional performance using scientific methods that are verifiable and reproducible."[16]

(bold and bold italic not in original)
---
Comparing jazz value rankings

[

edit

]
☞ Can jazz values be ranked in comparison to each other?
---
The values of different jazz styles

[

edit

]
☞ What values does each jazz style have?
---
☞ Are all jazz styles equally valuable?
Yes, all jazz styles are equally valuable

[

edit

]
Jazz is a form of music. Music has value because people find it so whether as performing musicians or as listeners.
No, all jazz styles are not equally valuable

[

edit

]
Is all music enjoyed equally by all persons, or by all musicians? We know the answer is that different people have different preferences so some people like polka music and others do not enjoy listening to it. The same holds true for different jazz sub-genres. Some people like big band music, while others enjoy a solo piano performance more than they enjoy a big band sound.
As a consequence, from the subjectively valued perspective of individual people, some jazz genres are preferred over others and so to this extent are valued more highly than music not preferred.
Is one music sub-genre of jazz objectively superior or more valuable than another?
---
Jazz Values

[

edit

]
☞ What values are being assumed or used in analyzing jazz?
Jazz has many different types of values. These types of values include musical, political, social, personal, inter-personal, psychological, and cultural.
Musical values. Good jazz musicians are assumed to know how to improvise. Good improvisations and good musicianship are complementary. For a description of positive values during improvisations see PoJ.fm's Ontimpr11. Is Improvisation Essential to Jazz? and Ontimpr12. Positive Evaluations of Good Improvisations. Good jazz musicians have virtuosity, flexibility, adaptability, and a positive spirit of cooperation. Virtuosity is the the character, ability, or skill of a virtuoso and a virtuoso is a person who is an expert. An expert is someone who has special skill or knowledge in some particular field, in this case music and they are therefore specialists and authorities on how to play jazz.
Journalist and author Malcolm Gladwell (b. 1963), in his popular book, Outliers (2008), promoted the idea of the "10,000 hour rule" for generating expertise where deliberate practice of at least ten thousand hours (20 hours a week for ten years) contributes to making someone an expert on what they had been practicing. Gladwell relied on a Florida State University study by Swedish psychologist and Conradi Eminent Scholar and Professor of Psychology K. Anders Ericsson (1947–2020) supportive of this idea.
But several theorists and researchers objected to the over-simplification of such a "10,000 hour rule" since merely having ten thousand hours of deliberative practice may not end up producing a successful expert. Counter-examples include people's cursive penmanship where many people have practiced cursive handwriting for the required time period without achieving expert status in producing attractive and well-formed cursive writing.
Furthermore, a second major factor in expertise generation can come from having effective instructors in the subject matter at hand who can potentially improve one's chances of acquiring expertise through successful instruction. The better a teacher can get students to focus on important components contributing to successful learning of their subject can lessen the time it takes to become an expert. Read about this at "Researcher Behind '10,000-Hour Rule' Says Good Teaching Matters, Not Just Practice," or listen to a podcast making these points of critique of the "10,000 hour rule."
Political values. Jazz has been used for numerous political purposes. It has stood for freedom from tyranny by overtyrannical governments, such as Hitler's Germany 🇩🇪 , or Stalin's Russia 🇷🇺. People under these regimes listened to and performed jazz even when the government was against it. The United States State Department has sponsored many jazz tours of foreign countries to strive to support democratic principles and democratic governments. Both Louis Armstrong and Dizzy Gillespie led U.S. State department tours around the globe 🌍.
Social values. Bassist Charles Mingus and drummer Max Roach started a protest jazz event to circumvent the Newport Jazz Festival. Max Roach and Abbey Lincoln recorded their "Freedom Jazz Suite" to protest and support civil rights in the United States.
Personal values. Jazz players are musicians and musicians can get a lot of positive value personally from playing and composing music. Jazz improvisations are challenging and require musicians to be resourceful, courageous, independent thinkers and problem solvers, cooperative, open-minded, willing to learn, and creative, to name some of the positive values that jazz can open to individual musicians.
Inter-personal values. Because musicians often play together there are opportunities for group interactions that have positive values. Successful cooperations can be satisfying. Creating music together can create bonds of friendship.
Psychological values. Playing music can be energetic, dynamic, require self introspection and evaluation. Working in successful groups can be confidence building.
Cultural values. Jazz has now had a one hundred twenty-seven year career. Look up any characterization of jazz and it will almost universally give credit for the vast bulk of jazz to Afro-Americans. It is a sense of pride that peoples of African-American heritage can point to the creation of an original American style of music. A sophisticated and new musical genre combining European diatonic musical scales with an African-style pentatonic one and creating a new hybrid music that no culture in the history of planet Earth had come up with before. Being able to play and improvise new melodies to old songs was a musically creative outlet and gave birth to jazz musicians raising themselves up into new and creative heights producing not only jazz generally but over fifty sub-genres of jazz. For characterizations of some of these jazz sub-genres, see PoJ.fm's Ontology: Types of jazz and also "Ontmusic32. What are jazz sub-genres? and Jazz trees and sub-genres of jazz.

Music's properties can be analyzed and comparisons made. Between two samples of music, A and B, it could be discovered that A has more high notes than B, that B has vocals, while A is exclusively instrumental music. Some people prefer vocal music over instrumental music. That notwithstanding, does vocal music have any superior values over non-vocal music from a non-subjective viewpoint?
When lyrics (words that make up a song, usually consisting of verses and choruses) are used one can communicate a lot more semantic information to a listener than just using instrumental music. This is a valuable achievement since information transmission and complex communication is valued by humans, but likely valued by all beings since information can be used to enhance an entities survival.
---
☞ What determines jazz's musical values?
---
Ranking jazz value comparisons

[

edit

]
☞ Can jazz values be ranked in comparison to each other?
Yes, jazz values can be compared to each other

[

edit

]
Subjectively, some people prefer Dixieland to free jazz and vice-versa. Does this make either one objectively more valuable? Well, it could if there were many more people who prefer Bebop over Ragtime music to either perform it or listen to it. The popularity of one genre over another gives it higher points in terms of favorability so in this sense Bebop has higher preferential value of people involved with jazz.
No, jazz values cannot be compared to each other

[

edit

]
Many people believe it is not possible to compare musicians in terms of greatness, as in who was greater, Miles Davis or John Coltrane. Each has valuable things to offer other musicians and listeners, they do not offer the exact same things, and so their overall greatness cannot be compared since they do not do the same things. The idea is that one cannot say a policeman is more important than a firefighter since they perform different societal functions. Similarly, Coltrane often played a lot of shrieking saxophone, whereas Miles Davis neither plays saxophone, nor does he regularly try playing shrieking notes through his trumpet.
---