Sp19. Jazz and Race
---
Introduction

[

edit

]
Jazz and race is a complex topic area. There is no question that the earliest musicians who created jazz as a musical genre were generally of Afro-American origin, but not exclusively since musicians such as Jelly Roll Morton (1890–1941) and Sydney Bechet (1897–1959) were Creoles. Any history of jazz acknowledges that the vast majority of early jazz performers were non-white players. Still, there remains a problem because even in its earliest history non-black players were involved in jazz music production and in helping to make jazz a cultural phenomena.
It is often claimed that the very first recorded jazz in 1917
was done by the all-white group The Original Dixieland Jazz Band
, but see John Edward Hasse's Smithsonian article for possible black musician precursors.[1]
Jazz has been in Europe since at least World War 1 (1914–1918), when James Reese Europe's (1891–1919) 369th Infantry Regimental military band played throughout the European continent.
"During World War I, [James Reese] Europe obtained a commission in the New York Army National Guard, where he fought as a lieutenant with the 369th Infantry Regiment (the "Harlem Hellfighters") when it was assigned to the French Army. He went on to direct the regimental band to great acclaim. In February and March 1918, Europe and his military band travelled over 2,000 miles in France, performing for British, French and American military audiences, as well as French civilians. Europe's "Hellfighters" also made their first recordings in France for the Pathé brothers. The first concert included a French march, and the "Stars and Stripes Forever" as well as syncopated numbers such as "The Memphis Blues," which, according to a later description of the concert by band member Noble Sissle " . . . started ragtimitis in France.""[2]

(bold not in original)
After originating in America, jazz disseminated around the Earth, predominantly first in Europe and then everywhere else. Jazz is now played on every continent and country by that country's inhabitants. Is it reasonable to think that at the current time in the 21st century jazz remains only a black music phenomena? Granted that jazz began as a predominantly culturally black music, should one continue to believe that it remains an exclusively black music genre?
---
---
Reasons why jazz remains a predominantly black musical phenomenon

[

edit

]
In his Music: A Subversive History, American jazz critic and music historian, Ted Gioia (b. 1957) attests to and argues for the general claim that musical innovations typically derive from the underclasses of societies.
Music critic Robert Christgau (b. 1942) in his Los Angeles Times review reports that Gioia's music history book was "dauntingly ambitious, obsessively researched labor of cultural provocation" regarding the global history of music that reveals how songs have shifted societies and sparked revolutions.[3]
The blurb for Gioia's book reports that he argues for the claim that musical innovations, such as new music genres, almost always start by musicians at the margins of any society.
"Histories of music overwhelmingly suppress stories of the outsiders and rebels who created musical revolutions and instead celebrate the mainstream assimilators who borrowed innovations, diluted their impact, and disguised their sources. In Music: A Subversive History, Ted Gioia reclaims the story of music for the riffraff, insurgents, and provocateurs. Gioia tells a four-thousand-year history of music as a global source of power, change, and upheaval. He shows how outcasts, immigrants, slaves, and others at the margins of society have repeatedly served as trailblazers of musical expression, reinventing our most cherished songs from ancient times all the way to the jazz, reggae, and hip-hop sounds of the current day.[4]

(bold and bold italic not in original)
Did what Gioia report happen to jazz? Yes, it did.
"The whole story is very similar to the rise of black music in the United States, where the elites recognized at a very early stage the expressive power of the songs of the African-American populace, and were torn between their desire to repress it and their even deeper desire to listen to it. In fact, this same phenomenon occurs at almost every crucial moment of innovation in the history of music—you can find in ancient Rome, China, the Islamic world, and in many other settings."

[5]

(bold not in original)
Music journalist, book reviewer, essayist, and critic Robert Christgau (b. 1942) was not as impressed as Gioia about musical innovations coming from repressed people in his review "The history of music—all of it—in 400-plus pages."
"He's [Gioia] also rather too impressed at how the history of music is dominated by innovators who are first shunned by establishment tastemakers and then absorbed by them. That's how human progress works, especially in the arts.[6]

(bold not in original)
We will get to more on this in a moment. But first it would seem that Ragtime may have been somewhat the exception. Ragtime composers were perhaps an exception to their music getting watered down for a mainstream audience since the composed Ragtime music had been written down on score sheets and often the music was played through a player piano. A player piano is a mechanical device that uses punched paper rolls to program the piano as to how to power the keyboard hitting the wire strings inside of the piano. This produces an unvarying reproduction of the composer's, or the recorded performer's, main intentions for how to play that particular piece of music.
---
Jazz and Race Why black culture gets credit for jazz
The genesis of jazz can be credited to Afro-Americans for multiple reasons.
(1) The blues was an Afro-American creation.
(2) Ragtime was an Afro-American creation.
(2.5) Jazz incorporated both blues and ragtime so this makes jazz be incorporating Afro-American music. Gunther Schuller in his first volume on the earliest jazz history recounts the African elements found in the blues and incorporated into jazz as explained at Wikipedia, Early Jazz: Its Roots and Musical Development (New York: Oxford University Press, 1968), Ch. 1 "The Origins."
"The section on form covers African elements, European influences, and forms developed by African-Americans in the South. Schuller concludes that the blues "left enough room to preserve a number of African rhythmic-melodic characteristics." In a brief discussion of the role of harmony in the origins of jazz, the book notes that African and European systems of harmony overlapped sufficiently to allow their synthesis without "profound problems." The section on melody again finds African characteristics in a fundamental characteristic of jazz melody: the use of blue notes. An additional African influence is the way that melody in predecessors of jazz followed speech characteristics.

A brief section on timbre again emphasizes the African roots of an emphasis on the individuality of a performer's tone color. Schuller notes that "African instrumentation reflects the vocal quality of African speech." He cites various jazz performers for the natural quality of their sound production, sound that makes each performer readily identifiable. A final brief section in this chapter, on improvisation, states that group improvisation, a hallmark of early jazz, is a distinctively African practice. Schuller counters a variety of other theories of the historical basis of jazz improvisation. He summarizes the "Origins" chapter by observing, "Many more aspects of jazz derive directly from African musical-social traditions than has been assumed.""[7] (bold not in original)
(3) Many of the major contributors to jazz innovations have been African-American. Earliest jazz was from Buddy Bolden and his Afro-American band members. The leading jazz bands of the day were mostly all Afro-American, including King Oliver's with trumpet innovator, Louis Armstrong. The early jazz recordings were mostly by Afro-Americans or Creoles in 1923. including King Oliver, Freddie Keppard, Louis Armstrong, Bennie Moten, Johnny Dodds, Jimmy Noone, trombonist Jimmy Harrison, the trumpeters Johnny Dunn and Jabbo Smith and pianist Earl Hines, and the two Creoles Jelly Roll Morton, and Sidney Bechet. Jazz musicians coming out of Harlem, a well known Afro-American region of New York City included Harlem stride pianists such as James P. Johnson and Johnson's disciple Fats Waller.
Leading jazz arranger and band leaders included Fletcher Henderson and his arranger Don Redman, the prime mover in the Henderson band, McKinney's Cotton Pickers, Charlie Johnson's Paradise Ten, and the Missourians, Bennie Moten's orchestra, Jesse Stone's Blues Serenaders, Troy Floyd's orchestra, Walter Page's Blue Devils, and Alphonso Trent's orchestra, and in Denver Andy Kirk and Jimmie Lunceford.
In the discussion of Kansas City jazz in the 1920s, Schuller observes that the region was the birthplace of ragtime, an important popular music in the area.
Afro-American James Reese Europe was the best known earliest jazz band leader from 1910 to his death in 1919. Wikipedia's: James Reese Europe reports that Europe was an "American ragtime and early jazz bandleader, arranger, and composer and the leading figure on the African Americans music scene of New York City in the 1910s." Wikipedia: James Reece Europe brought Ragtime and proto-jazz to France in 1917–18.
In the 1930s, jazz focused on big bands, such as those by Afro-Americans Duke Ellington, Jimmie Lunceford, Bennie Moten, Cab Calloway, Earl Hines, and Fletcher Henderson, and white bands from the 1920s led by the likes of Jean Goldkette, Russ Morgan and Isham Jones. An early milestone in the era was from "the King of Swing" Benny Goodman's performance at the Palomar Ballroom in Los Angeles on August 21, 1935, bringing the music to the rest of the country. The 1930s also became the era of other great soloists: the tenor saxophonists Coleman Hawkins, Ben Webster and Lester Young; the alto saxophonists Benny Carter and Johnny Hodges; the drummers Chick Webb, Gene Krupa, Jo Jones and Sid Catlett; the pianists Fats Waller and Teddy Wilson; the trumpeters Louis Armstrong, Roy Eldridge, Bunny Berigan, and Rex Stewart.
There were still significant non-Afro-American big swing bands in the 1930s lead by Jimmy Dorsey, his brother Tommy Dorsey, Glenn Miller, Benny Goodman, his future rival Artie Shaw, Woody Herman, who departed the Isham Jones band in 1936 to start his own band, Stan Kenton, and Boyd Raeburn.
(4) Jazz as a music has musical aspects found in and influenced by African music, including use of a pentatonic scale and having a particular promotion of the use of rhythm, involving syncopation.
(5) If there had been no slaves brought from Africa jazz would not have developed in the United States. Therefore a primary cause and responsible for the creation of jazz were Afro-Americans.
(6) Jazz was perceived at the time as being a form of music produced by Afro-Americans. A major category for labeling music made by Afro-Americans was race records. Race records were marketed to non-white people and included jazz recordings in addition to those records of blues vocalists or rhythm and blues musicians.
Race records were 78-rpm phonograph records marketed to African Americans between the 1920s and 1940s. They primarily contained race music, comprising various African-American musical genres, including blues, jazz, and gospel music, and also comedy. These records were, at the time, the majority of commercial recordings of African American artists in the U.S., and few African American artists were marketed to white audiences. Race records were marketed by Okeh Records, Emerson Records, Vocalion Records, Victor Talking Machine Company, Paramount Records, and several other companies.
"Prior to the emergence of rhythm & blues as a musical genre in the 1940s, "race music" and "race records" were terms used to categorize practically all types of African-American music. Race records were the first examples of popular music recorded by and marketed to black Americans. Reflecting the segregated status of American society and culture, race records were separate catalogs of African-American music. Prior to the 1940s, African Americans were scarcely represented on radio, and live performances were largely limited to segregated venues. Race music and records, therefore, were also the primary medium for African-American musical expression during the 1920s and 1930s; an estimated 15,000 titles were released on race records—approximately 10,000 blues, 3,250 jazz, and 1,750 gospel songs were produced during those years.

The terms "race music" and "race records" had conflicting meanings. In one respect, they were indicative of segregation in the 1920s. Race records were separated from the recordings of white musicians, records solely because of the race of the artists. On the other hand, the terms represented an emerging awareness by the recording industry of African-American audiences. The term "race" was not pejorative; in fact "race was symbolic of black pride, militancy, and solidarity in the 1920s, and it was generally favored over colored or Negro by African-American city dwellers," noted scholar William Barlow in "Cashing In: 1900-1939." The term "race records" first appeared in the Chicago Defender, an African-American newspaper, within an OKeh advertisement in 1922.

Race music and records in the 1920s were characterized by the popularity of two significant genres of music and the dominance of three race record labels. In particular, jazz and blues became part of the American musical idiom in the 1920s, popularized in large part through recordings released on Columbia, Paramount, and OKeh. Jazz, the dominant American indigenous popular music, emerged from the New Orleans area to become national, and eventually international, in popularity and practice. For example, Joe "King" Oliver was a seminal figure in jazz, and his band featured Louis Armstrong. Oliver's Creole Jazz Band came out of New Orleans and was a mainstay in several Chicago clubs; the group recorded some of the earliest and most influential jazz records for the Gennett label. Likewise, Jelly Roll Morton, an influential pianist from New Orleans, recorded groundbreaking songs for the Gennett label.

In the 1930s race music was expanded by the popularity of swing. Swing grew out of big band jazz ensembles in the 1920s. Unlike the jazz bands of the 1920s, however, swing was more often arranged and scored, instead of improvised, and used reed instruments as well as the brass instruments that dominated earlier jazz. Swing in the 1930s was epitomized by the Fletcher Henderson Band which featured Louis Armstrong on trumpet, Coleman Hawkins on tenor saxophone, and arranger Don Redman. Other notable swing bands during this period included Chick Webb's band, which had vocalist Ella Fitzgerald, Jimmy Lunceford's Band, Duke Ellington's Orchestra, Count Basie's Orchestra, and Cab Calloway's Orchestra."[8] (bold not in original)
All of these musicians were Afro-American: Fletcher Henderson, Louis Armstrong, Coleman Hawkins, Ella Fitzgerald, Duke Ellington, Count Basie, and Cab Calloway. These were the leaders in jazz and the black musical community.
"By the mid-1920s, established major labels like Victor and Columbia found themselves outpaced by smaller companies like Gennett, Okeh, and Paramount, who recorded the new genres of the age—"race" (blues and related genres); "hillbilly" (country and related genres) and "jazz" (the popular music of the era, and antecedent to various jazz sub-genres to come)—in their ability to delineate new talent and define new taste cultures. These genre categories functioned as a means for the industry to structure these "new" types of music for specific audiences through linking specific aesthetic styles with social attitudes and beliefs connected to the music."[9]
Kyle Stewart Barnett wrote about how smaller record labels, such as Gennett, helped promote jazz and black music.
"One of this dissertation's central hypotheses is that specific cultures at recording companies affected the selection, promotion and sale of its musical output, and thus small label interest in jazz during the 1920s represents a promising case study. And if jazz as a genre embodied a given set of social, cultural and aesthetic designations that resonated with consumers, those designations are generally (if not specifically) traceable through what little record company history remains. Gennett Records, of Richmond, Indiana, was the first of the upstart labels of the 1910s to challenge the dominance of the Big Three (Victor, Columbia, and Edison). Gennett was an important participant in the popularization of jazz, which along with the race and hillbilly genres that followed would reshape the trajectory of U.S. popular music. The emergence of jazz as a genre can be better understood by tracing how (and where) everyday business practices met socio-cultural attitudes in Gennett's mode of production: its institutional culture, its scouting and recording practices, its means of selection for releases, and its advertising strategies."

[10]
"Columbia Records recorded jazz as early as 1917 ("Darktown Strutter's Ball" and "Indiana" by the Original Dixieland Jass, and later Jazz, Band), . . . Gennett's lasting reputation is often associated with jazz, primarily due to the company's recording some of jazz's foundational moments, despite the fact that few of these now-treasured recordings likely sold much upon first release." (p. 56) (bold not in original)
"Despite such experiments, Gennett usually returned to those records that sold most reliably. Judging on the number of releases that would have been loosely construed as jazz at the time, Gennett must have had some economic success with the trend. The releases tended to be based on the style and popularity of the all-white Original Dixieland Jazz Band, whose Victor releases first gained popularity in 1917 – starting a jazz craze that led to the recording of both black and white jazz groups. Defining releases from Gennett (despite poor sales upon initial release) include Joe "King" Oliver's "Dippermouth Blues," recorded on June 23, 1923 with a young Louis Armstrong in his band, and Bix Beiderbecke and his Rhythm Jugglers first recorded "Davenport Blues" for Gennett on January 26, 1925. Hoagy Carmichael first recorded "Star Dust" for Gennett on October 31, 1927, backed by Emil Seidel and his Orchestra with the Dorsey Brothers sitting in. The song only became a hit after the company took another chance on a song that initially had performed poorly by re-recording it later. Jelly Roll Morton and the New Orleans Rhythm Kings recorded "Mr. Jelly Lord" for Gennett, in what has been purported to be the first interracial recording session in the U.S. on February 24, 1926.

During this period, "jazz" functioned as a defining term for a given song style—or perhaps even more importantly, a kind of dance. Jazz in its early period was known as a sub-section of dance music, but through the decade would increasingly become a term for the new dance music in general. Paradoxically, the popularization of the term "jazz" was linked with the controversy surrounding the new music's improvisational style, rhythmic syncopation, and connection with African-Americans."[11] (bold and bold italic not in original)
---
Relevance of the etymology of the word "jazz"

[

edit

]
Alan P. Merriam and Fradley H. Garner, "Jazz -- the Word," Ethnomusicology XII.3 (1968): 389, 93.
"We have come to a point in the study of the word where it seems wise to review the past theories although even now it is probably impossible to decide surely which will ultimately prove to be correct." Alan P. Merriam and Fradley H. Garner, "Jazz -- the Word," Ethnomusicology XII.3 (1968): 373.
Ch. 2, Footnote 31. See Ted Gioia, The History of Jazz (New York: Oxford University Press, 1997) 36. Gioia notes that those musicians who were active were black (Buddy Bolden, Bunk Johnson, Joe "King" Oliver, Mutt Carey), Creole' (Jelly Roll Morton, Sidney Bechet, Kid Ory, Freddie Keppard) and white (Nick LaRocca, Sharkey Bonano, and Papa Jack Laine), as the music transcended those racially segregated groups in such close proximity.
"The question as to where, how, and when the word "jazz" was first used as applied to music is as much of a puzzle as its ultimate origin, with various writers holding widely different points of view." Alan P. Merriam and Fradley H. Garner, "Jazz -- the Word," Ethnomusicology XII.3 (1968): 386.
---
Was jazz a music promoted by an underclass of musicians in America 🇺🇸? Undoubtedly. There are several reason supporting such a conclusion. First, professional musicians are in the entertainment business. The entertainment business in America from 1890 until 1920 was considered a less than noble profession. Entertainers are associated with a more sleazy side of society—sex, booze, drugs, and music. Second, slavery ended in America in 1865. People of color were suppressed by the prejudiced elite white society power-holders and government officials. Jazz began by 1895 with Buddy Bolden mixing multiple genres of music with syncopation, improvisation, and technical brilliance. In Bolden's case, one of his areas of technical brilliance was his capacity for playing extremely loudly. Improvisation is a freedom to create and express oneself musically.
---
Exclusively? Hardly anything is exclusive. But the preponderance of players, and most important, innovators in early and middle jazz were Afro-Americans, and credit should be given to the culture responsible for generating the bulk of the music and its features. For example, we do not grant the Navy credit for dumping thousands of military marching band instruments on the docks of New Orleans after the Spanish American War but it is what the locals DID with them that counted. As Martin E. Rosenberg has argued in his first long article, Afro-Americans at the turn of the 20th century experienced time DIFFERENTLY than Americans or Europeans and that is why their music comes out differently. Non-African Americans can learn to experience time that way, but it is a CULTURAL cognitive difference, like Edwin Hutchins has argued about bottom up navigational cognition among Micronesian islanders.
---
---
Reasons why jazz DOES NOT remain an exclusively black musical phenomenon

[

edit

]
We saw above that jazz began just at the turn of the 20th century in the United States as a cultural musical melange combining Ragtime, blues, Latin music, rhythms influenced by African rhythms, popular tunes, call and response, and even military/brass band influences. Jazz enabled musicians to individually and idiosyncratically express themselves. Jazz musicians hybridized two musical scales (diatonic and pentatonic), improvised and created new melodies, incorporated big-time syncopation, and combined musical instruments in novel combinations.
It is an actual philosophical question regarding whether any phenomenon that originates from one race of people can claim ownership of that phenomenon after new things are added to it by others not of that source race. It is even difficult to figure out exactly what questions and issues this topic area covers. To try to get a better handle on some of the questions consider the origins of rap. Is rap originally an exclusively black musical product. Was rap only done by black musicians?
Merriam-Webster dictionary defines the music genre of rap as "a type of music of African American origin in which rhythmic and usually rhyming speech is chanted to a musical accompaniment."
So, according to the dictionary credit for the origins of rap started with African Americans. But, was it exclusively African Americans or was it only a majority of African Americans who performed rap music?
---
Many types of jazz were from many races

[

edit

]
There are many types of jazz that did not have predominantly Afro-American musicians, but rather other races from around the world:
Gypsy jazz:
"Guitarist Django Reinhardt and violinist Stéphane Grapelli created the first major European jazz group when they established the Quintette du Hot Club de France in the late 1930s. With an instrumentation that only featured string instruments, without drums (Reinhardt, Grapelli, two rhythm guitarists and double bass), the Quintette's softer sound allowed the pair's virtuosic soloing to be heard clearly. Gypsy jazz remains popular as a sub-genre that is influenced by the American jazz tradition but is very much a unique style, with its own language and repertoire, much of which is composed by Reinhardt. This type of jazz has been continued by more recent musicians including Biréli Lagrène and the Rosenberg Trio."

[12]

(bold not in original)
Cool and West Coast jazz:
The cool jazz movement was a coordinated effort by musicians of several races and not predominantly by Afro-Americans. The Afro-Americans initially involved in the album "Birth of the Cool" recorded in 1949–1950 and led by Afro-American Miles Davis, with Caucasians Gil Evans, Wikipedia: Birth of the Cool reports that the music featured "unusual instrumentation and several notable musicians, the music consisted of innovative arrangements influenced by classical music techniques such as polyphony, and marked a major development in post-bebop jazz." American jazz critic, musician, author, and jazz historian Ted Gioia (b. 1955) goes into more detail as to how this band of musicians developed the sound and its sources included influences from non-African European musical influences:
"[The participants] were developing a range of tools that would change the sound of contemporary music. In their work together, they relied on a rich palette of harmonies, many of them drawn from European impressionist composers. They explored new instrumental textures, preferring to blend the voices of the horns like a choir rather than pit them against each other as the big bands had traditionally done with their thrusting and parrying sections. They brought down the tempos of their music ... they adopted a more lyrical approach to improvisation."[13]

(bold not in original)
---
Table of non-black male jazz musicians

[

edit

]
There have been plenty of non-black (other than Afro-American) jazz musicians, all of whom contributed to the history of jazz throughout its history, as seen in the table below of mostly American jazz musicians.
The table below leaves out the many contributions from jazz vocalists of any race but see another relevant table below regarding vocalists. For an incomplete list of female jazz musicians, many of whom are non-black, see PoJ.fm's Sp7. Women and Jazz; also see another table below of the non-black Jazz Vocalists from 50 Best All-time.
Table of Male Non-Afro-American Jazz Musicians
Musician
Birth–Death dates
Country — Musical Instrument(s) & Roles
Jelly Roll Morton

(1890–1941)

American (New Orleans) pianist 🎹, composer 🎼, arranger, and bandleader.
Paul Whiteman

(1890–1967)

American violinist 🎻, bandleader, composer 🎼, and orchestral director.
Sydney Bechet

(1897–1959)

American (New Orleans) jazz saxophonist 🎷, clarinetist, and composer 🎼.
Tony Parenti

(1900–1972)

American (New Orleans) jazz clarinetist and saxophonist 🎷.
Wingy Manone

(1900–1982)

American (New Orleans) jazz trumpeter 🎺, composer 🎼, singer, and bandleader.
Leon Roppolo

(1902–1943)

 
American (moved to New Orleans at ten years old) early jazz clarinetist, saxophonist 🎷,
guitarist 🎸, and best known for his playing with his fellow New Orleanians
in the New Orleans Rhythm Kings (1921–1924) based in Chicago.






(The New Orleans Rhythm Kings in 1922: (left to right)
Animated clarinetist Leon Roppolo, saxophonist Jack Pettis, pianist Elmer Schoebel, bassist Arnold Loyacano,
leader, trumpet & cornet player Paul Mares, drummer Frank Snyder, and trombonist George Brunies)



Santo Pecora

(1902–1984)

American (New Orleans) jazz trombonist.
Bix Biederbecke

(1903–1931)

American jazz cornetist, pianist 🎹 and composer 🎼.
Sharkey Bonano

(1904–1972)

American jazz trumpeter 🎺, band leader, and vocalist.
Frank Teschemacher

(1906–1932)

American jazz clarinetist and alto-saxophonist 🎷, associated with the "Austin High" gang.
Bud Freeman

(1906–1991)

American jazz musician, bandleader, composer 🎼, tenor saxophonist 🎷, and clarinetist.
Benny Goodman

(1909–2006)

American clarinetist and bandleader known as the "King of Swing".
Louis Prima

(1910–1978)

American (New Orleans) jazz singer, songwriter, bandleader, and trumpeter 🎺.
Stan Kenton

(1911–1979)

American pianist 🎹, composer 🎼, arranger and band leader who led an innovative
and forward-looking influential jazz orchestra for almost four decades. A pioneer in the field
of jazz education, creating the Stan Kenton Jazz Camp/Clinic in 1959
at Indiana University. By 1975, he was conducting over one hundred clinics a year,
as well as four week-long summer clinics on college campuses.
Dave Barbour

(1912–1965)

 
American jazz guitarist 🎸.

Gil Evans

(1912–1988)

Canadian pianist 🎹, composer 🎼, and bandleader who worked extensively with Miles Davis.
Woody Herman

(1913–1987)

American jazz clarinetist, saxophonist 🎷, singer, and big band leader.
Dr. M.E. "Gene" Hall

(1913–1993)

 
American music educator, saxophonist 🎷, and arranger, known for creating and
presiding over the first academic curriculum leading to a bachelor's degree
in jazz at the University of North Texas College of Music in 1947.


 


.
Bobby Hackett

(1915–1976)

American jazz trumpeter 🎺, cornetist, and guitarist 🎸 with the bands of
Glenn Miller (1904–1944) and Benny Goodman (1909–1986) in the late 1930s and early 1940s.
Howard Rumsey

(1917–2015)

American jazz double-bassist known for his leadership of the Lighthouse All-Stars in the 1950s.
Lennie Tristano

(1919–1978)

American jazz pianist, composer, arranger, and teacher of jazz improvisation.
Shelly Manne

(1920–1984)

American jazz drummer 🥁.




Dave Brubeck

(1920–2012)

American jazz pianist 🎹 and composer 🎼, and one of the foremost exponents of cool jazz.





(Paul Desmond on left with Dave Brubeck seated)

Jimmy Giuffre

(1921–2008)

American jazz clarinetist, saxophonist 🎷, composer 🎼, and arranger; best known for encouraging
free interplay between the musicians, anticipating forms of free improvisation.
Chico Hamilton

(1921–2013)

American jazz drummer 🥁 and bandleader.
Bob Whitlock

(1921–2015)

American double bassist.
Serge Chaloff

(1923–1957)

America's greatest Bebop jazz baritone saxophonist 🎷.
Tito Puente

(1923–2000)

American musician, songwriter, bandleader, and record producer of Puerto Rican descent
best known for dance-oriented mambo and Latin jazz compositions over a 50-year career.

.
Paul Desmond

(1924–1977)

American popular cool jazz alto saxophonist 🎷 and composer 🎼, best known for his work with
the Dave Brubeck Quartet and for composing that group's biggest hit, "Take Five."
Shorty Rogers

(1924–1994)

American jazz trumpeter 🎺, flugelhornist, in demand arranger, and one of the principal
creators of West Coast jazz.
Louie Belson

(1924–2009)

American jazz drummer 🥁, composer 🎼, arranger, bandleader, educator, & pioneered using two bass drums.
Art Pepper

(1925–1982)

American alto saxophonist 🎷, occasional tenor saxophonist 🎷, and clarinetist, active in West Coast jazz,
coming to prominence in Stan Kenton's (1926–1982) big band,
and one of the world's greatest altoists.
Zoot Sims

(1925–1985)

American jazz saxophonist 🎷, playing mainly tenor but also alto (and, later, soprano) saxophone,
first gaining attention in the "Four Brothers" sax section of Woody Herman's (1913–1987) big band.
Bob Cooper

(1925–1993)

American jazz primarily tenor saxophonist 🎷 and oboist.
Russ Freeman

(1926–2002)

American jazz pianist 🎹.
Herbie Steward

(1926–2003)

American jazz tenor saxophonist 🎷 known as one of the "Four Brothers"
in Woody Herman's Second Herd.
Stan Levey

(1926–2005)

American jazz drummer 🥁.
Bud Shank

(1926–2009)

American alto saxophonist 🎷 and flautist.
Terry Gibbs

(b. 1926)

American vibraharpist and band leader.

(1927–)

American .
Stan Getz

(1927–1991)

American jazz tenor saxophonist 🎷 who helped popularize bossa nova in the United States
with the hit single "The Girl from Ipanema" (1964).
He was known as "The Sound" because of his warm, lyrical tone.
Gerry Mulligan

(1927–1996)

American jazz baritone saxophonist 🎷, clarinetist, pianist 🎹, composer 🎼 and arranger.
Lee Konitz

(1927–2020)

American composer 🎼 and alto saxophonist 🎷 who played in a wide range of jazz styles,


including Bebop, cool jazz, and avant-garde jazz.

Doc Severinson

(b. 1927)

American trumpeter 🎺 and bandleader of "The Tonight Show"
with Johnny Carson from 1967–1992.
Bill Holman

(b. 1927)

American saxophonist 🎷, composer 🎼, orchestrator, arranger, conductor, and songwriter.

.
Maynard Ferguson

(1928–2006)

Canadian jazz trumpeter and multi-instrumentalist on flugelhorn, Firebird trumpet, trombone,
valve trombone, superbone (double trombone), baritone horn, French horn, soprano saxophone
and known for his ability to play in high registers.
Bill Evans

(1929–1980)

American jazz pianist 🎹, composer 🎼, and trio bandleader.
Chet Baker

(1929–1988)

American jazz trumpeter 🎺, outstanding vocalist, and innovator in cool jazz.
Bob Brookmeyer

(1929–2011)

American jazz valve trombonist, pianist 🎹, arranger, and composer 🎼.
André Previn

(1929–2019)

German-American pianist 🎹, composer 🎼, arranger, conductor, & celebrated trio pianist,
accompanist to singers of standards, and pianist-interpreter of songs
from the "Great American Songbook."
Joe Zawinul

(1932–2007)

Austrian jazz pianist 🎹, keyboardist, composer 🎼, and band leader.
Bob James

(b. 1939)

American keyboardist, arranger, record producer,
and founder of the American smooth jazz quartet Fourplay..

.
Chick Corea

(1941–2021)

American pianist 🎹, keyboardist, percussionist, composer 🎼, bandleader,
and pioneer in jazz fusion.

(b. )

American .
John McLaughlin

(b. 1942)

English guitarist 🎸, composer, and bandleader who pioneered jazz fusion
combining elements of jazz with rock, world music, Indian classical music,
Western classical music, flamenco, and blues.
Keith Jarrett

(b. 1945)

American jazz and classical music pianist and composer
who started his career with Art Blakey, then Charles Lloyd, and then Miles Davis.






Since the early 1970s he was a group leader and a solo performer in jazz, jazz fusion, and classical music often drawing from the traditions of jazz as well as Western classical music, gospel, blues, and ethnic folk music. His album, "The Köln Concert," released in 1975, became the best-selling piano recording in history. Jarrett received the Polar Music Prize in 2003, the first recipient of both the contemporary and classical musician prizes. In 2004 he received the Léonie Sonning Music Prize. Jarrett was inducted into the DownBeat Jazz Hall of Fame (2008) in the magazine's 73rd Annual Readers' Poll.

Lou Marini

(b. 1945)

American saxophonist, arranger, and composer, known as "Blue Lou" Marini and best known for his work in jazz, rock, blues, and soul music, as well as his association with The Blues Brothers.
Randy Brecker

(b. 1945)

American trumpeter, flugelhornist, and composer whose versatility made him popular as a studio musician with acts in jazz, rock, and R&B.
Jim Price

(b. 1945)

American session musician on trumpet and piano, composer, audio producer.
David Sanborn

(b. 1945)

American alto saxophonist and occasional pianist and one of the most commercially successful American saxophonists to earn prominence since the 1980s.






(Photo by Montgomery County, MD taken September 16, 2016 enhanced and cropped)




Music critic Scott Yannow described him as "the most influential saxophonist on pop, R&B, and crossover players of the past 20 years." Although identified with radio-friendly smooth jazz, Sanborn expresses a disinclination for the genre and his association with it. He plays jazz, jazz fusion, blues rock, R&B, pop, and blues. As a highly regarded session player, Sanborn has recorded and performed with James Brown, Bryan Ferry, Michael Stanley, Eric Clapton, Bobby Charles, Cat Stevens, Roger Daltrey, Stevie Wonder, Paul Simon, Jaco Pastorius, the Brecker Brothers, Michael Franks, Kenny Loggins, Casiopea, Players Association, David Bowie, Todd Rundgren, Bruce Springsteen, Little Feat, Tommy Bolin, Bob James, James Taylor, Al Jarreau, Pure Prairie League, Kenny G, Loudon Wainwright III, George Benson, Joe Beck, Donny Hathaway, Elton John, Gil Evans, Carly Simon, Guru, Linda Ronstadt, Billy Joel, Kenny Garrett, Roger Waters, Steely Dan, Ween, the Eagles, The Grateful Dead, Nena, Hikaru Utada, The Rolling Stones, Ian Hunter, and Toto.

(b. 1945)

Dave Holland

(b. 1946)

English jazz double bassist, composer 🎼 and bandleader.
Bob Moses

(b. 1948)

American jazz drummer 🥁.
Poncho Sanchez

(b. 1951)

American conguero🪘and bandleader in Latin jazz.

.
Lee Ritenour

(b. 1952)

American jazz guitarist 🎸.

.

Al Dimeola

(b. 1954)

 
American jazz electric and acoustic guitarist specializing in jazz fusion, world music, flamenco,
and Mediterranean cultures, and known for his technical mastery of extremely fast,
complex guitar solos and compositions. He began his career at nineteen as a guitarist
in the group Return to Forever in 1974.





(Photo of Al Dimeola by Jomelia taken October 5, 2006)

Kenny G(orelick)

(b. 1956)

American smooth jazz saxophonist 🎷, composer 🎼, and producer.
Bill Evans

(b. 1958)

American jazz saxophonist 🎷.
Conrad Herwig

(b. 1959)

American Latin jazz trombonist.
Russ Freeman

(b. 1960)

American smooth jazz and fusion guitarist & founder and leader of The Rippingtons
for over thirty years.
Chris Washburne

(b. 1964)

American Latin jazz trombonist, writer, and educator.
Gerry Gibbs

(b. 1964)

American jazz drummer 🥁.

.
Vijay Iyer

(b. 1971)

American composer 🎼, pianist 🎹, band leader, producer, educator, lecturer, and writer.

.

.

.

.

.

.

.

.

.

.

.

.

.

.

.

.

.

.

.

.

.

.

.

.

.

.

.

.

.

.
|- style="text-align:center; background:#FEFFFE;" | |- style="text-align:center; background:#FFFFF0;" | || || |- style="text-align:center; background:#FEFFFE;" |
Lennie Tristano (1919–1978) American composer, arranger, and teacher of jazz improvisation.
(1890–1967) || American violinist 🎻, bandleader, composer 🎼, and orchestral director.
Henry Mancini (1924–1994) || American composer, conductor, arranger, pianist and flautist. Often cited as one of the greatest composers in the history of film, he won four Academy Awards, a Golden Globe, and twenty Grammy Awards, plus a posthumous Grammy Lifetime Achievement Award in 1995.
Pete Rugolo (1915–2011) || American jazz composer, arranger and record producer.
Bill Perkins (1924–2003) || American cool jazz saxophonist and flutist, popular on the West Coast jazz scene, known primarily as a tenor saxophonist.
Bud Shank (1926–2009) || American alto saxophonist and flautist.
Hank Levy (1927–2001) || American jazz composer and saxophonist whose works often employed unusual time signatures and best known as a big band composer for Stan Kenton and the Don Ellis Orchestra, as well as the founder and long-time director of Towson University's Jazz Program.
Ken Hanna (1921–1982) || American jazz trumpeter, arranger, composer, and bandleader, best known for his work with Stan Kenton.

Tom Ferguson (1932–2013) || American jazz pianist and Director of Bands at then Memphis State University (now University of Memphis) from 1962 to the mid-1970s. He later served as Professor of Music and Director of Jazz Studies at Arizona State University. He formed the Tom Ferguson Trio with bassist Bob Badgely and drummer Carmen Castaldi.
Dan Haerle (b. 1937)) || American jazz pianist, composer, author and teacher, based in Denton, Texas and professor emeritus of Jazz Studies at the University of North Texas.
Bob Curnow (b. 1941) || American jazz trombonist who served as a trombonist, staff arranger and producer for the Stan Kenton Orchestra during the 1960s and 1970s. As a composer and arranger he is well known for producing large ensemble jazz music set to contemporary fusion and rock music of groups such as Chicago, Blood, Sweat and Tears, and the Yellowjackets. Most notably, the critically acclaimed CD, "Bob Curnow's L.A. Big Band Plays The Music of Pat Metheny and Lyle Mays." Currently he is owner and President of Sierra Music Publications, Inc., and prominent in instrumental music and jazz education fields.
Michael Brecker (1949–2007) || American tenor saxophonist, EWI player, and composer who won fifteen Grammy Awards as both performer and composer. He received an Honorary Doctorate of Music from Berklee College of Music in 2004 and was inducted into the DownBeat Jazz Hall of Fame in 2007.
Peter Erskine (b. 1954 ) || American jazz drummer who was a member of the jazz fusion groups Weather Report and Steps Ahead.
Tim Hagans (b. 1954) || American jazz trumpeter, arranger, and composer nominated for three Grammy Awards: Best Instrumental Composition for "Box of Cannoli" on The Avatar Sessions (Fuzzy Music, 2010); Best Contemporary Jazz Album for Animation "Imagination" (Blue Note, 1999); and Best Contemporary Jazz Album for "Re-Animation" (Blue Note, 2000).
John LaPorta (1920–2004) || American jazz clarinetist and composer.
Lyle Mays (1953–2020) || American jazz pianist, composer, and member of the Pat Metheny Group where Metheny and Mays composed and arranged nearly all of the group's music, for which Mays won eleven Grammy Awards.
Jim McNeely (b. 1949) || American jazz pianist, composer, arranger and faculty educator.
Kye Palmer (b. 1942) || American trumpeter and Los Angeles studio musician, most notable as a former member of The Tonight Show Band from 2006 to 2009, who has recorded on several Grammy Award nominated projects over the past 20 years.
Sub-Table of non-black male jazz musicians

[

edit

]
Dave Weckl (1909–20) || American .
Steve Smith (1909–20) || American .
Mike Vax (1909–20) || American .
Jim Widner (1909–20) || American .
Billy Zoom (1909–20) || American .
Gary Burton (b. 19) || American .
Leon Breeden (1909–20) || American
Clem DeRosa (1909–20) || American .
Sam Donahue (1909–20) || American .
John LaPorta (1909–20) || American .
Johnny Richards (1909–20) || American .
Eddie Safranski (1909–20) || American .
Sal Salvador (1909–20) || American .
Buddy Baker (1909–20) || American .
Buddy Morrow (1909–20) || American .
Tom Ferguson (1909–20) || American .
Don Jacoby (1909–20) || American .
Bob Seibert (1909–20) || American arranger, composer.
Buddy DeFranco (1909–20) || American .
Peter Erskine (b. 1950) || American drummer.
Jack Petersen (1909–20) || American .
Rich Matteson (1909–20) || American .
Hal Sherman (1909–20) || American .
Mark Taylor (1909–20) || American .
Mike Vax (1909–20) || American .
Conte Candoli (1927–2001) || American jazz trumpeter based on the West Coast.
Pete Rugolo
Bill Russo
Johnny Richards
Bill Holman
---
---
Early Netherland jazz (1919–1920)

[

edit

]
Stuff
"Rusch studied musicology at the University of Amsterdam (UvA) and baritone saxophone with Ferdinand Povel and Jasper Blom at the jazz department of the CvA. In 2016 she obtained her PhD at the UvA for a cultural-historical research into jazz and improvised music in the Netherlands. As a researcher, she was involved in large-scale European research projects on music and identity (Rhythm Changes) and music festivals and cultural heritage (CHIME). For this project she spent two years as a postdoctoral researcher at Birmingham City University (UK)."




(Click on quotation for source)
Loes Rusch early biography up to 2016 at Rhythm Changes Conference website, 2022. Accessed August 3, 2022.
Loes Rusch biography up to 2018: Musicologist and saxophonist Loes Rusch is a post-doctoral researcher at both the University of Amsterdam and Birmingham City University on European jazz festivals.
"Prior to joining Birmingham City University in February 2015, Rusch taught Jazz Studies and Popular Music Studies at the University of Amsterdam and wrote her Ph.D., focusing on the cultural politics of jazz, concepts of national thought and identity in music, and the relationship between music, representation and cultural policy-making of jazz in post-war The Netherlands."
Dr. Loes Rusch biography up to 2020: teaches music history and artistic research at the jazz department of the Royal Conservatory in The Hague and the Conservatory of Amsterdam. She is also a faculty member of the artistic doctoral program DocArtes, part of the Orpheus Institute in Ghent.
»For the first time in the Netherlands!! JAZZ??!!!!« (Rotterdamsch Dagblad, 6 May 1919) On 6 May 1919, a Rotterdam daily newspaper announced the latest dance fad in Dutch leisure life, as promoted by the Rotterdam Casino. Jazz — an early 1900s music and dancing style closely connected to African-American vernacular culturel — thus en-tered the Netherlands somewhat ignominiously: as the latest British/American trend, performed in revues with cabaret and paired with demonstrations of a new invention, the »photo-telephoneo.
---
Latin Jazz

[

edit

]
●

One thousand Latin jazz artists and groups

most of whom are not Afro-Americans, although many are of non-white musicians.
●

Felix Contreras, "Cándido Camero, A Father Of Latin Jazz, Dies At 99," NPR Music, November 7, 2020. Accessed July 1, 2022.
●

Matt Fripp, "Latin Jazz Music – The Best Albums & Artists," by Discover Jazz, last updated March 20, 2022. Accessed July 1, 2022.
---
British jazz

[

edit

]
● One hundred fifty-seven British jazz artists/groups

with only five being black musicians.
---
Hungarian jazz

[

edit

]
● Ádám Havas (sociologist and jazz researcher based in Budapest, Hungary), The Genesis and Structure of the Hungarian Jazz Diaspora (London & New York: Routledge, 2022).
---
Japanese jazz

[

edit

]
"All About Jazz: Do you find Japanese jazz musicians bringing a knowledge of their country's musical or cultural traditions to their playing of jazz? What forms might these incorporations take? Can you name some musicians actively involved in "Japanese jazz"?

"Michael Pronko: Tricky issue. I think that Japanese jazz draws from Japanese traditions in a lot of ways. The arts are not so distinct traditionally in Japan. So, a poet was also a painter and a designer of teacups and a builder of houses and whatever else. Of course, that doesn't mean people didn't specialize. They did, even more so maybe than in the States; but they have a sense of different arts. I think that there are aesthetic concepts like "wabi" and "sabi" and "yugen" which influence, if only unconsciously, Japanese jazz musicians. I'm working on an article where I classify Japanese jazz styles according to religious patterns, Shinto or Buddhist, popular Buddhism or refined, esoteric Buddhism. I've been working on this for a while, but it's not so fully developed. Still, the idea of Shinto and street festivals is a raucous, joyous, drunken celebration. Esoteric Buddhism would lead to refined, sophisticated working with tones. Zen would lead to the feeling of being in the moment, extended, intense improvisations.

It's rare that Japanese jazz musicians work directly with Japanese musical forms. Yosuke Yamashita has a wonderful CD of Japanese melodies: "Sakura" is the name. There's a group of foreign musicians here, Candela is one, who combine shakuhachi with Latin rhythms and jazz arrangement. Mike Price, a trumpeter who lives here, has done that kind of mixing in the past. But there are not so many who try to mix it at that level.

I think the kind of training from martial arts is drawn on for inspiration, as are other meditative types of arts, even if a lot of musicians would not admit to that. They might not admit it because they would not want to openly reveal the sources of their inspiration, nor pay disrespect to the jazz tradition. They would not have to explain it to each other, but would not want to appear to be foolish to a foreigner. Japanese jazz now seems to me just to mean jazz made primarily by Japanese-born nationals, and not much more."[14] (bold and bold italic not in original)
"Japanese are also very literate, in the broadest sense of that word; maybe I mean very well read. It's a culture that rests on reading. They read all the time, so jazz is the kind of area that is augmented by reading, and is a kind of reading of texts, one huge intertextuality, if you will, that is appealing to the sophisticated urban consumer mindset. Also, jazz is free, open, wild within restrained limits. It has the right balance of incredible unpredictability, and careful, crafted control that fits with Japanese sensibilities. Jazz is rarely overstated, so it fits in with a kind of subtle set of aesthetic values, but is complicated enough to be infinite and unfinishable."[14]

(bold not in original)
---
Soviet Union jazz

[

edit

]
October 1, 1922 marks the birth of Soviet jazz, when Valentin Parnach and his band with the unwieldy name of Pervyj v RSFSR ėkscentričeskij orkestr – džaz-band Valentina Parnacha gave their first concert in Moskow. See the next article by Martin Lücke for source.
● Martin Lücke (Professor for Music Management at the Macromedia University of Applied Sciences in Berlin and Head of Media School), "Vilified, Venerated, Forbidden: Jazz in the Stalinist Era," translated from German by Anita Ip, Music & Politics, Volume 1, Issue 2 (Summer 2007), hosted by Michigan Publishing.
Music & Politics is a peer-reviewed electronic journal first published in 2007 and is publishing online twice a year. We welcome submissions that explore the interaction of music and politics. Areas of interest include, but are not limited to, the impact of politics on the lives of musicians and musical communities, music as a form of political discourse, the influences of ideology on musical historiography, and pedagogical issues and strategies pertaining to the study of music and politics in the classroom.
● Sheyda Allahverdiyeva, "Jazz, the music of freedom surviving the USSR," OBC TransEuropa, September 18, 2020. Accessed July 3, 2022.
OBC Transeuropa is a think tank focused on South-East Europe, Turkey and the Caucasus which was launched in the year 2000. Over time, OBC Transeuropa expanded its scope and now reports on the socio-political and cultural developments of six EU member states, of seven countries taking part in the EU Enlargement process, and much of post-communist Europe, which is included in the European Neighborhood Policy (ENP). Born to provide a forum for knowledge-sharing and dialogue among civil society organizations working for the EU integration of SEE, OBC Transeuropa is committed to strengthening the European project by supporting transnational relations and exploring issues which are crucial for the EU democracy.
---
---
Jazz around the Globe by 1922

[

edit

]
Romanian-American writer of plays, screenplays, and books as well as journalist and war correspondent for the New York Evening Post before and during World War I and for The New York Sun, Burnet Hershey (1896–1971) reports in his article "Jazz Latitude," for the New York Times," June 25, 1922 while on a world tour that he found musicians playing jazz virtually everywhere he went.
The cities, countries, and regions he reported on included New York City, San Francisco, Honolulu (fox-trotting), Yokohama 🇯🇵 (Ragtime), Tokyo 🇯🇵, Peking 🇨🇳 (Beijing), Shanghai 🇨🇳 ("best Asian jazz city"), Hong Kong (American jazz) 🇭🇰, Canton 🇨🇳 (Guangzhou) (playing jazz on Flower Boats, which were floating entertainment areas and brothels), Manila 🇵🇭 ("good jazz bands"), Malay States (Malaysia) & Borneo (Kalimantan) (American jazz recordings), Saigon 🇻🇳 (Ho Chi Minh City), Singapore 🇸🇬, Bangkok 🇹🇭, Calcutta 🇮🇳 (Kolcatta), Ceylon (Sri Lanka) ("they think it's jazz but it isn't"), Aden, Sudan 🇸🇩, Suez Canal, Cairo 🇪🇬, Jerusalem, Nice 🇫🇷, Paris 🇫🇷, and London 🏴󠁧󠁢󠁥󠁮󠁧󠁿 ("They sermonize against it, they editorialize against it, but it only serves to intensify jazz.")
He heard "Alexander's Ragtime Band" in Singapore 🇸🇬, Tin Pan Alley songs everywhere, and at the Suez Canal "Wabash Blues" (written only the year before) and "Oh, How I Hate to Get Up in the Morning"
(written in 1918 by Irving Berlin (1888–1989)). His definition of jazz must have included Ragtime and syncopated Tin Pan Alley songs. "Wabash Blues" is the most indisputable jazz tune Hershey mentions hearing.
---
---
Jazz is not just American in its history

[

edit

]
It has often been said in jazz textbooks and elsewhere that jazz is America's classical music. Non-American jazz enthusiasts from around the world take umbrage at such a claim. They have several criticisms. The first criticism is that early on in jazz's history, to be specific, by the early 1920's or before jazz musicians existed in other countries besides America. See below for proof of early jazz existing in France, the Netherlands, the old Soviet Union, Latin Jazz, British jazz, Hungarian jazz, or Japanese jazz, to name a few.
The second complaint again jazz being exclusively America's music is that this claim assumes a singular narrative structure that is belied by the fact that jazz has a non-singular history since it developed around the world and not just in America—there is no singular jazz historiography, as argued by Mike Brocken and Jeff Daniels in the following quotation.
"However, meaning is never fixed and, as our own "travels" with Stretton have shown, what things actually mean will always be subject to variable connotations, convergences, contingencies, and divergences within new and changing contexts. Coining the word "jazz" in 1920s Rio [de Janeiro] probably meant different things than using the same word in Buenos Aires, Montevideo, London, or Liverpool: it was never a universal signifier. This is because our minds connect and help produce our identities in context. Thoughts rise from our mind to become ideas and grow into theories and attitudes that in turn shape others creating some specific situations—they are not abstract. City spaces and places are also unique and incomparable; the cultural geography of cities creates equally unique supra-environmental creative spaces. Therefore, no singular "jazz narrative" has ever created a singular "jazz identity." Those who have argued that jazz remains uniquely "rooted" as American (Wynton Marsalis, Stanley Crouch, Albert Murray, perhaps) and thus should be celebrated and nurtured as a US musical equivalent to great European compositions continue to enforce a troublesome historical fallacy. The European greatness of which they write was an imperially apprised subjectivity of music (and people), whereas jazz's ability to travel, mutate and hybridize into at times unrecognizable subsets, was liberating (perhaps its greatest historical achievement): uniting disparate communities via aesthetics. At times, music historians have a tendency to carry with them assumptions and predispositions concerning how they ought to go about creating a matrix-style narrative from which others might gain knowledge. Some begin with a thesis and then make the evidence fit, and a range of categories: economics, social, political, cultural, etc., alongside broad assumptions about human agency is offered to validate an a priori hypothesis. Yet say, for example one was to hear Wynton Marsalis use the word "jazz." Now imagine hearing, say, White British-born jazz singer and broadcaster Clare Teal utter the same word. How might we react to that one word spoken by these different artists? What are the propositions being put forward? What are the differences? What, of course, are the identities on display and how do different places and roots (Marsalis born in New Orleans 1961, Teal born in the Yorkshire village of Kildwick, 1973) re-articulate such differences? If the very communication of our musical language is insecure (even via the use of the word "jazz"), surely our musical ideas are equally lacking in certainty (and a good thing, too, one might declare). Jazz historiography has been overloaded with conviction surrounding the past developments of the music, yet conversely decidedly uncertain about its contemporary pathways, interfaces, and destinations. If we line our walls with books, if we read and write but never go out of the house at all, such stabilities can be quite easily sustained. Yet if we wish to understand jazz as something to do with encounters rather than definitions, pathways rather than determinisms, then we soon come to realize that our jazz definitions, as solid as they seemed in our book-lined rooms, require constant re-negotiation and re-evaluation through time and space. Context is everything and rather than attempting to deal with jazz histories as an absolute dimension in a relative world, we should attempt to consider jazz through ever-changing transitional encounters. By doing so, the shibboleth of a singular jazz historiography might just be questioned, perhaps even challenged."[15]

(bold and bold italic not in original)
---
Jazz is not like classical music in performance

[

edit

]
A third criticism is that jazz is radically different from classical music so that rather than being compared to classical music, jazz should stand on its own. Chief popular music critic at The New York Times since 1988, Jon Pareles (b. 1953) provides the definitive reasons in support.
"HERE'S one you may have heard before: Jazz is America's classical music. It's a declaration that is always intoned with great seriousness and a touch of argumentative pride; the intent is to grant jazz the respect it undeniably deserves. But that formulation has always left me skeptical, and I've come to think that it does current jazz more harm than good.


In bygone decades, conflating jazz and classical music had some remedial effect; it helped non-musicians understand that jazz is a serious discipline, and helped jazz make headway in institutions, with its media image and among arts donors. Now, the equation of jazz and classical music only interferes with drawing new listeners and helping them understand what they hear.


It's easy to see why people linked jazz and classical music. Both are music for music's sake, in a separate commercial realm from the windfalls of pop, rock and hip-hop. Both styles are primarily instrumental and wordless, without the easy signposts of pop verses and choruses. They both reward knowledgeable listeners, though they can easily be enjoyed without a music degree. And both call for their performers and listeners to be mature, emotionally if not chronologically: to have long attention spans, to understand depth and nuance.


Simply to enter either field as a performer is to make a huge commitment, because only virtuosos need apply. Musicians must be willing to practice until their hands ache, to absorb a long and rigorous tradition, and only then, after years of work, to find out whether they have the mysterious inspiration that will make them worthy soloists.


Classical music and jazz also share a recording esthetic: both are centered on real-time group performances, not recording-studio assemblages (though editing and retakes are common). Compared to pop albums, jazz and classical music are relatively inexpensive to record: days of studio time compared to months or years. At recording companies, classical music and jazz are often in the same corporate division, as the two specialized styles that connote prestige.


Yet the similarities end when it comes to the music itself. In almost every way except the high standards they impose on musicians, jazz and classical music are diametrically opposed. Every esthetic criterion is different: the smoothness of instrumental and vocal delivery in most classical music versus the smears and growls of jazz, well-tempered classical intonation versus the blues inflections of jazz, the central role of rhythm in jazz versus the peripheral one of rhythm in classical music, and, most important, the fixed classical composition versus the improvisatory disciplines of jazz. Classical performances are almost entirely premeditated, resuscitating scores from the distant or near past; jazz insists on surprises and lives in an eternal present tense.


In classical music since the Baroque era, the composer has been exalted above all. Performers are expected to be distinctive, but only because they have different ideas on how best to realize the grand formal architecture and fine details of a composer's work. They are, with more or less humility, interpreters. And despite the efforts of living composers, most of what classical musicians interpret is from the repertory, not new work.


In jazz, the performer trumps the composer. Jazz musicians do treat some material with reverence, but they can also bring to it irony, bemusement, savage wit, irreverence or elaborate one-upmanship. Compositions are still important; whether it's Ellington or Monk or Wayne Shorter or Tin Pan Alley standards, jazz musicians prize the combination of musicianly intricacy and indelible melody. But for jazz musicians, the underlying structure is less important than what happens to it on the bandstand. To a form-minded classical listener, the typical jazz structure of theme-solos-theme may be banal. But just as Bach and Beethoven built monumental sets of variations on modest material, a great jazz improviser can turn a trivial pop ditty or a rudimentary blues into an unforgettable performance.


While classical music works toward a finished whole, jazz is about process and interaction: about the thought and reflexes involved when the saxophonist suddenly switches into double time and the drummer answers with an approving flurry of cymbal taps. Classical chamber groups, like jazz quintets, are cooperatives, but they know what notes they'll play before they step on a stage. A jazz group doesn't.


Of course, there's a significant exception in the jazz tradition: big-band music, jazz's orchestral side. Section players, like classical musicians, are expected to play the notes on the page. Big-band composers and arrangers have nearly the same unquestioned authority as classical composers, and they use big bands to explore concepts involving precise orchestral sonorities and large-scale forms. But jazz composers like Ellington always acknowledged that they wrote for performers, not for posterity; they built their pieces around the musicians who would bring them to life, hearing the individual voices in the ensemble work. As they wrote, they kept the music participatory rather than entirely autocratic.


As the America's classical music line has settled in, jazz repertory groups have established themselves at institutions like Lincoln Center and Carnegie Hall. They treat important jazz compositions with due admiration and work on some of the same issues—like historical authenticity versus present-day needs—that have also engrossed the classical world. That's a worthwhile development; it keeps jazz in touch with its history, gives musicians a stylistic education and makes sure that important American music is heard not as an unyielding recording but with live musicians taking chances. Major works like Wynton Marsalis's Blood on the Fields and the reconstruction of Charles Mingus's Epitaph would not be possible without jazz repertory groups. Yet no one pretends that jazz repertory is all of jazz.


Meanwhile, classical music's fascination with form has also been filtering through to young mainstream jazz musicians who are exploring musical structure in small ensembles. Unlike classical composers, they keep their forms volatile, improvising with the shape of a piece as well as with the solos and interplay. But they're not trying to bring back third stream music, the largely stillborn attempts to unite contemporary classical music and jazz; they're just trying to spur some new improvisational responses. And they don't aspire to the repeatability of classical performances.


As a marketing slogan, the jazz-equals-classical formula is like handing an anchor to a drowning man. It's not as if jazz covets classical music's popularity. Jazz and classical music each account for less than three percent of sales of recorded music in any given year (and less if Kenny G. and the Titanic soundtrack are factored out). Luckily, both can count on dedicated audiences for live performances.


Still, many potential listeners are put off by the solemnity of classical music. The ritual of classical concert-going -- with a silent audience contemplating a certified masterpiece by (usually) a dead composer -- carries an aura of European elitism, which may well be inseparable from music that long depended on the European elite. Listeners who do give themselves over to silent absorption of classical music find how gratifying it can be; the music thrives in its formal setting.


But jazz has always been a more informal, more participatory medium, true to the call-and-response of its African ancestry and its roots in parade music and dance tunes. Fans whoop or applaud for a great solo, or laugh at a clever allusion; toes tap, heads bob. Jazz musicians shouldn't have to perform amid conversation—the best jazz audiences are serious listeners—but concert-hall decorum can inhibit musicians as well as fans. Positioning jazz as America's classical music could keep people away from jazz's earthiness and exaltation.


Putting the classical stamp on jazz is a way of insisting on the music's discipline and significance. Yet jazz is already important without getting all high-toned. One of jazz's all-American advantages is that, like important popular idioms around the world, it rose up from under: out of bordellos and speak-easies, dance halls and rent parties came genius after genius. Jazz legends weren't commissioned by churches or counts; they had more colorful patrons. And in upstart America, an outlaw heritage confers a touch of glamour that jazz should use. Jazz is as complex, intelligent, passionate and profound as classical music; we know that now. Far from having to borrow status from classical music, it should get respect on its own very different terms."[16] (bold and bold italic not in original)
---
The professional baseball analogy argument

[

edit

]
When professional baseball started in America in 1869, major teams were made up of exclusively non-black players. One might then be tempted to claim that because the original creators of professional baseball in the United States were of the Caucasian race professional baseball should be considered as having white people at its foundation and they should get credit for many of the good things about professional baseball. Does this strike you as correct?
There are several reasons baseball's story should not include only white players, even in its origin story. First, kids play baseball, and kids come in all sizes and nationalities. If young black children had not played baseball, then there could not have been a Jackie Robinson (1907–1962) who helped integrate baseball ⚾️ in 1947. Second, baseball's origins are other than what has been culturally promoted in the United States. Anyone who believes that Abner Doubleday (1819–1893) invented baseball is mistaken—this is an American myth. Bat and ball style games had been around in England since at least 1750. Bat and ball games were brought by settlers to the United States from 1750 to 1850. Third, the reason why American professional baseball was exclusively white for seventy-five years was that colored people were in some cases explicitly banned and there was a 'gentlemen's agreement' not to hire non-whites from 1887 until 1947.[17]
Professional baseball in America specifically banned any Afro-American players in 1867. Even Latin American players found it hard to break into professional American baseball teams until two players for the Chicago White Sox
, Venezuelan-born Chico Carrasquel (1926–2005) and black Cuban-born Minnie Miñoso (1925–2015), became the first Hispanic All-Stars in 1951. By 1953, only six of the sixteen major league teams had a black player on their rosters.
Fourth, modern baseball rules were stabilized by 1877. Did only white players play the game of baseball either before or after 1877? No. Wikipedia: History of baseball in the United States reports that "African Americans have played baseball as long as white Americans. Players of color, both African-American and Hispanic, played for white baseball clubs throughout the very early days of the growing amateur sport. Catcher Moses Fleetwood Walker (1856–1924) is considered the first African American to play at the major league level, in 1884. But soon, and dating through the first half of the 20th century, an unwritten but iron-clad color line fenced African-Americans and other players of color out of the "majors.""[18] (bold not in original).
Baseball is played all over the world, but especially in North America (U.S. 🇺🇸 and Canada 🇨🇦), parts of Central and South America, the Caribbean, and East Asia, particularly in Japan 🇯🇵, South Korea 🇰🇷, and Taiwan 🇹🇼.
The history of baseball is not just about any one race dominating every aspect of the sport, even when non-white professional baseball players were excluded in America for seventy-five years. If this is true, it seems to run parallel to the history of the creation and development of jazz. Although many jazz musicians were Afro-American, not all were, and throughout the history of baseball and jazz, the disciplines ultimately attracted people from all races and nationalities.
Encyclopedia Brittanica: "Ten Greatest Baseball Players of All Time" has three Afro-American players in the top five at positions #2 (Willie Mays), #3 (Barry Bonds), and #5 (Hank Aaron), and this is after being excluded from American professional baseball for seventy-five years. Is professional baseball such that the white race should be credited with founding, promulgating, and given the majority of the credit for baseball? If not, the same judgment should be made that jazz was never an exclusively black phenomenon and now with its global impact, must include other races in its history and origin story.
---
Jazz musicians from seventy countries

[

edit

]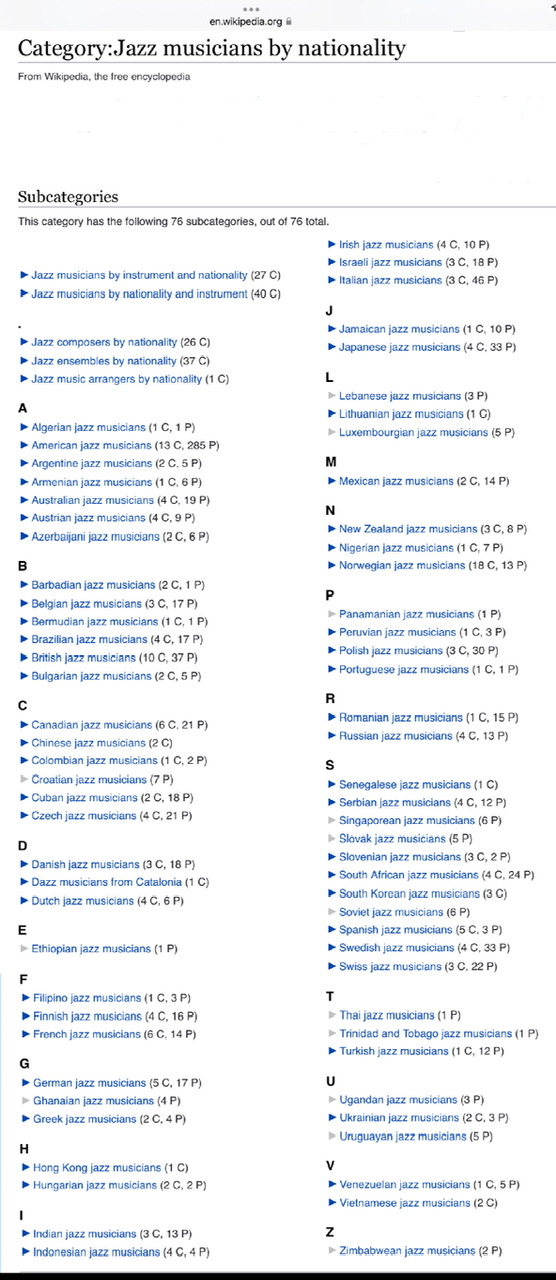 ---
Non-black Jazz Vocalists from 50 Best All-time

Frank Sinatra #2      
Peggy Lee #9            
Chet Baker #17        
Julie London #18      
Chris Connor #20    
Anita O'Day #22        
Blossom Dearie #23
June Christy #24      
---
---
Post-structuralist Critiques and Their Implications

[

edit

]
If post-structuralist critiques emphasize the problem of finding definitive boundaries for culture, race, class, and so on, then the categories of blackness, black music, or black category-X are all, at best, fuzzy categories with overlapping boundaries. If you have overlapping boundaries then white will be on the boundaries of black and any claim that jazz is only a black music oversimplify the reality.
➢ Do these post-structuralist's positions prevent the possibility of having coherent, reasonable categories?
Reason to believe post-structuralist critiques destroy all coherent categories

[

edit

]
---
Reason to believe post-structuralist critiques DO NOT destroy all coherent categories

[

edit

]
---
Internet resources on jazz and race

[

edit

]
---