Sp7. Women and Jazz
---
"Leonard Feather, a fellow expatriate from England, and well-known figure in the jazz world as a critic, composer, and record producer, had by then begun tracking Marian McPartland's career, carefully and with a certain concern. Writing in Downbeat in 1952, he drily, but bluntly, summed up Marian's position in jazz: "She is English, white, and a woman—three hopeless strikes against her.""[1]

(bold not in original)
""Only God can make a tree," the swing historian George T. Simon wrote in The Big Bands (London: Macmillan, 1967), "and only men can play good jazz."[2]

(bold not in original)
"In addition to unfair pay scales, jazz women encountered equally hostile philosophical and sexist attitudes. An unsigned Down Beat article of 1938 illustrates one particularly potent masculine point of view:



Why is it that outside of a few sepia females, the woman musician never was born capable of sending anyone further than the nearest exit? It would seem that even though women are the weaker sex they would be able to bring more out of a poor, defenseless horn than something that sounds like a cry for help. You can forgive them for lacking guts in their playing but even women should be able to play with feeling and expression and they never do it. ("Why Women Musicians are Inferior" 1938)


Both the anonymity of this tirade and the willingness of Down Beat to publish it reveal a latent yet permeating sexism. The explicitly masculinist and racialized tone of this passage represents one particularly prevalent political ideology. Here, women are defined as physically inferior, yet are somehow expected to have greater expressive and emotional capacities. Further, the anonymous author promulgates racial stereotypes by admitting a few black (sepia) female musicians into the masculine institution of jazz."[3] (bold and bold italic not in original)
---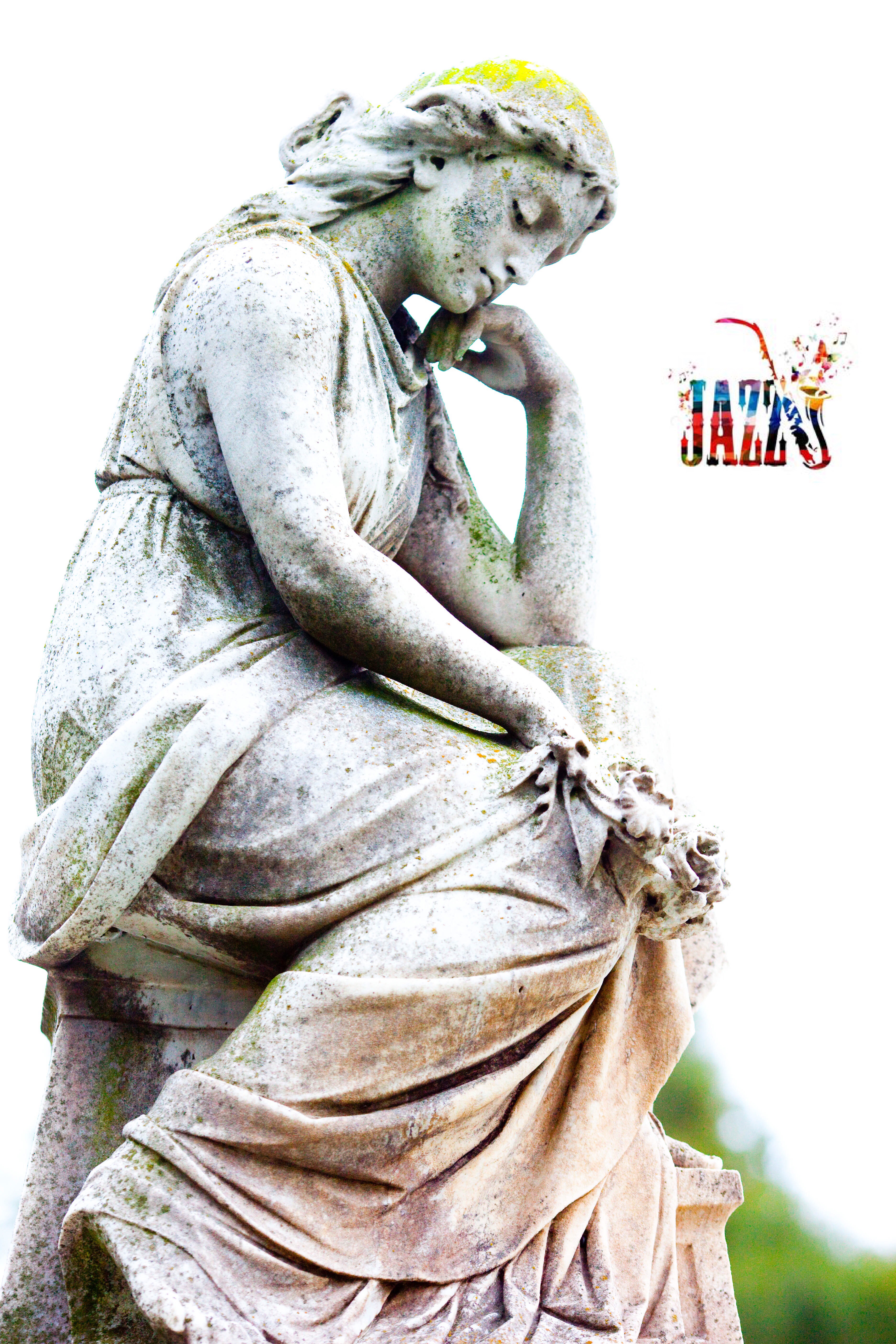 ---
Click on picture to see source and learn more.
---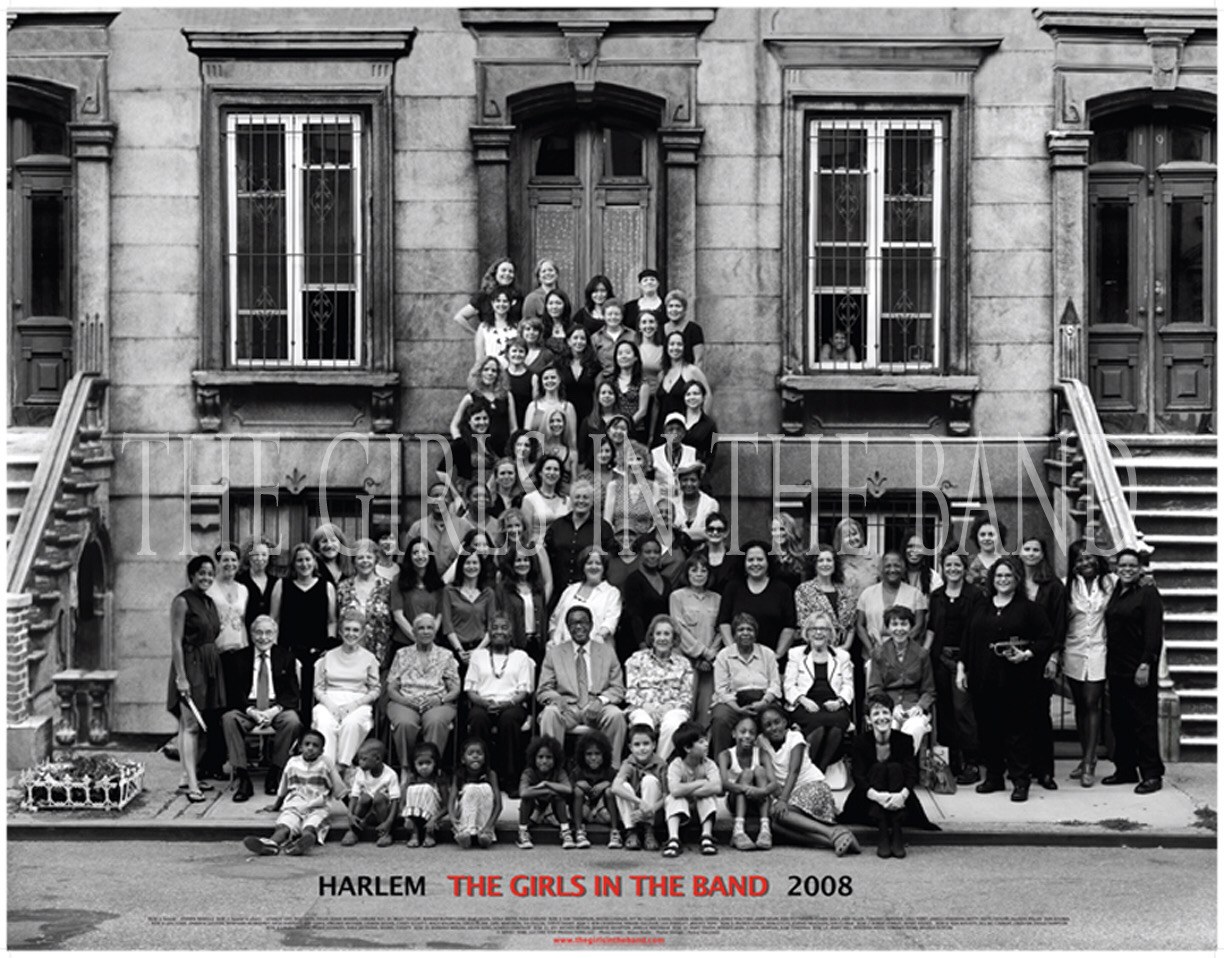 Group shot for Director Judy Chaikin's documentary "The Girls in the Band" (picture modeled after Art Kane's Esquire magazine photograph "A Great Day in Harlem" (1958))
. Chaikin's documentary tells the true stories of female jazz musicians enduring sexism, racism, and lack of opportunities all so they could play their music.
---
Introduction

[

edit

]
Women have probably been under represented in every professional field with few non-gendered exceptions. For how this has affected women philosophers generally, see "Women or Philosophers."
In her "Women in Jazz 1920s–1950," a term paper in 2015 for her "History of American Music" course, author Emma Lamoreaux explains that women are underrepresented in jazz history for multiple reasons. First, there was significant and repressive male prejudice against all non-male musicians. Second, jazz had a social stigma of being sleazy and sexy, allegedly inappropriate for female participation since people judged it socially unacceptable for women to participate in such activity. A third and strikingly telling reason accounting for women's underrepresented in jazz history is from an over-reliance on recordings. Female jazz musicians were underrepresented in recordings precisely because of the first two prejudices against their playing jazz in the first place.
Women jazz musicians have almost always been in a discouraging situation caused by numerous factors against them: male gender prejudices against female musicians, the belief by many that there are no good female jazz players (although this has always been false), that playing anything other than the piano or singing was not 'lady-like' and was inappropriate for women to play the trumpet, the saxophone, the bass, or the drums.
Several newspaper reporters have written about the problems for women entering into the jazz field, including Robert Palmer (1945–1997) in his January 21, 1977 New York Times article "Women Who Make Jazz" and [ Peter Watrous in his November 27, 1994 New York Times article JAZZ VIEW: "Why Women Remain At the Back of the Bus."
Lamoreaux, in her paper, discusses multilingual composer, instrumentalist, singer, and dancer Valaida Snow (1904–1956). Often known as the "Queen of Trumpet," Snow recorded her album "Hot Snow," containing both her singing as well as playing her trumpet. By the age of 15, she had learned to play the cello, bass, banjo, violin, mandolin, harp, accordion, clarinet, trumpet, and saxophone. Louis Armstrong thought so highly of her trumpet playing that he said she was the world's second-best jazz trumpet player besides himself. Because of this, she was named "Little Louis" after Louis Armstrong.

A more well-known and influential woman musician was singer, songwriter, electric guitarist, and recording artist Sister Rosetta Tharpe (1915–1973), who was not really a jazz musician but more of a hot gospel performer with her electric guitar playing using heavy distortion and influencing 1960's British electric blues guitar players, such as Eric Clapton and Keith Richards. Wikipedia: Sister Rosetta Tharpe notes that "She attained popularity in the 1930s and 1940s with her gospel recordings, characterized by a unique mixture of spiritual lyrics and rhythmic accompaniment that was a precursor of rock and roll. She was the first great recording star of gospel music and among the first gospel musicians to appeal to rhythm-and-blues and rock-and-roll audiences, later being referred to as "the original soul sister" and "the Godmother of rock and roll.""

Another unsung woman of jazz was Dorothy Donegan (1922–1998), an American jazz pianist and vocalist, working primarily in the stride piano and boogie-woogie style, but she also could play Bebop, swing jazz, or even classical music.

The International Sweethearts of Rhythm was an all-female jazz orchestra in the 1940s that toured widely, including traveling and performing in many venues.
---
NOTE: Screencapture below of women in jazz from WikiVisually: Jazz under topic heading of 2. Elements and Issues of 2.4 Roles of women. Click on any hyperlink, including the photo itself, to go there, then scroll down, or click here and go directly.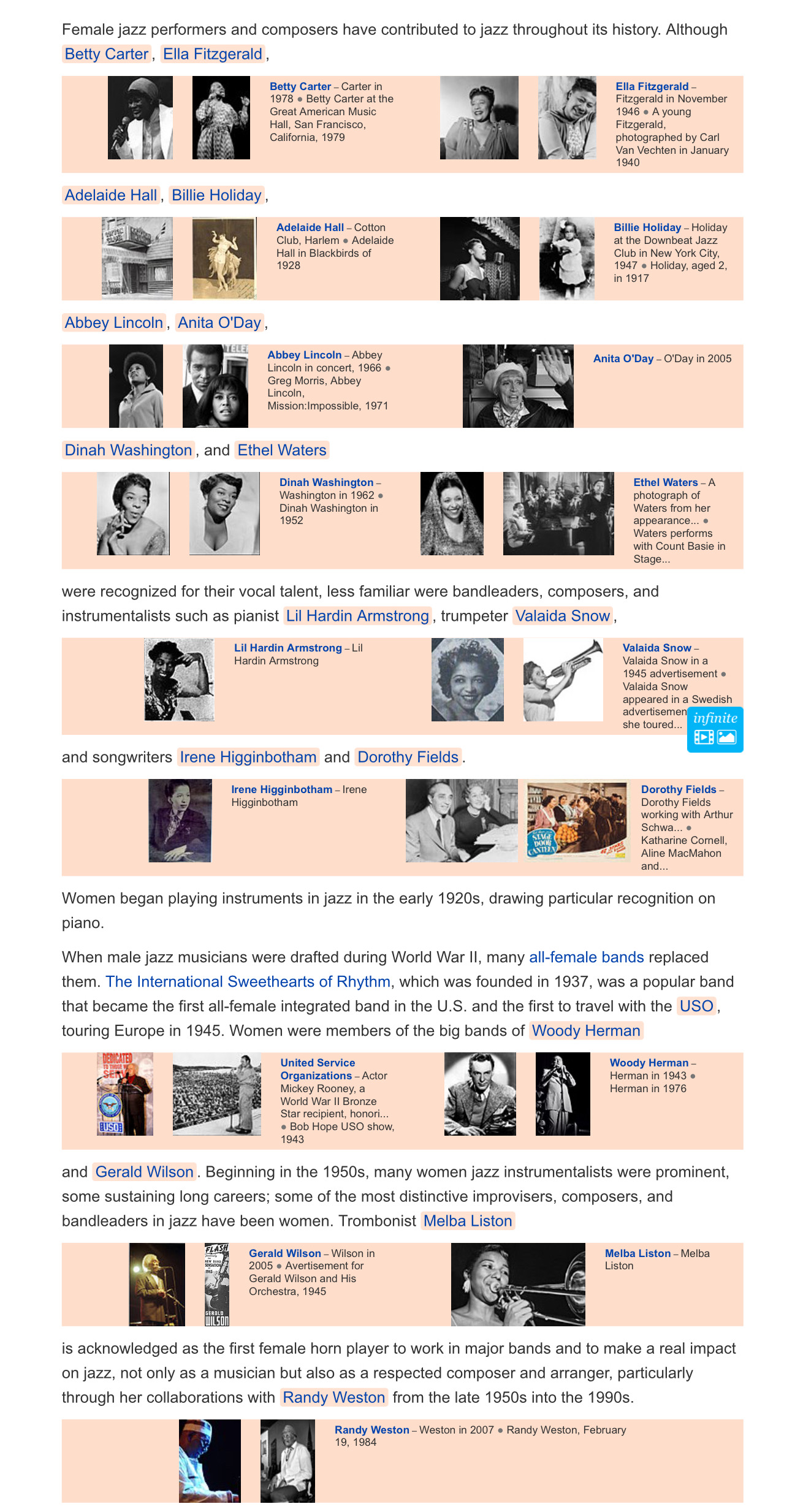 ---
🌕 Rosetta Reitz (1924–2008) championed women's jazz.
🌕 See Douglas Martin's obituary "Rosetta Reitz, Champion of Jazz Women, Dies at 84," NYTimes, November 14, 2008.
---
---
---
Women in Jazz in historical order

[

edit

]
Jazz women 1910-1920's America

[

edit

]
| | | | | | |
| --- | --- | --- | --- | --- | --- |
| 🔸 saxophonist and bandleader | | 🔸 Metro-Gnomes, a small band fronted by Jack Hylton's then-wife Ennis Parkes. | 🔸 | 🔸 | 🔸 |
---
pianists such as Lil Hardin Armstrong
Lovie Austin developed jazz and led their own bands;
in New York, Hallie Anderson, organist
pianist Mattie Gilmore and trombone player and arranger Marie Lucas trained orchestras for theaters.
Sherrie Tucker's four-year research on New Orleans jazzwomen uncovers a few of the female musicians, mainly pianists and self-trained instrumentalists, who worked in the red light district:
cornet Antonia Gonsalez
Mamie Desdunes, pianist
Dolly Adams, pianist
Camilla Todd, pianist
Edna Mitchell, pianist
Rosalind Johnson, pianist who was also a song writer and received formal musical training.
---
Jazz women in 1930's America

[

edit

]
excellent all-female group including Jean Starr on trumpet, Marjorie Hyams on vibes, Marian Gange on guitar, Vicki Zimmer on piano, Cecilia Zirl on bass, and Rose Gottesman on drums.
---
Winner number two
instrument/role


Hot pink number 3
---
Renee Rosnes
Cindy Blackman
Jane Bunnett
Mary Lou Williams
Dorothy​ Donegan
Marian McPartland
Mary Osborne
Toshiko Akiyoshi
June, the Universal Jazz Coalition will present a four‐day "Salute to Women in Jazz" in New York from Monday, June 26, through Thursday, June 29, in the room at 52d Street and Broadway that was once the legendary Birdland (it is now a disco known as CasaBlanca 2).
The Salute will provide a showcase for some of the women who are not as celebrated as the stars who played in Kansas City, among them
Carline Ray
Janice Robinson
Patti Bown
Andrea Brachfeld
JoAnn Brackeen
Valerie Capers
Sue Evans
Sharon Freeman
Corky Hale
Emme Kemp
Jill McManus
Nina Sheldon

A set of three records providing background on the involvement of women with jazz, produced by Bernard Brightman.
three disks on "Women in Jazz," collections of recordings made between 1926 and 1961, providing a very convincing demonstration that women, singly and in groups, have been making impressive contributions to jazz since its earliest recorded days and doing it for the most part, in relative anonymity.

Margie Hyams, for example, who played vibes in Woody Herman's band in the 40's and in George Shearing's original quartet
pianists such as Barbara Carroll and Dorothy Donegan.
saxophonists such as L'Ana (Webster) Hyam
Vi Burnside, saxophonist
Vi Redd, saxophonist
Valaida Snow, trumpeter
Jean Starr, trumpeter

Marion Gange, a guitarist
Terry Pollard, vibes and piano
Lovie Austin, a pianist in Chicago in the 20's around whom a whole school of male musicians flourished
International Sweethearts of Rhythm, an all‐woman big band
Una Mae Carlisle, a singer and pianist who recorded with Fats Waller and whose accompanying group follows the patterns of Waller's sextet
Beryl Booker, a pianist who is heard urging Miles Davis' trumpet along on Tadd Dameron's "Squirrel"
Kathy Stobart, an English saxophonist
Jutta Hipp, a German pianist
Japan's ground‐breaking contribution to jazz, Toshiko Akiyoshi, the pianist
---
---
Jazz women in 1940's America

[

edit

]




slide trombone
arranger
composer
bandleader
educator in Los Angeles, CA and in Jamaica


was the first woman trombonist to play in multiple big bands (Gerald Wilson's in 1944 and Dizzy Gillespie's in 1948) and in 1960s
worked with trumpeter Dizzy Gillespie (1947), saxophonist Dexter Gordon (1947), vocalist Billie Holiday (1949), saxophonist John Coltrane (in big band 1949), in pianist and band leader Count Basie band (1949), with drummer Art Blakey (1957), with trumpeter and arranger Quincy Jones (1959 & 1961), and with vocalist and band leader Billy Eckstine (1961)
worked as an extra in Hollywood, appearing with Lana Turner in The Prodigal (1955) and was in The Ten Commandments (1956)
later in her career (late 1950s) became a well-known arranger for pianist Randy Weston (b. 1926–d. 2018) and again in 1980s and 1990s
In early 1960s worked with vibraharpist Milt Jackson, trumpeter Clark Terry, and saxophonist Johnny Griffin
early 1960s arranged for Motown and was on a album with Ray Charles
helped establish the Pittsburgh Jazz Orchestra (1964)
called the "first lady of the slide trombone"
throughout her career she played and recorded with EVERYBODY:

forty year career in jazz
Listen to "Blues Melba" at YouTube.com
Listen to entire album "Melba Liston and her Bones" at YouTube.com

Ada Leonard's (1915–1997)

All-American Girl Orchestra
Tennessee-based

Marjorie Rainey's

Rhythmettes

75 year career!


frequently introduced as "the first lady of jazz piano," (although there are several such candidates, such as Mary Lou Williams (1910-1981) and Marian McPartland (1918–2013))


"she embodied a timeless bohemian elegance and artistic grace"


had a "steady, unfailing sense of swing"


played everything from "peppy minimalist bebop to Gershwin to a lush Debussy-influenced impressionism, while maintaining a strong attachment to the blues"


"seemingly knew every popular standard ever written"


English jazz critic Leonard Feather 🪶 (1914–1994) dubbed her "the first girl ever to play bebop piano"

 

---
Mary Lou Williams (1910–1981)
(active 1920–1981)

pianist
composer
arranger
educator


one of the top women in jazz history for over fifty years
major jazz persona


Billie Rogers (1917–2014)
(active 1927–1947)

first woman to hold a horn position in a major jazz orchestra (Woody Herman's 1941)




International Sweethearts of Rhythm (active 1937–1949)

first integrated all women's big band in the United States

Marjorie Hyams (1920–2012)
(active 1940–1970)

talented vibraphonist able to play in both bop and swing settings
featured with Woody Herman's First Herd (1944–1945)
led her own trio (1945–1948)
an original member of the George Shearing Quintet (1949-1950)
recorded with Flip Phillips, Mary Lou Williams, and Charlie Ventura
Read her JazzWax interview



Hazel Scott (1920–1981)
(active 1938–1981)

pianist


the first black American to host her own TV show



"Relaxed Piano Moods" was inducted into the NPR Basic Jazz Record Library in 2001. The album was recorded in 1955 for Debut Records with Scott accompanied by the label's two owners and Hall of Fame musicians drummer Max Roach and bassist Charles Mingus.


had prodigious piano technique.
one of the first artists making her mark in classical music and jazz when soloing with both the New York Philharmonic and the Philadelphia Orchestras.
uses post-bebop embellishment techniques that provide lush harmonies highlighting her ideas, as in her solo on George Gershwin's "A Foggy Day."

Beryl Booker (1922–1978)
(active 1946–1970's)

pianist

Miles Davis sat in with her trio in 1952
formed her own female trio with Bonnie Wetzel and Elaine Leighton in 1953
toured Europe in 1954 with this group as part of "Jazz Club USA" that featured vocalist Billie Holiday
backed Dinah Washington in 1959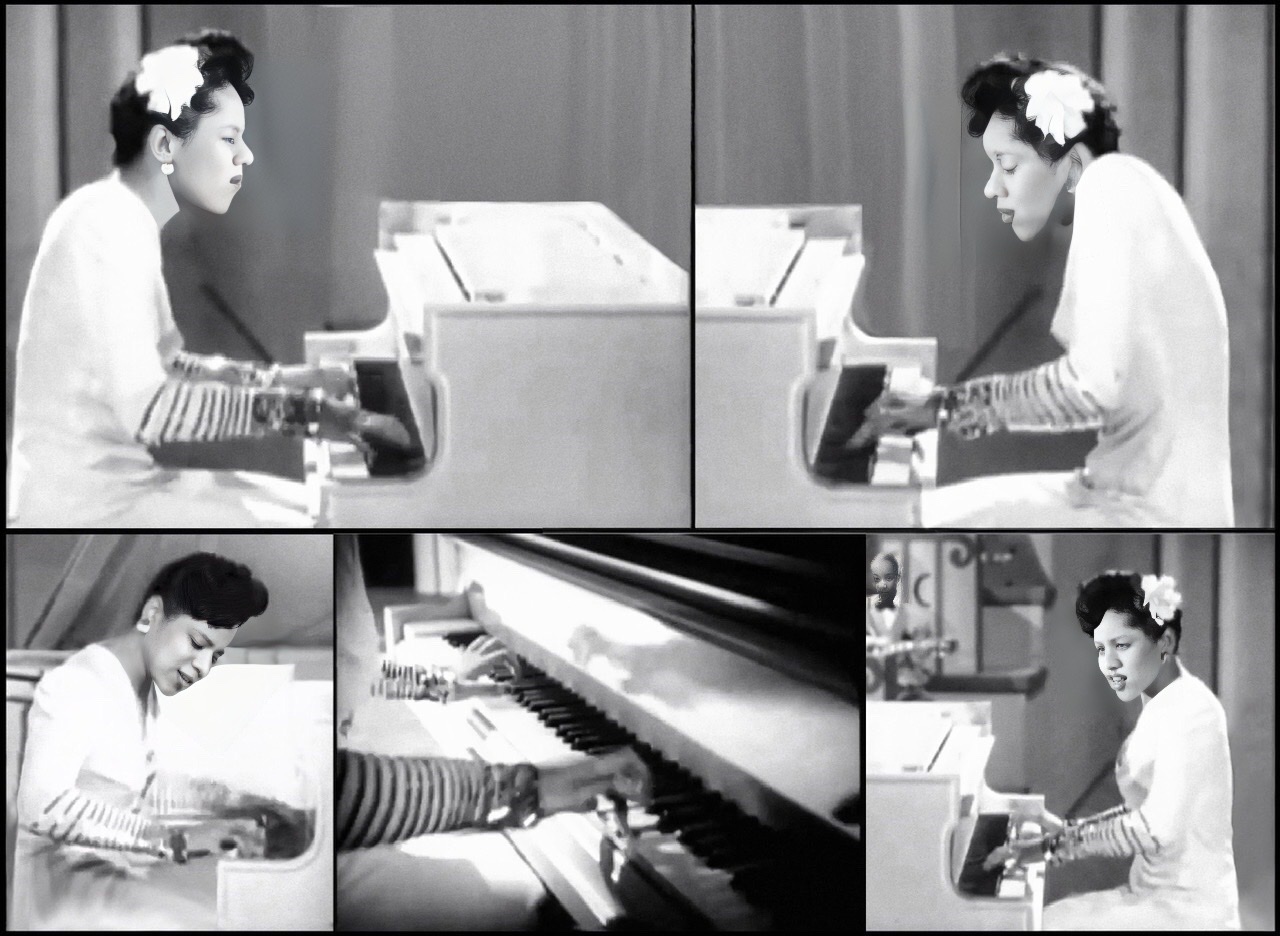 (Film stills above taken from the movie
"Sensations of 1945"
)

first black woman to perform at Chicago's Orchestra Hall in 1943


sixty year career


could play stride piano, boogie-woogie, swing jazz, Bebop, blues, and classical


a protégé of Art Tatum (1909–1956), who said she was "the only woman that can make me practice"


music critic of the New York Times John S. Wilson in 1981 proclaims her "the lustiest, most exciting, hard swinging and virtuosic jazz pianist in the world. . . one of the most brilliant pianists, male or female, that jazz has ever known."

Listen to her all instrumental track "I Just Want to Sing" or another swinging version of it

See Wilma Dobie's article "Dorothy Donegan Did It Her Way: Fans Loved but Critics Belittled," Jazz Journalists Association Library, 1998

---
Jazz women in 1950's America

[

edit

]
---
Jazz women in 1960's America

[

edit

]

"Her main assets were her warmly appealing timbre, good range and secure time, all amply demonstrated in these two albums made in 1961–62. On "Out of the Blue," a record with memorable contributions by soloists Bob Brookmeyer, Clark Terry, Nick Travis and Jim Hall, she is backed mostly by Bill Finegan's arrangements." (Click anywhere on quotation for source)

Started singing with a local danceband as a 14-year old in 1951


In 1960, Jon Hendricks asked her to temporarily sub for Annie Ross in Lambert, Hendricks & Ross


appeared at the 1961 Newport Jazz Festival


recorded two albums for Columbia Records in 1961–1962


played and recorded with pianist Bill Charlap, alto saxophonist Phil Woods, Ken Peploski, Roland Hanna,


recorded more than thirty albums under the Prestige, Contemporary, and especially the Concord label



Read about "Sloane: A Jazz Singer" movie 🎥 at GoingBarefoot.com


Listen to "I Never Went Away"
---
---
---
Jazz women in 1970's America

[

edit

]
🔸 :::

Emily Remler (1957-1990) (active 1976–1990)
American jazz guitarist
🔸
🔸
🔸
🔸
🔸
---
Jazz women in 1980's America

[

edit

]
---
Jazz women in 1990's America

[

edit

]
🔸 Diva Jazz Orchestra albums at Discogs


🔸 recording of four musicians from the jazz big band Diva (founded in 1992)—bassist Melissa Slocum (b. 1961) (center top of album cover), pianist Jill McCarron (b. 1961) (center bottom), alto saxophonist Carol Chaikin (b. 1959) (left on album cover), and drummer Sherrie Maricle (b. 1963) (right on album cover).

---

Melissa Slocum (born July 26, 1961) is an American double bass player who is active in both jazz and classical music.

The following is an English translation of the German Wikipedia page on Melissa Slocum.

"Life and work: Slocum grew up in a musician household in Ohio (her father was a horn player in the Cleveland Orchestra; her mother, a professor of medieval studies, played the viola) and began playing the piano at the age of three. She was encouraged by her parents to study classical music. She started playing bass guitar at the age of twelve, and a year later she began performing professionally as a musician. A gifted girl, she graduated from high school at the age of 15. By age 18, she had earned a bachelor's degree in classical piano music from Youngstown State University; she spent another year there to get a second degree in art history, specializing in ancient Egyptian art.





In 1981 Slocum moved to New York to study art and shortly afterwards began playing the double bass, which she studied with Lisle Atkinson in the Jazzmobile and later privately. In 1984 she became the bassist for Ted Curson's late night sessions at Blue Note; 1985/86 she was a member of the house band at Arthur's Tavern. In 1986 she received a scholarship to study with Rufus Reid and gave up her art history studies. For the next several years she worked with Dakota Staton, Lionel Hampton, Art Blakey, Bobby Enriquez and Ralph Peterson; she also belonged to Charli Persip's Superband in the late 1980s, before she was a founding member of the Diva Jazz Orchestra in 1992. She also completed a master's degree in jazz at the Manhattan School of Music (1994) to study classical double bass there. After further studies at Mannes College of Music (1997–98), she took part in the double bass performance doctoral program at Stony Brook University, focusing on historical performance practice of baroque music. While working for this degree, she freelanced with Kevin Mahogany, the Duke Ellington Orchestra, and Roy Meriwether, and worked as the bassist for the Broadway musical Phantom of the Opera.


Slocum has also worked with Cab Calloway, Clark Terry, Wynton Marsalis, Woody Shaw, Hank Jones, Hamiet Bluiett and Don Byron. She also accompanied Howard Johnson's Tubachor Gravity for more than 20 years. In the field of classical music she worked with Kurt Masur, Neeme Järvi, Zdeněk Mácal, Itzhak Perlman and Stanislaw Scrowachewsky. In 2013 she made a recording of Tchaikovsky's Nutcracker Suite with the Harmonie Ensemble New York. She can also be heard on albums by Özay Fecht, Kevin Mahogany and Avery Brooks as well as with Concert Royal, the American Classical Orchestra and the Fairfield Symphony." (bold not in original)

---

Leslie Gourse (1939-2004), Madame Jazz: Contemporary Women Instrumentalists (Oxford: Oxford University Press, 1995). Clicking on the ISBN number below takes you to Amazon.com where you can see inside of this book: ISBN 0-19-508696-1.


" . . . Goodman, girls learned to swing as strongly as their dance partners. But firmly established cultural stereotypes kept denying that this was so. In a February 1938 Down Beat opinion piece, an anonymous writer stated, "Women as a whole are emotionally unstable, which prevents their being consistent performers on musical instruments." Bandleader and saxophonist Peggy Gilbert lost no time writing a rebuttal. "The manager is constantly reminding the girls not to take the music so seriously, but to relax, to smile," Gilbert wrote in Down Beat in April of 1938. "How can you smile with a horn in your mouth? How can you relax when a girdle is throttling you and the left brassiere strap holds your arm in a vice?" The undeniable truth was that a female jazz artist's popularity was based on visual attributes rather than musical expertise. Long, flowing, tight-waisted gowns, with billowing sleeves, in cotton candy colors, defined the dress code. Saxophonist Roz Cron remembers a particularly humiliating outfit. "I was playing at the Oriental Theater in Chicago with Ada Leonard's band," Cron recalls. "The manager brought out this god-awful, pink thing and said that was what I was to wear. It had all these flounces and flares and ruffles. I was mortified. I'm a professional, not a dress up doll. I hated that costume with a passion." Another member of the band stated, "A man could have white hair and glasses and weigh 300 pounds, but if he could play, great. The girls had to look like starlets. And the things they put on us were unbelievable."



Vocalists and a few instrumental soloists, such as pianists Hazel Scott and Mary Lou Williams, managed to break the gender barrier, but they too were expected to present themselves as sex symbols in provocative clothing. Women jazz musicians put up with this because they wanted to play and their opportunities were limited, but the bitter reality was their performances were seen all too often as highly sexualized spectacles. Peggy Gilbert lamented in her Down Beat piece, "Men's orchestras are usually hired because of their ability as musicians. Their good looks, their presentability other than neatness, will rarely enter the question. " Not only men criticized female jazzers. In a 1951 Down Beat interview, Lorraine Cugat, then wife of Xavier Cugat, stated that she would use all men in her new Latin band. "We might as well be honest about this. A girl, no matter what she's got, just can't be a glamorous creature with the mouthpiece of a saxophone between her pretty red lips or while blowing her lovely face all out of shape playing a trumpet or trombone." Waggish gossip columnists of the day speculated that Mrs. Cugat's interest in glamour and an all-male band was motivated by revenge against her philandering, estranged husband more than by a lack of faith in female players, but she went on. "Girls who want to be musicians should stick to any instrument . . . the playing of which doesn't detract from their feminine appeal." Some all-girl bands had drummers who played in high heels. Brass and reed "fem cats" were told to paint their lips with Mercurochrome rather than wear lipstick. In some bands eyeglasses were forbidden. Contact lenses were very primitive, not to mention painful and expensive in those days, so near-sighted players had to memorize the music. Even the highly successful and popular all-female group Hour of Charm, led by Phil Spitalny, one of the few men to front a girl band, was founded in musical compromise."[4] (bold not in original)

---

"Even the highly successful and popular all-female group Hour of Charm, led by Phil Spitalny, one of the few men to front a girl band, was founded in musical compromise. Spitalny publicly made it clear that he wasn't looking for a powerful, hard-swinging sound. In a band that employed more violins than brass, two pianos, and a harp, it's not surprising their repertoire consisted of mostly mellow, sweet tunes. That also pleased the sponsors of the Sunday night radio show of the same name. The listening public deemed Hour of Charm the ideal all-female band. It wasn't only the jazz world that discriminated against female players. Girl harpists and violinists might be acceptable on a stage clouded with taffeta and sequined dresses. Anonymous female trombonists and bassists could be heard on radio broadcasts without public outcry. But in the male dominated world of symphony orchestras, the subject of female members wasn't even open for discussion. It would be 1982 before the Berlin Philharmonic hired a woman. In Vienna it was 1997. [5]

(bold not in original)

---

"When Dianne called Marian (McPartland), the quintet was preparing for a three-night gig in Rochester, New York, and a live recording. Marian had picked an eclectic bouquet of players. Veteran guitarist Mary Osborne, whom many called the best guitarist of her generation, was already well known to New York audiences. Dottie Dodgion on drums had made her reputation playing and singing in Chicago, Washington, D.C., and San Francisco with Charles Mingus and Al Cohn, among others. Vi Redd's soulfully fearless alto saxophone sound had complimented the groups of both Max Roach and Dizzy Gillespie. Marian picked bassist Lynn Milano, the youngest of the group by a generation and a graduate of Eastman, because her sound contradicted her petite size. None of the women had played together as a group before.



There was nothing new about a group of women playing jazz. Since baby jazz wailed its first double high C, women's groups have played in ballrooms, in vaudeville venues, at movie premiers, and on every imaginable road gig—right alongside the men. As early as the 1920s, bands such as Babe Egan's Hollywood Red Heads and The Bricktops contributed to the popularity of the new sound. Peggy Gilbert's All Girl Band and Ina Ray Hutton and her Melodears attracted the attention of promoters Florenz Ziegfeld and William Morris, and both bands participated in early, short subject sound films for Fox, Movietone, and Vitaphone. That women could hold all the chairs in a performing jazz band was unique only in the sense that, in the early-twentieth century, female musical education was predominately gender specific. Girls were encouraged to play piano or sing, perhaps play the violin, but blowing was considered unfeminine. Females were not thought strong enough to hold and play, much less carry, large instruments such as the baritone saxophone or string bass. By the 1920s much of that changed. High school concert bands either integrated both genders into their programs or formed all-female bands. With the availability of jazz recordings, female and male musicians had access to the same music to listen to. Female ears absorbed the complexities of what they were hearing as well as those of their male counterparts."[6] (bold not in original)

🔸 Ingrid Laubrock (b. 1970)

German saxophonist now living in New York City since 2008.

🔸

🔸

🔸

🔸
---
Jazz women in 21st Century

[

edit

]

Sarah Milligan (b. 1998), saxophone


Sarah Milligan Arts Wordpress
Sarah Milligan Arts


Performed at the Next Generation Jazz Festival
Jazz at Lincoln Center's Essentially Ellington
The Montreux Jazz Festival (Switzerland)
North Sea Jazz Festival (Netherlands)
Shared stage at different times with Terrell Stafford, Cyrus Chestnut, Kenny Rampton, and Conrad Herwig

🔸Esperanza Spalding (b. 1984) Musician, composer, educator, bandleader on double bass, bass guitar, guitar, vocals

🔸 Kris Davis (b. 1980) first album Lifespan (2003)

🔸

🔸

🔸
---
Internet & Bibliographic Resources on Women in Jazz

[

edit

]
"The Girls in the Band" Female Jazz Instrumentalists
ArtVilla.com's Women Jazz Musicians Instrumentalists and Vocalists
"A DIY Guide to the History of Women in Jazz" by Laura Pelligrinelli at NPR'S A BLOG SUPREME, May 10, 2013.
"Ireland's jazz scene continued to grow in strength and diversity in 2019: Smaller regional festivals were major successes while a number of important projects were led by Irish and Irish-based women", The Irish Times News, Saturday, Dec 7, 2019.
Jazz, Gender, Authenticity, Proceedings of the 10th Nordic Jazz Research Conference Stockholm August 30–31 2012, Alf Arvidsson, editor, 2014. The articles published here are the authors's revised versions of the presentations at the 10th Nordic Jazz Conference: Gender and Notions of Authenticity in Jazz, Stockholm, August 30–31, 2012. ISBN: 978–91–979205–3–7. ISSN: 0281–5567.

Lamoreaux, Emma. "Women in Jazz 1920's-1950. " In "History of American Music," Term Paper #1, February 22, 2015. Also available at "Women in Jazz 1920's-1950."

"Polyrhythms And Improvization: Lessons For Women's History," Elsa Barkley Brown, History Workshop 31 (1991), 85-90. America: History and Life with Full Text.

"Sound Recordings Reviews," Cheryl L. Keyes (Professor in Department of African American Studies at UCLA and Professor and Director of Graduate Studies, Department of Ethnomusicology), Journal Of American Folklore, 105.415 (1992), 73.

"Beyond Beethoven And The Boyz: Women's Music In Relation To History And Culture," Britain Scott and Christiane Harrassowitz, Music Educators Journal, 90.4 (2004), 50.

"Telling Performances: Jazz History Remembered And Remade By The Women In The Band," Sherrie Tucker, The Oral History Review, Volume 26, Issue 1, Winter-Spring 1999, 67–84. http://doi.org/10.1093/ohr/26.1.67

"Black Women Working Together: Jazz, Gender, and the Politics of Validation," Tammy L. Kernodle, Black Music Research Journal, Vol. 34, No. 1 (Spring), 27-55.

Rosetta Reitz (1924–2008) obituary written by Douglas Martin, "Rosetta Reitz, Champion of Jazz Women, Dies at 84, NY Times, November 14, 2008.
"Extended Abstract:Jazz and Gender—the impact of gender in jazz production and education," Beatriz Nunes.





"Ivy Benson was born to be a musician. A good pianist by the age of ten, she was influenced by the music of Benny Goodman, Artie Shaw, and other jazz legends to become a professional instrumentalist—and at age fifteen, having taught herself to play the clarinet and saxophone, Benson joined an all-girl band in Yorkshire, England. Sax Appeal chronicles Benson's life—beginning with her childhood of relative poverty, exploring her time as a teenage musician playing in the seedy clubs of London, and highlighting her founding of a professional all-female jazz and swing band that would remain active for over forty years."



"In Peggy Gilbert & Her All-Girl Band, Jeannie Gayle Pool profiles the fascinating life of this multi-talented saxophone player, arranger, bandleader, and advocate for women instrumental musicians. Based on oral history interviews and Gilbert's collection of photographs, newspaper clippings, and other memorabilia, this book includes many materials not previously available on all-women bands from the 1920s, 30s, and 40s."
Tucker, Sherri. "Telling Performances: Jazz History Remembered and Remade by the Women in the Band." Women and Music: A Journal of Gender and Culture. Volume 1 1997.
Tucker, Sherrie (Winter–Spring 1999). "Telling Performances: Jazz History Remembered and Remade by the Women in the Band". The Oral History Review. 26 (1): 67–84. doi:10.1093/ohr/26.1.67. JSTOR 3675691.
Swing Shift: "All-Girl" Bands of the 1940s, Sherrie Tucker, Duke University Press, May 23, 2001.
"The forgotten history of the "all-girl" big bands of the World War II era takes center stage in Sherrie Tucker's Swing Shift. Although all-female jazz and dance bands had existed since the 1920s, now hundreds of such groups', both African American and white, barnstormed ballrooms, theaters, dance halls, military installations, and makeshift USO stages on the home front and abroad. Filled with firsthand accounts of more than a hundred women who performed during this era and complemented by thorough—and eye-opening—archival research, Swing Shift not only offers a history of this significant aspect of American society and culture but also examines how and why whole bands of dedicated and talented women musicians were dropped from—or never inducted into—our national memory. Comparing the working conditions and public representations of women musicians with figures such as Rosie the Riveter, WACs, USO hostesses, pin-ups, and movie stars, Tucker chronicles the careers of such bands as the International Sweethearts of Rhythm, Phil Spitalny's Hours of Charm, The Darlings of Rhythm, and the Sharon Rogers All-Girl Band."

(bold and bold italic not in original)
Morning Glory: A Biography of Mary Lou Williams. Linda Dahl. 1999.
Strange Fruit: Billie Holiday, Café Society, and An Early Cry for Civil Rights. David Margolick. 2000.
Lady Day: The Many Faces of Billie Holiday. Robert G. O'Meally. 1991.
Jazz women: a Feminist Retrospective (1923–57) (Stash) 2 LPs.
Stormy Weather: The Music and Lives of a Century of Jazzwomen. Linda Dahl. New York: Pantheon Books, 1984.
"Women in Jazz, Past and Present." John S. Wilson. The New York Times. June 11, 1978.
"Women in Jazz Town Hall (A jazz conversation)," hosted by Kaisha S. Johnson, Jazz at Lincoln Center's World Congress 2020.
 
Jazzwomen Speak: Interviews with Six Musicians,

Wayne Enstice and Janis Stockhouse, (Bloomington: Indiana University Press, 2013).





The musician's interviewed are: (1) JoAnne Brackeen, piano and composition, (2) Clara Bryant, trumpet, (3) Sheila Jordan, vocals, (4) Abbey Lincoln, vocals, (5) Marian McPartland, piano and composition, (6) Dottie Dodgion, drums.
Maxine Gordon's website. Maxine Gordon has had a long involvement with jazz, including working with the queen of the jazz organ Shirley Scott, producing a son with trumpeter Woody Shaw (1978), becoming wife of saxophonist Dexter Gordon (1983), tour manager for Gil Evan's big band, road manager for the Berlin Jazz Festival (1973), road manager for Dexter Gordon's return from Europe to the United States (1976–1983), author of Sophisticated Giant: The Life and Legacy of Dexter Gordon (2018), an oral historian and archivist in the fields of jazz and African American cultural history, New York University, M.A., (2001–2009) Ph.D.  Candidate, History (African Diaspora). In 2020 still working on her newest book, Jazz Quartette: Shirley Scott, Velma Middleton, Melba Liston, Maxine Sullivan.
---